Interested In A Career In Real Estate? Learn How To Become A Success.
Opportunities to earn 100% commissions
Industry leader with innovative technology
Training and tools to be successful real estate
#1 real estate company in the United States
When choosing a real estate brokerage, there are many things to consider. Keller Williams is the number one real estate franchise in the United States in agent count, closed units, and sales volume. That alone is a great reason. However, if you look beyond just these great numbers, you'll see Keller Williams has been recognized internationally in several categories, including:

The Evolution of the Real Estate Industry: Redefining the Model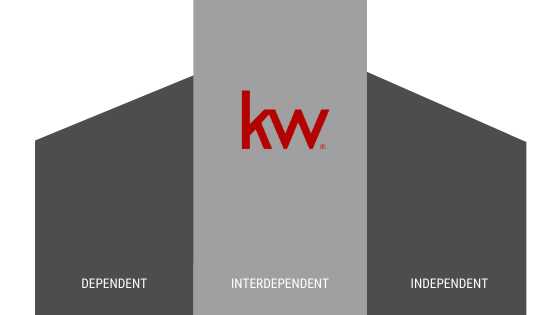 Traditional Companies (Dependent)
Associates are dependent on the company
Financial gain is directed primarily to the brokers and the company
Associates have fewer opportunities for accumulating wealth
100% Companies (Independent)
Associates are independent and have a landlord/tenant relationship with their company
An associate-focused environment with limited high-level support
Associates assume all the financial, legal, and management responsibilities
Keller Williams (Interdependent)
Associates have an interdependent relationship with the company and a mutual interest in the success
Associates and brokers work as teams in achieving financial goals
Associates do not assume financial, legal or management responsibilities
Compensation Plan
To see a breakdown of new agent startup costs, click here.
Commission Breakdown
A "cap" is the point at which you stop paying royalties and company dollar fees during your anniversary year. For example, if your anniversary is July 1st and you reach your "cap" the following January, you will be at 100% commission from that point when you "cap" until June 30.
Keller Williams Royalty International Royalty – 6% of each commission
Caps at $3,000 per agent fiscal year
Once you hit this contribution, there is a zero charge in Royalty for the remainder of your fiscal year (at approximately $ in closed sales volume)
Keller Williams Platinum Partners Split – 70/30 Agent Keeps 70%
Caps at $18,000 per agent's fiscal year
Once you hit this contribution, there is zero charge in Company Dollar for the remainder of your fiscal year (at approximately $ in closed sales volume)
AFTER EACH CAP HAS BEEN MET, YOU WILL RECEIVE 100% COMMISSION FOR THE REMAINDER OF THE FISCAL YEAR.
Profit-Sharing
Keller Williams wealth building programs are funding lives worth living. The Keller Williams model is built around the premise that associates should be treated like stakeholders. Through profit share and growth share programs, Keller Williams recognizes and rewards associates for helping to grow the company.
Our associates drive our company forward. Profit share and growth share enables us to treat our people as partners in a very tangible way.
Keller Williams owners have shared more than $1.37 Billion since 1996.
A Company Built Around People
Finding and serving the higher purpose of business is at the hear of the Keller Williams culture. We believe in supporting the financial, physical, and emotional well-being of our associates.
Mission: To build careers worth having, businesses worth owning, lives worth living, experiences worth giving, and legacies worth leaving.
Vision: To be the Real Estate company of choice for agents and their customers.
Perspective: A technology company that provides the Real Estate platform that our agents' buyers and sellers prefer. Keller Williams thinks like a top producer, acts like a trainer-consultant, and focuses all its activities on service, productivity, and profitability.
Keller Williams Belief System: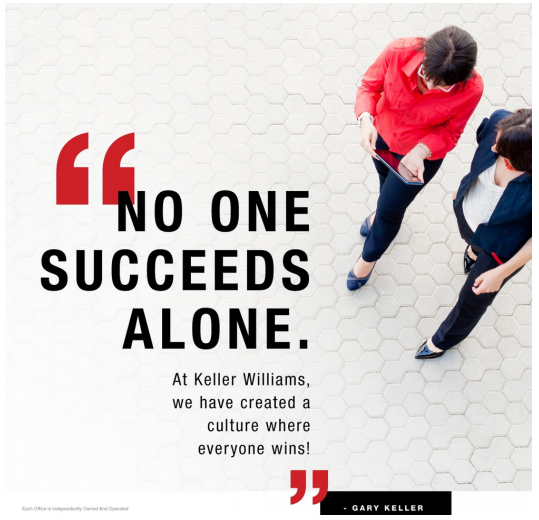 Win-Win or no deal
Integrity: Do the right thing
Customers always come first
Commitment in all things
Communication: Seek first to understand
Creativity: Ideas before results
Teamwork: Together everyone achieves more
Trust: Starts with honesty
Success: Results through people
KW Culture in Action



Keller Williams Opportunity Map
We're looking for passionate entrepreneurs who are ready to seize the opportunity of today's market. If you're looking for a refreshing change, a growth-focused, innovation-driven atmosphere, and the opportunity to turn your career intentions into reality, Keller Williams is the place for you.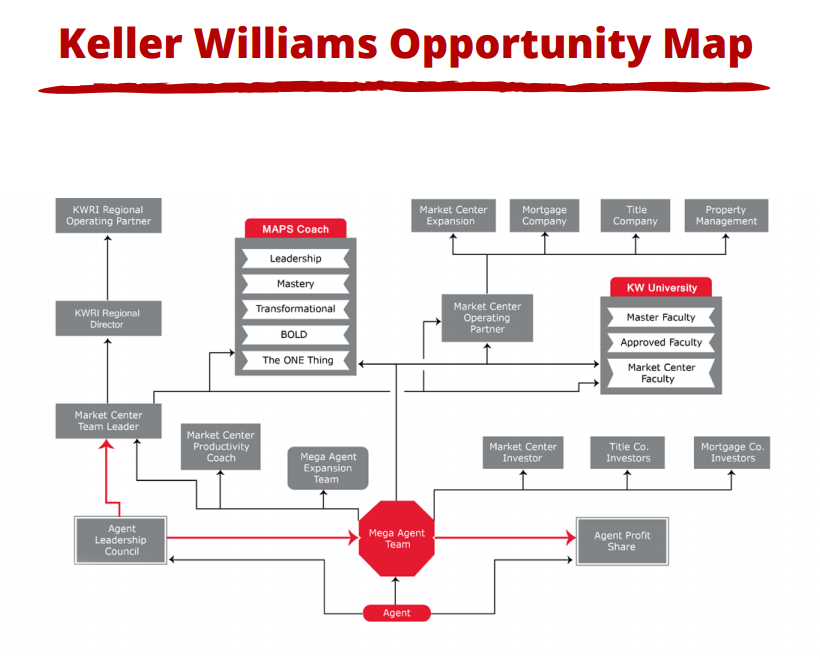 Get to Know Keller Williams Platinum Partners
Providing unparalleled value and pledging unrivaled commitment to the success of our agent partners.
#1 Training Company
Live classes in the market center daily
Webinar and on-demand classes
Facebook live-streaming classes
Productivity coaching
Top producer consulting
MAPS coaching
Keller Mortgage ZeroPlus Loans
Zero origination fees
Zero underwriting fees
Zero processing fees
Zero application fees
Zero lock fees (plus $1000 at closing towards 3rd party costs on loans $150,000+)
Market Center Leadership Team
Natalie Hartman – Team Leader/CEO
Anita Hosier – Market Center Administrator
Rachelle Graves – Asst. Market Center Administrator
David Bryan – Broker
Jeff Stith – Agent Services/Communications/Technology
Miki Strobel – Productivity Coach
Shirley White – Productivity Coach
Misty Ferguson – Director of First Impressions
Arlie Cummings – Compliance Auditor
#1 Real Estate Technology Company
Kelle – 2018 Inman Innovation Award
Most Innovative Real Estate Technology
Kelle – Artificial Intelligent Personal Assistant
Keller Cloud – We own our own data
KW Command – Contact Management Software
All new KW Mobile App for your clients
KW Connect – Technology Training Tool
KWLS – Facilitates syndication of your listings to IDX's of top portals, all while promoting our most important brand, yours!
KW Video – Easily create professional videos
Wealth-Building Opportunities
100% commissions (once annual company dollar and franchise fee caps are met)
Profit-sharing – Monthly massive income for those who help grow our company
Disappearing Cap – Reduce annual company dollar cap to zero
$8.2 billion in commissions paid to KW agents in 2017
$167 million paid out in Profit Share distributions in 2019
Personal Transactions – Reduced fee for one transaction per year (cannot be the first transaction)
KW Number One & Firsts
#1 in the U.S. in agents count, closed units and sales volume (2019)
#1 in agent count worldwide
#1 Training Organization in the world across all industries (Training Magazine)
#1 Inman Innovation Award – Most Innovative Real Estate Technology
First real estate franchise to launch an agent-branded mobile search app for all associates
First to build its own company cloud service
First to build industry-specific A.I. platform
First to develop a personal assistant app (Kelle)
First to create an agent profit sharing program
Together we have reached remarkable milestones, garnered awards, and recognition and advanced our initiatives. The journey does not stop here!
Want to learn more about joining the Keller Williams Platinum Partners Team? Send an email to [email protected]

Ready to talk about your career? Fill out the form below.