Both are options for homeowners who have fallen behind on their mortgage payments, however, they are not created equal. We will walk you through each process, the pros and cons of both, and how to tell which option is the better option for you.
What is a Foreclosure? 
According to Realtor.com, foreclosure is the legal process that happens when a homeowner is unable to make mortgage loan payments for a significant period of time.
note: As of August 28, 2020, the Federal Housing Administration (FHA) published Mortgagee Letter (ML) 2020-27, "Extension of Foreclosure and Eviction Moratorium in Connection with the Presidentially-Declared COVID-19 National Emergency," which announces a third extension of the foreclosure and eviction moratorium through December 31, 2020.
This moratorium extension is effective immediately upon the expiration of the existing moratorium announced in ML 2020-19. This guidance is applicable to all FHA Title II single-family forward mortgage and Home Equity Conversion Mortgage (HECM) reverse mortgage programs, except for those secured by vacant and/or abandoned properties.
After 3-6 months of missed payments, a lender issues a Notice of Default with the County Recorder's Office. This notice lets the homeowner (the borrower) they are at risk of foreclosure.
After receiving the notice, homeowners can either try and settle their loan debt with their lender through a short-sale or by paying the balance they owe.
If the debt is not recouped, the homeowner is considered evicted and is to move out of the home. They the lender will step in and foreclose on the property. This means they will schedule a foreclosure auction to sell the home to a third party.
What is a Short-Sale? 
A short sale is when a homeowner owes more on the home than the market value or sale price of the home at the point the owner wants to sell. In this situation, the homeowner is asking the lender to accept a lesser amount than the total amount owed.
For example, if the homeowner sells the home for $400,000, but the remaining loan balance is $450,000, the seller is essentially $50,000 "short" on paying back the loan.
If the lender accepts the short sale, the loan debt will be settled and the homeowner (borrower) is released from any further liability once the sale has closed.
Is One Better Than the Other? 
First things first, know that both have a negative impact on your tax return, credit score, and credit report, plus future prospects getting a loan. We have outlined the difference between the two below.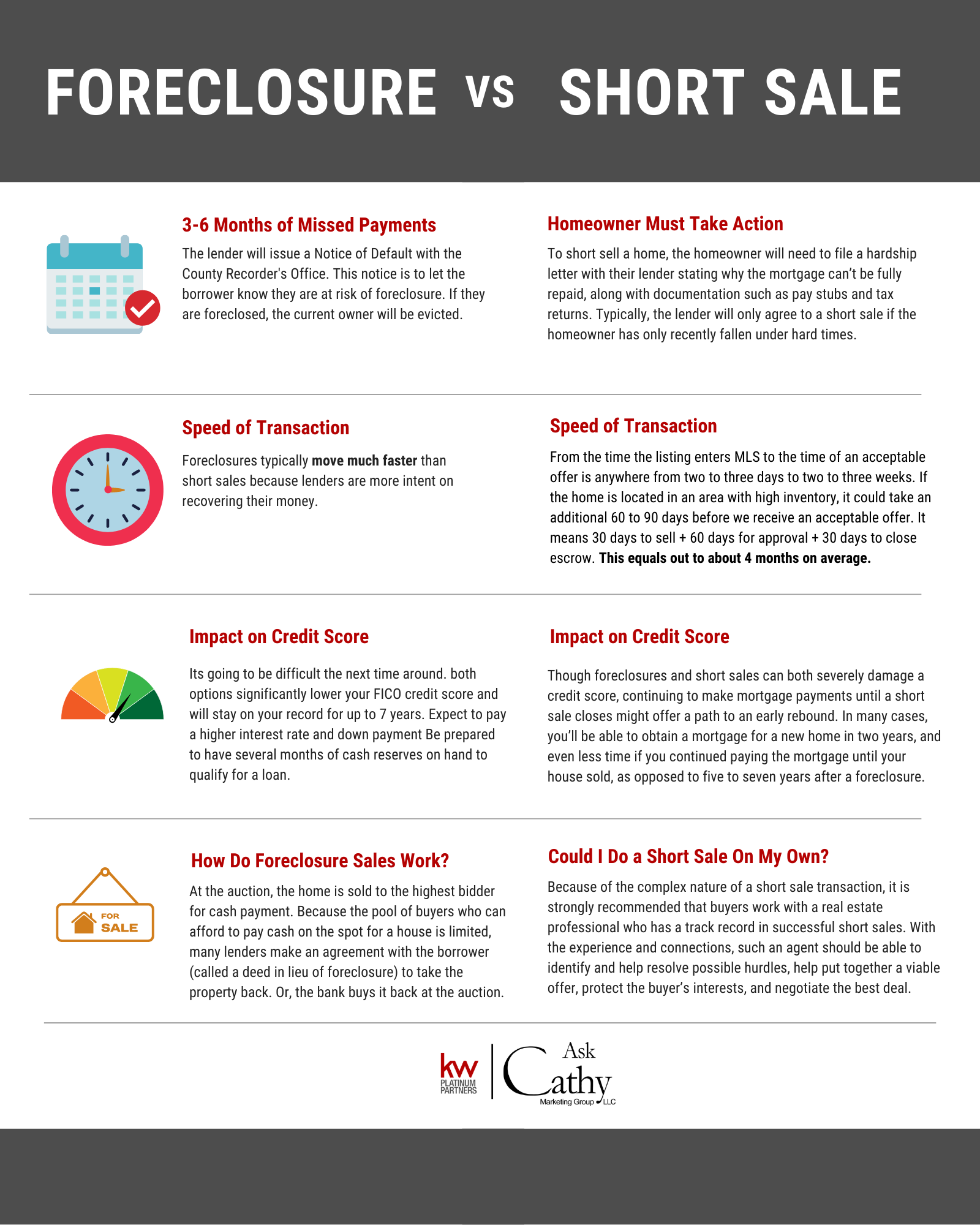 Looking for additional resources? Check them out below.
Ready to build your dream home? Fill out the contact form below.