We are always looking for talented individuals to join our award-winning team. If you think you've got what it takes, please submit your resume, cover letter, DISC assessment to [email protected].
EXPANSION PARTNER
Responsibilities include but are not limited to:
Build relationships with leaders in the local market center
Maintain strong relationships with relevant members of the Hub
Build a local database through leveraging the Hub, farming, prospecting, and marketing
Prospect for, present to, and serve as the key relationship for all buyers and sellers
Maintain the consistent lead follow-up until the prospect lists or decides not to sell
Develops expert knowledge regarding local market conditions and pricing trends, mortgage financing, the neighborhood, schools, and all issues regarding homeownership
Provide high-level fiduciary advice on pricing strategies and staging homes for sale
Works to accomplish necessary repairs, improvements, and cleaning
Consults with the Expansion hub to coordinate transactions, ensuring the clients receive fiduciary service of the real estate transaction from initial contact through contract to close
Effectively negotiate, or oversees negotiations, for all clients
Works to accomplish necessary repairs, improvements, and cleaning for listings and pending homes
Cost-Benefit of Joining Ask Cathy Expansion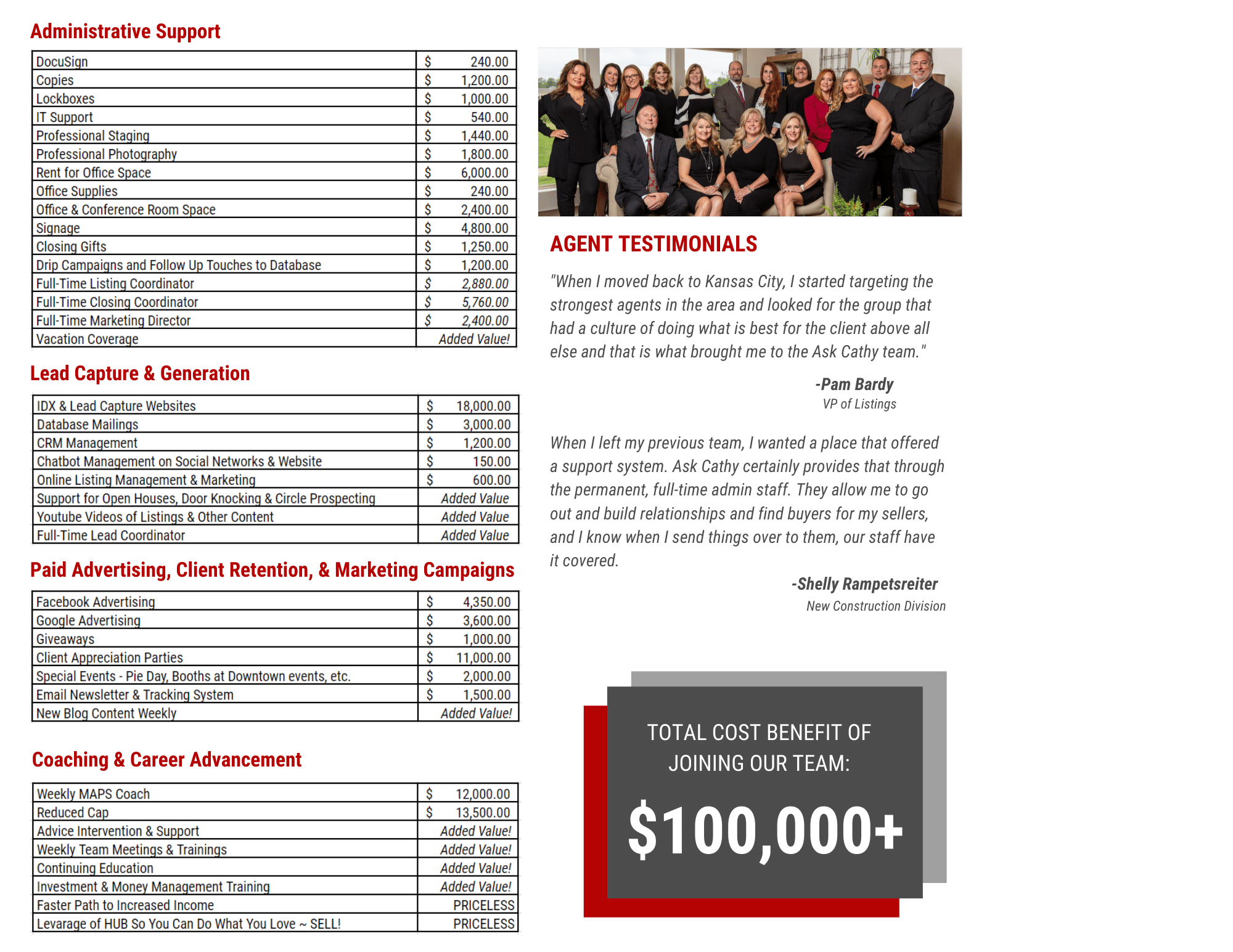 Current Areas We Are Exploring:
North Kansas City
Liberty, MO
Overland Park, KS
Leawood, KS
Olathe, KS
Requirements:
Active real estate license
At least 1 year of real estate experience
Job Type: Commission
Due to the high volume of inquires, serious applicants should submit their cover letter, resume, and DISC profile to [email protected]
Ready to talk about your career? Fill out the contact form below.