Worlds of Fun 50th Anniversary!
Posted by Ask Cathy Marketing Group on Friday, April 7, 2023 at 1:00 PM
By Ask Cathy Marketing Group / April 7, 2023
Comment
Celebrating the History of Worlds of Fun!
Return of the Zambezi Zinger, and more 50th Anniversary Events!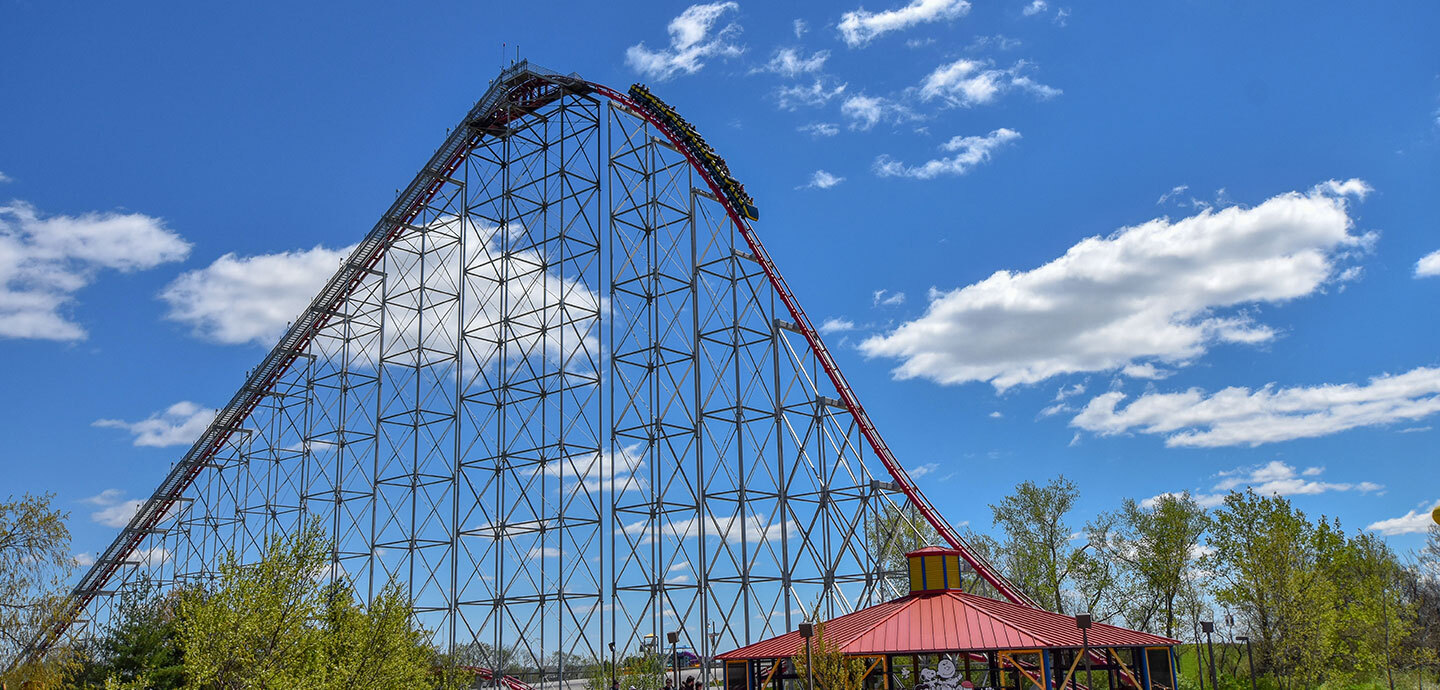 Image Courtesy of Worlds of Fun
Tomorrow, April 8, 2023, is the grand opening of Worlds Of Fun. Always a fun outing for adventure seekers as well as families, this year seems to be building up with even more excitement than ever! This is a super special year as it marks the 50th anniversary of the park's grand opening, as well as the return of the highly coveted roller coaster, the Zambezi Zinger!
A Brief History of Worlds of Fun
Worlds of Fun opened in 1973 and covered approximately 235 acres. The park was originally founded by Lamar Hunt and Jack Steadman, both prominent businessmen in the Kansas City area.
Lamar Hunt was the founder and owner of the Kansas City Chiefs and the Kansas City Wizards up until his death in 2006. Jack Steadman served as chairman, vice president, president, and general manager of the Kansas City Chiefs through the course of his lifetime. The park was owned under Hunt's company, "Mid-America Enterprises".
Themed after Jules Verne's famous book, "Around the World in 80 Days," the park featured different sections representing different parts of the world: East Asia, Americana, Wild West, Europa, Africa, and Scandinavia. Many of the large showcase decorative showpieces from the Oscar-winning movie of the same name adorn the park, such as the placement of the giant steamboat "Henrietta" at the original main entrance. Their logo and entrance sign depicted a large hot air balloon also reminiscent of the movie adaptation.
"We chose the large, multicolored ascension balloon for our symbol because it represents fun, adventure, and travel reminiscent of the movie, Around the World in 80 Days. These are the things we want Worlds of Fun to represent. — Jack Steadman, 1971."
Originally, the park was supposed to be a part of a larger amusement and entertainment complex that was intended to rival Disneyland. The intended future development never materialized, however, due to the 1973 oil crisis that affected the nation, and put a damper on the intended expansion.
In 1995, the Worlds of Fun Complex was purchased by Cedar Fair LP, for $40 million dollars. Cedar Fair owns and operates 11 amusement parks, 14 waterparks, and 14 hotel lodging establishments throughout the United States and Canada. Some of their more well-known attractions include Knott's Berry Farm, California's Great Adventure, and Cedar Point.
Notable Additions to Worlds of Fun
Several notable additions were implanted in the park as the park grew, including a designated children's section - which is now called Planet Snoopy, and the most significant, Oceans of Fun.
Oceans of Fun is a tropically themed water park, which was added in 1982. Its opening celebrated the original park's 10th anniversary and was deemed to be the largest waterpark in the world at the time. Once a separate entity located nearby to its amusement park counterpart, it was combined into one park in 2013.
In 1998, the new owners, Cedar Point, invested $10 million in the addition of Mamba, a steel hyper coaster to the park's lineup. To date, that was the park's most expensive outlay, only to be replaced in expenditure in 2006 when the park added the Patriot, the longest, tallest, and fastest full-circuit inverted roller coaster in the region. The installation of the Patriot came with a price tag of $14 million dollars.
In 2005, Worlds of Fun added its own, close-to-home solution for out-of-town travelers looking to stay for multiple days of fun, with the creation of Worlds of Fun Village. Worlds of Fun Village offers lodging close to the park, and those that choose to stay there have free parking, and access to special ticket packages.
Types of lodging include woodside cottages, family cabins, and RV hookup campsites, as well as amenities such as an outdoor pool, hot tub, bathhouse facility, laundry facility, convenience store, and gift shop.
Currently, the Worlds of Fun complex covers more than 325 acres. For a full timeline of all the changes at Worlds of Fun, a comprehensive list can be found here.
The Comeback of the Zambezi Zinger
When Worlds of Fun originally opened in 1973, the Zambezi Zinger was certainly one of its highlights. The original roller coaster featured bobsled-type cars, (where people sit one behind one another) and a tree-covered route that dipped and dived through a grouping of trees. However, in 1997 the ride was closed, sold, and relocated to a park in Montenegro, Columbia.
In honor of the 50th anniversary, Worlds of Fun is bringing back the Zambezi Zinger in a new, and reimagined form. Designed by Great Coasters International and Skyline Attractions, this all-new coaster of galvanized steel and wood is state of the art, and seems to be built especially for today's thrill seeker. The new coaster is an impressive, and somewhat terrifying 74 feet tall, which is 17 feet higher than the original coaster of 1973. The track is 2428 feet long and will have a spiral ascent and reach a speed of 45 miles per hour throughout an African Serengeti-type terrain, and is said to mimic an epic safari chase. Riders will now sit side by side instead of behind one another during the two-minute ride. One can only imagine how popular this new coaster will be for fans of the original coaster as well as new rollercoaster enthusiasts. The Zambezi Zinger is set to open later this spring.
The park recently held a contest to be one of the first 32 riders on its maiden voyage with proceeds benefiting "The Big Slick" and Children's Mercy Hospital.
Additional 50th Anniversary Events
The park also has a number of highlights and special events planned throughout the season to commemorate its 50th anniversary. There will be many nostalgic nods to the history of the park, as well as some additional new features and attractions, some of which include:
"50 Nights of Fire" - a lively stage show with pyrotechnics designed to help parkgoers relive key moments in Worlds of Fun history.
Special menus featuring culinary delights that honor the park's history and special traditions
Special 50th anniversary-themed merchandise
Through April 24th, a "50th Anniversary Memory Contest" for past parkgoers to show off their memories at Worlds of Fun by submitting photos or videos to enter. Get all the details here.
Opening News
In recent popular culture, Worlds of Fun made a quick cameo in the HBO series "The Last of Us". As the main characters traveled through Kansas City on their way west, they passed by the iconic Worlds of Fun, now in ruins and completely abandoned. Thankfully, that is the magic of television and not reality, as the actual Worlds of Fun is getting all primped and polished and ready for its grand opening on April 8th! For all the details, hours of operation, ticket prices, and everything else the park has planned for its 50th anniversary be sure to check out the Worlds of Fun website!
Oh, and for all of you waterpark enthusiasts, Oceans of Fun opens May 27th!
We hope everyone will be able to visit Worlds of Fun and Oceans of Fun during its historic year this year! Should you want to be even closer to all the fun on a regular basis, with regular access to funnel cake and all the park delights, the Ask Cathy Marketing Group would be happy to help find you the perfect home within easy distance to such a grand Kansas City staple. Just give a shout-out - or look for one of us standing in line to ride the new Zambezi Zinger!