The History Behind Our City of Fountains
Posted by Ask Cathy Marketing Group on Monday, August 15, 2022 at 1:00 PM
By Ask Cathy Marketing Group / August 15, 2022
Comment
City of Fountains: Visiting Kansas City's Trademarks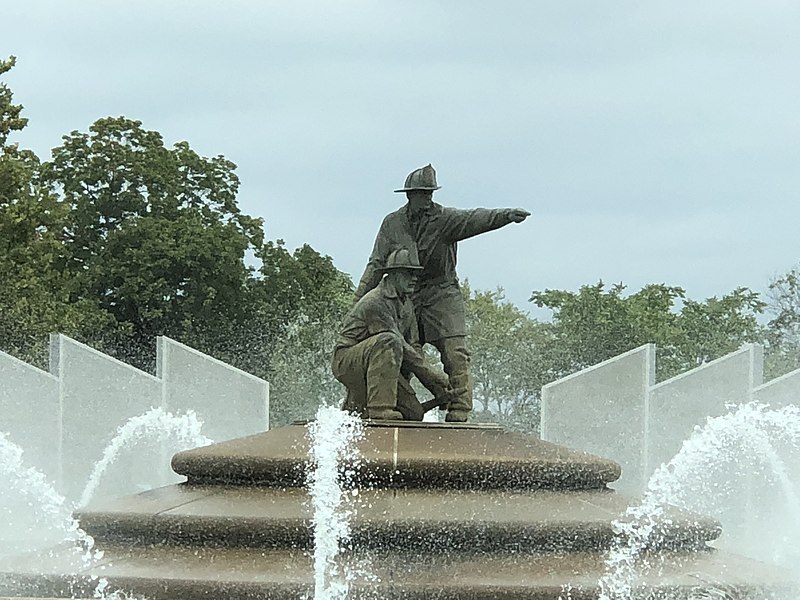 Photo Courtesy of Wikimedia Commons
Peaceful and soothing. Powerful and majestic. Artistic and historical. These words can be used to describe the subject of one of the most prolific Kansas City treasures - the fountain.
If you have lived in or around Kansas City for any length of time, you undoubtedly know that one of Kansas City's nicknames is the "City of Fountains". With an abundance of more than 200 officially registered fountains within the city's boundaries, there is no question as to how this charming denotation came about.
You may find yourself wondering, why so many fountains?

The Beginning of Fountains in Kansas City
It all began with a horse, or rather, a whole lot of them. Throughout the 1890s, the first fountains of Kansas City were used as a means to water horses in the area, and those passing through. A benefit of using a fountain as opposed to a more commonplace drinking trough is that the water did not remain stagnant, and was continually being refilled by its water source, which made it more sanitary and less likely to spread germs and disease. When the Kansas City Humane Society was established in 1883, for the prevention of cruelty to animals, women, and children, they took their cause to heart by erecting a fountain that was symbolic of their message. This fountain, the very first fountain located in Kansas City, Kansas was not only multifunctional in structure, but also in functionality.
The large square fountain was designed at its tallest level with lion heads from which water flowed so that people could fill their cups. The next level was at a height where horses could drink from. From there, all the overflow of the fountain went into the street-level base pools just perfect for dogs to partake. No longer in its original location, this fountain was given for permanent installation at the Wyandotte County Museum.
On the Missouri side, George Kessler, the incredible pioneer, and planner for the Kansas City Parks system was behind the first municipally built fountain. This fountain was placed in the area of 15th & Paseo, in 1898, and was commissioned for the sum of $12,000 (which would be valued at $300,000 in today's dollar). An advocate for the City Beautiful movement, Kessler went on to push for the design of several other fountains throughout the city. Sadly, Kessler's original fountain was destroyed in 1941.
The installation of fountains gained a big push starting in the 1920s when real estate developer J.C. Nichols imported more than 1 million dollars worth of sculptures and fountains for the development of the Country Club Plaza area and the surrounding residential streets. This was more than 50 pieces of art and sculpture in total.
One of the most photographed and well-known fountains was sculpted by a French sculptor named Henri Greber in 1910. This fountain is over 80 feet in diameter, over 10 feet tall, and is two-tiered, with sculptures representing four of the world's great rivers - the Seine, Rhine, Mississippi, and the Volga. This fountain was originally located at the McKay estate in New York. It fell into disrepair and was vandalized after the estate was destroyed by a fire in 1938. The fountain eventually made its way here to be restored and repaired, and in 1960 was dedicated as the J.C. Nichols Memorial Fountain. The name of the fountain was changed in 2020 to the Mill Creek Park Fountain, with support from the Nichols family.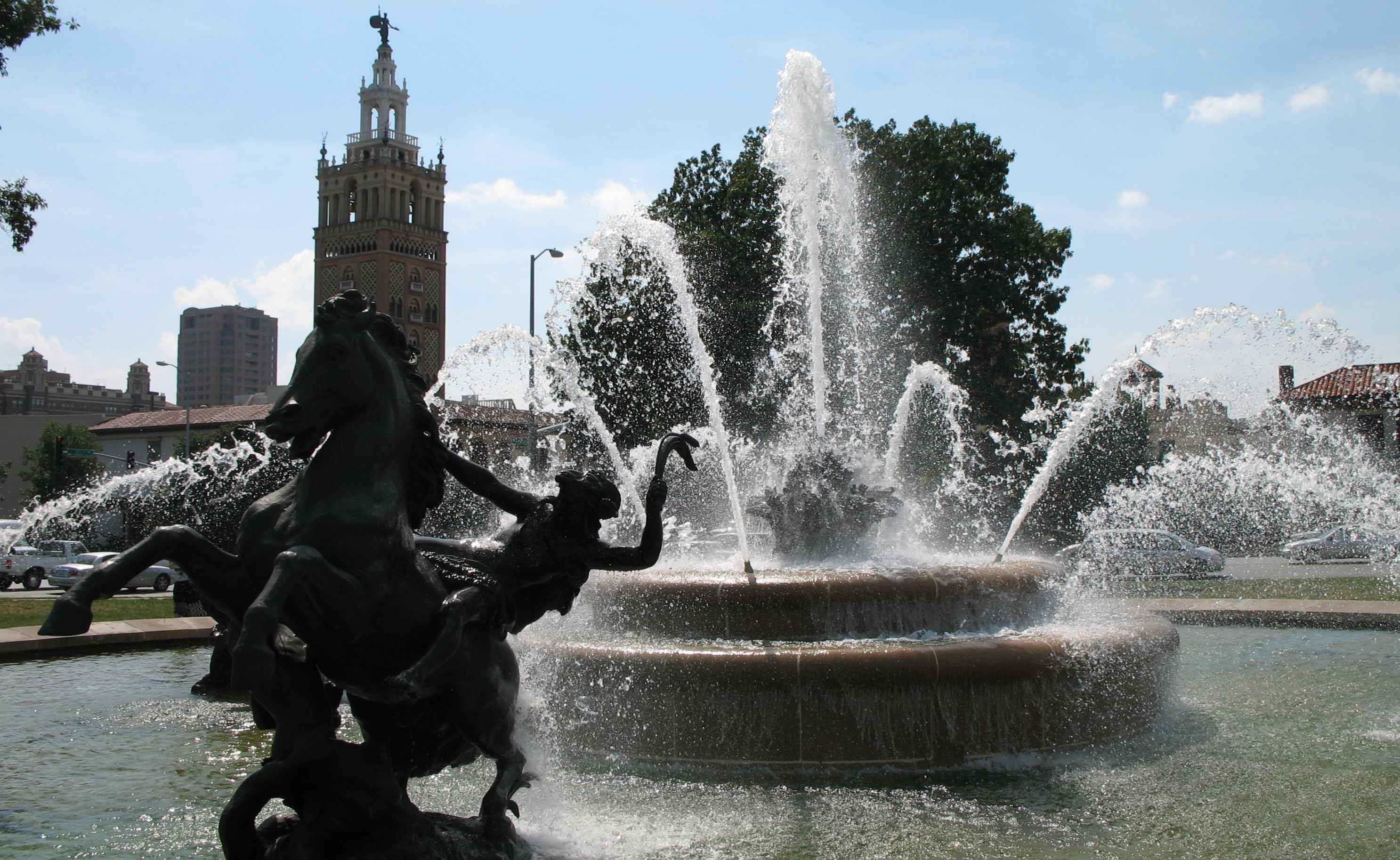 Photo Courtesy of Wikimedia Commons
Kansas City Fountains Today
Though the Mill Creek Fountain is perhaps the "most famous", so many of the remaining 200-plus fountains are just as beautiful and majestic, and even the diminutive examples in the city hold their own uniqueness, charm, and purpose. Each of the private and publicly owned fountains is named for a person or signifies an event that helped shape Kansas City as it is today.
With so many fountains in the city, the restoration, repair, and maintenance needed a champion. Hallmark executive Harold Rice and his wife Peggy became this advocate. After a trip to Rome in 1973, they noticed that so many of Rome's magnificent fountains were unusable or in disrepair. They did not want to see the same fate befall Kansas City and took it upon themselves when they returned home to establish "The City of Fountains Foundation". This non-profit organization raises funds for installing new fountains, restoring already existing fountains, and has a self-sustaining trust established to accomplish these ambitions.
Though referred to as such since the 1930s, Kansas City's "City of Fountains" nickname was cemented in place in 1992, when a fountain symbol in the shape of a heart was incorporated into Kansas City's official city logo.

If an afternoon basking in the soothing sounds of a water feature calls to you, be sure to take a look at this interactive map showing the location of over 200+ fountains and sculptures.
While you are there, read more about our famous architecture and the City Beautiful movement here.