The History and Legacy of Hallmark
Posted by Ask Cathy Marketing Group on Friday, December 16, 2022 at 3:12:05 PM
By Ask Cathy Marketing Group / December 16, 2022
Comment
The History of Hallmark Here in Kansas City
"Producing a first-class product that is a real need is a much stronger motivation for success than getting rich." J.C. Hall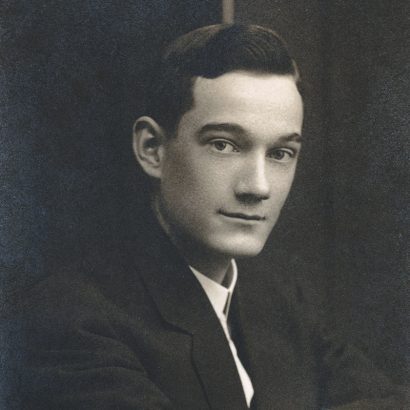 Image Courtesy of the Hallmark Corporation
In the grand scheme of things, Kansas City is not a huge city, but though it is modest, it is full of culture and creativity that any other city would be proud of. Another tremendous quality our city has are the incredible entrepreneurial spirits that have called it home. Though some are more recognizable than others, there is one who came to Kansas City, in 1910, and literally left his mark on the city and its people. While Kansas City may be where his legacy began, it now extends and reaches the world beyond. The mark is Hallmark.
Joyce Clyde Hall came into this fair city by train in 1910, his fledgling postcard business, in two shoeboxes, tucked under his arm. Little did he know what his future held for him and the empire he would help create.
Raised in Norfolk, Nebraska, Joyce Clyde Hall's ingenuity led him to become a businessman from the early onset. One of his first trades was selling perfume door to door at the age of 9, for a company that would later be known as the Avon Company. He also helped after school at his older brother's bookstore. Joyce, (J.C.) was a diligent and hard worker and did his share of supporting his widowed mother despite his young age.
When J.C. was 16, he and his older brothers, Rollie and William pooled their resources to start Norfolk Post Card Company, which sold imported postcards. At 18, J.C. dropped out of high school and boarded that train to Kansas City, filled with hope to grow the business. He sold his postcards to drugstores, bookstores, and gift shops, and took advantage of Kansas City's central location by traveling by rail to nearby cities to sell there as well. In a few years' time, postcard sales began to decline, so J.C. changed with the times and began to sell "Christmas Letters". Brother Rollie joined him in Kansas City, and they opened up their first brick-and-mortar store selling postcards, gifts, and stationery, under the name Norfork Card Company.
A sudden event on January 5, 1915, would change the path for the Hall brothers, and with it, the future of their business forever. Exactly 5 years and one day after Joyce's original arrival to Kansas City, they lost everything, as fire destroyed their entire inventory, and left them deep in debt. Determined to move forward, the brothers took out a loan and bought an engraving firm, in 1916, which would soon help them with the process of creating their own cards with "Hall Brothers Company" imprinted on the back. With this shop and a new focus on producing their own inventory, the Hall brothers helped forge the way ahead for the modern greeting card industry and created the precursor to what would become Hallmark's signature cards we know today.
J.C. was widely known as a man who was incredibly innovative and who heavily relied on his instincts. Franklin G. Murphy, who was a board member of Hallmark for 40 years stated " If five people were looking at a wall, four would say "That is a wall", Joyce would say " I want to do something to that wall." What others would see as a problem, J.C. would see as an opportunity. After running out of traditional tissue paper at the shop, the brothers innovated the idea of modern wrapping paper, when they substituted french envelope lining paper instead of tissue. They continued the practice again the next Christmas, with much success, and afterward began printing their own designs of wrapping paper from that time forward. They also began creating cards for holidays other than Christmas.
Brother William Hall would leave his bookstore in Norfolk, and join his two brothers in Kansas City in 1921, and together they formed Hall Brothers Inc. As their company expanded, so did their staff. They increased from 4 employees to 120, as their territory expanded with the opening of additional stores. As their company continued to grow - J.C. decided to make another change, this time inspired by gold engravers in London.
"Hallmarking" is a process in which individual goldsmiths would distinctly place an engraved mark on a piece of gold or jewelry that was offered for sale. The earliest form was dated back to King Louis IX of France and Edward I of England in the 1200s. As jewelry and gold sales increased from the development of craft guilds, having an engraved "hallmark" became a pre-requisite for gold items offered for public sale. Each individual craftsman would have their own mark and authentication. The standard of "Hallmarking" guaranteed that the item was authentic and of high quality.
J.C. was inspired to change the current mark on the back of the shop's cards from "Hall Brothers Company" to "A Hallmark Card". Despite his brothers being against the idea, J.C. went ahead and replaced the moniker on the back of the card in 1928. (The business, however, would not formally change its name from Hall Brothers to Hallmark officially until 1954.) Up until his retirement, Mr. J.C. would give his "Ok J.C." to every card design before it was offered for sale. This was his own personal "Hallmark", or guarantee of a quality product.
"If a man goes into business with only the idea of making a lot of money, chances are he won't. But if he puts service and quality first, the money will take care of itself. - J.C. Hall
J.C. Hall was a man who deeply believed in quality and community, which was evident not only in his business but in his role in the Kansas City community. In 1943, J.C., his wife Elizabeth Ann (who he married in 1921), and his brother Rollie, established the "Hall Family Foundation" to improve the community they loved. The foundation, even today, continues to enhance its residents' quality of life, based on its core values of humility, excellence, collaboration, and innovation, and by being a catalyst for change within the community. The Hall Foundation strives to " enable all people in the community to experience what is possible, and to achieve their greatest potential". It would be no surprise that Hallmark's signature slogan would be chosen in 1944 as " When You Care Enough To Send the Very Best" because that was what J.C. Hall wanted to do - his very best. Marketing executive, C.E. Goodman, penned the saying on a 3 x 5 card, which is on view at the Hallmark Headquarters. That slogan along with J.C. Halls's penchant for embracing the idea of advertising (despite being advised not to) helped the company see its greatest growth after World War II and eventually helped Hallmark become the most recognizable name in the card industry today.
Even in his business dealings, J.C. strove to do more. His creative thinking and determination moved him forward to new ideas and opportunities for Hallmark. An innovator at heart, he was the first to develop a non-computerized method of accounting that alerted his shops when to reorder cards. When he was told he shouldn't venture into television, he sponsored a live production of "Amal and the Night Visitors" from the NBC Opera Theater on December 24, 1951. The program was so successful, that it led Hallmark to establish the "Hallmark Hall of Fame" television series This series became one of the most beloved television series and won numerous awards and accolades. Programs would air during major holidays throughout the year as a distinctive media push to bring Hallmark to the forefront of people's minds, while at the same time providing viewers with quality television programming. The program would be the first time a major corporation developed a television project with the sole purpose of promoting its products to the viewing public.
J.C. was a fair businessman, an innovative entrepreneur, and he was also a man who believed in his products and his people. While he was alive, J.C. never let his business be publicly traded and was one of the largest privately held companies in America. His reasoning was that he felt that the needs of his employees would be better served if the business remained privately owned. The Hall family would remain in majority control, though 25% of the company would belong to employees through an employee stock ownership plan, that was established in 1975.
Though never really retiring, J.C. passed down his legacy as chief executive in 1966 to his son, Donald Joyce Hall, though he remained chairman of the board. He then at the time focused on creating a city within a city, "Crown Center" in the middle of the town that he loved, and became the location of the company's headquarters. The 85-acre Crown Center was inspired by Rockefeller Center and helped the area that had fallen into decay, by breathing new life into it. Residences, office buildings, a hotel, shopping, and an entertainment area are all encompassed in Crown Center. It serves as the epicenter of the holiday season in Kansas City and inspired the development of the adjoining downtown areas.
The expansion of the business included a very fruitful venture into the production of Christmas ornaments in 1973. The modest first collection of 18 ornaments was offered, and the collectible marketing niche began. Hallmark sparked an early form of "the fear of missing out" as Hallmark ornaments are only available for the year they are introduced, and then are no longer offered for sale. Coveted and treasured, Hallmark "Keepsake Ornaments" are aptly named. Now over 11 million households in the United States collect Hallmark ornaments. Hallmark has made a number of other successful acquisitions under the four facets of the Hallmark Business: Hallmark, Hallmark Media, Crayola, and Crown Center Redevelopment Corporation.
Joyce Clyde Hall died in his sleep in 1982, at the age of 91 years, at his home in Leawood Kansas. J.C.'s grandsons are now at the helm of the empire he created. As Hallmark Corporation continues to grow and expand, it keeps in mind the legacy that J.C. left behind.
It was known that of all the thousands of card messages that Mr. Hall gave his stamp of approval to throughout his lifetime, his personal favorite was one penned by Edgar Guest. Though a sentiment of few words, it thoughtfully reflects his personal standard, ''I'd like to be the kind of a friend you've been to me.''