The Counterbalance to Choosing a Countertop!
Posted by Ask Cathy Marketing Group on Friday, September 8, 2023 at 1:00 PM
By Ask Cathy Marketing Group / September 8, 2023
Comment
Tips on Choosing the Perfect Countertop Material
Granite, Quartz, Marble, and More!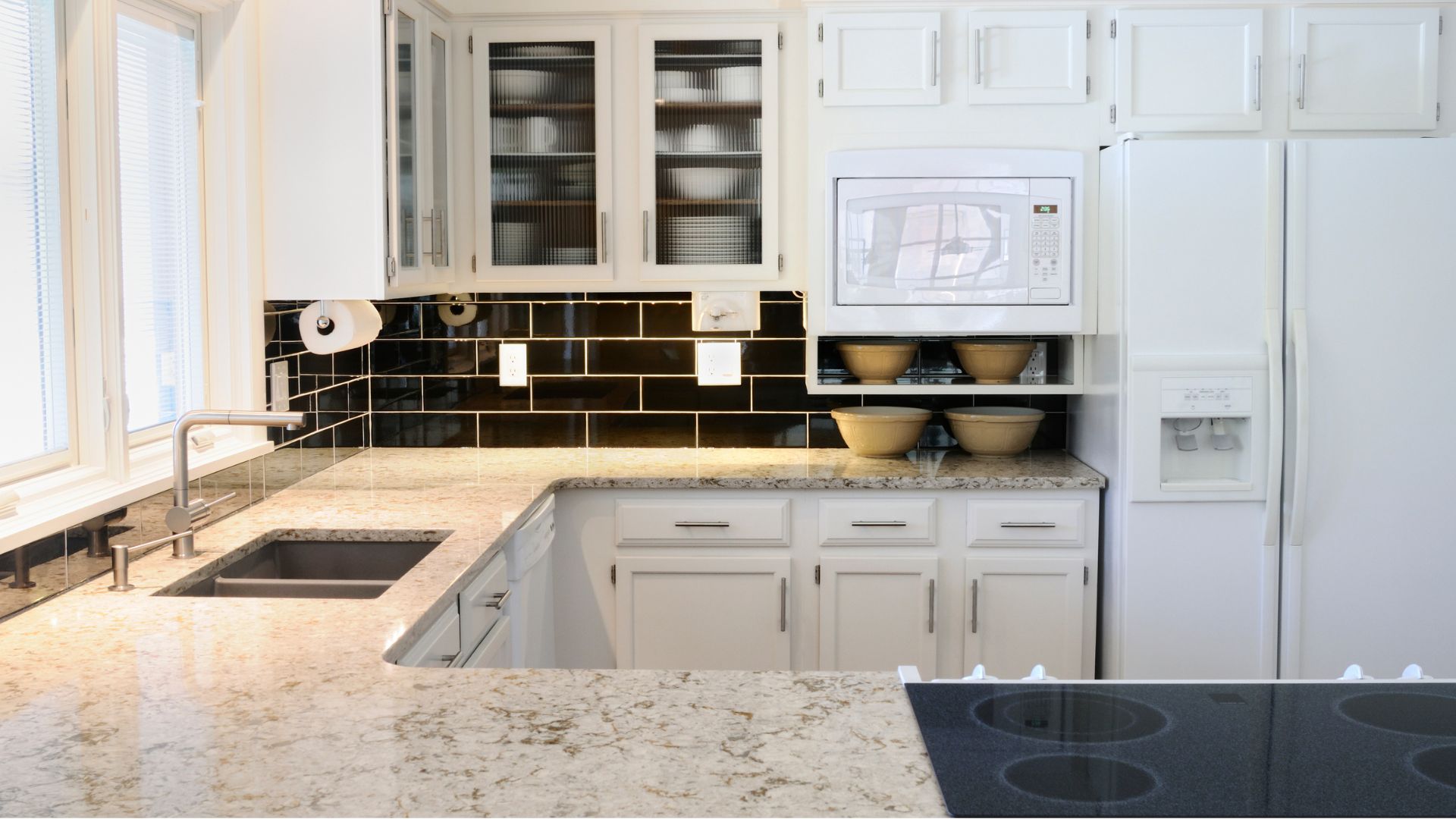 Whether you are renovating your current kitchen, moving into a home that needs some updating, or building one from scratch in a new home, one important decision you are likely to make is what type of kitchen or bath countertop to install.
This decision may be a difficult one as there are so many different options to choose from. So we ask the age-old question - how do you decide on what would be best for you and what are your choices?
Cost - Let's face it. We all wish we had an endless budget for home improvements, but sadly most of us are stuck with champagne tastes and beer budgets when it comes to remodeling. Though maybe you have a home improvement savings account, or just got a wonderful bonus at work that is helping fund this new purchase. Either way, the cost could definitely play a factor in determining what type of countertop you choose.
Aesthetics - How a counter looks is a big thing to a lot of kitchen owners. There is a vision of your kitchen, no not the current state - with this morning's breakfast dishes or kids' science project strewn about. The one right before the EXPECTED company comes over, and everything is tidy and clean, and it looks like a picture off of Pinterest. You may have a look that you want to achieve for your kitchen, and the countertop most likely is a HUGE part of this vision. Look in home magazines and home websites for inspiration on colors and choices. Go visit the different options in person, and take some samples home to see how a particular selection looks at different times of day, and with the cabinets you currently have or the ones that will be installed. Look at brand-new model homes for inspiration.
(The Kansas City Parade of Homes is a GREAT way to see new kitchen counter options in the wild! Read this blog to find out more about this fun and free excursion! Also, stay tuned for our brand new blog about the Fall 2023 Parade of Homes to go to soon!)
Durability and Maintenance
A good way to determine whether a particular countertop will work for you is to determine what your kitchen habits are in your current kitchen.
Can the surface be scratched by a slip of a knife when you are chopping vegetables, or scorched by a hot pan if something is accidentally set on top of it? Does every mess get wiped up immediately after it happens - so that the chance of staining is at a minimum? Or do the kitchen elves leave a mess of crumbs and spills in their wake? Are you disciplined in using a cutting board each and every time you need to cut something? Would you prefer a counter that can withstand heat and a good beating? Are you a pastry chef in the making, and prefer a nice cold slab of marble to roll your rough puff on?
Depending on which countertop you choose the material it is made from can be more durable than others, and some require more care than others. Be sure to thoroughly research whether your selection is porous or not, needs sealing, or needs any other special care. More importantly, decide how much time you would like to spend on its maintenance, or if the aesthetics of a particular type of counter is worth some extra care and love.
Resale Value - Perhaps the last thing on your mind when renovating a kitchen and selecting your brand new counter, is to consider whether it will be a good choice for another person who may buy your home in the future. Even if you are planning on staying in your home at this point, it is always a good idea to keep your eye on a potential future move. With that said, you should make the choice that is right for you and one that you will love for a long, long time. If you are thinking of resale - granite and quartz are always fantastic choices.
The Material Choices are MANY!
There are quite a number of options to choose from when it comes to countertops, and depending on your budget and what appeals to you aesthetically, could help you narrow down what material would work best for you.
Granite - Granite counters are very popular, but with a number of beautiful things, they need a little bit of extra care. They need sealing regularly against staining, but it is also durable and resistant to scratches and staining.
Quartz - Quartz countertops are engineered stone surfaces made from a combination of natural quartz crystals and resins. They are durable, non-porous, and come in a wide range of colors and patterns. They are also easy to maintain.
Engineered Stone - Besides quartz, other types of engineered stone countertops are made from materials like sintered stone and porcelain. These offer durability and design flexibility.
Marble - Marble countertops are known for their elegance and classic look. They are, however, softer and more porous than granite and can be susceptible to staining and etching from acidic substances.
Concrete - Concrete countertops have been a popular choice for people who like a modern handcrafted look. Concrete counters are durable and completely customizable in size, shape, and color. You can also integrate features in them like drainboards, or cutting boards. You can even bedazzle them by embedding them with tile, decorative glass, or stone. Some cons are because they are so customizable, you will need an installer that specializes in concrete counters to install them for you unless you are a skilled DIY-er. They take more time to install as well, due to the number of steps with building the forms, curing and sealing the concrete, etc., so it generally takes longer overall to install them, plus, they could be costly due to their handcrafted nature. They are also prone to staining, so they need to be sealed periodically.
Solid Surface - Solid surface countertops, like Corian, are synthetic materials that can mimic the look of natural stone. They are non-porous, easy to clean, and can be seamlessly integrated with sinks. They are, however, prone to scratching and are not heat resistant.
Laminate - Laminate is a great way to get the look of stone, without having to pay for it. Laminate countertops are generally one of the least expensive options and yet, they come in a huge variety of colors and looks. They are the perfect choice to get a high-end look with a low cost. With being so cost-effective, they are great for homes or a rental where you may need to replace countertops more often. They are also very easy to clean. That being said, they are easy to damage due to staining or scratching, as well as heat. These countertops will not increase your resale value if this is something that is important to you.
Butcher Block - Butcher block countertops are made from wood, typically maple or oak. They add warmth to the kitchen and are great for food preparation. However, they require regular sealing and can be vulnerable to water damage. You also need to make sure that you are cleaning properly to avoid food contamination and germs.
Tile - Tile countertops offer a wide range of design possibilities and are relatively affordable. These are also possible to install without a professional installer, if you so choose. However, the grout lines between tiles can be difficult to clean, and can give your kitchen a dated appearance.
Stainless Steel - Stainless steel countertops are known for their sleek, modern appearance and durability. They are resistant to heat and stains but can scratch easily.
Soapstone - Soapstone: Soapstone countertops are natural stone surfaces that are heat-resistant and can develop a patina over time. They are relatively soft and can scratch but are less porous than marble.
Porcelain Slabs - Porcelain countertops are extremely durable and resistant to stains, scratches, and heat. They can mimic the look of natural stone and come in a variety of patterns.
The Big Decision
Choosing your countertop is a big decision. Due to the outlay of expense that some of the choices will create, it is a decision that will most likely be something that you will be living with for a long time. So take your time. There are so many choices available, that you are bound to find a few that speak to you. So go with your heart, and plunge forward and look forward to your beautiful new kitchen!
Want to move into a brand new kitchen with just the look you would LOVE? Let us help you find your perfect kitchen in a new home!