The Art of Death Cleaning
Posted by Ask Cathy Marketing Group on Monday, October 9, 2023 at 1:30 PM
By Ask Cathy Marketing Group / October 9, 2023
Comment
Not Loss, But Living: Death Cleaning
What to Know About This Swedish Style of Home Organization!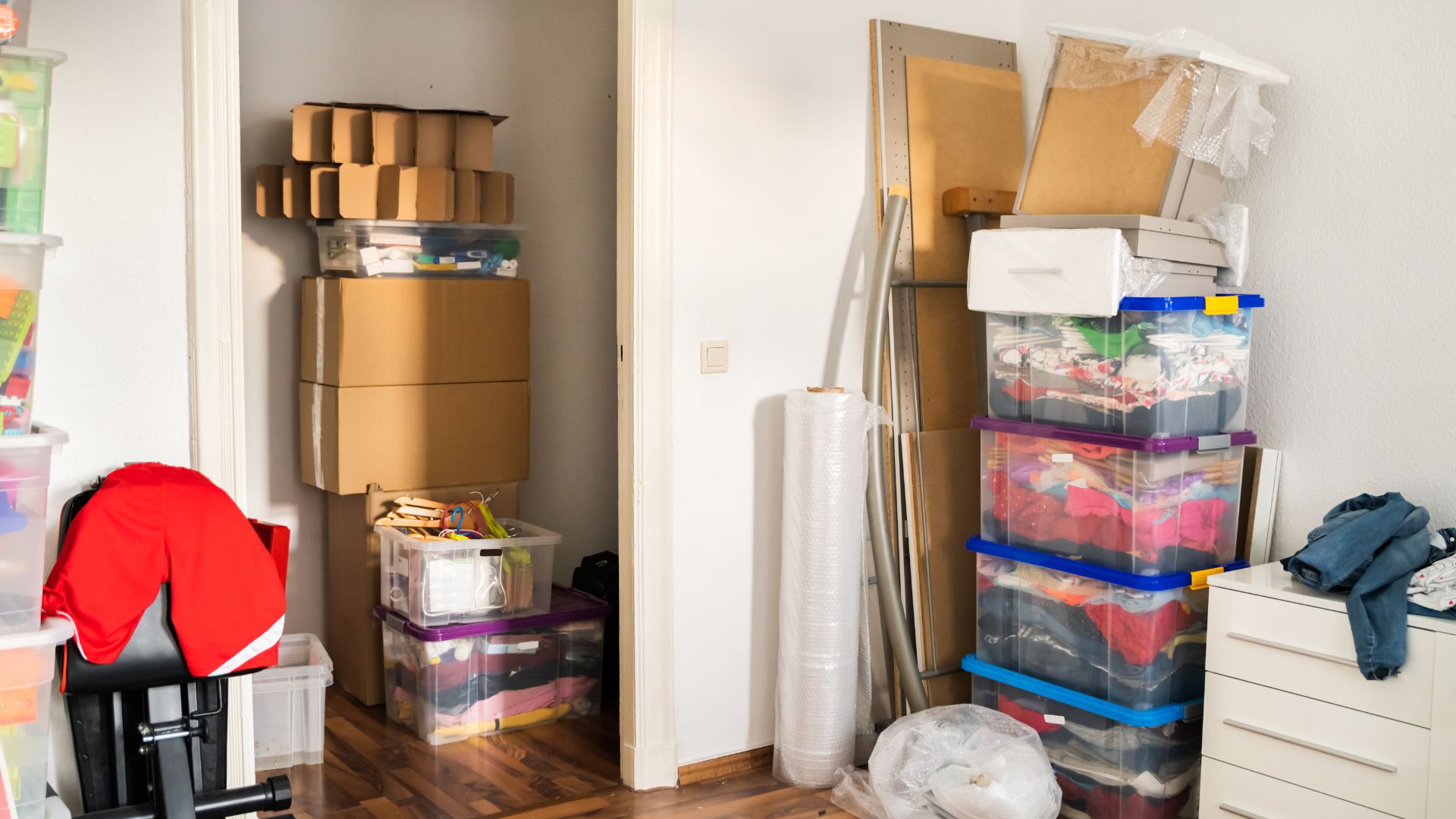 By now, you may have heard of Marie Kondo, the Japanese organizing consultant, and her solution to decluttering," The Life-Changing Magic of Tidying Up". Her main concept is to only keep items in your home that " Spark Joy". You remove those that don't make you happy out of your life and find everything that remains a proper place in your home.
What you may NOT have heard of is Margareta Magnusson's uniquely different approach, "The Gentle Art of Swedish Death Cleaning: How to Free Yourself and Your Family From a Lifetime of Clutter."
A Lifetime of clutter. That is a particularly daunting phrase, isn't it? Indeed. More on that later.
What Exactly is Death Cleaning?
Death Cleaning simply put is dealing with your stuff early on, before there is a necessity or before you pass away. Magnuasson's book foreword really sets the tone for the motivation behind this decluttering approach:
"The only thing we know for sure is that we will die one day... Let me help make your loved ones' memories of you nice - instead of awful."
The process of death cleaning offers one a chance to reflect on the contents of your home in a meaningful way – then to decide whether to keep something or to let it go, in one form or another.
Even though this sounds like a perfectly reasonable approach, putting it into motion is not always as easy as it sounds.
Dealing With Loss
As all of us on the Ask Cathy Team know firsthand, losing someone in and of itself, is hardship enough. Losing someone close to you - a parent, a grandparent, a sibling,…these are all events that are indescribable, and the word hardship doesn't even come close to being the right word.
Anytime there is a loss, there is so much to do - prepare and take care of. One thing turns into another, into another. It is a highly emotional time as well. Feelings run high and deep, and in-the-moment decisions can sometimes cause rifts that may be beyond repair. Imagine having to deal with an entire lifetime of home contents and personal belongings of your loved one. Having to sort, divide, and dispose of a person's entire inventory. Feelings of being overwhelmed by the sheer process and magnitude can lead to feelings of guilt, discomfort, and adversity for all involved. Death Cleaning is a way to lessen the burden and eliminate some highly emotionally charged conversations left to your loved ones.
Holding On
Amassing a "lifetime of clutter" is something that undoubtedly most of us are guilty of. In regards to amassing stuff, people tend to fall into three categories:
Those who hold
Those who let go
Those who have the ability to hold and let go easily
Even if you don't have a lot of stuff, we all hold onto something. For those of us who are "holders" giving up the items we currently own can be a challenge. Letting go of items you love, and that are important to you can be uncomfortable and sometimes painful. They are important to you, which is why you have them in the first place. They could be great amazing items, that "spark joy" to you, but sadly could be a burden to those around you, after you are no longer able to take care of or maintain them, or after you are gone.
What Happens When You Hold On Too Long
We all hold on for a number of reasons and don't let go for many others. The thought of giving up stuff for holders is uncomfortable, to say the least. There could be some deeply emotional reasons for keeping the items you have around you perpetually. While in the immediate time frame, holding on may not seem like it causes any issues, in the event that something does happen, what you leave behind could have a profound effect. The aftermath of what is left behind will not have an impact on your life but on those around you.
Loss may not even deal with death. It could be the loss in another form - dementia, mobility, health decline, or the loss of independence. With these life stages, there are just as many things to deal with, and sometimes more.
By embracing death cleaning, when you are able, and in good health, means that there are no questions about what you leave behind.
When dealing with a loved one's home contents, many questions emerge:
Why did they keep this?
Where is this item?
Is this valuable?
What would they want to be done with this?
Who does this belong to?
Who should this go to?
Dealing with treasured items upfront makes the eventual process so much easier on all involved and takes out the guesswork.
Sometimes the burden of dealing with someone's estate comes down to one or two people. Sometimes there are feelings that are hurt. Sometimes valuable items get overlooked or thrown away. Sometimes the loved ones' intentions for an item never come to fruition. By dealing with it now, it is in your power to alleviate ALL OF THAT. You can be in control before you are no longer able to be in control due to illness, dementia, or death.
Not Loss, But Living
There are many benefits to considering Death Cleaning. It might sound a bit morbid to think about what happens to your stuff after the inevitable, but in reality, it might be a sort of comfort and an achievement that you can be proud of. Not only is it making life, after your life easier for those around you and those you love - it also can have a profound effect on your life now. Having a lot of stuff can become a burden. Having too much stuff is overwhelming even for the most organized of us. The weight of stuff, while it doesn't necessarily physically hold you down, it most certainly holds you down figuratively. Dealing with those items that are weighing on you in the literal sense, can help emotionally unburden you.
In Magnusson's approach, death cleaning is:
Not meant to be sad, it's meant to be a time of remembering and sharing of memories and physical objects.
Meant to be an act of love and service for your loved ones, so that in their grief, they won't need to death clean.
Meant to be an empowering time to let go of items and memories that you choose not to hold on to anymore.
Meant to be a celebration of abundance and gratitude.
When putting Death Cleaning into practice, ask yourself:
"Will anyone I know be happier if I save this?"
Simply put, dealing with your stuff now - long before you are at a point where it is a must instead of a choice, is a gift. A gift to those you love, those you leave behind, and yourself. You want your loved ones to "Inherit nice things, not all things".
Other Practices of Death Cleaning Are:
Invite people to come over and tell you what items they would like to have once you are gone.
Younger relatives come to "shop" for necessities for their first home or apartment
Putting things up for sale
Gifting personal recipes and the stories behind them instead of cookbooks
Downsizing sentimental items like photos and journals
Labeling pictures and identifying those in them
Inviting people to take things every time they come to visit
Starting a throwaway box
Having the Hard Conversation
If you are dealing with aging parents or loved ones now might be a good opportunity to start the conversation about the contents of their home. For some, this could be a particularly emotionally charged conversation, so be gentle. If they aren't ready, bring it up at a later time, but don't put it off indefinitely.
Dealing with some items now and again can have a positive impact on all those involved. It lets them be able to see their loved items being enjoyed by their intended recipients while they are still living.
Even if they do not give many things away now, they have the opportunity to write down why an item is important to them and why they eventually want the intended person to have it. It makes it special and more meaningful on both accounts.
This is also an opportunity to invite people to let you know what items are special to them, and why they would like it as a memento to you. Sometimes what you think is sentimental to a person is not what is actually sentimental or useful to them.
Spending time together making plans for certain items, can lead to many conversations you will be able to look back on and treasure.
In Closing
There is no need to be in Camp Kondo or Camp Magnusson. Both Marie's and Margareta's approaches can certainly live congruently with one another. Choosing to keep things now that spark joy will make your death cleaning at the appropriate time a whole lot easier, for everyone.