Skateboarding in Kansas City
Posted by Ask Cathy Marketing Group on Monday, April 10, 2023 at 1:00 PM
By Ask Cathy Marketing Group / April 10, 2023
Comment
Skateparks in the Kansas City Area
What to Know About Skateboard Etiquette and Safety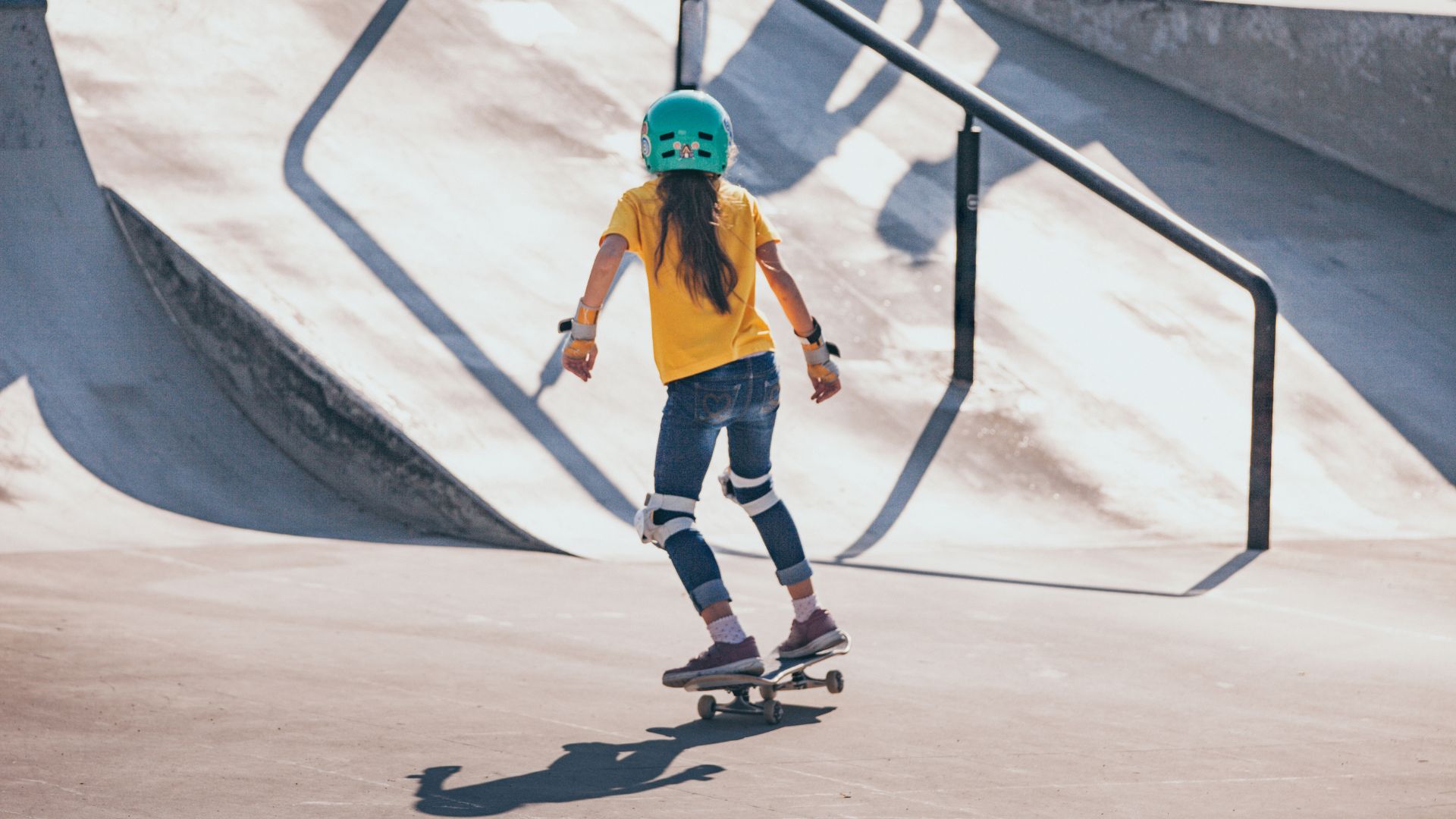 What may be contrary to popular belief, skateboarding is an incredible sport. It encourages achievement, comradery, creativity, and innovation. It's also a great way to keep in shape, as your core and leg muscles get quite the workout. When done safely, skateboarding can be a great way to be outside, get exercise, and learn balance, coordination, and athleticism.
One of the other life skills it teaches, in what many do not realize, is politeness - or rather skateboard etiquette. At a skatepark, skaters take turns doing runs through the course of the park, and there is usually a flow and a direction in which skaters maneuver the park, for safety purposes so as not to run into each other. Patience is learned as you wait your turn for your run. While waiting, it is customary to encourage other skaters while making their run. Though it is an individual sport when you are a competitive skateboarder, skateboarding is very much a team atmosphere with skaters encouraging one another throughout their time at the park. It is also a very social sport, and more advanced knowledgeable skaters oftentimes give tips and pointers to the ones who may be just starting out.
Another aspect to note about skateboarding is that it is not just for kids or teens, but adults can benefit from partaking in the sport as well. When you roll up to the skatepark, you see people of all ages, of all genders. No two skaters are alike in the way that they approach a trick. There are no "rules" (with the exception of skateboard etiquette in the park) when it comes to tricks, and skaters can creatively put a run together with their own style and finesse.
We would be remiss if we didn't touch on safety. Helmet safety is no joke. Wearing the proper skateboard helmet is essential when it comes to skateboard safety. Though many skaters do not wear helmets, it is definitely better to be safe than to look cool. Sure they seem like a bit of a nuisance, but a head injury can change a skater's life - and certainly not for the better. Even when wearing a helmet, skateboarding can be dangerous if a skater doesn't know their limits, or if there is someone at the park not paying attention to the flow. So with anything, skateboarding should be handled with intelligence. Make sure you have the correct helmet before skateboarding, not just any old bike helmet. A certified skateboarding helmet is essential for the best protection against injury. Skateboard helmets that are dual safety rated for multi-impact such as the Triple 8 Skateboarding helmet or the S-1 helmet. For more about helmet safety, here is the CDC Skateboard Helmet Fact Sheet. A word of caution, not all skateboard helmets are certified, so when choosing a helmet, make sure that you know what you are purchasing.
Boards and Other Equipment
Just as in helmets, skateboards are not created equal as well. Investing in a good board is also essential for safe skating. Sometimes, cheap knockoff boards with inferior quality wheels can be unsafe as many of them are not meant for the terrain at the skatepark versus a common driveway, etc. If you are unsure of what to purchase, you will find the most help at a smaller local skate shop - one that is run by actual skateboarders.
A few local skate shops include:
405 Southwest Blvd #100, Kansas City, MO 64108
880F NW Blue Pkwy, Lee's Summit, MO 64086
230 S 65th St, Kansas City, KS
1603 W 39th St, Kansas City, MO 64111
300 W 80th St, Kansas City, MO 64114
Skateparks
In Kansas City, there are a plethora of parks to choose from if you are venturing out for a skate. No two parks are alike, and they range in difficulty, features, and even the material in which they are constructed. Some are also equipped with lights for nighttime skating.
If you are thinking of getting into skateboarding, there is a great skate scene to be found in Kansas City. Parks abound in many towns throughout - however before skating be sure to check that the area is clear and free of small rocks and debris. (Hint: Having a dustpan and small broom in your car comes in handy!)
Missouri
Belton
Wallace Skatepark/Belton, 16400 N Mullen Rd, Belton, MO 64012
Blue Springs
Burris Mills Skatepark, 112 NW Woods Chapel Rd, Blue Springs, MO 64015
Walnut Street Skateboard Park, E Walnut & NE 1st Street Blue Springs MO 64014
Grain Valley
Armstrong Park/Grain Valley, 711 N Main St, Grain Valley, MO 64029
Grandview
Meadowmere/Grandview Skate Park, 13610 Byars Rd, Grandview, MO 64030
Independence
Independence Skatepark, 2001 S Hardy Ave, Independence, MO 64052
Santa Fe Skate Park, 2711 S Santa Fe Rd, Independence, MO 64052
Kansas City, MO
Penn Valley Skatepark, W 29th St, Kansas City, MO 64018
Harrison Street DIY Skatepark, 401 Harrison St, Kansas City, MO 64016
Lee's Summit
Lea McKeighan Skatepark, 120 NE Chipman Rd, Lee's Summit, MO 64063
Howard Skatepark, 3498 NE Independence Ave, Lee's Summit, MO 64064
Oak Grove
Oak Grove Skate Park, 2110 S Broadway, Oak Grove, MO 64075
Raymore
Raymore Skatepark, 1011 S Madison St, Raymore, MO 64083
Raytown
Raytown Skate Park, 9718 E 79th St, Raytown, MO 64138
Kansas Skateparks
Kansas City, KS
Kansas City Kansas/Pierson Park, 1800 S 55th St, Kansas City, KS 66106
Rosedale Skatepark, 4100 Mission Rd, Kansas City, KS 66103
Studio Skate Supply (indoor - cost involved), 230 S 65th Kansas City, KS
Lenexa
Lenexa Skate Park / Sar - Ko - Par Trails Park, Greenway and West 87th Street Parkway, Lenexa, KS 66215
Olathe
Olathe Two Trails Park, 1000 N Ridgeview Rd, Olathe, KS 66061
Overland Park
Overland Park Skatepark, 135th and Switzer, 10507 W 135th St, Overland Park, KS 66221
Prairie Village
Prairie Village/Harmon Skatepark, 7710 Mission Rd, Prairie Village, KS 66208
Roeland Park
Roeland Skatepark/Granada Park, 5103 Granada Street, Roeland Park, KS 66205
Shawnee
Shawnee/Swarner Skatepark, 15120 W 63rd St, Shawnee, KS 66217
In conclusion, there is so much going on with skateboarding, as it truly is an underrated sport. With its recent inclusion in the Olympic Games, it is starting to get the recognition it deserves.