Saving Now for an All-Cash Christmas!
Posted by Ask Cathy Marketing Group on Monday, January 2, 2023 at 1:00 PM
By Ask Cathy Marketing Group / January 2, 2023
Comment
Tips on Saving Money Throughout the Year For An All-Cash Christmas
Benefits of an All-Cash Christmas in 2023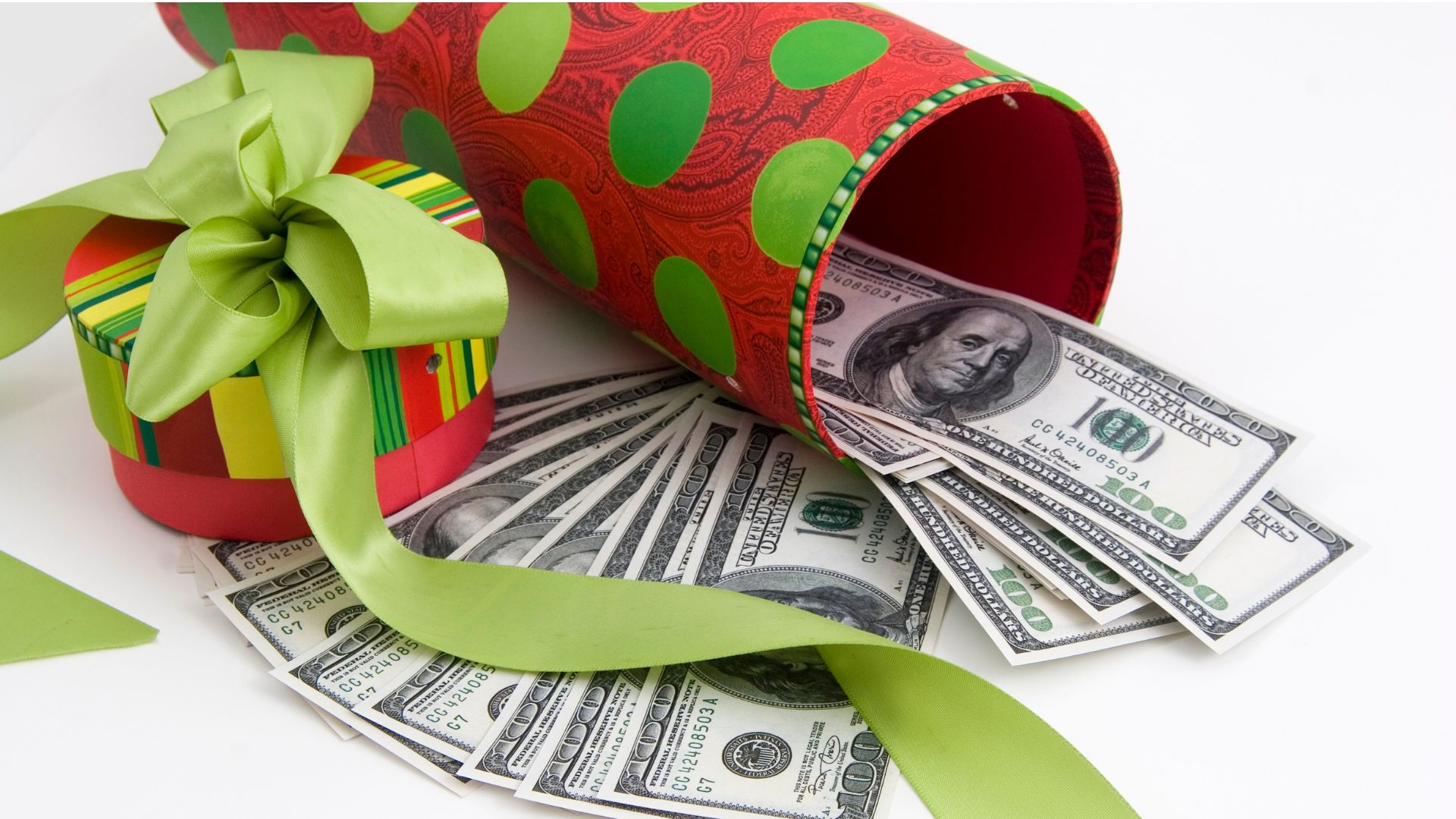 It might seem a little premature to talk about NEXT Christmas when the Ghost of this Christmas past isn't even cold yet, but there is a very important reason to bring it up this early, and it may be something to be very thankful for come this time next year.
It has happened to all of us, you are out in the flurry and frenzy of Christmas shopping for your loved ones, friends, and family, and you get carried away with the excitement of it all, in buying this and that, and before you know it, you've gone over budget and out comes the credit card. "No worries," you think as you hand the plastic charge plate over, "I'll just pay it off with my next paycheck". By the time the statement comes around though, you may have even forgotten about the purchase, or purchases as the case may be. By then, your paycheck (which you promised to use to pay off the balance of those impromptu purchases) has been earmarked for something else. So the balance of your card rolls over to the next month, and possibly the next - accruing interest all the while. No one likes that feeling of being in debt, and spending more money on interest, and despite all best efforts, this is a common occurrence. A solution? Think about the upcoming Christmas waaaaaay ahead of time and start saving NOW for an "All Cash Christmas".
Budget Now
Saving enough cash to cover your projected Christmas expenses is the best way to stay out of debt, and having history repeat itself and running up your credit card. How do you budget for a holiday that is an entire year away? Here are a couple of ways.
One way to project what you will spend for the next year, and how much to budget for, is to look at all of the expenses you had for Christmas this year. Be sure to include the extra you may have spent on food, parties, and also shipping gifts out of town. Once you have that number, increase it by 10% or so for inflation, and there you have it - the total amount of projected expenses.
Another way, and possibly less daunting or stomach-dropping, is to make a list of all the people you usually purchase for. Be sure to include a spot or two for potential new people on your gift list. Next to each person's name - write down the approximate amount that you would typically spend on this person. Include an entry on special holiday foods, or other celebration expenses. Include an entry for out-of-town shipping. In the end, total all those numbers up, add 10% (dreaded inflation) to the total, and that is your target number of what you are projected to spend. Doing it this way eliminates the possibility of spending spontaneously for people you weren't planning on purchasing for.
Start Now
If you are diligent and actually start saving money right now, you have the maximum number of paychecks in which to save, and the least amount of money that you will have put away per pay period. The longer you put off starting your next year's Holiday fund, the more money you will have to set aside each paycheck, and honestly, the harder it will be to actually stick to your savings plan.
Look at your projected budget number, and divide it by the number of months, or the number of paychecks you have that will be able to be used before the Holiday festivities ensue. This number is how much you need to save per month.
If this number seems daunting and literally impossible to save on a per paycheck/monthly basis, there are a few things you can do, some will be easier than others, and some will be downright hard, but all options are designed for you to use cash for Christmas instead of credit.
Pare down your list of gift recipients. Take a hard look and eliminate those who you may not need to buy for.
Rebudget/lower the amount spent on each person. It is the thought that counts, not the amounts, after all.
Cut expenses elsewhere (for example: limit eating out, or daily morning coffee stops)
Rather than purchasing gifts, think of how you can make or bake potential gifts instead. (Be sure to include the amount spent on supplies and materials in your budget)
Thrift your gifts. Some people do not consider shopping for used items as a potential solution for holiday gift-giving, but gently used items can be appreciated if it is something that the recipient wants or appreciates. The great thing about a thrifted gift is that your gift is usually one-of-a-kind.
Pick up another job during the year to offset expenses.
Sell some of your own things to raise funds for gifts. Purge through unwanted/unneeded items and hold a garage sale or list things on Facebook Marketplace.
Give the gift of time. When it comes down to it, the most valuable gift of all is time spent with someone. Give a handmade gift card to your gift recipient for some quality time doing one of their favorite activities. Maybe Grandma would just rather spend some time with you instead of getting something she may or may not use. This can be true for a lot of people. People remember experiences and time spent together long after the gift you have given them is no longer useful.
Save Now
Keys to Successful Saving
Be diligent in setting the allotted money aside each and every pay period.
Do not "borrow" from the Holiday fund with the intention of "paying it back"
Do not keep your Holiday funds in plain sight. If at all possible have the money directly transferred each pay period into an account that is specifically set aside for Christmas and Christmas only. Some banks still offer special "Christmas Club" accounts just for holiday shopping. Co-mingling money is a sure way to confuse usable funds with other savings.
Designate the time period in which you will begin your shopping, and do not take the money out until the predetermined time. It might be tempting to "dip" into the savings, but this is a slippery slope. The only exception to this rule is if you have found a "hard to find" or very specific item for your gift recipient. Then it is okay to withdraw the money for their gift early. However, be sure to subtract the amount used towards their gift from the amount you initially allotted for them at the beginning of the fund, and do not go over that amount.
Shop Now
Once the holiday season rolls around again, and it is the predetermined day when you will begin your shopping - there are only a few key guidelines to follow.
Withdraw all the Christmas money in cash, and put it in an envelope. (Of course, be safe about it, and keep discreetly on your person, so that you do not run the risk of making yourself a target for theft.)
Carry your "gift list" with your budgeted amount per person with you, in the envelope, or better yet, write it on the envelope.
Keep track of what you are spending for each person and subtract it from their entry on your shopping list (and the total inside your envelope).
Do not spend more than the allotted amount that you predetermined for each person.
Do not stray from your list.
Above all, do not use your credit card.
Once you have purchased for everyone on your list and additional items you have budgeted for, this is your money left over (if any). If you remain on budget with your spending and stick to your list, this should be a real possibility, especially if you are a frugal shopper. If you do have leftover money, you have a few options on what to do with it.
Roll it over to next year's holiday savings account. This will give you a head start on your savings and perhaps even make it a bit easier for you.
Donate it to a worthy charity (which is tax-deductible) and is especially helpful this time of year.
Treat yourself. As a reward for your follow-through and diligent saving, and even more so, for your thrifty spending, you deserve a bit of a pat on the back!
Above all, be proud of yourself for accomplishing such a great goal of having an all-cash Christmas. The only one that may say "Bah Humbug" at this plan is your credit card company! But you know, that is completely okay! Merry Christmas!