Renting vs. Buying: Which Option is Best for You?
Posted by Ask Cathy Marketing Group on Wednesday, May 31, 2023 at 1:00 PM
By Ask Cathy Marketing Group / May 31, 2023
Comment
Factors to Consider When Looking to Rent vs. Buy a Home
How to Know Whether Renting or Buying is Right For You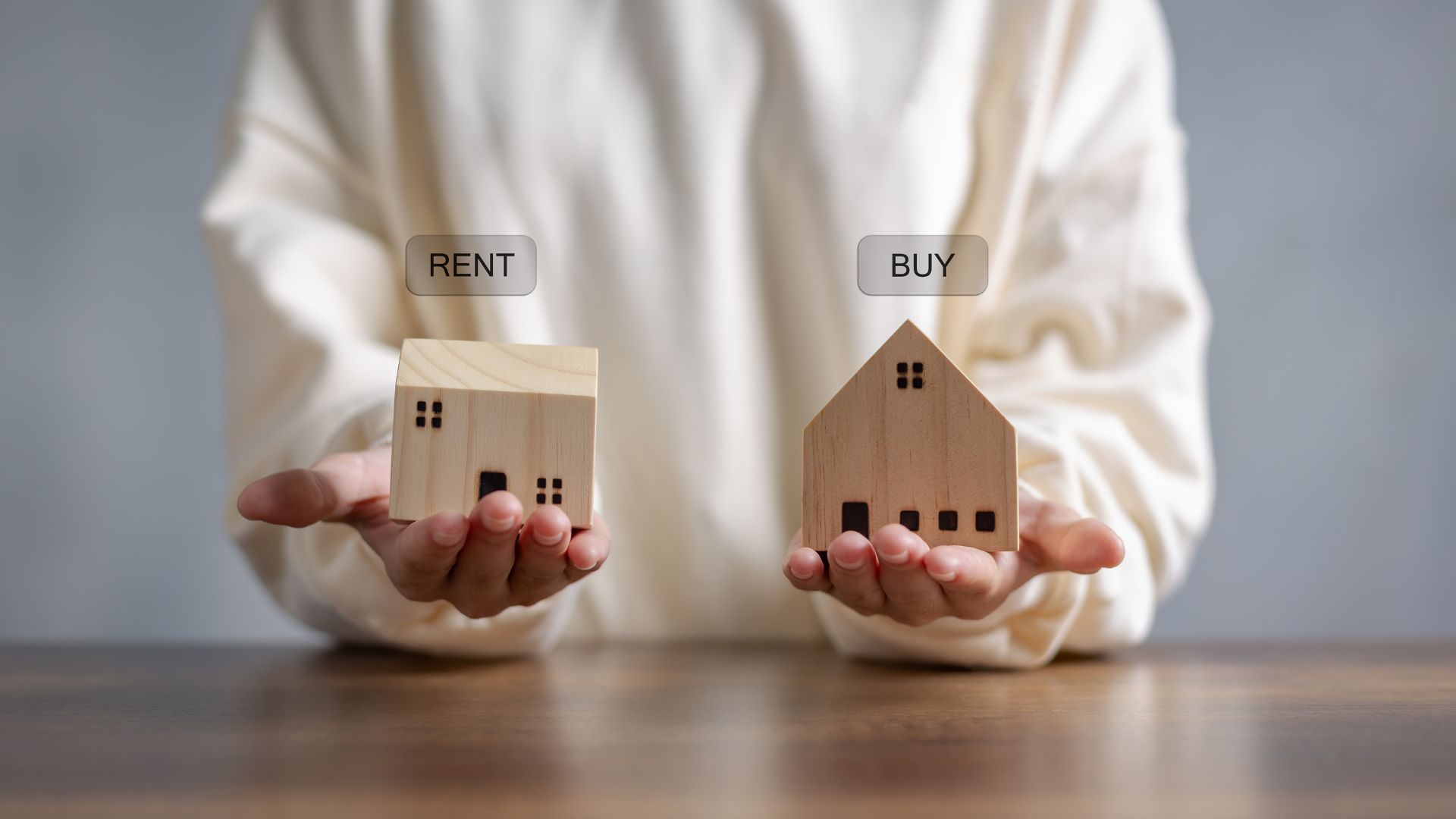 When evaluating whether you should rent or buy a home, there are numerous factors that you need to consider to determine the best decision for your future. In today's blog, we'll cover some of those important factors, and help you evaluate which option will have the most positive impact on your life. There is no right or wrong answer, and everyone's situation is different, so it's important to figure out which option is right for you by considering the following factors.
Pros and Cons of Renting vs. Buying
Pros of Renting
Not responsible for maintenance and repairs

Less upfront paperwork and payments are necessary

No property tax bills

Not tied down to a home

Can build your credit score
Cons of Renting
Landlord can raise your rent unexpectedly

Building your landlord's equity, not your own

Restrictive design choices, totally depending on the landlord's approval

Could have to relocate on short notice if the landlord decides to sell the property
Pros of Buying
Able to build your own equity

Sense of stability by owning your own property

Your property can appreciate in value over time

Design choices are all up to you, not a landlord

Potential tax benefits
Cons of Buying
More expensive cost upfront, and more paperwork

Home value could potentially decline

Cost of maintenance and repairs

Additional costs outside of your monthly mortgage payments
Renting a Home in Kansas City
As you can see from the pros listed above, there are certain benefits in renting a home vs. buying that are valuable for you to consider, as well as some drawbacks. If you rent a home, you aren't responsible for any maintenance and repairs on the home, which can add up over time depending on what the repairs and maintenance cost. Additionally, if your credit score is not high enough to make owning a home affordable for you, renting a home where your landlord reports your rent payments to credit bureaus can help you build up your credit score on the way to owning a home down the road. If you are someone who doesn't want to be tied down to a particular home, or are uncertain if you would be able to make a monthly mortgage payment, renting might be your best option for the foreseeable future.
With renting, however, it's important to understand that you will not be investing in your future in the same manner that you would be if you owned a home instead. When you make your monthly rent payments, instead of building your own wealth, you are building the wealth of your landlord. Additionally, your landlord could decide that they want to build even more wealth off of you, and raise your rent unexpectedly. You could also be limited in your design choices, as your landlord can be restrictive on things such as appliances, paint colors, what you can hang on the wall, etc.
Buying a Home in Kansas City
Buying a home is a far more substantial investment than renting a home, but it is a solid investment in your future, and has definite pros and cons vs. renting a home. The first benefit to owning a home is that instead of building your landlord's wealth you are building your own. By building equity in your home, you can start chipping away at your home loan, and there are certain home equity options that would allow you to tap into that equity, should you need to. Your home can also appreciate in value as well, with the historical average of home appreciation standing at around 4%. When you own your own home, you don't have a landlord to answer to as well! Whatever design choices you want to make are yours to make, and any upgrades you decide to make as well can have a positive impact on your home's value. You can also enjoy certain tax benefits by being a homeowner as well, like mortgage interest rate deductions, property tax deductions, etc. You might also benefit from the knowledge that you are a homeowner, and have a stable property with a fixed monthly cost, instead of wondering whether your landlord will raise the rent on you.
With all this in mind, it is important to consider the drawbacks of owning a property. There is a substantial amount of paperwork and costs associated with owning a home, that you will more than likely not encounter when buying a home. As the homeowner, you are also responsible for any and all maintenance and repairs that your home needs. If the roof needs to be replaced, you could be looking at a substantial cost that isn't entirely covered by your homeowner's insurance. There is also the potential, however unlikely, that home values in your neighborhood could fall, lowering the value of your home. While you can benefit from certain tax benefits, you will still have to pay property taxes on your property, and any additional costs outside of your monthly mortgage payments, like an HOA fee for example.
Want to Evaluate Whether to Rent or Buy With a Professional? Contact our Team for a Complimentary Consultation!
If you are evaluating whether you should start/continue renting, or whether now is the right time to start looking at buying a home, contact a member of our team today to schedule a complimentary consultation! Our buyer's agents have decades of experience helping first-time home buyers, and can help you evaluate whether now is the right time for you, and then develop a strategy that puts your homebuying needs at the forefront of your homebuying plan. Contact us today by calling us at (816) 268-4033, or by filling out the contact form below! Curious about the value of your home? Get a free estimate by vising our property value website!