Fast & Easy Dinner Recipes
Posted by Cathy Counti on Monday, August 16, 2021 at 5:05 PM
By Cathy Counti / August 16, 2021
Comment
What should I make for dinner tonight that's EASY? Standing there, staring into the fridge, wondering what you can whip up tonight that everyone will gladly eat and that won't take a zillion hours—yeah, we've been there! For you (and for ourselves!) we've put together some of our favorite easy and DELICIOUS recipes!
Crock Pot Chicken Taco Meat
Wait, you're telling me taco night can be even easier?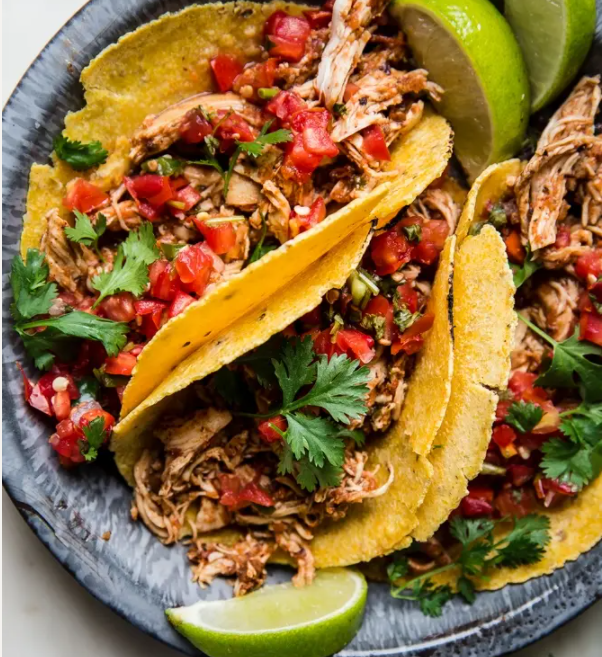 Ingredients
1 12oz tub red salsa
1.5lbs boneless skinless chicken breast
1 packet taco seasoning
Directions
Add all ingredients to a Crock Pot
Cover and cook on low for our hours (or on high for two).
Shred chicken and place back in the Crock Pot.
Serve with your favorite taco fixings!
Looking for an even faster dinner? Add all the ingredients to an Instant Pot, seal the lid, and pressure cook on high for 10 minutes! Allow vent to slow release for 20 minutes to ensure chicken is cooked all the way through. Shred the chicken and enjoy!
Italian Stuffed Shells with Meat & Cheese
This Italian Stuffed Shells recipe is perfect for date night, or for weeknight dinners with the family. Everyone loves cheese-stuffed pasta shells right?!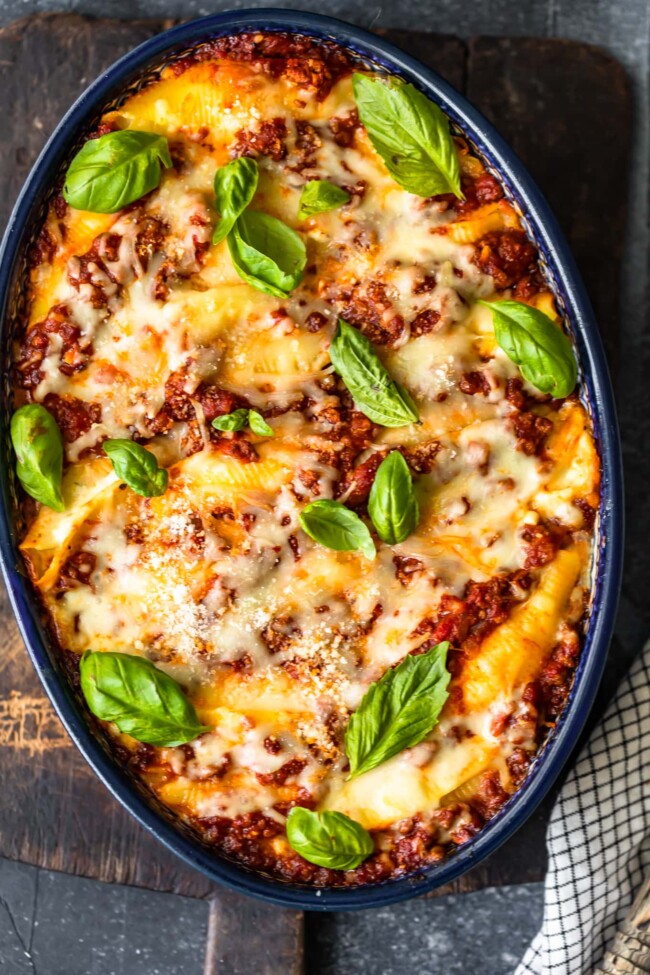 Ingredients
1lb ground chuck
1 tablespoon olive oil
1 small yellow onion (diced)
1 garlic glove (minced)
26 ounces marinara sauce (1 jar)
1 large egg
2 cups small curd cottage cheese (4% milkfat)
2 cups shredded mozzarella cheese (divided)
3/4 cup grated parmesan cheese (divided)
20 jumbo pasta shells
Chopped basil leaves for garnish
Instructions
Heat oven to 350°F and spray a 9×13 (3 qt.) baking dish with nonstick spray; set aside.
After cooking the pasta shells, drain and place them (separatelupside-down on a large sheet pan to dry.
Brown the beef, in a large skillet, set over medium heat until cooked through and no pink remains. Drain off the rendered fat.
Reduce heat to medium-low. Heat the olive oil, in the same skillet, and add the onion. Cook until translucent, about 3 minutes. Add the garlic and cook 30 seconds more.
Reduce heat to low and add the marinara; simmer uncovered, stirring occasionally, for 30 minutes.
In a medium bowl, mix together egg, cottage cheese, 1-cup mozzarella and ½ cup Parmesan.
Pour 3/4ths of the meat sauce in the bottom of the prepared baking dish.
Stuff the shells with 1 rounded tablespoon of cheese mixture and arrange them on top of the meat sauce, open-side up. Spoon the remaining meat sauce in-between the shells but not directly on top of the shells.
Cover with aluminum foil and bake 30 minutes. Remove the foil and sprinkle the remaining mozzarella and Parmesan over the shells. Bake 5-7 minutes longer, or until the cheese is melted.
Serve with garlic bread and a delicious salad.
Enjoy!
Tuscan Chicken in Parmesan Cream Sauce
Succulent Tuscan Chicken in a dreamy, creamy Parmesan sauce. This delightful dish is packed with spinach, sun-dried tomatoes, garlic and loaded with flavor!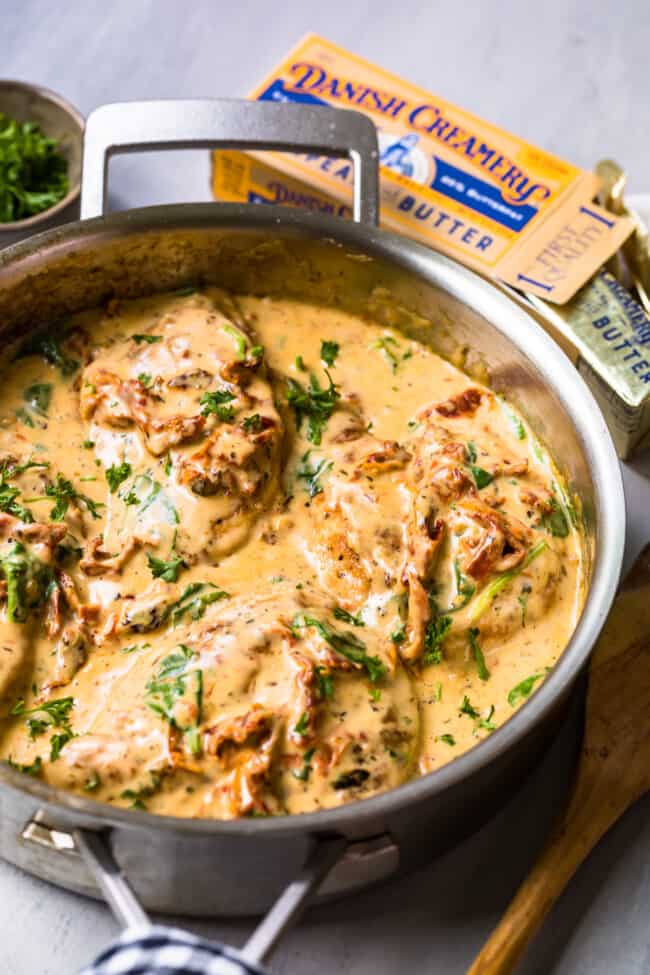 Ingredients
4 large chicken breasts (lighted pounded to even thickness)
1 teaspoon Italian seasoning
Salt & pepper
4 tablespoons flour
3 tablespoons parmesan cheese (hand-shredded or grated)
2 tablespoons butter
For the Sauce
1/4 cup butter
4 garlic cloves (minced)
8.5 ounces sun-dried tomatoes (drained and rinsed)
1 tablespoon flour
1/2 cup heavy cream
1 cup low sodium chicken broth
1/2 cup parmesan cheese (grated or hand-shredded)
1 teaspoon black pepper
1 cup baby spinach
Fresh parsley for garnish
Instructions
Season each side of each pounded chicken breast with Italian Seasoning and salt and pepper.
Combine flour and grated parmesan in a shallow bowl. Dredge each chicken breast in the flour mixture, coating both sides.
Heat a large skillet over medium high heat. Add the 2 tablespoons butter and stir/melt.
Cook the chicken (in batches if necessary) for 4-5 minutes per side or until its fully cooked (165F in the center and no longer pink) and browned on both sides. Remove from the skillet and place on a plate. Cover with foil.
Wipe the skillet clean and return the skillet to medium high heat and add the remaining ¼ cup butter. Use a wooden spoon to scrape the bottom of the pan as the butter melts. The brown bits hold a lot of flavor, so no need to remove.
Add the garlic and sun-dried tomatoes and cook for 1-2 minutes or until fragrant.
Whisk in the flour and allow to thicken for approximately 1 minute.
Whisk in the heavy cream, chicken broth, parmesan cheese, Italian seasoning, and pepper. Stir to combine.
Add the spinach and reduce heat to simmer. Allow to cook until the sauce slightly thickens and the spinach wilts.
Add the chicken back into the skillet and turn to coat in the sauce. Allow to continue to simmer until the chicken is heated through, 2-3 minutes. Garnish with fresh parsley.