Recipes Using an Ample Amount of Apples!
Posted by Ask Cathy Marketing Group on Monday, September 12, 2022 at 1:00 PM
By Ask Cathy Marketing Group / September 12, 2022
Comment
How To Consume an Apple a Day and Then Some, Deliciously!
We recently wrote a blog on the inside scoop on Kansas City Area apple picking, and if you haven't read it yet, be sure to check that out here. In this blog, we are going to give you some flavorful suggestions on how to use those apples from our recent apple-picking journey. If you can't pick your own, that is completely fine - your recent apple grocery haul will do just fine.
As Jane Austen stated, "Good apple pies are a considerable part of our domestic happiness." The Ask Cathy team, and seemingly the rest of the world, could not agree more with Jane on this one. With more than 186 million pies being sold in stores, according to the American Pie Council, it is no wonder that it represents the "quintessential" American (and if dear Jane is any measure - British) dessert. That number doesn't even include the ones baked at home! Apples, in general, taste delicious in whatever they are prepared in, or simply just eaten. So with "prime" apple picking season here, we've compiled a list of some downright delicious recipes for you to get in your apple a day, in some very tasty ways! Yes, we did include a take on an apple pie, made with a sheet pan, instead of a pie plate, plus many other great options!
Which one is your favorite?
Awesome Country Apple Fritter Bread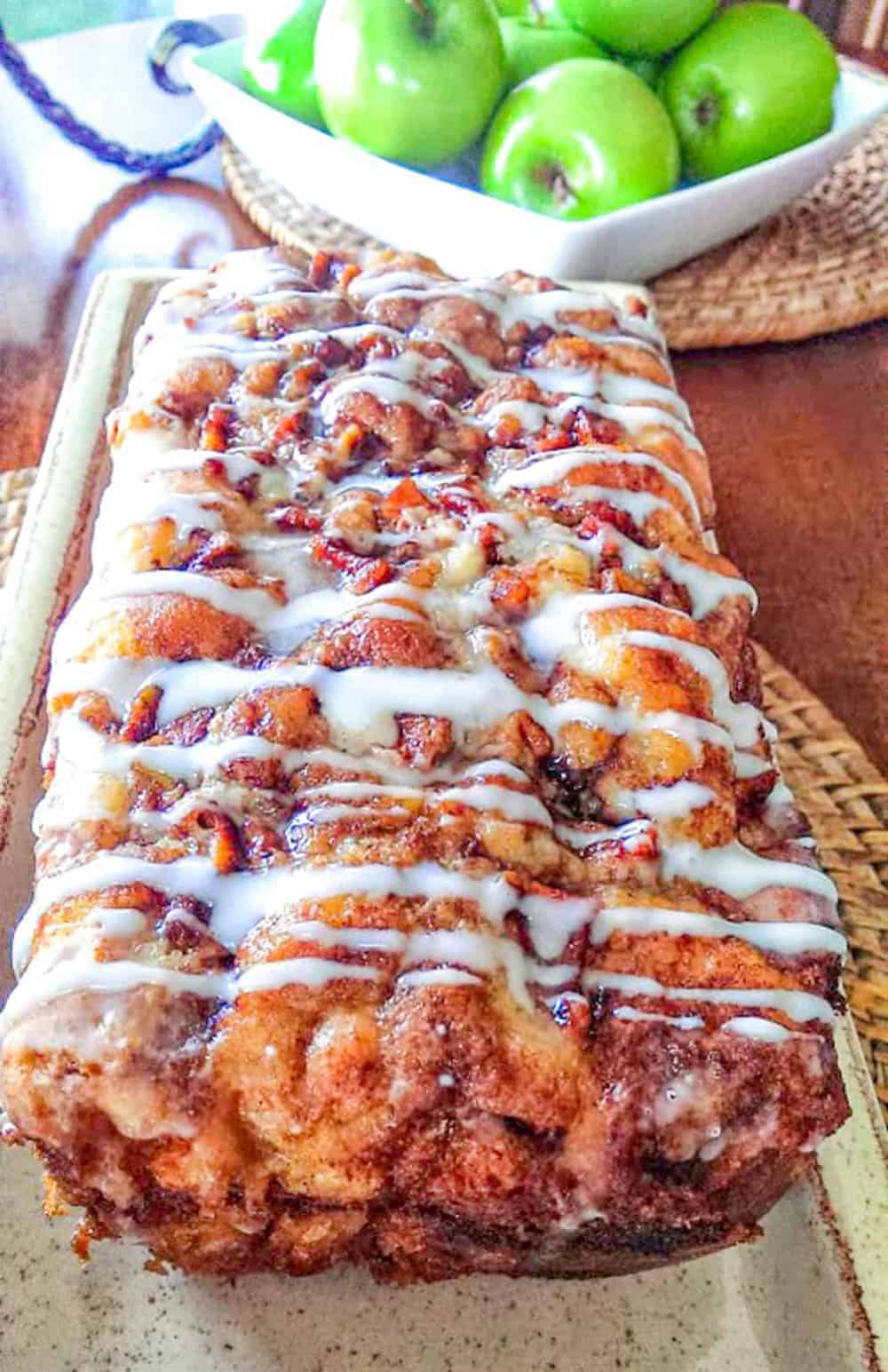 Ingredients
Brown Sugar/ Cinnamon Mixture:
1/3 cup light brown sugar
1 teaspoon ground cinnamon
Bread Loaf
1/2 cup butter softened
2/3 cup granulated sugar
2 eggs room temp
1 1/2 teaspoons vanilla extract
1 1/2 cups all-purpose flour
1 3/4 teaspoons baking powder
1/2 cup milk or almond milk room temp
Chopped Apple Mixture
2 large apples, peeled and chopped small, but not fine. Then toss apples with 2 tablespoons granulated sugar and 1 teaspoon cinnamon just before adding it to the bread mixture.
Old-Fashioned Creme Glaze
1/2 cup of powdered sugar
1-3 tablespoons of milk or cream - depending on the thickness of glaze wanted. For more apple fritter style like the apple fritter donut - use more milk for a thinner glaze that you can pour over the whole loaf.
Instructions
Preheat the oven to 350 degrees. Use a 9x5-inch loaf pan and spray with non-stick spray or line with foil and spray with non-stick to get out easily for slicing.
Mix 1/3 cup brown sugar and 1 teaspoon cinnamon together in a bowl. Set aside.
Combine & whisk 1 & 1/2 cups flour and 1 & 3/4 teaspoons baking powder together in another bowl and set aside.
In another medium-sized bowl, beat 2/3 cup granulated sugar 1/2 cup softened butter together using an electric mixer until smooth and creamy.
Beat in 2 eggs, one at a time until blended in; add in 1 & 1/2 teaspoons vanilla extract and mix in.
Add the flour mixture into the creamed butter mixture and mix until blended.
Mix 1/2 cup milk into batter and continue mixing until smooth.
Pour half the batter into the prepared loaf pan; add half the chopped apple mixture with 2 tablespoons sugar and 1 teaspoon cinnamon added in and mix together.
Sprinkle 1/2 of the brown sugar/cinnamon mixture you set aside earlier, on top of the apple layer.
Repeat layer: Pour the remaining batter over the apple layer and top with remaining chopped apples cinnamon/sugar mixture, then the remaining brown sugar/cinnamon mixture on top.
Use a knife and swirl through the mixture a few times.
Bake in the preheated oven until a toothpick inserted in the center of the loaf comes out clean, approximately 60 minutes.
To make glaze, mix 1/2 cup powdered sugar and 1 to 3 tablespoons of milk or cream together until well mixed. (Place the mixture in the microwave for 10 seconds to get it pourable if it needs a boost.)
Let the loaf rest in the pan for about 15 minutes before removing from the pan to let it cool off completely on a cooling rack. Drizzle with glaze.
If you want more glaze, make a double batch :)
(Thank you thebakingchocolatess.com)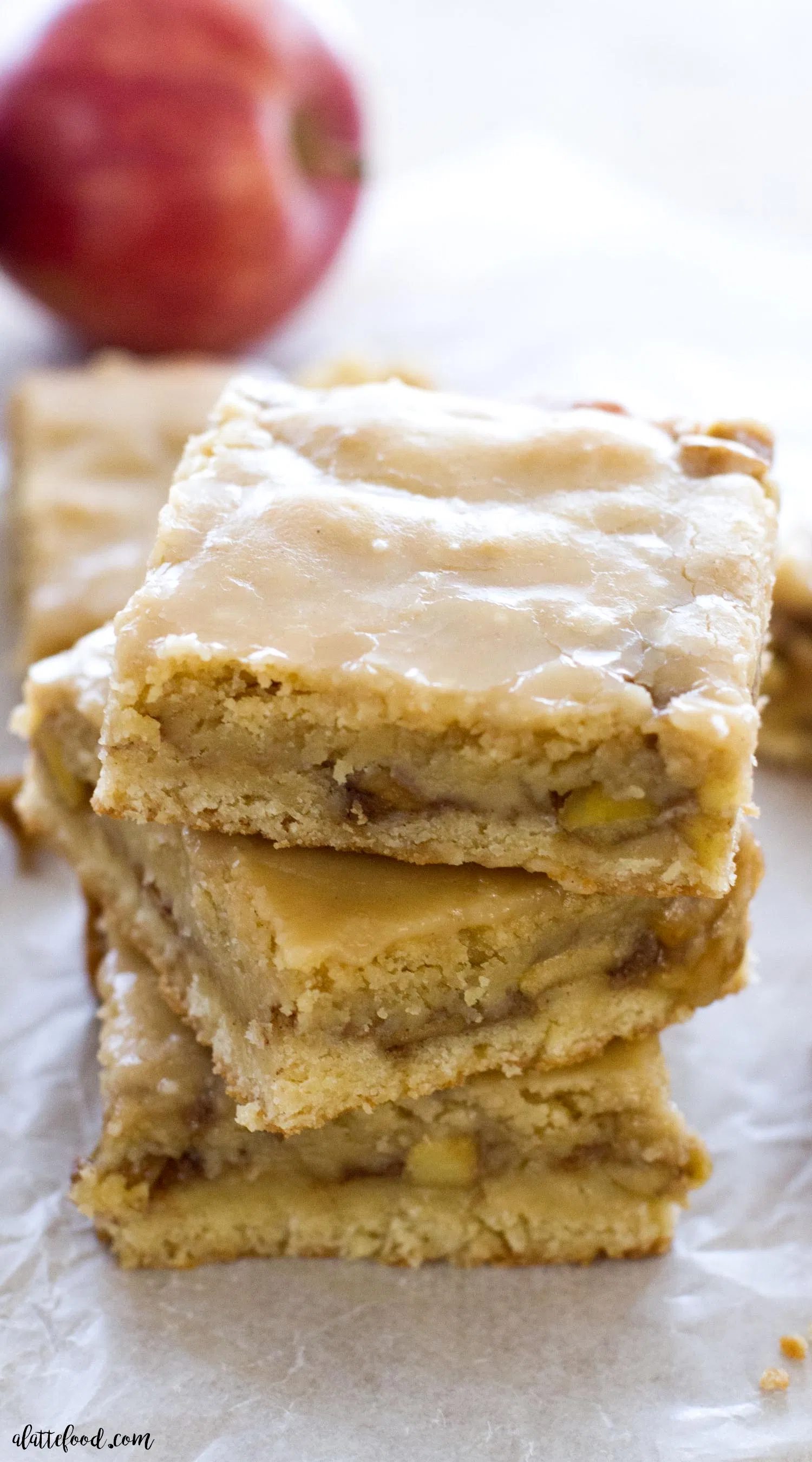 Ingredients
Blondies
2 cups all-purpose flour
1 tsp baking powder
1/2 tsp salt
1 cup butter softened
1/4 cup sugar
1 cup dark brown sugar
2 large eggs
1 1/2 tsp vanilla extract
1/2 tsp cinnamon
Apple Filling
2 large apples chopped finely
2 Tbsp brown sugar
1 Tbsp butter
1/2 tsp vanilla extract
1/2 tsp cinnamon
Maple Glaze
2 Tbsp butter
1/4 cup pure maple syrup
1/2 cup powdered sugar
1/4 tsp vanilla extract
1/8 tsp ground cinnamon
Instructions
Preheat the oven to 350 and line a 11x7 pan with tin foil (or spray with pan with cooking spray).
Apple Filling
On medium-low heat, cook the apple filling mixture for about 3-4 minutes. Pull off heat and allow it to cool
Blondies
Cream butter until light and fluffy, about 1 minutes. Add in brown sugar and granulated sugar, and mix until well combined.
Add in eggs, 1 at a time, beating well after each addition.
Add in salt and vanilla extract. Mix until combined.
In a separate bowl mix flour, baking powder, and cinnamon together. Add to the wet ingredients and stir until combined.
In the bottom of the pan, spread half the blondie batter evenly, using a spatula (or your hands -- batter is very thick, so I prefer to spread with my hands).
Spread apple filling all over the layer.
Top with remaining blondie batter and spread evenly.
Bake for 25 - 30 minutes, or until the top is golden brown and a cake tester comes out clean.
Maple Glaze
Melt butter, maple syrup, vanilla extract, and cinnamon over low heat. Once melted together, pull off the heat. Sift in powdered sugar, and whisk until fully combined. Allow to cool for 8-10 minutes so the glaze can thicken.
Allow the bars to cool off for about 10 minutes, then pour the glaze over the bars and allow it to set.
Slice into squares and enjoy!
(Thank you to Alattefood.com!)
Apple Coffee Cake with Cinnamon Brown Sugar Crumb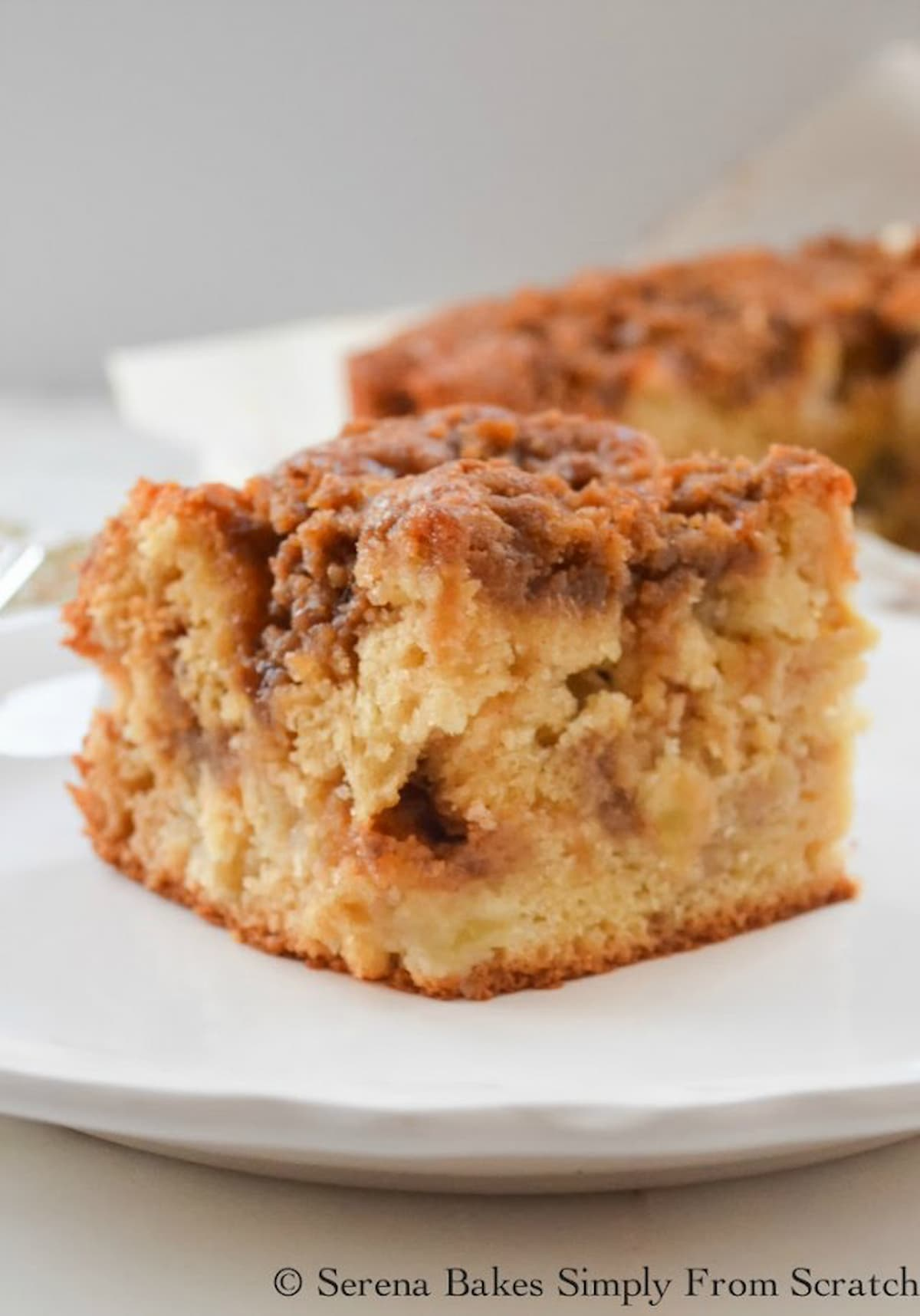 Ingredients
Brown Sugar Cinnamon Crumb
2 cups brown sugar
1/4 cup all-purpose flour or whole wheat pastry flour
1 1/2 teaspoons Cinnamon, ground
6 tablespoons cold butter, cubed
Apple Coffee Cake
3/4 cup cold butter, cubed
1 1/2 cups granulated sugar
4 whole eggs
2 teaspoons pure vanilla extract
1 1/2 teaspoons baking soda
1 1/2 teaspoons baking powder
1/4 teaspoon salt
3 cups all-purpose flour or whole wheat pastry flour
1 1/2 cups sour cream or greek yogurt
2 whole large granny smith apples, peeled, cored, and diced (about 3 cups)
Instructions
Apple Coffee Cake with Cinnamon Brown Sugar Crumb
Preheat the oven to 350 degrees
Butter a 9"x13" pan and line with parchment paper, butter parchment paper.
Brown Sugar Cinnamon Crumb
Mix together brown sugar, flour, and cinnamon
Mix using a mixer or cut in using a pastry cutter 6 tablespoons cubed butter until crumbly.
Apple Coffee Cake
Add 3/4 cup cold butter to the mixing bowl and beat until smooth and creamy. Slowly add sugar while beating at medium speed until light and fluffy.
Add eggs one at a time beating well between each addition. Scrape sides of bowl between each egg. Then add vanilla and mix well. Batter should be light and fluffy.
Add baking soda, baking powder, and sea salt. Beat on medium-high speed until well combined. Scrape sides of bowl.
Add flour 1 cup at a time alternating with 1/2 cup sour cream mixing on low speed until just combined, being careful not to over mix. Repeat until all of the flour and sour cream has been added.
Mix in diced apples until evenly distributed.
Spread half of the cake batter into the bottom of the prepared pan and spread to the edge.
Spread 1/3 of the Brown Sugar Cinnamon Crumb over the batter and cover with remaining apple coffee cake batter and use a knife to swirl in cinnamon crumb topping.
Press brown sugar crumb topping between fingers to form crumbs and distribute evenly over the top of the cake.
Bake for 55-65 minutes or until a toothpick inserted into the center of the cake comes out clean.
Allow the cake to cool before serving.
Thank you serenabakessimplyfromscratch.com !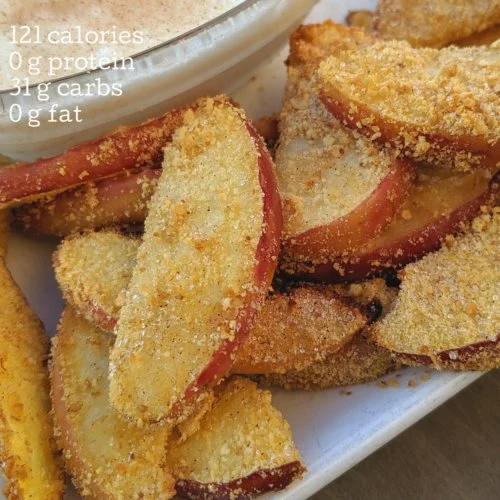 Equipment
Ingredients
1 medium apple sliced
1 tablespoon graham cracker crumbs
1 butter-flavored cooking spray
1/2 teaspoon cinnamon
1/2 teaspoon sugar
Instructions
Put the apple slices in a bowl and spray them with the butter-flavored cooking spray.
Sprinkle the graham cracker crumbs in and mix it around.
Arrange the slices on the air fryer basket.
Sprinkle the slices with cinnamon sugar.
Then bake in the air fryer for 5 minutes at 425. Watch them carefully! They will burn in 7! You could also do 350 for 15 minutes.
Easy Caramel Apple Cinnamon Rolls
Ingredients
For the Filling
2 tablespoons (28g) unsalted butter
2 cups diced Granny Smith Apples (about 2 medium apples or 200g)
2 tablespoons (25g) granulated sugar
1 teaspoon cinnamon
For the Rolls
1 can crescent rolls (8 rolls)
For the Frosting
2 tablespoons (28g) unsalted butter
1/4 cup (50g) packed brown sugar
2 - 3 tablespoons heavy whipping cream
1/2 cup (57g) powdered sugar
1 teaspoon vanilla
Instructions
Preheat the oven to 350F
Line a cookie sheet with parchment paper
Melt the butter in a small skillet over low-medium heat
Add apples, cinnamon, and sugar
Cook, stirring occasionally until the apples are just beginning to turn translucent, about 15 minutes
Cool for at least 10 minutes
Unroll crescent rolls on a cutting board, leaving them in the rectangle as much as possible
Press the seams together to form one big rectangle.
Spread apples over the crescent rolls
Roll up as tight as possible, and slice into 8 equal portions. (It's best to use a serrated knife to cut them.)
Place on a baking sheet. You can evenly space them (not touching) or you can place them close together so they bake together, creating a more doughy center (like traditional cinnamon rolls)
Bake until golden on the top, 15-25 minutes, or until cooked through.
While they are baking, make the frosting
Melt butter and brown sugar together and cook for 2 minutes, stirring constantly. Remove from heat and whisk in powdered sugar, then whisk in vanilla and 2 tablespoons cream. Add more cream as needed for desired consistency.
Tip: You can skip making the frosting and serve caramel ice cream topping instead.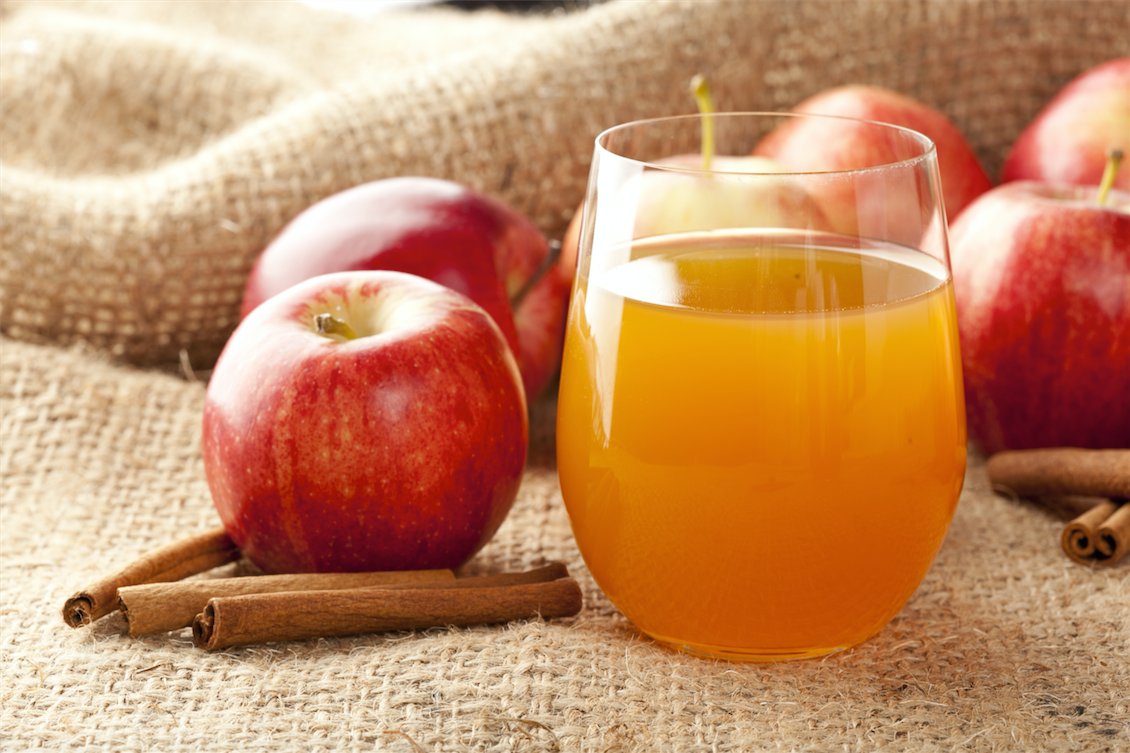 Ingredients
10 apples, quartered
3/4 cup white sugar
1 tablespoon ground cinnamon
1 tablespoon ground allspice
Instructions:
Place quartered apples in a large stockpot and add enough water to cover by at least 2 inches.
Stir in sugar, cinnamon, and allspice.
Bring to a boil, and boil uncovered for 1 hour.
Cover pot, reduce heat, and simmer for 2 hours. You can also make this recipe in the crockpot!
Strain apple mixture through a fine-mesh sieve. Discard/compost solids.
Drain cider again through a cheesecloth-lined sieve.
Refrigerate until cold.
Thank you www.lifeispoppin.com !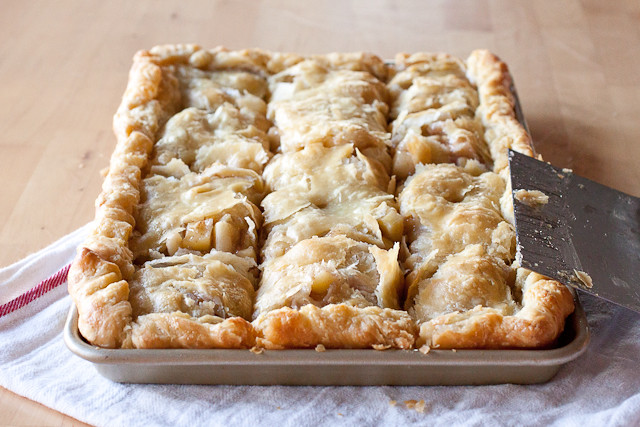 Ingredients
For the crust:
3 3/4 cups (470 grams) all-purpose flour
1 1/2 tbsp sugar
1 1/2 tsp table salt
3 sticks (12 oz or 340 grams) unsalted butter, cubed, and kept very cold
3/4 cup very cold water
For the apple filling:
3 1/2 to 4 pounds apples, peeled, cored, and chopped into approximately 1/2-inch chunks (about 10 cups)
Squeeze of lemon juice
2/3 to 3/4 cup sugar (depending on how sweet you like your pie and how sweet your apples are)
3 tbsp cornstarch
1 rounded tsp ground cinnamon
1/4 tsp ground allspice
1/4 tsp ground nutmeg
1/8 tsp table salt
To finish:
2 tbsp heavy cream or 1 egg beaten with 1 tbsp water
Instructions
To make the crust:
Measure the flour into a large, wide bowl. Whisk in the sugar and salt. Toss in the butter cubes and coat them all with the flour.
Using your first 3 fingers of both hands, mash up the butter into smaller pieces, just bigger than the size of peas. You can also do this with two knives or a strong pastry blender. I prefer using my fingers.
Once the mixture looks sort of uniform, slightly crumbly, and the butter is broken up, stir in 1/2 cup of water with a rubber spatula until the water is absorbed and the dough starts to come together. If the dough is still dry and crumbly, add up to the remaining 1/4 cup of water, 1 tablespoon at a time until the dough just starts to come together. Bring the dough together with your hands until it forms a soft and almost loose ball.
Divide the pie dough into two pieces, one slightly larger than the other. You'll need the larger piece for the bottom crust. Transfer one piece to a sheet of plastic wrap and mold it into a rectangular shape, about 1-inch thick. Use the plastic wrap to help bring the dough together, if needed.
Repeat with the remaining dough.
Chill the dough in the refrigerator for at least 2 hours before using.
To make the filling:
In a very large bowl, toss the apple chunks with the lemon juice.
Mix the sugar, cornstarch, cinnamon, nutmeg, allspice, and salt together in a medium bowl.
Sprinkle the sugar-spice mixture over the apples and toss them well to coat; then set aside.
To assemble the slab pie:
Preheat the oven to 375 F
Line the bottom of a 10x15x1-inch baking sheet or similarly sized jelly roll pan with a piece of parchment paper. If your pan is a little smaller than this (as mine was), don't worry - this recipe will still work fine; you'll just have a little extra dough leftover.
Roll out the larger piece of dough on a well-floured surface with a rolling pin into a 18x13-inch rectangle.
Transfer the piece to the pan and drape the edges of the dough over the sides of the pan while only gently pushing the dough down into the inside and corners of the pan.
Slip the pan into the fridge or freezer while you roll out the second piece of dough into a 16x11-inch rectangle (you want to keep the dough in the pan as cold as possible).
Remove the pan from the fridge/freezer and pour the apples and the juices over the dough in the pan - it may seem like way too many apples, but they will cook down.
Drape the second sheet of dough over the apples. Trim the dough to where both top and bottom edges hang about 3/4-inch over the edge of the pan. Seal up the edges tightly with your fingers.
Brush the top of the dough with heavy cream or egg wash. Using a sharp knife, slice a whole bunch of 1-inch slits in the top of the dough to allow the steam to escape during baking.
Place the whole sheet on a larger baking sheet - there will likely be spillage that you'll want to catch on the large pan rather than the bottom of your oven (trust me).
Bake for 40 to 45 minutes, until the top crust is a nice golden brown and the filling is bubbling through the holes in the crust.
Cool the pan on a wire rack for at least 45 minutes before cutting and serving (see note below).
Notes:
For this apple slab pie, you're really going to want to allow it to cool almost completely before serving, otherwise it will be a sloppy mess.
Also to note, this pie is best served on the day you make it but if you're in a pinch, it can also be made in full one day in advance. Make the pie as instructed, leaving it in the baking sheet, covered with foil, at room temperature or in a cool room (we kept it in the chilly garage), then reheat it at 300° F until warmed through (about 20 minutes). You can crank the broiler on in the last couple of minutes to crisp up the top crust if you wish - just watch it carefully to avoid burning that beautiful buttery crust. Alternatively, you could assemble the whole pie up to one day in advance and keep it in the fridge until you're ready to bake it off.
Thank you to www.smells-like-home.com
Vintage Amish Apple Butter Pie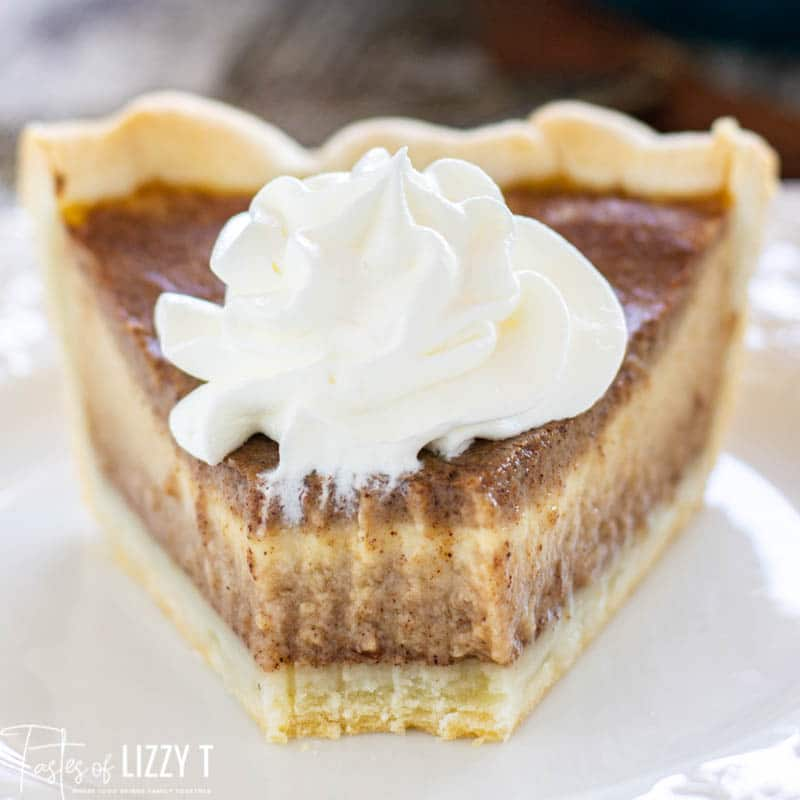 Ingredients
1/2 cup apple butter

2 large eggs

1/2 cup white sugar

2 tablespoons cornstarch

1 teaspoon cinnamon

2 cups whole milk*

Pastry for 1 - 9 pie crust (see crust recipe for slab apple pie)
Instructions
Beat eggs in a medium size bowl. Add the sugar, cornstarch, cinnamon, and apple butter. Mix well.

Add milk and whisk together.

Press the pastry into a 9" inch pie plate that has been sprayed with cooking spray. Pour the filling into the unbaked pie crust. Use a spoon to mix the filling once it is in the crust to be sure all of the ingredients are equally distributed.

Bake at 375 for 60-65 minutes or until the center is set. It will still seem slightly "jiggly" in the very center but a knife put in the center should come out nearly clean.

Cool in the pie plate on a wire rack. Do not slice into the pie right away, as it will continue to set as it sits.

Store the pie in the refrigerator once it is cooled.
Notes:
*It's best to use a high-fat milk for this recipe. You can even use evaporated milk or half and half.
Thank you tastesoflizzyt.com !