Recipes Sure to Impress for this Valentine's Day!
Posted by Cathy Counti on Wednesday, February 9, 2022 at 6:14 PM
By Cathy Counti / February 9, 2022
Comment
Busy schedules, no availability at your favorite restaurant, or the babysitter falls through – there are a bunch of different reasons to stay home this Valentine's Day. Don't worry! The Ask Cathy Marketing Group has got you covered! We have put together some recipes that will make any evening in special. We've included selections to cover both the savory and the sweet side – because there is always the option to skip straight to dessert!
Wherever you are spending this Valentine's Day this year, we hope you are surrounded by love and happiness!
Savory Selections
Chicken with Mushroom Parmesan Sauce
As Featured on Cooking With Cathy!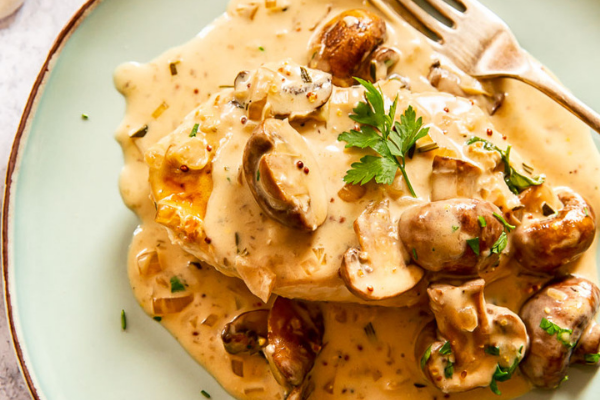 This Chicken with Mushroom Parmesan Sauce is easy and delicious, ready in just 30 minutes. The chicken is pounded flat then coated in a crunchy Panko breading and fried until crispy. The creamy sauce is packed full of mushrooms, Parmesan cheese, and fresh basil.
Ingredients
For the Chicken:
2 small boneless skinless chicken breasts
Salt and pepper
1/2 cup flour
1 egg
1 cup Japanese Panko bread crumbs
1 1/2 Tbsp cooking oil
For the Sauce:
1/4 cup chicken broth
1/2 cup heavy cream
4 oz can sliced mushrooms, drained
1/4 cup grated Parmesan cheese
1/8 cup chopped fresh basil
1/8 tsp ground black pepper
Instructions
For the chicken:
Gently pound chicken between two slices of plastic wrap until 1/2 inch thick.
Season chicken with salt and pepper.
Prepare 3 shallow dishes. Place flour first. Place egg in the second and whisk until beaten. Place Panko bread crumbs in the third.
Dredge each chicken piece in flour and shake of excess.
Dip each chicken piece in beaten egg.
Coat each chicken piece well in Panko bread crumbs.
Preheat oil in a medium frying pan over medium heat. Click for a medium frying pan.
Fry chicken until golden brown and crispy, about 5 minutes on each side.
Place chicken pieces on a wire rack over a baking sheet and keep warm in the oven set on 200 degrees F. Click for a wire rack or a baking sheet.
For the sauce:
Add broth to the same skillet. Bring to a boil over medium heat, and stir to loosen browned bits from the pan.
Stir in heavy cream and mushrooms. Boil and stir for 1 minute.
Reduce heat and add Parmesan cheese, fresh basil and black pepper. Stir sauce and cook until heated through.
Serve mushroom Parmesan sauce over chicken.
Notes: Serve this chicken and sauce over a bed of long grain and wild rice which is delicious together.

Ina Garten's Engagement Roasted Chicken Recipe
Apparently, as "legend" has it, in 1982 a fashion editor shared a chicken recipe with an assistant, who then cooked it for her boyfriend—he proposed a month later. She shared the recipe with three more colleagues, who also got engaged after making it for their partners. Thus, engagement chicken was born. Actress Emily Blunt recently revealed that she also got engaged over this chicken dish, and it is also a rumor that Prince Harry proposed to Megan Markle after she made this, so it only seemed fitting for us to include this recipe in our Valentine's day romantic dinner blog. Disclaimer: engagements are not guaranteed, but delicious chicken is!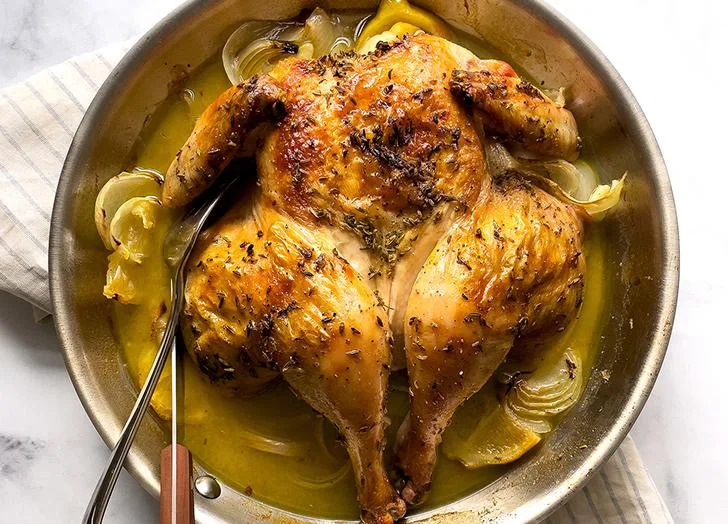 Ingredients
1 (4 to 5 pound) roasting chicken
Kosher salt and freshly ground black pepper
2 lemons
1 whole head garlic, cut in 1/2 crosswise
Good olive oil
2 Spanish onions, peeled and thickly sliced
1/2 cup dry white wine
1/2 cup chicken stock, preferably homemade
1 tablespoon all-purpose flour
Instructions
Preheat the oven to 425 degrees F.
Remove and discard the chicken giblets. Pat the outside dry. Liberally salt and pepper the inside of the chicken. Cut the lemons in quarters, place 2 quarters in the chicken along with the garlic and reserve the rest of the lemons. Brush the outside of the chicken with olive oil and sprinkle the chicken liberally with salt and pepper. Tie the legs together with kitchen string and tuck the wing tips under the body of the chicken. Place the chicken in a small (11 by 14-inch) roasting pan. (If the pan is too large, the onions will burn.) Place the reserved lemons and the sliced onions in a large bowl and toss with 2 tablespoons of olive oil, 1 teaspoon of salt, and 1/2 teaspoon of pepper. Pour the mixture around the chicken in the pan.
Roast the chicken for about 1 hour and 15 minutes, until the juices run clear when you cut between a leg and a thigh. Remove the chicken to a platter, cover with aluminum foil, and allow to rest for 10 minutes while you prepare the sauce, leaving the lemons and onions in the pan.
Place the pan on top of the stove and turn the heat to medium-high. Add the wine and stir with a wooden spoon to scrape up the brown bits. Add the stock and sprinkle on the flour, stirring constantly for a minute, until the sauce thickens. Add any juices that collect under the chicken. Carve the chicken onto a platter and serve with the lemons, onions, and warm sauce.
Recipe Courtesy of Ina Garten/ foodnetwork.com
Chicken Broccoli Alfredo Stuffed Shells for Two
Show your love for a good home-cooked meal with Chicken Broccoli Alfredo Stuffed Shells For Two with homemade Alfredo sauce.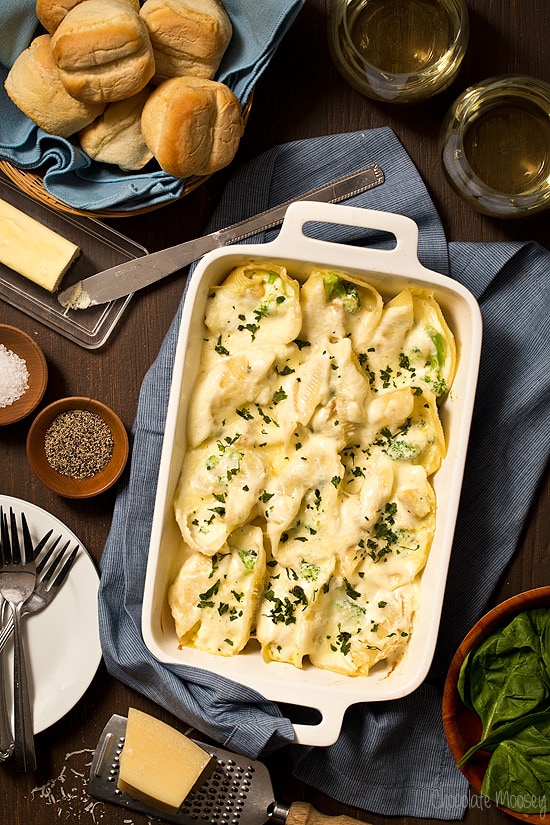 Ingredients
12 uncooked jumbo shells
1 cup chopped broccoli
1 teaspoon vegetable oil
1 large boneless skinless chicken breast, cut into 1 inch pieces and lightly salted
1/4 cup chopped onion
1 clove garlic, minced
1 cup ricotta cheese
1 1/4 cup grated mozzarella cheese
1/4 cup grated parmesan cheese
1/4 teaspoon salt
1 tablespoon fresh chopped basil or basil paste
1 egg
Alfredo Sauce
1/4 cup (2 ounces or 4 tablespoons) unsalted butter
1 cup heavy whipping cream
1 1/2 cups grated Parmesan cheese
Instructions
Preheat the oven to 350F. Have a small casserole dish ready.
Bring a large pot of salted water to a boil. Cook the shells according to package directions, about 14-15 minutes. During the last 2 minutes of cooking, add the broccoli. Drain and let cool.
While the pasta is cooking, in a large skillet over medium heat, heat the oil. Add the chicken and onion and cook for 3 minutes. Flip and cook for another 3-4 minutes or until the chicken is fully cooked. Add the garlic and cook for 30 seconds. Remove from the heat.
While the chicken is cooking, make the sauce: In a large saucepan, melt the butter. Slowly whisk in the cream then whisk in the cheese. Bring to a boil. Cook for 3-5 minutes or until thickened.
In a large bowl, mix together the ricotta, 1 cup mozzarella, Parmesan, salt, basil, and egg. Add the chicken and cooked broccoli.
Spread 1/4 cup Alfredo sauce on the bottom of the casserole dish. Stuff each shell with some of the ricotta mixture and place snug inside the dish. Top with remaining sauce and mozzarella cheese. Cover with foil and bake for 20 minutes. Remove the foil and bake for another 5 minutes or until the cheese is melted on top.
Thank you chocolatemoosey.com for the recipe
Sriracha Glazed Seared Scallops Two
Perfectly seared scallops with a spicy Sriracha glaze. Fast and flavorful, we love these Sriracha Glazed Seared Scallops!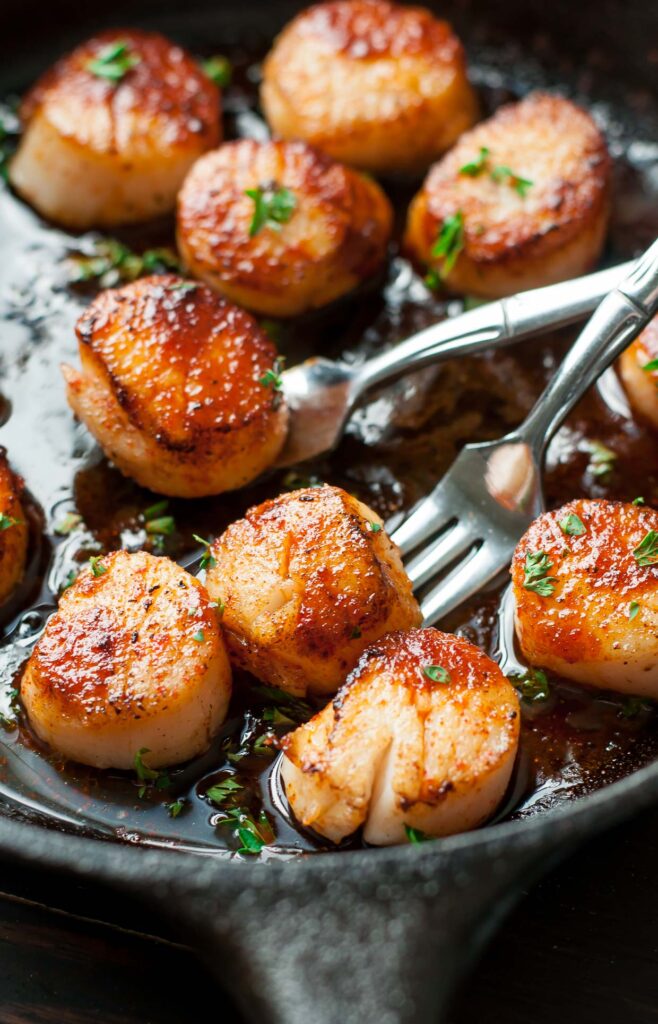 Ingredients
1/2 pound sea scallops (fresh or thawed if frozen)
salt and pepper to taste
1 tsp avocado oil or olive oil
1-2 tsp unsalted butter
a splash of white wine or dry sherry
Sriracha to taste
parsley to garnish
Instructions
Rinse scallops with cold water and remove any of the side muscles (the little extra flap found on the side of the scallops) that are present.
Pat scallops dry.
Season scallops with salt and pepper to taste.
Heat a cast iron skillet or sauté pan to high heat with 1 tsp oil and 1 tsp butter.
Once your pan is hot and ready, gently add the scallops, spaced and uncrowded.
Sear uninterrupted for about 1.5 to 2 minutes on each side (flip gently using tongs) until a golden crust forms on each end.
Overcooking will be your worst enemy here so keep an eye on them. Smaller scallops will cook faster while extra large scallops may need extra time on each side. Once done, plate the scallops.
Next deglaze the pan to make your sauce.
Add a splash of white wine (I had a yummy chardonnay on hand) or dry sherry and a generous dollop of sriracha and whisk the orange bubbly amazingness until all the little golden bits of scallop have released from your pan. Add extra Sriracha and butter to the sauce as desired.
Remove from heat, pour over scallops, and sprinkle with parsley for a pop of green.
Serve immediately and enjoy!
PALEO? Use clarified butter or ghee and you're good to go!
SERVING SUGGESTIONS: Serve alongside your favorite pasta, rice, cauliflower rice, or a big green salad!
Thank you to peasandcrayons.com for the recipe!
Garlic Butter Steak and Potato Skillet
A simple and flavorful one-skillet recipe!
Ingredients
1 1/2 lb (650g) flank steak, sliced against the grain (or ribeye steak, tenderloin, strip loin, strip steak…)
1 1/2 lb (650g) baby yellow potatoes, quartered
1 tablespoon olive oil
3 tablespoons butter, divided
5 garlic cloves, minced
1 teaspoon fresh thyme, chopped
1 teaspoon fresh rosemary, chopped
1 teaspoon fresh oregano, chopped
Salt and fresh cracked pepper
Crushed red chili pepper flakes, optional
The Marinade
1/3 cup soy sauce (or coconut amino for paleo and gluten-free)
1 tablespoon olive oil
1 tablespoon hot sauce (we used Sriracha)
Fresh cracked pepper
Instructions
1. To prepare the garlic butter steak recipe with potato wedges: In a large bowl, combine the steak strips with soy sauce, olive oil, pepper, and hot sauce. Set aside and allow steak strips to marinate while you cook potatoes.
2. In a large skillet over medium-high heat, mix 1 tablespoon olive oil and 1 tablespoon butter. When butter is melted, add potato wedges. Cook for about 4 minutes, stir and cook an additional 4-5 minutes until potatoes wedges are golden and fork-tender. Transfer sauteed potatoes to a plate and set aside.
3. Keep the same skillet over medium heat and add remaining 2 tablespoons butter, garlic, red chili pepper flakes, and fresh herbs. Lay the steak strips in one layer in the skillet, keeping the drained steak marinade for later. Cook the steak strips on each side for 1 minute each, until nicely browned – adjust timing depending on how you like your steak.
4. Right before the Garlic Butter steak is done, you can stir in the reserved marinade if you like, and cook for one minute. Add the potato wedges back to the garlic butter steak pan and heat through. Adjust seasoning with salt and pepper if necessary.
5. Remove from heat and immediately serve your steak and potatoes, garnished with more crushed chili pepper, fresh herbs, and a sprinkle of parmesan cheese over the potatoes if you like. Enjoy!
Thank you eatwell101.com for the recipe!

Balsamic Glazed Salmon
An easy recipe for perfect balsamic glazed salmon that's ready in only 20 minutes. Looks impressive, tastes delicious, and is so simple to make!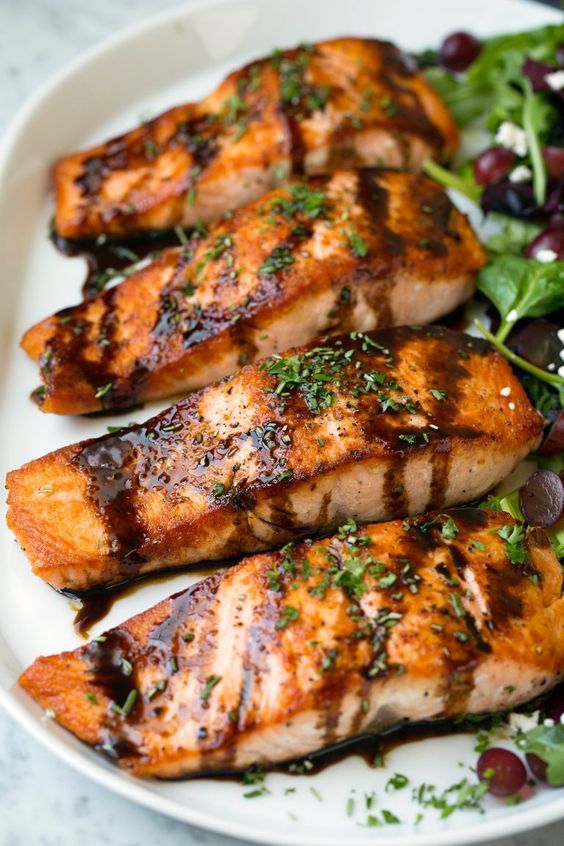 Ingredients
2 salmon fillets (5 ounces each)
2 teaspoons olive oil
2 cloves garlic minced
3 tablespoons balsamic vinegar
2 teaspoons honey
2 teaspoons Dijon mustard
1/2 teaspoon kosher salt
1/4 teaspoon black pepper
Chopped fresh parsley for garnish
Instructions
Preheat oven to 400 degrees F.
Line a baking sheet with aluminum foil, then coat with non-stick cooking spray.
In a small skillet, heat the olive oil over medium. Add the garlic and cook until fragrant and beginning to brown, about 2 minutes, watching carefully so that it does not burn. Add the balsamic vinegar, honey, mustard, salt and pepper. Whisk and simmer until the mixture thickens, about 4 minutes.
Place salmon skin-side down on the prepared baking sheet. Brush liberally with the glaze. Bake for 5 minutes, brush again with the glaze, then bake 5 to 10 additional minutes, until the fish flakes easily with a fork and is cooked through. Sprinkle with chopped parsley and serve. Bask in applause from your Valentine.
Thank you to wellplated.com for the recipe!
Mustard Crusted Pork Chops with Bourbon Glazed Apples
Serve up an extra special entree with these Mustard Crusted Pork Chops with Bourbon Glazed Apples! Juicy, tender pork is seasoned to perfection and paired with sweet glazed apple goodness.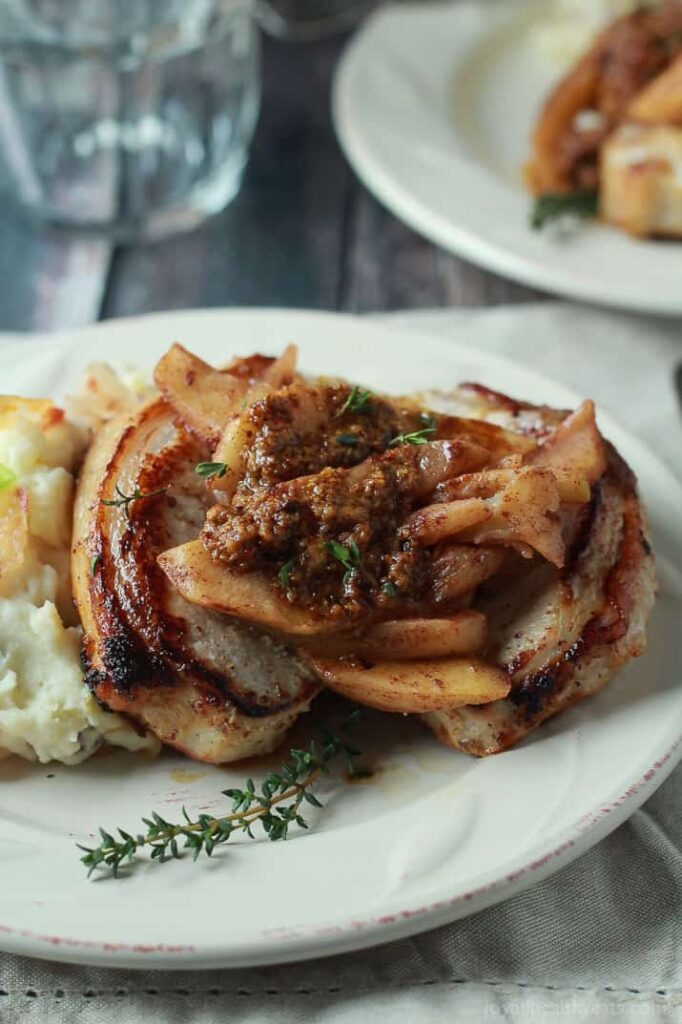 Ingredients
FOR THE MUSTARD CRUSTED PORK CHOPS
1 tablespoon of apple cider vinegar
1/2 cup of whole grain mustard
1 teaspoon of ground mustard
salt & pepper
2 tablespoons of grapeseed oil
4 boneless pork chops
FOR THE BOURBON GLAZED APPLES
2 tablespoons of butter
2 granny smith apples, peeled and thinly sliced
1/2 teaspoon of ground cinnamon
1/4 teaspoon of ground allspice
pinch of salt
3 tablespoons of bourbon
Instructions
MUSTARD CRUSTED PORK CHOPS
In a small bowl, mix together whole grain mustard, ground mustard, apple cider vinegar, salt & pepper.
Pat dry pork chops, rub mustard mix on both sides of pork chops. Cover and place in refrigerator for 10-15 minutes to let mustard coat pork chops.
Preheat oven to 350.
Heat a large oven safe skillet to medium high heat, add 2 tablespoons of grapeseed oil and place porks chops in skillet. Sear each side of the pork chops for 2 minutes (make sure it is really hot or it will not seal all the flavors in – you want a nice golden brown color on each side)
Once you sear each side, place the skillet into the oven and cook for 15 minutes. (until internal temp is 150 degrees – for medium)
Remove from oven and let sit.
BOURBON GLAZED APPLES
Heat medium sized skillet to medium high heat, add butter and apples to pan.
Saute apples for 5-7 minutes, until they start to get tender. Add in ground cinnamon, ground allspice, and pinch of salt. Stir and saute another minute.
Add in bourbon, cook down bourbon for 1-2 minutes until the liquid has disappeared and soaked into apples.
Serve pork chops with bourbon glazed apples on top.
Thank you joyfulhealthyeats.com for the recipe!
Simple Vegetarian Skillet Lasagna
Is there anything better than a plate full of lasagna?? The answer is noooooo and this Simple Vegetarian Skillet Lasagna is something you have to try! Vegetarian or not!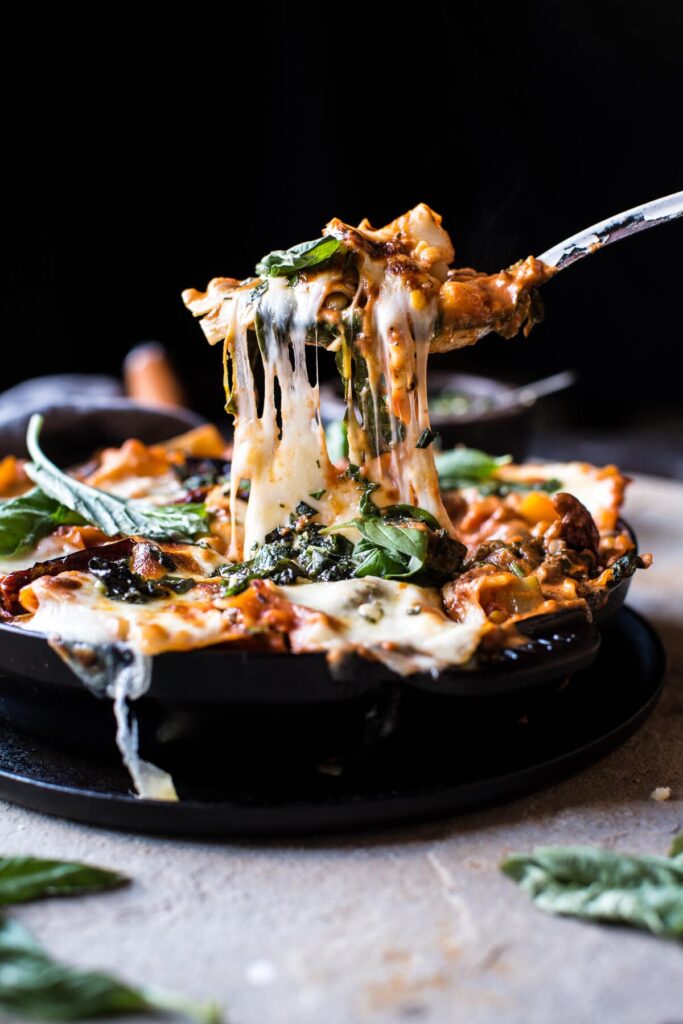 Ingredients
2 tablespoons olive oil
1 zucchini chopped
8 ounces button mushrooms finely chopped
1 red pepper seeded + chopped
2 cloves garlic minced or grated
1 jar roasted garlic or tomato basil pasta sauce
1 cup milk
pinch of crushed red pepper flakes
1/2 cup oil packed sun-dried tomatoes oil drained
1/2 cup rinsed green lentils
6 ounces no boil lasagna noodles
2 cups fresh spinach
1 cup fresh basil
8 ounces mozzarella sliced
4 ounces provolone shredded
1/3 cup grated parmesan plus more for topping
pesto, for serving (optional)
Instructions
Preheat the oven to 375 degrees F.
Heat a large, high-side skillet or dutch oven over medium heat. Add a drizzle of olive oil. Once hot, add the zucchini, mushroom and red pepper. Season with salt + pepper. Cook for 3 minutes or until just lightly caramelized. Add the garlic and cook for another minute. Stir in the tomato pasta sauce, milk and a pinch of crushed red pepper flakes. Stir in the sun-dried tomatoes, lentils + 1/4 cup water. Break each lasagna noodle into 2-3 pieces and stir them into the sauce, making sure most of them are submerged. Cook until the noodles are al dente and the lentils are soft, about 15 minutes. If the sauce seems like it is getting too thick, add water to thin.
Stir in the spinach + basil until they have wilted down into the sauce. Remove from the heat and add the mozzarella, provolone and parmesan.
Place the skillet on a large baking sheet. Place in the oven and bake for 10 minutes or until the cheese has melted and is bubbly. Remove and let sit for 5 minutes. Serve with basil pesto and fresh parmesan. Enjoy!
Thank you Halfbakedharvest.com for the recipe!

Nothing is Sweeter than Dessert!
5 Minute Chocolate Mousse
Dessert Featured on Cooking with Cathy! (link to video) A 5 minute and 5 ingredient easy chocolate mousse for two.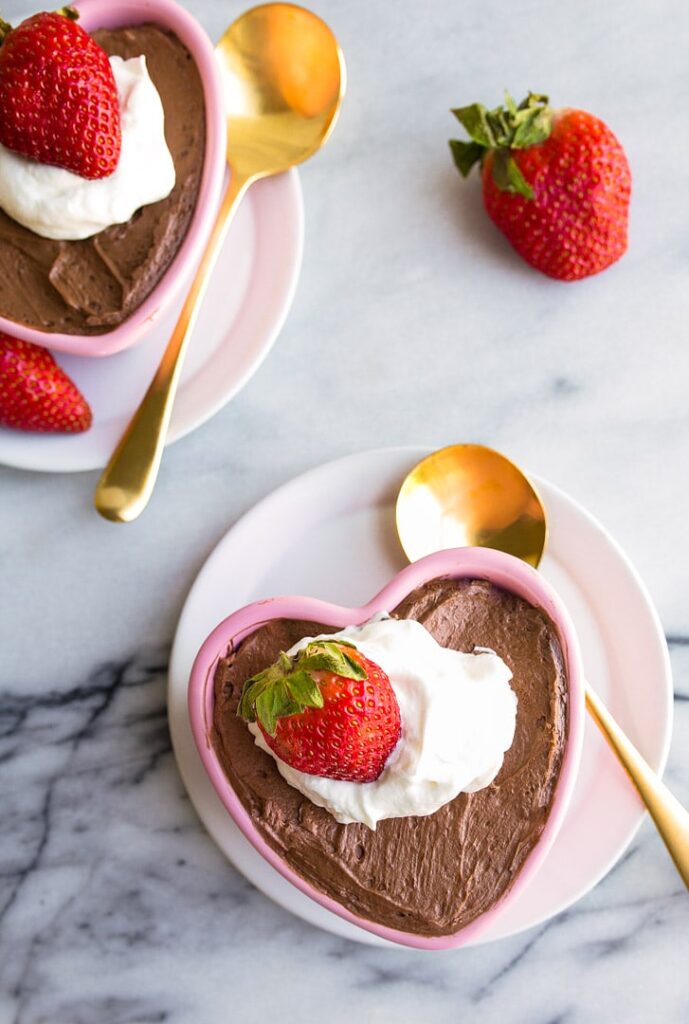 Ingredients
1 large egg yolk
1 tablespoon powdered sugar
1/2 cup heavy cream
5 ounces milk chocolate chips (heaping 3/4 cup)
1 tablespoon unsalted butter
Instructions
First, separate the egg and have the egg yolk ready in a bowl nearby.
Next, pour the heavy cream in a medium bowl, and place it in the fridge with the electric beaters. (We're pre-chilling to speed up whipping time).
The rest of the recipe needs to be completed quickly.
Next, melt the chocolate: In a medium glass bowl, add the chocolate chips and butter. Turn the microwave power down to 50%, and microwave for 20 seconds. Stop and stir. Repeat until about 2/3 of the chocolate chips are melted. For the remaining chips to melt, slowly and gently stir the mixture with a wooden spoon. The residual heat of the bowl will melt the rest. The mixture should be smooth. (If the mixture is pasty or grainy, you have burned the chocolate, and you must start over). Stir in the egg yolk.
Once the chocolate is melted: work quickly! Whip the cream in the pre-chilled bowl using an electric mixer on high with the pre-chilled beaters. Once the cream has soft peaks, add the powdered sugar and add all of the melted chocolate. If the chocolate has started to firm up slightly, you're fine–just work fast.
Beat the chocolate into the cream mixture until fully incorporated, about 15 seconds maximum.
Divide the mousse between two serving dishes.
Serve immediately, or chill it for up to 3 days but bring it to room temperature for an hour before serving (it will harden as it chills).
Thank you dessertfortwo.com for the recipe!
Valentine's Red Velvet Whoopie Pies
Heart-shaped Red Velvet Whoopie Pies is the perfect dessert for Valentine's Day and an easy homemade Valentine's gift.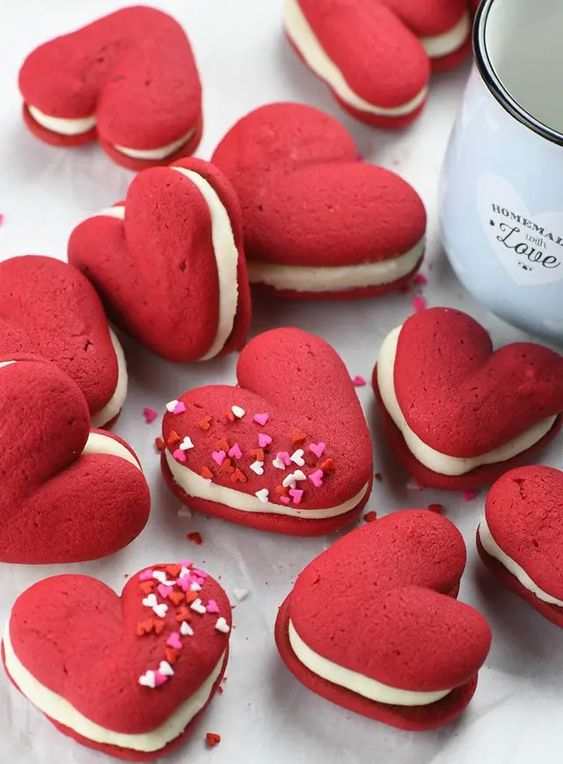 Ingredients
FOR RED VELVET COOKIES:
2 cups all-purpose flour
2 Tablespoons cocoa powder
½ teaspoon baking powder
¼ teaspoon salt
8 Tablespoons unsalted butter- room temperature
1 cup light brown sugar
1 large egg- room temperature
1 teaspoon vanilla extract
½ cup buttermilk- room temperature
1 Tablespoon (1 oz.) red gel food coloring
FOR THE FILLING:
6 oz. cream cheese- room temperature
5 Tablespoon unsalted butter- room temperature
2 teaspoon vanilla extract
2 ½ cups powdered sugar-sifted
---
Instructions
Line two large baking sheets with parchment paper. Use a small heart-shaped cookie cutter or a template cut out from a card and with a stencil draw hearts all over the paper leaving one inch apart. The cookies will spread much during baking. Turn on the paper to make the stencils facing down. Then preheat the oven to 350 F.
Next, in a bowl whisk together flour, natural unsweetened cocoa powder, baking powder, and salt.
In another bowl cream together softened butter for 1 minute on medium-high speed until completely smooth and creamy.
Add the brown sugar and beat on medium-high speed until fluffy and combined. Then mix in vanilla and egg, scraping down the sides and bottom of the bowl as needed.
Beat in buttermilk and one tablespoon of red gel food coloring.
On low speed, slowly mix the dry ingredients into the wet ingredients until combined. Do not overbeat the batter.
Transfer the batter in a piping bag with a ½ inch round tip. If you don't have it, you can use a zip-lock bag and cut off the corner. It will work fine, too. Pipe the V shapes inside the hearts. You don't need to fill all the inside of the hearts, it will spread during baking, just a simple V shape is OK.
Bake the cookies for 10-12 minutes or until centers appear set. Cool for 10 minutes on the pan then transfer to a rack to cool completely before sandwiching.
To make the filling, beat softened butter, cream cheese, and vanilla. Gradually add powdered sugar.
ASSEMBLING THE HEARTS:
Transfer filling to a piping bag fitted with a large round tip (or again, you can use a zip-lock bag and cut off the corer).
Pair the cookies by shape and size. Pipe the filling onto the flat side of one cookie leaving a little room around the edges. Top with another cookie (flat side down) Press gently so that the filling reaches the edge.
Store in the fridge in an airtight container.
Thank you omgcocolatedesserts.com for the recipe!
Cookie Dough Hearts
This adorable no-bake chocolate-covered Cookie Dough Hearts are the perfect homemade chocolate treat for Valentine's Day, no chocolate tempering or candy melts required!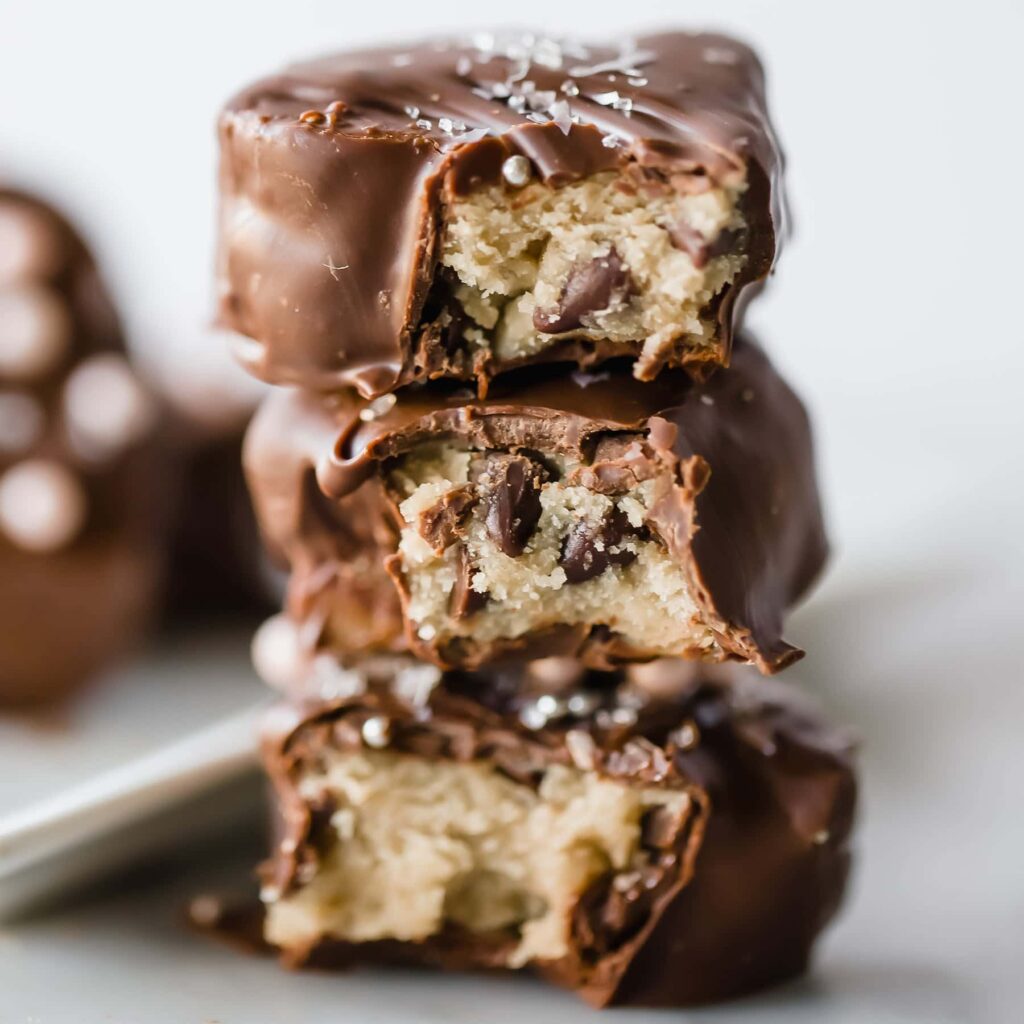 Ingredients
For the cookie dough:
1 stick (113 grams) unsalted butter, at room temperature
1/2 cup (100 grams) lightly packed light brown sugar
2 tablespoons granulated sugar
1 tablespoon milk (any kind)
1/2 teaspoon vanilla extract
1 1/2 (190 grams) cups all-purpose flour, see notes
1/8 teaspoon fine salt
3/4 cup (128 grams) miniature chocolate chips
For the chocolate coating:
16 ounces (454 grams) semisweet chocolate, chopped
1 teaspoon coconut oil or shortening
Decorative sprinkles, if desired
Instructions
Make the cookie dough:
In the bowl of an electric mixer, beat the butter, brown sugar, and granulated sugar on medium-high speed until very well combined and fluffy, about 2 to 3 minutes. Add in the milk and vanilla. On low speed gradually add the flour and salt. Stir in the miniature chocolate chips.
Scoop the dough out onto a parchment lined worked surface. Cover with a large sheet of plastic wrap and roll it out with a rolling pin until it reaches about 1/2-inch in thickness. Freeze for 15 minutes. Use a heart-shaped cookie cutter to cut out pieces of cookie dough. Place on a rimmed parchment-lined baking sheet and freeze until firm, at least 30 minutes.
Make the chocolate coating:
In a heat-safe bowl, combine the semisweet chocolate and coconut oil. Microwave in 30 second bursts, stirring between bursts, until melted and smooth. Dip the firm and very cold cookie dough hearts into the chocolate, allowing the excess to drip back into the bowl. Place on the prepared baking sheet. Decorate with sprinkles, if desired. Refrigerate until set.
Thank you handletheheat.com for the recipe!

Chocolate Strawberry Mini Cheesecakes
Chocolate Strawberry Mini Cheesecakes are perfectly easy, adorable, and transportable for the perfect Valentine's Day dessert. Plus they can be made ahead of time!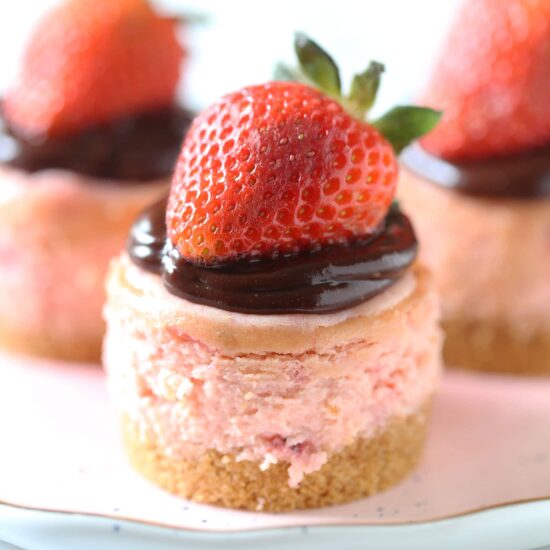 Ingredients
For the crust:
1 sleeve (9 cookies, 137 grams) graham crackers
3 tablespoons (43 grams) REAL Seal® unsalted butter, melted
For the filling:
12 ounces (340 grams) REAL Seal® cream cheese, at room temperature
1/2 cup (100 grams) granulated sugar
1/2 cup (140 grams) seedless strawberry preserves
Red gel food coloring, if desired
1/2 teaspoon vanilla extract
1/4 teaspoon fine salt
1 large egg
For the topping:
1/2 cup (85 grams) semisweet chocolate chips
1/4 cup heavy cream
12 small strawberries
Instructions
Make the crust:
Preheat the oven to 350°F. Lightly grease a 12-cup mini cheesecake pan with nonstick spray.
Place the graham crackers in the bowl of a food processor and pulse until finely ground. Add in the melted butter and pulse until moistened. Divide the mixture among the cavities of the cheesecake pan, about 1 heaping tablespoon in each. Firmly press the crumbs into the bottom of each cavity (a shot glass or other small object makes easy work of this).
Bake the crusts for 5 minutes, or until fragrant. Remove from the oven and reduce the temperature to 325°F.
Make the filling:
In a large bowl, use an electric mixer to beat the cream cheese and sugar on medium-high speed until smooth and fluffy. Add the strawberry preserves, food coloring (if using), vanilla, and salt and beat until smooth. Add the egg and beat until just combined. Divide the mixture among each cavity.
Bake for about 18 minutes, or until set. Let cool to room temperature. Cover with plastic wrap and let chill for at least 3 hours or overnight.
Make the topping:
Place the chocolate chips in a medium heatproof bowl. In a small saucepan, heat the cream just until simmering. Pour over the chocolate chips. Let sit for 3 minutes before stirring until the mixture is melted and smooth. Allow to cool and thicken.
Top each cheesecake with the ganache, then press a strawberry into the ganache. Serve or cover and store in the fridge for up to 1 day.
Strawberry Love Notes
Sending a tiny envelope of love straight to your belly! YUM!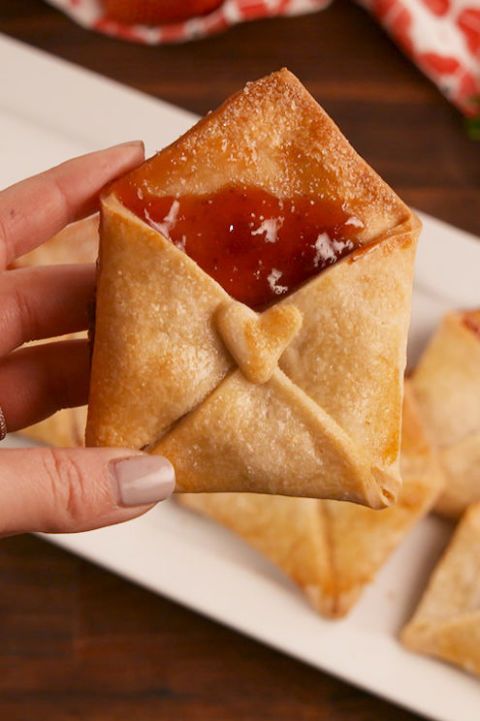 Ingredients
2 refrigerated pie crusts
Flour for rolling out dough
1/2 c. strawberry jam
Egg wash
1/4 c. Granulated sugar, for sprinkling
Instructions
Preheat oven to 375°.
Line a large baking sheet with parchment paper.
On a lightly floured surface, roll out 1 pie crust.
Using a paring knife, cut out long diamond shapes, about 4″ on each side.
Transfer diamonds to baking sheet.
Reroll extra dough to make more diamonds. (You should have enough dough to make about 6.)
Fill the center of each diamond with a very small dollop of strawberry filling.
Fold three of the corners into the center so that the dough looks like an open envelope.
Press down lightly on dough to seal.
Use a small heart cookie cutter to stamp out remaining dough into hearts, and place a heart in the center of each.
Brush envelopes with egg wash and sprinkle with sugar.
Bake until envelopes are golden, about 15 minutes.
Let cool for 10 minutes on the baking sheet before transferring to a cooling rack to cool completely.
Valentine's Day Cake
This impressive Valentine's Day Cake with chocolate cake and strawberry buttercream looks like something from a gourmet bakery, but is totally doable at home!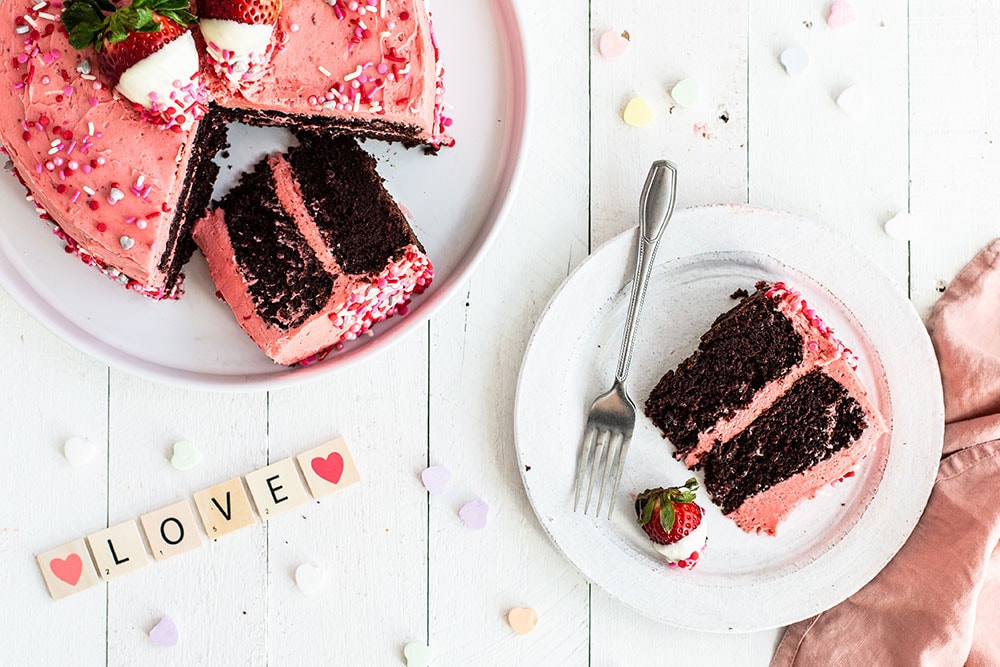 For the cake:
Butter, for greasing
1 3/4 cups (225 grams) all-purpose flour, plus more for pans
2 cups (400 grams) granulated sugar
3/4 cups (64 grams) unsweetened natural cocoa powder
2 teaspoons baking soda
1 teaspoon baking powder
1 teaspoon salt
1 cup buttermilk, at room temperature
1/2 cup fresh vegetable oil
2 large eggs, at room temperature
1 teaspoon pure vanilla extract
1 cup freshly brewed hot coffee
For the strawberry buttercream:
6 cups (750 grams) powdered sugar, sifted
4 sticks (452 grams) unsalted butter, at room temperature
2/3 cup seedless strawberry preserves
1/2 teaspoon fine salt
2 teaspoons pure vanilla extract
Red gel food coloring, if desired
Chocolate Covered Strawberries, for garnish
Instructions
For the cake:
Preheat the oven to 350 degrees F. Butter and flour 2 (8-inch) round cake pans.
Sift the flour, sugar, cocoa, baking soda, baking powder, into the bowl of an electric mixer fitted with a paddle attachment. Add in the salt and whisk to combine.
In a large measuring up or small bowl, combine the buttermilk, oil, eggs, and vanilla. With the mixer on low speed, slowly add the wet ingredients to the dry. With mixer still on low, add the hot coffee and stir just to combine, scraping the bottom of the bowl with a rubber spatula. Don't overmix, the batter should be very thin and runny.
Divide the batter among the prepared pans and bake for 35 to 40 minutes, until a cake tester comes out clean. The cakes make sink slightly in the middle because they're so moist. Cool in the pans for 30 minutes, then carefully turn them out onto a cooling rack and cool completely. Freeze or refrigerate until firm to the touch.
For the buttercream:
In the bowl of a stand mixer fitted with the paddle attachment, mix together the sugar and butter. Mix on low speed until well blended and then increase the speed to medium and beat for another 3 minutes until ultra light and smooth. Add in the strawberry preserves, salt, and vanilla and beat on medium for 1 minute. Add about 1/4 teaspoon gel food coloring, if using, and beat until the buttercream is evenly colored. Add more coloring if desired.
Place 1 cake layer, flat side up, on a flat surface or cake pedestal. Using an offset spatula, spread about 1/3 of the frosting all over the cake, pushing it all the way past the edges.
Place the second cake layer on top, flat side up, and spread a very thin coating of frosting all over to make a crumb coating. When scraping away excess frosting, be careful not to add the crumb frosting back in with the clean frosting. Freeze or refrigerate the cake until the frosting is firm.
Remove from the freezer and spread the remaining frosting evenly over the cake, scraping away excess frosting and smoothing imperfections with the offset spatula. Garnish with sprinkles and chocolate covered strawberries before serving, if desired.
The frosted cake can be stored at room temperature for 1 day or in the fridge for up to 3 days.
Easy Shortbread Heart-Shaped Cookies
Easy Shortbread Heart-Shaped Cookies are slice-and-bake treats that are loaded with sprinkles, perfect for Valentine's Day…and they don't even require a cookie cutter!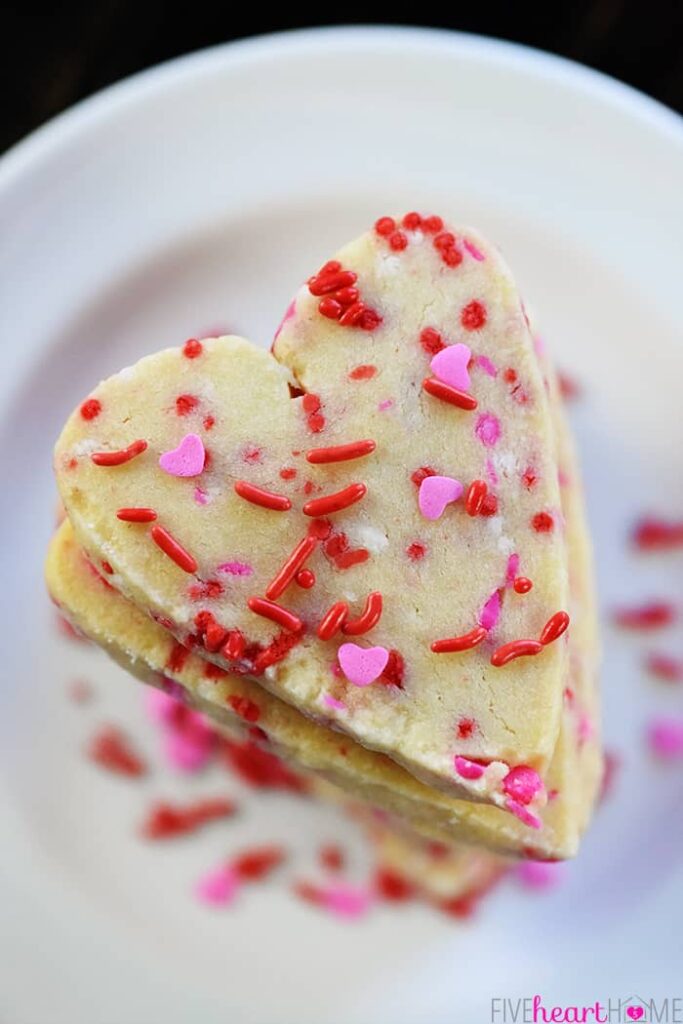 Equipment
Large Food Processor
13- x 18-inch Half Sheet Pan
Ingredients
1 cup (2 sticks) unsalted butter at room temperature
3/4 cup powdered sugar
1/2 teaspoon salt
1/4 teaspoon pure vanilla extract
1/4 teaspoon pure almond extract
2 1/3 cups all-purpose flour
1/2 cup sprinkles
Instructions
Add butter, powdered sugar, salt, vanilla extract, and almond extract to the bowl of a large food processor. Process until smooth (about eight 1-second pulses). Add flour and pulse until mixture looks crumbly and chunky (about six 1-second pulses). Add sprinkles and quickly pulse several more times, until the sprinkles are just evenly incorporated.
Turn the dough out onto a large piece of wax paper and form the crumbles into a log that's about 14 inches long. Shape the log so that it has three flat sides, giving the ends a triangular shape (the log should look like a long triangular prism).
Wrap the triangular log with the wax paper. Take a wooden ruler (or another long, thin object) and press an indentation into one flat side of the log. Round the edges of that side to form a heart-shaped log. Place the wrapped cookie dough on a baking sheet and freeze for 15 minutes. Fine-tune the shape of the heart (if necessary) and freeze for 2 to 3 more hours or until solid.
Place the rack in the center position of the oven. Preheat the oven to 350°F. Line two baking sheets with parchment paper. Remove log of dough from the freezer. Allow the cookie dough to come to room temperature for 5 minutes or until just soft enough that it doesn't crack or crumble when sliced. Using a sharp knife, cut the log into slices that are approximately ?-inch thick. Arrange cookies an inch apart on the prepared baking sheets. Bake until cookies just barely turn a light golden color around the edges, between 12 and 15 minutes. Allow to cool on the baking sheets.
Notes
If your dough is too frozen, the cookies will crumble when you slice them. So allow your dough to sit at room temperature for 5 to 10 minutes before cutting. It should slice cleanly without crumbling but still maintain its heart cookie shape.
You may use any long, thin, hard object to make your indentation, but a ruler works great.
Thank you to fivehearthome.com for the recipe!
Heart Shaped Brownie Whoopie Pies
Why have one whoopie pie recipe when you can have two? This version makes dessert super simple, yet incredibly delicious, using a pre-packaged brownie mix!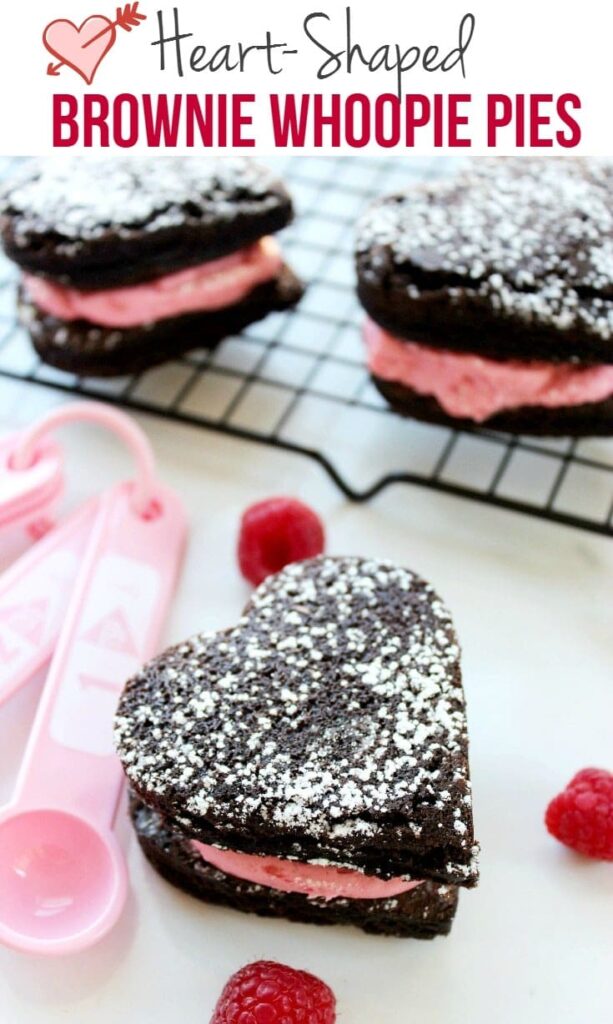 Ingredients
For Brownies
1 box dark chocolate brownie mix
2 eggs
1/2 cup vegetable oil
1/4 cup milk
For Raspberry Buttercream Filling
1 cup butter; softened
4 oz raspberries
2 cups powdered sugar
Instructions
Prepare brownies according to box directions. Allow to cool.
Remove from the pan and cut as many heart shapes as possible with a cookie cutter.
Puree raspberries in a food processor or blender.
In a medium bowl, cream butter and raspberry puree.
Add in powdered sugar 1 cup at a time. Mix until smooth and creamy.
Transfer filling to piping bag.
Pipe filling around the edge of one of the brownie hearts. Then fill in the middle. Top with another brownie heart, gently pressing down to make a sandwich.
For the finishing touch, dust the tops with powdered sugar.
Thank you mommymusings.com for the recipe!
A Sweet Send-off!
If you think it is time for a new place to make your next special meal, maybe one with a chef's kitchen or a theatre room to watch a romantic movie, The Ask Cathy Team has you covered there as well. We know the heartbeat of the real estate market in the Kansas City area like no other, and we are happy to help set you up with your perfect match in your next home. Reach out to us today to set up your date for a real estate consultation! Wishing you a Valentine's day that is more sweet than savory!