Mums with Meaning
Posted by Ask Cathy Marketing Group on Wednesday, September 21, 2022 at 1:00 PM
By Ask Cathy Marketing Group / September 21, 2022
Comment
History of Mums, and Caring For Your Mums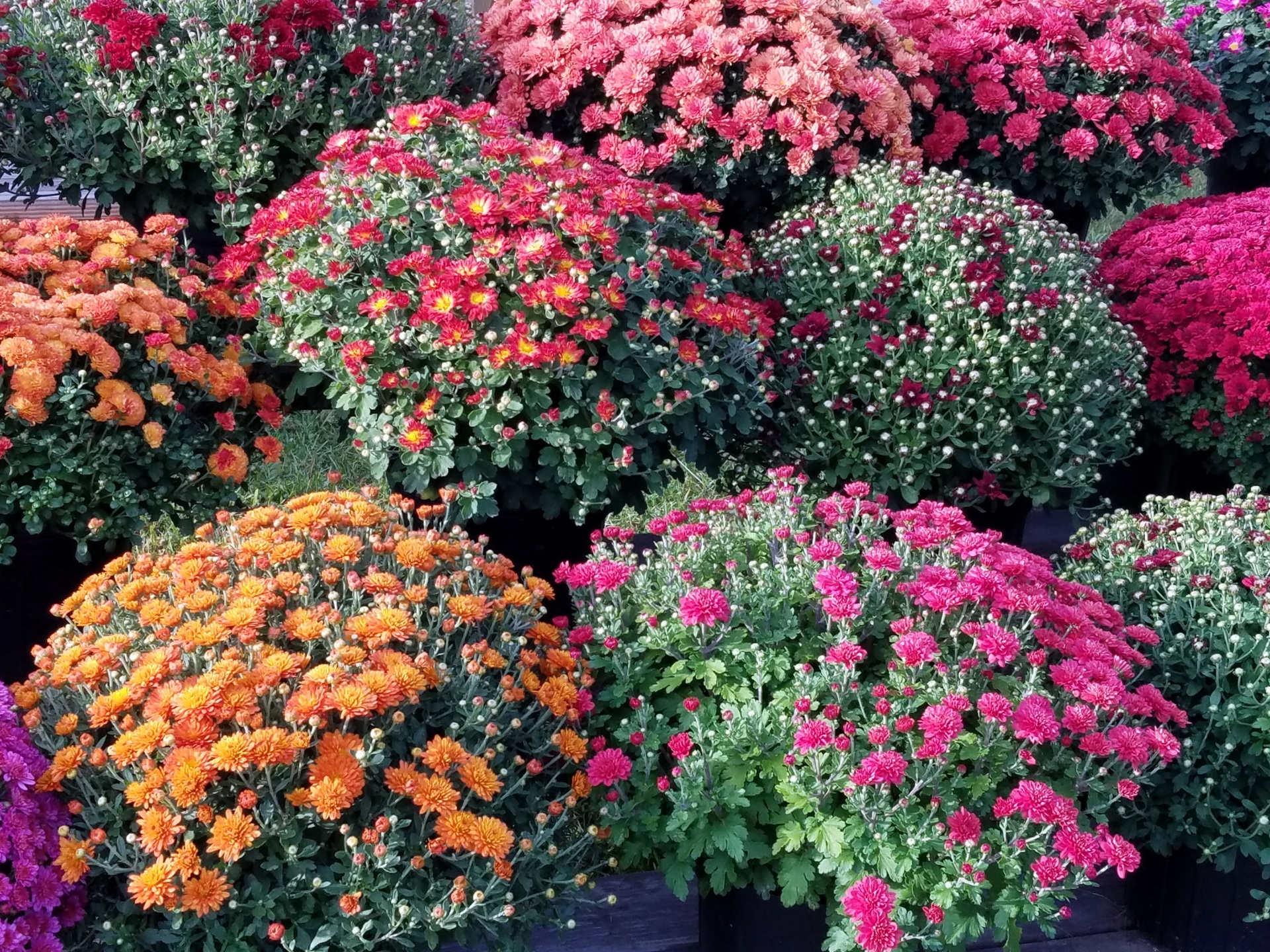 "A Chrysanthemum by any other name would be easier to spell"
- William J. Johnston
Perhaps there is no truer signal to the start of Autumn than the appearance of fall mums. The regal color palette of plum, gold, and rust is like a celebration of the season, and when you see them, the air feels just a little bit crisper.
Meaningful Roots
Historically, the Chrysanthemum, or mum, is an important flower. The first origins began in China where they were cultivated centuries ago. They often appear as a subject in writing, with the first evidence coming as early as 25 century BC in regards to their healing powers. It was widely believed that the flower held the "power of life". The mum, then called "Chu" was so revered that an entire city was named for them, Chi-Hsien, or "Chrysanthemum City".
In Japan, the mum is a cultural icon, being used as the Imperial Seal and a crest used by the Emperor, and is the country's national symbol. The Supreme Order of the Chrysanthemum is the higher Order of Chivalry within Japan's honor system that can be given to Japanese citizens in their lifetime, or oftentimes posthumously. Every year, a significant day to honor the flower is observed during the "Festival of Happiness" in honor of the chrysanthemum. The flowers are still used readily today for several ailments and medical purposes, as is a popular tea.
It wasn't until their appearance in Europe in the 17th century, when cultivator Pierre Louis Blanchard brought the flower from China to the western world, when Chrysanthemums became popular in another way. In Europe, they began to be widely used as flowers that adorned memorial sites, leading to their popularity as funeral flowers, or the "death flower". This is also the period they were classified and given their "official" name of chrysanthemum by Swedish botanist Karl Linnaeus, founder of the system we still use today in naming plants and animals. He used two Greek words "Chrysos" meaning "gold" and "anthemon" meaning "flowers". They were classified as part of the daisy family, as their earliest appearances were as small yellow daisy-like flowers.
Here in the US, they were first introduced during Colonial times. Hailed "The Queen of Flowers" in popularity, they are the largest commercially produced flower and are the official floral decoration of the fall season. They are also the birth flower of November. Here in Kansas City, the Nelson-Atkins Museum of Art has Henri Fantin-Latour's famous painting, "Chrysanthemums" as part of its regular collection.
Meaningful Relationships
One of the reasons why the Chrysanthemum is widely popular is what they are known to represent. The mum symbolizes cheerfulness, friendship, well-being, longevity, and joy, and is said to bring positivity into your home and attract good luck.
Throughout the year, the Ask Cathy team takes many opportunities to show our "Ask Cathy Family" how much we appreciate them for trusting us with their homes - when either buying or selling. One of the ways we do that is through our "Mum Appreciation Day", where we give mums to our past and present clients. It is just one of our favorite days as it is always a fun way to catch up with those that mean so much to us!
Meaningful Care
One thing we have yet to do is to tell you how to care for your mums, and as lovely as they are, mums are not 100% fuss-free. To keep them looking at their peak throughout the season, (and perhaps holding them over for the next growing season), we've assembled a few tips.
When you bring your mum home, be sure to place a saucer underneath the pot. This will catch the runoff each time you water your mum, and help maintain moisture for the root ball.
Mums are thirsty plants. They do not like dry soil, so be sure to check their soil often to make sure they are moist.
Water from the base of the plant, closest to the roots. A slow watering is better than a fast spray.
Be careful, however, not to overwater your mum. Overwatering leads to root rot. Just make sure that the soil in your mum is moist each day, but not soaked.
After watering the day before, if the saucer is still full of water, dump the water, and wait to rewater your mum.
Be sure to deadhead the blooms that are faded and brown, by pinching them off, don't pull. This keeps your mum nice and tidy.
Even though mums are considered "full sun" plants, if it is a particularly hot day, move your mums into the shade for part of the afternoon. Giving them some protection during the hottest parts of the day will prolong your mm's longevity.
Don't panic if the first frost hits your mums. Outdoor potted chrysanthemums like cold weather, and the first light frost won't harm them.
Though mums can survive light frosts easily, a hard freeze can kill their roots in pots easily. Move mums to a safer, warmer spot on a night when a freeze is predicted.
Meaningful Preservation
Though it is not foolproof, you can attempt to save your mums for the next season by overwintering them. How you care for them, moving forward, depends on when you brought them home.
For plants brought home 4 to 6 weeks before the first frost
If you receive your mums in early fall, and there are 4 to 6 weeks before the first frost, they stand a good chance of survival if planted in the ground immediately.
After the first frost, heavily mulch them for insulation, and do not cut them back, as the temperature drops. This will help protect them through the winter.
For mums left in their containers until the first frost
Do not plant your mums in late fall, as their roots will not be able to establish themselves effectively in the soil to survive the winter.
When temperatures outside become too cold, bring your mums indoors - either to a cool corner of your basement or into a partially heated garage.
Cut your mum back a few inches above the potted soil line.
Your mum should go dormant for the winter, and can be planted into your landscape in the spring after the threat of frost is gone. Plant them as you would any other perennial flower. Add good soil with compost to give them the nutrients they need for a good season.
Overwintering, however, only works for certain mum varieties so be sure to check the variety before purchasing if you would like to preserve them over more than one season.
Perennial varieties are hardy or garden, which can be overwintered. The other type of mum is called the florist mum, which is annual, and will not come back. Be sure to check which type you have brought home.
Mum's the Word
If you are part of the Ask Cathy Family, but you weren't able to participate in our annual "Mum Appreciation Day", they are widely available throughout home improvement, grocery, and garden centers. If you know of anyone that is thinking of buying or selling a home, and who would be a good addition to the Ask Cathy Family, please send them our way! We will take good care of the referrals you entrust to us.
If you aren't currently part of the Ask Cathy Family and are looking for a team of Realtors ® that are dedicated to their clients, knowledgeable about the market, negotiation strategies, and going above and beyond for their clients, please reach out to us to join our family!