Let the Shenanigans Begin! Irish Recipes Sure to Please For Saint Patrick's Day!
Posted by Cathy Counti on Tuesday, March 8, 2022 at 9:37 PM
By Cathy Counti / March 8, 2022
Comment
There is an Old Irish Proverb that says,
"What whiskey and butter cannot cure, cannot be cured".
Doesn't this sound completely reasonable?
The Ask Cathy Marketing Group always wants to be of service in case you need any sort of cure, or not, so we compiled a list of some incredibly delicious recipes just in time for Saint Patrick's Day. Some of them include both whiskey and butter, but all of them are incredibly delicious! Whether you are Irish or not, these offerings are sure to be a hit with any and all you may find at your table, and remember, "Laughter is the brightest in the place where food is."
Featured Recipes Include:
Starter: SHAMROCK SHAPED SNACK CRISPS
Starter: REUBEN DIP
Starter: IRISH STOUT FRENCH ONION SOUP
Starter: GUINNESS IRISH BEEF STEW MINI POT PIES
Main Dish: PORK CHOPS IN AN IRISH WHISKEY CREAM SAUCE
Main Dish: GUINNESS PULLED PORK
Main Dish: BEER BRAISED CORNED BEEF WITH A WHISKEY MUSTARD GLAZE
Main Dish: CORNED BEEF AND CABBAGE (FOR INSTANTPOT OR SLOW COOKER)
Side Dish: GUINNESS AND IRISH CHEDDAR MACARONI AND CHEESE
Side Dish: IRISH COLCANNON POTATOES
Side Dish: SLIEVE NA MBAN CARROTS (Traditional Irish Carrots)
Side Dish: IRISH SODA BREAD
Dessert: COFFEE AND BAILEY'S CAKE
Dessert: IRISH APPLE CAKE WITH CUSTARD SAUCE
Dessert: SHAMROCK SHAKE
Dessert: CHOCOLATE STOUT NO-CHURN ICE CREAM WITH HOMEMADE TOFFEE CRUMBLE

Starter: SHAMROCK SHAPED SNACK CRISPS
Shamrock-shaped pie crusts topped with Parmesan cheese and fresh Italian Parsley are baked to a golden brown and can be served with your favorite dip.
INGREDIENTS
1 store-bought pie dough or puff pastry, thawed
egg white or milk
1/3 -1/2 cup freshly grated Parmesan cheese*
2-3 tablespoons finely chopped fresh Italian parsley
shamrock shaped cookie cutter
INSTRUCTIONS
Preheat oven to 400 degrees Fahrenheit.
Unroll pie dough or puff pastry.
Cut 12 shamrocks using a cookie cutter. Re-roll any unused scraps for more shamrocks.
Brush the tops of each shamrock with egg white with pastry brush.
Combine Parmesan cheese with parsley.
Sprinkle over the shamrocks. Set your pie crust shamrocks on a baking sheet lined with parchment paper.
Bake for 7-9 minutes until golden brown.
NOTE
You can re-roll the scraps and make more shamrocks, or just brush the scraps with egg white and the cheese and parsley and bake until crisp.
Serve immediately with spinach/artichoke dip, hummus, or just by themselves.
These shamrock crackers are best served the day they are made but can be kept in an airtight container for up to 4 days. Reheat any crackers that are more than a day old in a 300-degree oven for 4-6 minutes just to crisp them back up before serving.
Thank you to hungryhappenings.com for the recipe!
Starter: REUBEN DIP
Make this easy Irish-inspired Reuben Dip with creamy Thousand Island, tangy sauerkraut, salty corned beef, and gooey cheese in less than 30 minutes with just 5 ingredients!
INGREDIENTS
1 package cream cheese (8 ounces), softened
1/2 cup Thousand Island dressing
8 ounces corned beef chopped
1 cup sauerkraut (drained and squeezed before measuring)
2 cups shredded Swiss cheese
INSTRUCTIONS
Mix cream cheese and dressing in a medium mixing bowl until smooth.
Add remaining ingredients, and stir to combine.
Transfer mixture to a 9-inch pie pan or baking dish.
Bake at 400°F for 15-20 minutes, until hot and bubbly.
Serve warm with crackers or chips
INSTRUCTIONS FOR SLOW COOKER
Follow steps 1 and 2. You can mix it directly in the slow cooker crock. Then cook dip on HIGH for 2-3 hours or LOW for 4-6 hours.
NOTES
Serve with crackers or chips. Butter crackers are classic easy. For a variety, use pretzel crackers, baguette crisps, or pieces of rye.
Drain and dry the sauerkraut before measuring. Drain it in a colander. Then transfer to a dish towel or several layers of paper towels. Gently squeeze so that a little additional moisture comes out. Be careful not to squeeze too much, or you'll lose too much flavor.
You can use leftover corned beef from a slow cooker corned beef and cabbage, OR you can use corned beef from the deli counter.
Make Ahead Directions: Follow steps 1-3 of the recipe. Then store covered in the refrigerator until ready to bake, no more than 1-2 days. Freezing is not recommended.
Thank you to thegraciouswife.com for the recipe!
Starter: IRISH STOUT FRENCH ONION SOUP
Warm and comforting soup with a rich beer base makes this French onion soup the best you'll ever taste!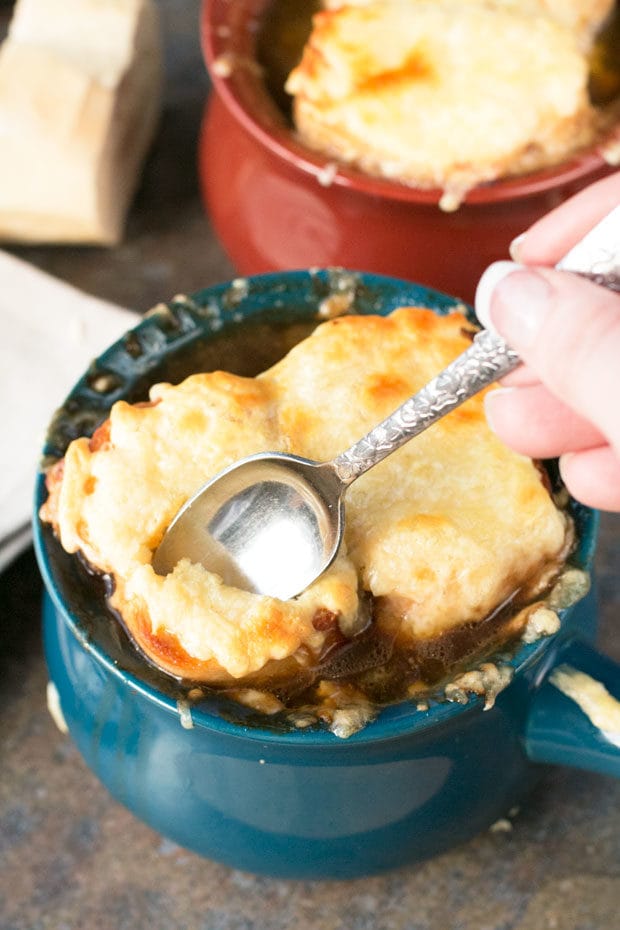 INGREDIENTS
2 1/2 lbs yellow onions, sliced
3 Tbsp unsalted butter
2 Tbsp olive oil
1 tsp salt
1/2 tsp black pepper
1/2 tsp sugar
1/4 tsp garlic powder
4 cups beef broth, warmed
4 cups Irish stout, warmed
3 Tbsp flour
1/4 cup Irish whiskey
1/8 cup brandy
Baguette slices, toasted
2 cups shredded Irish cheddar
1/2 cup shredded Swiss cheese
INSTRUCTIONS
In a large pot, melt butter over medium-high heat. Add onion and reduce heat to low. Cover and cook for 15 minutes on low.
Season onions with salt, pepper, sugar, and garlic powder. Cook down, uncovered, stirring occasionally, over medium heat for 40 minutes to one hour.
In a medium saucepan, heat broth with beer over low heat.
Once the onions are caramelized, add flour and stir. Cook for one minute. Add broth, beer, whiskey, and brandy, and bring to a simmer. Simmer uncovered for one hour. Season with additional salt and pepper to taste.
Preheat oven to 350 degrees.
Divide the soup into serving bowls that are oven-safe. Top with toast and a heaping portion of cheddar and swiss cheeses.
Bake for 20 to 30 minutes until the cheese is melted. Turn oven to broil and broil until the cheese is bubbling and brown. Serve.
Thank you to cakenknife.com for the recipe!

Main Dish: PORK CHOPS IN AN IRISH WHISKEY CREAM SAUCE
It's hard to go wrong with big, juicy pork chops, mushrooms, and a boozy cream sauce.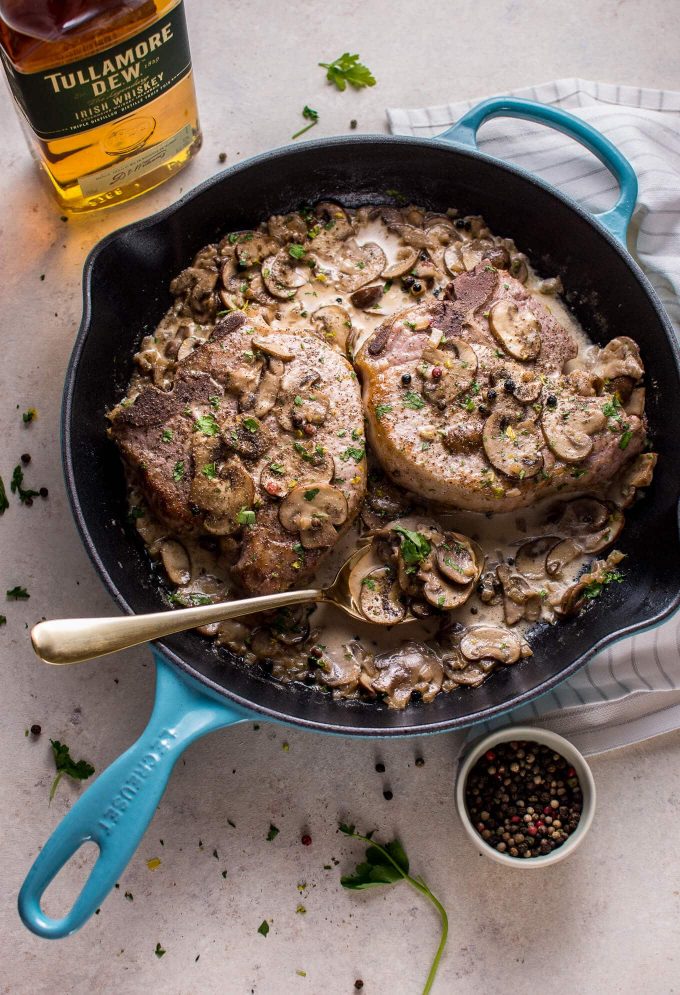 INGREDIENTS
2 thick pork chops bone-in
1 tablespoon olive oil
1 tablespoon butter
1/2 medium onion chopped
7 ounces crimini mushrooms sliced
1/3 cup Irish whiskey
2 cloves garlic minced
1 cup heavy/whipping cream
Pinch of nutmeg
1/2 teaspoon Worcestershire sauce
1 tsp mixed peppercorns or to taste (optional)
Salt & pepper to taste
INSTRUCTIONS
Preheat oven to 400F and move the rack to the middle position. Season pork chops generously with salt and pepper.
Add the olive oil to a large, oven-proof skillet on medium-high heat. Once the oil is hot, sear the pork chops for 4-5 minutes on each side (don't move them around until it's time to flip them) until they're nicely golden/browned. Turn the heat down if they start to splatter a lot. Remove chops from the pan and set aside.
Add the butter and onions to the pan and cook for 2 minutes.
Add the mushrooms and cook for 5 minutes, stirring occasionally
Add the whiskey and garlic, and cook for 3 minutes.
Add the cream, nutmeg, Worcestershire sauce, and peppercorns (if using). Put the pork chops back in the pan.
Place the skillet in the oven until the pork chops are cooked through and reach an internal temperature of 145F in the thickest part. The timing will really depend on how thick your pork chops are and how cool they were when you added them back into the pan (10-15 minutes is a good starting point for 1″ thick chops. If you find they're still not done, continue cooking and check every few minutes.). If your pork chops are thinner than 3/4 inch, I would suggest checking them before 10 minutes so you don't overcook them.
Season with extra salt & pepper if needed. Serve immediately. These are delicious with mashed potatoes (try colcannon for an Irish twist).
Notes
This recipe is intended for fairly thick pork chops (around 1″ thick). For the thinner, fast-fry varieties, cut down cooking time (searing time and time in oven) so you don't overcook them. Make sure to check them often. At 145F, pork chops will still have a hint of pink, but won't be overdone.
Thank you to saltandlavender.com for the recipe!
Main Dish: STICKY GUINNESS CHICKEN
Want some finger lickin' good sticky chicken? This Guinness Chicken has your name on it! Chicken thighs are first seared light brown then cooked in an easy to make sticky sauce made with your favorite Irish beer. It's my newest favorite chicken recipe!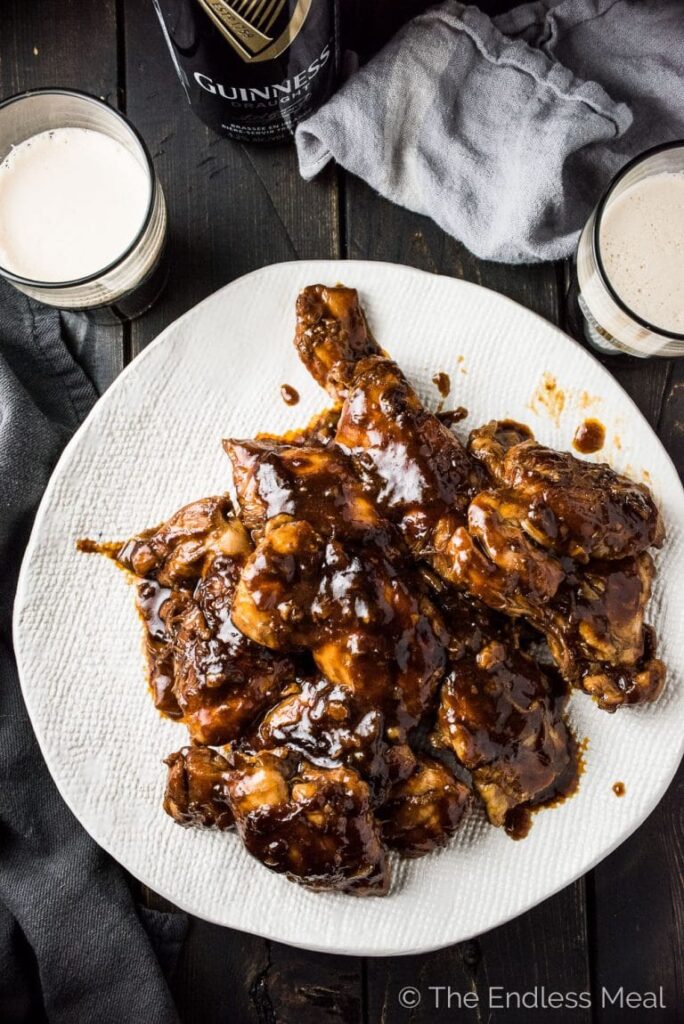 INGREDIENTS
¼ cup each: ketchup and honey
2 teaspoons Dijon mustard
8 boneless skinless chicken thighs
INSTRUCTIONS
Add the Guinness, ketchup, honey, balsamic, Dijon, and garlic to a small pot and bring to a boil over high heat.
Reduce the heat and simmer for 15 minutes, or until it starts to thicken.
While the sauce is simmering, start the chicken. Heat the oil in a large frying pan over medium-high heat. Add the chicken to the pan and brown it on both sides, about 10 minutes total. Drain the fat from the pan.
Pour the slightly thickened Guinness sauce over the chicken and continue to cook the chicken, uncovered, turning it over a few times so the sauce coats both sides, for about 15-20 minutes, or until the sauce reduces and is thick and sticky.
Thank you to the endlessmeal.com for the recipe!
Main Dish: GUINNESS PULLED PORK
Let your slow cooker and a bottle of Guinness do the work to create the tastiest fall-apart-on-your-fork pulled pork ever.
INGREDIENTS
1 Tbsp. smoked paprika
2 tsp. salt
1 tsp. crushed red pepper
1/2 tsp. garlic powder
1/2 tsp. freshly-cracked black pepper
4 lb. boneless pork butt or shoulder or loin
1 large white onion, thinly sliced
1 (11.2) bottle Guinness extra-stout beer
INSTRUCTIONS
In a small bowl, whisk together paprika, salt, crushed red pepper, garlic powder, and black pepper until combined.
Rub the mixture all over the surface of the pork until covered.
Spread out the sliced onions over the bottom of the slow cooker. Place the pork on top. Pour the beer on top.
Cover and cook on low for 10-12 hours, or until the pork literally falls apart on your pork. Serve on sliders, tacos, salads, or however you would like!
Serve on a warm roll or baguette. Store in an airtight container in the refrigerator for up to four days, or freeze.
Thank you to gimmesomeoven.com for the recipe!
Main Dish: CORNED BEEF AND CABBAGE (INSTANTPOT OR CROCKPOT)
A modern take on a traditional favorite, using your Instantpot or Crockpot with only 5 minutes prep-time!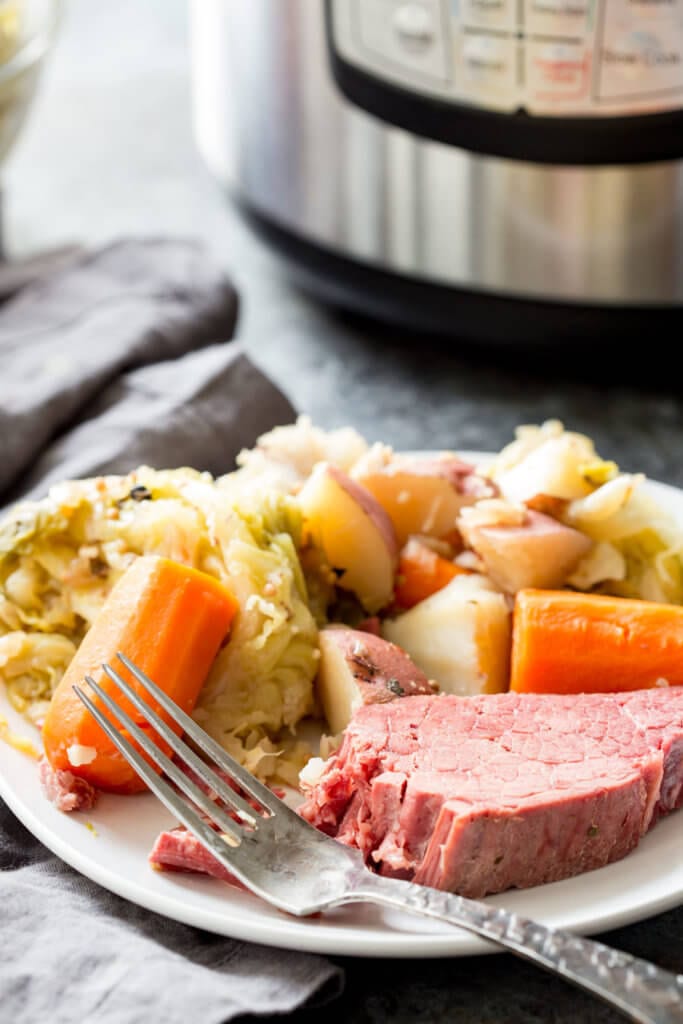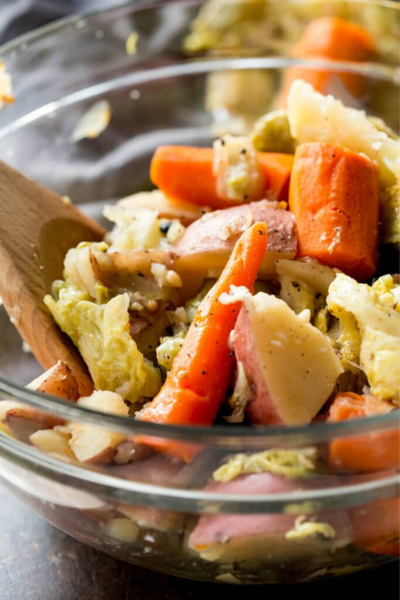 INGREDIENTS
For the Corned Beef
3-4 pound Corned Beef Brisket
Seasoning packet from corned beef
3 Garlic Cloves peeled and whole
1/2 cup yellow onion minced fine
For the Vegetables
6 Red Potatoes rinsed and cut into bite sized pieces
5 Carrots peeled and cut into 2-3 inch pieces
1 head green Cabbage cut into 8 wedges
INSTRUCTIONS
For Using the Instant Pot
Place corned beef in an Instant Pot, fat side up
Add water, beef stock, seasonings, garlic, peppercorns, and onions.
Put lid on, and set to "sealed"
Use meat setting, or manual setting, and set to 60 minutes.
The display will turn to "ON" and after it is hot and pressure has increased it will start counting down.
When the time is up, wait for the pressure float to go down on it's own, or vent it, and remove lid.
Remove corned beef from pot, place on a plate and cover with foil, set aside.
To the liquid in the pot, add the potatoes, carrots, onions, garlic, and salt, and put the cabbage on top of all of that.
Put lid on, set to sealed.
Press "Manual" and increase cooking time to 10 minutes on high pressure.
When finished, wait for pressure float to come down, or vent and remove lid.
Drain liquid off, and serve vegetables with sliced corned beef.
Enjoy!
For Using a Slow Cooker
Place all ingredients except the cabbage into a large (7 Qt) Crock Pot and cook on high for 4-5 hours.
Add cabbage on top and cook for an additional hour.
Remove, drain off liquid and enjoy!
Thank you to eazypeazymealz.com for the recipe!
Main Dish: GUINNESS AND IRISH CHEDDAR MACARONI AND CHEESE
Flavorful, creamy, and cheesy with a crunchy garlic breadcrumb topping. A grown-up version of a classic!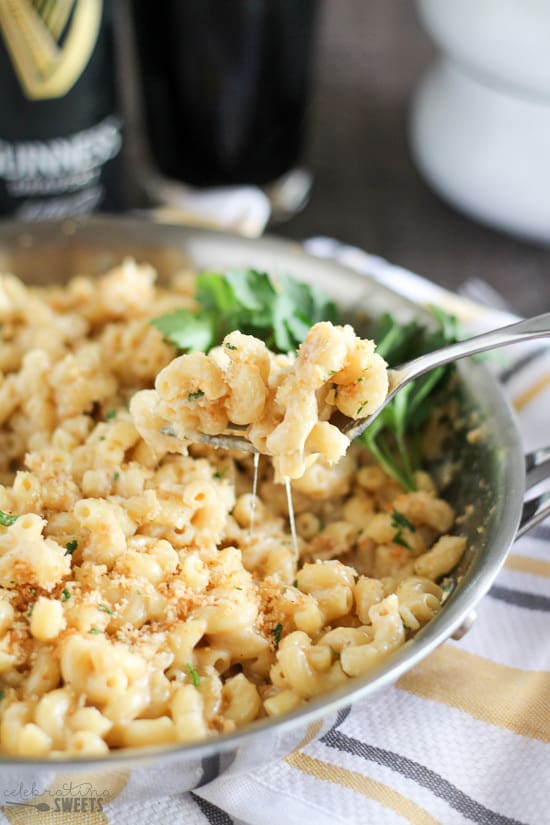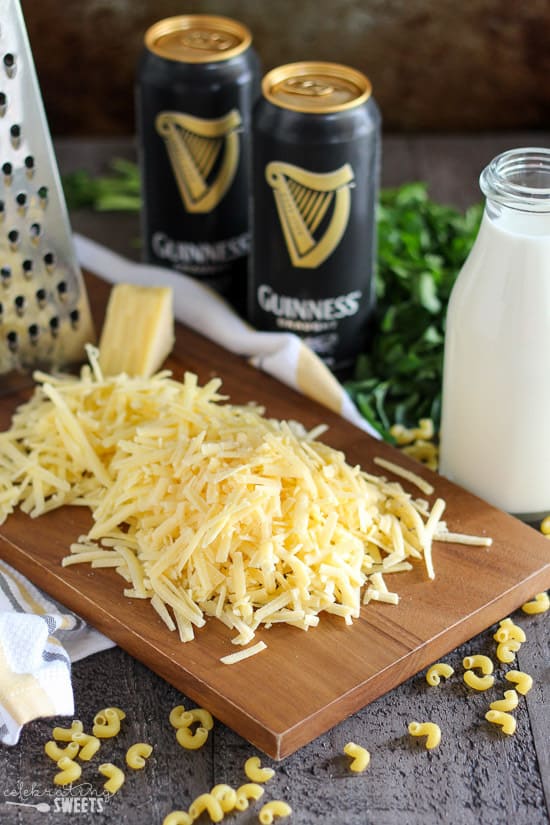 INGREDIENTS
For the Macaroni and Cheese
2 tablespoons butter*, see note
? cup Guinness or other stout
¼ teaspoon ground black pepper
1 tablespoon dijon mustard
2 ounces cream cheese, cut into pieces
3 ½ cups grated cheddar (or another good melting cheese), divided (I used Kerrygold cheddar)
For the Topping
2 teaspoons finely minced garlic
2 teaspoons minced fresh parsley
INSTRUCTIONS
For the Topping
In a medium skillet over medium-low heat, melt butter. Add garlic and breadcrumbs and cook, stirring frequently, until the breadcrumbs are lightly toasted and the mixture is fragrant. Remove from the heat, add salt and pepper to taste and minced parsley. Set aside.
For the Macaroni and Cheese
Boil elbow macaroni in well salted water and cook until just al dente. Before draining the pasta, reserve a cup of the pasta water and set it aside (see note). While the pasta is cooking, prepare the cheese sauce:
In a large saucepan over medium heat, melt butter and sprinkle in flour. Whisk together for a minute. While whisking, pour in Guinness, milk, half and half, salt, pepper, and mustard. Bring to a simmer and cook, whisking frequently, until it thickens slightly (several minutes).
Add cream cheese and 2 ½ cups grated cheddar and stir/whisk until completely smooth. Add drained, cooked pasta and stir to combine. Add remaining 1 cup grated cheddar and stir until melted (this will help achieve a stringy/cheesy-pull texture). I like to let this mixture sit over low heat for a few minutes, stirring frequently, so that the pasta can soak up some of the cheese.
To serve: Transfer to a serving bowl or individual bowls and sprinkle the top with the reserved toasted breadcrumbs. Serve immediately.
Notes
* This amount of butter and flour creates a fairly thin sauce. For a thicker sauce, you can increase the butter and flour to 3 or 4 tablespoons EACH.
If the macaroni and cheese thickens up too much, add a little bit of the reserved pasta water (or additional milk) to make it creamy again.
Thank you to celebratingsweets.com for the recipe!
Side Dish: IRISH COLCANNON
Irish Colcannon! All mashed potato fans are bound to love this traditional Irish side dish! With tender cooked cabbage mixed with creamy potatoes and topped with crispy, crumbled bacon, colcannon is the perfect side dish for any Irish cuisine.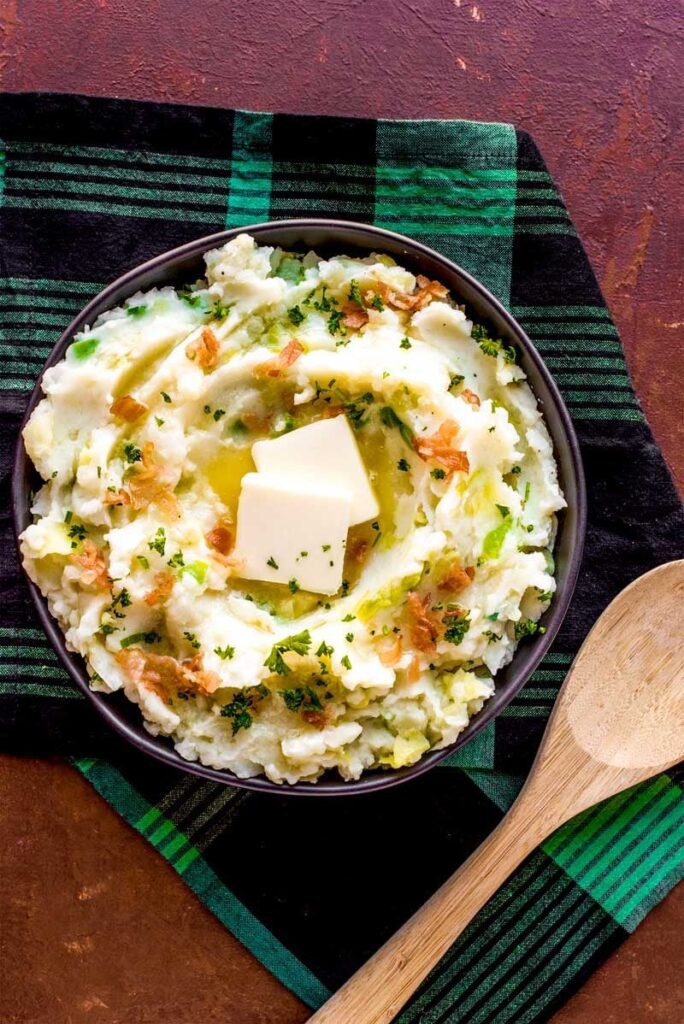 INGREDIENTS
1/2 head cabbage, roughly chopped
6 medium russet potatoes, peeled and quartered
1/2 cup green onion, chopped
2 tablespoon salted butter
bacon, cooked and crumbled (optional)
fresh parsley, for garnish (optional)
salted butter, for serving
INSTRUCTIONS
In a large saucepan over medium heat, bring cabbage and 2 cups water to a boil. Reduce heat and allow to simmer, covered, until cabbage has cooked down (about 1/2 the original size) and is tender, about 10-15 minutes. Drain cabbage, but reserve water cabbage cooked in. Transfer cooked cabbage to a bowl, cover, and set aside.
In a large stockpot, add cabbage water and potatoes, plus more water so that the top of the potatoes are covered. Bring to a boil over medium-high heat. Reduce heat and allow to cook, uncovered, until potatoes are tender, about 15-25 minutes.
While potatoes cook, add milk, green onions, salt, and pepper to a small saucepan. Bring to a boil over medium heat and allow to simmer for 20 seconds, then remove from heat. Set saucepan nearby.
Once potatoes are cooked, drain excess water and add potatoes to a large mixing bowl. Mash potatoes to desired consistency (having some lumps are okay).
Add cooked cabbage and milk mixture to mashed potatoes, then gently stir to combine.
Serve colcannon immediately with crumbled bacon, fresh parsley, and butter.
Thank you to homemadehooplah.com for the recipe!
Side Dish: SLIEVE NA MBAN CARROTS (TRADITIONAL IRISH CARROTS)
These gorgeous carrots, cooked in milk and butter, get covered in a creamy topping balanced out by the herby notes of fresh chopped parsley. The reddish crest of Sleieve na mBan rising above the milk-white mist that forms there gives its name to this dish of cream-wreathed carrots.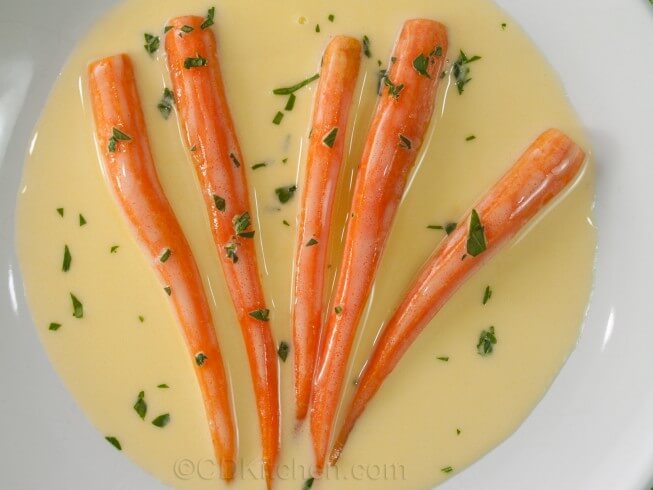 INGREDIENTS
salt and pepper, to taste
1 teaspoon chopped fresh parsley
INSTRUCTIONS
Trim and wash the carrots and halve lengthwise.
Melt butter over medium heat.
Add milk, season with salt and pepper.
Add carrots and cook gently until just tender.
Remove from heat and stir in cream and beaten egg yolks.
Reheat but do not boil, stirring constantly until the eggs thicken.
Correct seasoning and add parsley.
Thank you to cdkitchen.com for the recipe!
Side Dish: IRISH SODA BREAD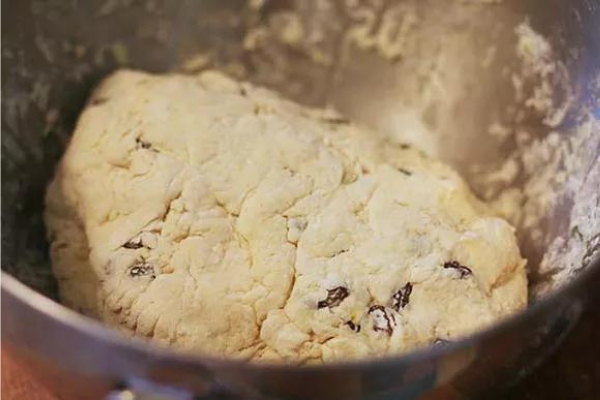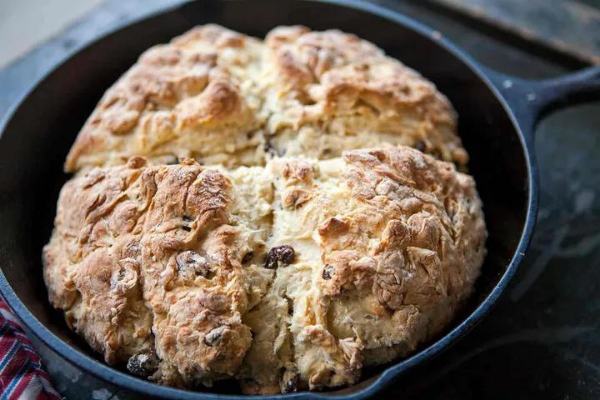 INGREDIENTS
4 to 4 1/2 cups all-purpose flour
1 tablespoon sugar
1 teaspoon salt
1 teaspoon baking soda
4 tablespoons butter
1 cup currants or raisins
1 large egg, lightly beaten
1 3/4 cups buttermilk
INSTRUCTIONS
Preheat the oven:
Preheat the oven to 425°F.
Whisk together the dry ingredients:
In a large mixing bowl, whisk together the 4 cups of flour, sugar, salt, and baking soda.
Work the butter into the flour, add the currants:
Using your (clean) fingers, work the butter into the flour mixture until it resembles coarse meal. Then add in the currants or raisins.
Make a well, mix in the egg and buttermilk:
Make a well in the center of the flour mixture. Add the beaten egg and buttermilk to the well and mix in with a wooden spoon until the dough is too stiff to stir.
Lightly knead the dough and form a mound:
Dust your hands with a little flour. Then, gently knead the dough in the bowl just long enough to form a rough ball. If the dough is too sticky to work with, add in a little more flour. Do not over-knead!
Transfer the dough to a lightly floured surface and shape into into a round loaf. Note that the dough will be a little sticky, and quite shaggy (a little like a shortcake biscuit dough).
You want to work it just enough so the flour is just moistened and the dough just barely comes together. Shaggy is good. If you over-knead, the bread will end up tough.
Score with an X:
Transfer the dough to a large, lightly greased cast-iron skillet or a baking sheet (It will flatten out a bit in the pan or on the baking sheet.).
Using a serrated knife, score the top of dough about an inch and a half deep in an "X" shape. The purpose of the scoring is to help heat get into the center of the dough while it cooks.
Bake until golden:
Transfer to the oven and bake at 425°F until the bread is golden and the bottom sounds hollow when tapped, about 35 to 45 minutes. (If you use a cast iron pan, it may take a little longer as it takes longer for the pan to heat up than a baking sheet.)
Check for doneness also by inserting a long, thin skewer into the center. If it comes out clean, it's done.
Hint 1: If the top is getting too dark while baking, tent the bread with some aluminum foil.
Hint 2: If you use a cast iron skillet to cook the bread in the oven, be very careful when you take the pan out. It's easy to forget that the handle is extremely hot. Be sure to put a pot holder over it.
Cool 5 to 10 minutes, then slice and serve:
Remove the pan or sheet from the oven, and let the bread sit in the pan or on the sheet for 5 to 10 minutes. Then, remove to a rack to cool briefly.
Serve the bread warm, at room temperature, or sliced and toasted. Best when eaten warm and just baked.
Thank you to simplyrecipes.com for the recipe!

Dessert: COFFEE & BAILEYS CAKE
The perfect pairing of coffee and Baileys in this delicious cake. A vanilla Baileys cake layered with chocolate ganache and a coffee Baileys swiss meringue buttercream.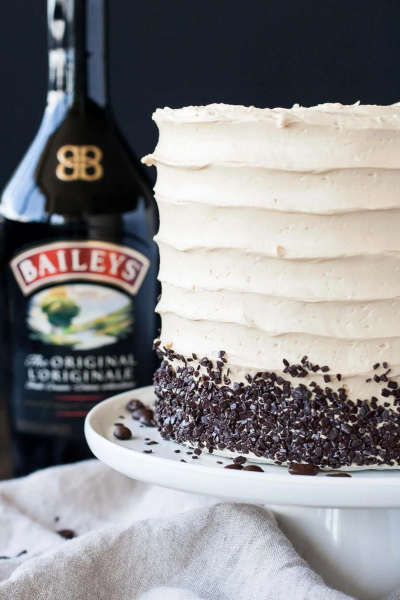 INGREDIENTS
For Baileys Cake
2 1/4 cups all-purpose flour
2 1/4 tsp baking powder
3/4 tsp salt
3/4 cup unsalted butter room temperature
1 1/2 cups granulated sugar
3 large eggs room temperature
1 tsp vanilla
3/4 cup milk room temperature, can use buttermilk
1/4 cup Baileys Irish Cream room temperature
For Coffee Simple Syrup (optional)
1/2 cup granulated sugar
1/2 cup water
1 Tbsp instant espresso powder
For Baileys Ganache
4 oz good quality dark chocolate finely chopped
3 oz heavy whipping cream
1 oz Baileys Irish Cream
For Coffee Baileys Buttercream
3 large egg whites
1 cup granulated sugar
1 1/2 cups unsalted butter cubed, room temperature
1-2 Tbsp instant espresso powder
2 Tbsp Baileys Irish Cream optional
INSTRUCTIONS
For Baileys Cake
Preheat oven to 350F. Grease and flour three 6″ cake rounds, line with parchment.
In a medium bowl, whisk flour, baking powder, and salt and set aside. Combine milk and Bailleys, set aside.
Beat butter until smooth. Add sugar and beat on med-high until pale and fluffy (2-3mins).
Reduce speed and add eggs one at a time, fully incorporating after each addition. Add vanilla.
Alternate adding flour mixture and milk mixture, beginning and ending with flour (3 additions of flour and 2 of milk). Fully incorporating after each addition. Mix until just combined
Spread batter evenly into prepared pan and smooth the top with a spatula.
Bake for 30mins or until a toothpick inserted into the center comes out mostly clean.
Place cakes on wire rack to cool for 10mins then turn out onto wire rack to cool completely.
For Coffee Simple Syrup
Bring sugar, water, and espresso powder to a boil in a small pot over med-high heat. Simmer for 1min. Set aside to cool completely.
For Baileys Ganache
Place chopped chocolate, Baileys, and cream into a microwave safe bowl, stir. Microwave on high for 30 seconds, stir. Again, microwave on high for 30 seconds, stir until smooth. Cool completely until thickened, ideally overnight.
For Coffee Baileys Buttercream
Place egg whites and sugar into the bowl of a stand mixer, whisk until combined.*
Place bowl over a pot with 1-2″ of simmering water and stir constantly with a whisk until the mixture is hot and no longer grainy to the touch or reads 160F on a candy thermometer (approx. 3mins)
Place bowl on your stand mixer and whisk on med-high until the meringue is stiff and cooled (the bowl is no longer warm to the touch (approx. 5-10mins)).
Switch to paddle attachment. Slowly add cubed butter and mix until smooth.
Add espresso and Baileys. Whip until smooth.**
ASSEMBLY
Place one layer of cake on a cake stand or serving plate. Brush generously with 2-3 Tbsp of coffee syrup. Spread a layer of ganache and then top with buttercream. Repeat with remaining layers and crumb coat the cake. Chill for 20mins.
Frost the cake and do a decorative swirl with an offset spatula if desired. Add chocolate flakes to the bottom if desired.
Notes
* Ensure there is no trace of egg yolks in your whites and that your mixer bowl and whisk are completely grease free or your meringue won't stiffen.
** The buttercream may look like it's curdled at some point. Keep mixing until it is completely smooth.
Thank you to livforcake.com for the recipe!
Dessert: IRISH APPLE CAKE WITH CUSTARD SAUCE
A traditional Irish recipe for a lovely moist cake. Perfect on its own or accompanied with a creamy, custard sauce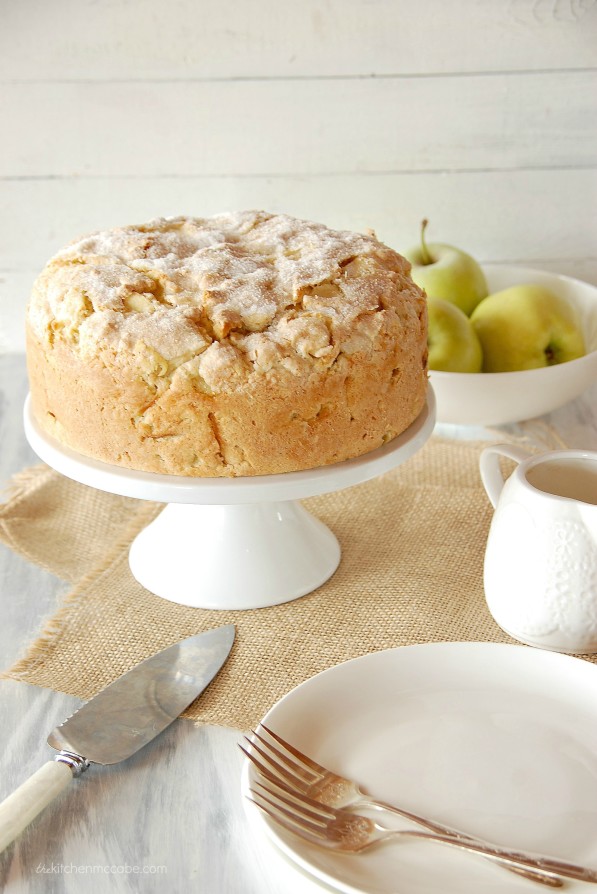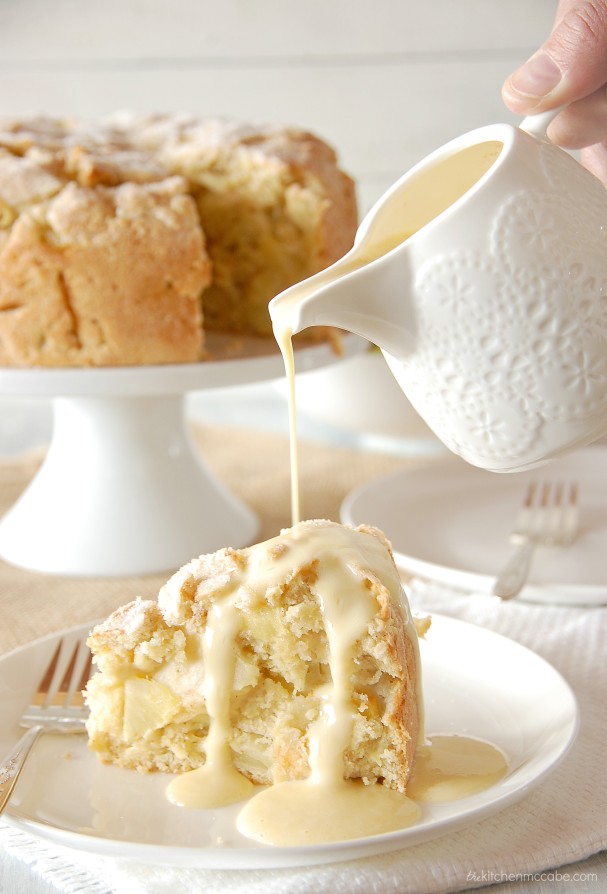 INGREDIENTS
For the Cake:
6 oz. Butter, (cold is fine)
4 large Granny Smith apples(I used golden delicious to great effect)
2 T. Sugar(for sprinkling on top of cake)
For the Custard
INSTRUCTIONS
For the Cake
Grease and flour an 8″ or 9″ round springform pan. Using an 8″ pan will give you a taller cake.
Preheat the oven to 375 degrees.
Sift the flour, baking powder, salt, cloves and nutmeg into a large mixing bowl. Make sure the bowl is very large to allow room for the apples to be folded in.
Cut the butter into the flour using your fingers or a pastry cutter until the mixture resembles fine crumbs.
Add the ¾ C. sugar to the flour mixture and mix in.
Peel the apples and slice them into uniform pieces. This cake works best and gets that 'chunky apple look' if the slices are about ¼" wide and then cut into 3 pieces.
Toss the apples into the flour mixture and combine them thoroughly.
In a separate bowl, beat the eggs and milk together. Add to the apples and flour and mix in with a large spatula until just combined. Batter will be thick and dough-like.
Transfer the dough into the prepared cake pan and flatten the top surface using the back of your spatula.
Sprinkle the sugar over the top of the cake.
Bake for 45-50 minutes. Test the center for doneness. The top of the cake should be golden brown. Serve slices with custard sauce.
FOR THE CUSTARD SAUCE
*note that this sauce is not a thick, pudding like sauce. It should have a pour-able, just thickened consistency when done.
Place the egg yolks and sugar in a bowl and whisk until pale yellow, 2-3 minutes.
Place the milk in a medium saucepan and bring just to a boil. Slowly whisk the hot milk into the egg/sugar mixture.
Transfer the mixture back to the saucepan and stir over medium heat until custard thickens, about 4 minutes. Custard should be thick enough to coat the back of a spoon.
Mix in the vanilla. Transfer to bowl or serving saucer.
Serve warm or cold over apple cake.
Thank you to the kitchenmccabe.com for the recipe!
Dessert: SHAMROCK SHAKE
This shamrock shake recipe is a copy of the McDonald's favorite! It's a mix of ice cream, milk and mint, all blended to creamy perfection.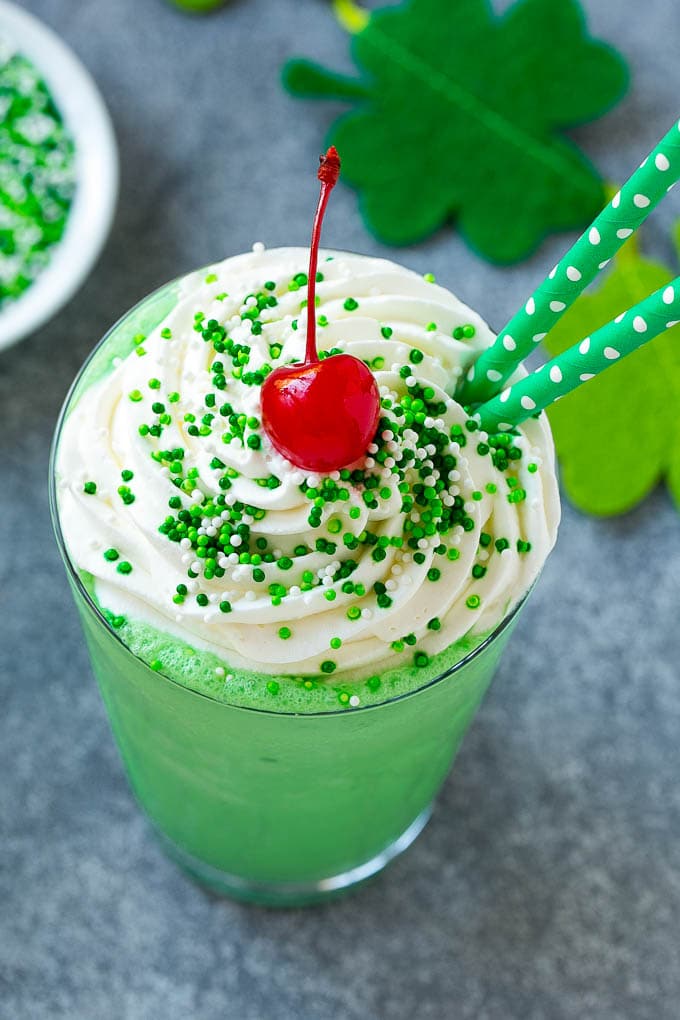 INGREDIENTS
10 drops green food coloring
1/4 teaspoon mint extract
whipped cream, sprinkles and cherries for serving
INSTRUCTIONS
Place the ice cream, milk, food coloring and mint extract in a blender.
Blend until smooth.
Pour into two glasses. Top with whipped cream, sprinkles and cherries, then serve.
Thank you to dinneratthezoo.com for the recipe!
Dessert: CHOCOLATE STOUT NO-CHURN ICE CREAM WITH HOMEMADE TOFFEE CRUMBLE
This super quick and easy Chocolate Stout No-Churn Ice Cream with Homemade Toffee Crumble will be the hit of your St. Patrick's Day celebration!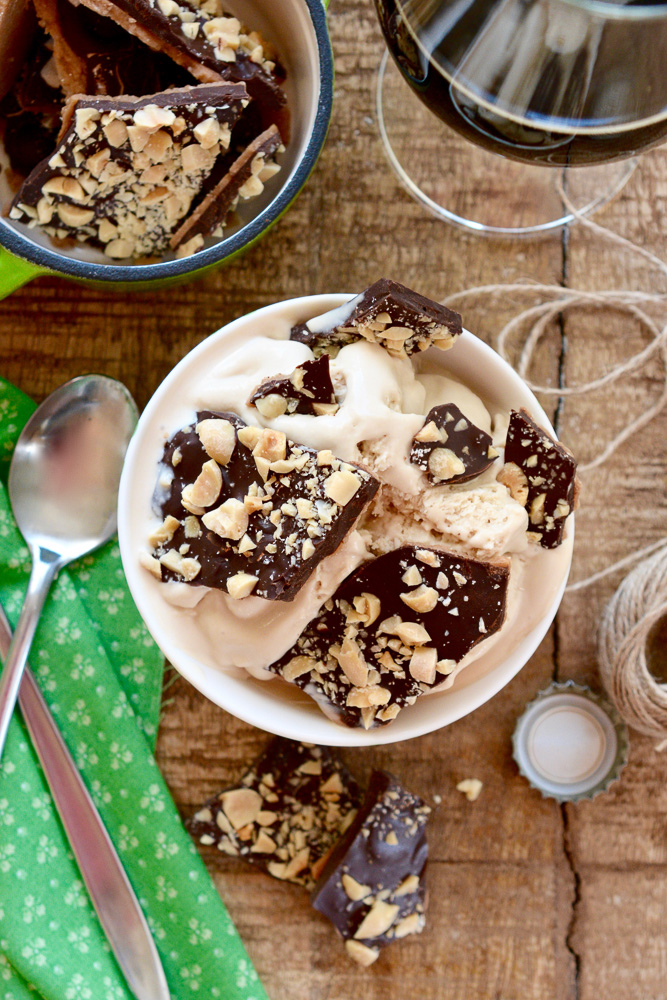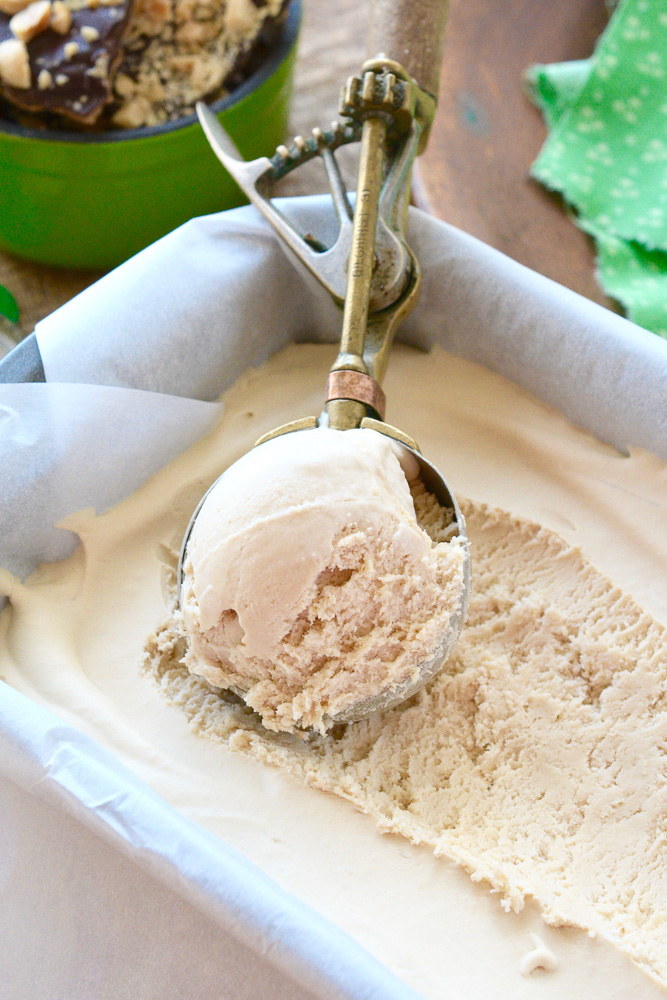 INGREDIENTS
for the Toffee Crumble
10 oz. bittersweet chocolate chips (I use Ghirardelli 60% cacao)
1/2 cup Virginia peanuts, chopped
INSTRUCTIONS
For the Toffee Crumble
In a 2 qt. saucepan, combine butter, sugar, and vanilla, over medium heat.
Cook, whisking constantly until butter melts and mixture turns brown, about 8 – 10 minutes.
Immediately pour toffee onto an ungreased cookie sheet.
Quickly spread the mixture to about 1/4-inch thickness.
Sprinkle with chocolate chips; let stand for about 1 minute then spread the chocolate in an even layer until smooth.
Sprinkle with chopped peanuts.
Let stand at room temperature for 1 – 2 hours or refrigerate until firm.
Break into small pieces.
Store in airtight container.
INGREDIENTS
For the Chocolate Stout Ice Cream
1 pint heavy whipping cream
14 oz. sweetened condensed milk
? cup chocolate stout beer
Homemade Butter Toffee (recipe below)- broken into pieces
INSTRUCTIONS
For the Chocolate Stout Ice Cream
In a large mixing bowl add the whipping cream, sweetened condensed milk, vanilla and chocolate stout beer.
Using a hand mixer with a whisk attachment, whip until stiff peaks form.
Spoon ice cream into a freezer safe container. (I use a loaf pan lined with parchment paper.)
Freeze overnight.
Serve with toffee pieces.
Thank you to ciaochowbambina.com for the recipe!
The Ask Cathy Marketing Group wants to wish you and yours a safe and happy Saint Patrick's Day!
May you always be blessed with walls, for the wind, a roof for the rain a warm cup of tea by the fire.
Laughter to cheer you, those you love near you, and all that your heart might desire.
Whether you are desiring a change in your walls or roof, the Ask Cathy Team is ready to assist in all your home buying or home selling goals.
Let us know how we can be of service to you, today and always.