Lee's Summit Summer Events
Posted by Ask Cathy Marketing Group on Friday, June 2, 2023 at 1:00 PM
By Ask Cathy Marketing Group / June 2, 2023
Comment
Fun Events for the Whole Family!
Summer Events All Over the Lee's Summit Area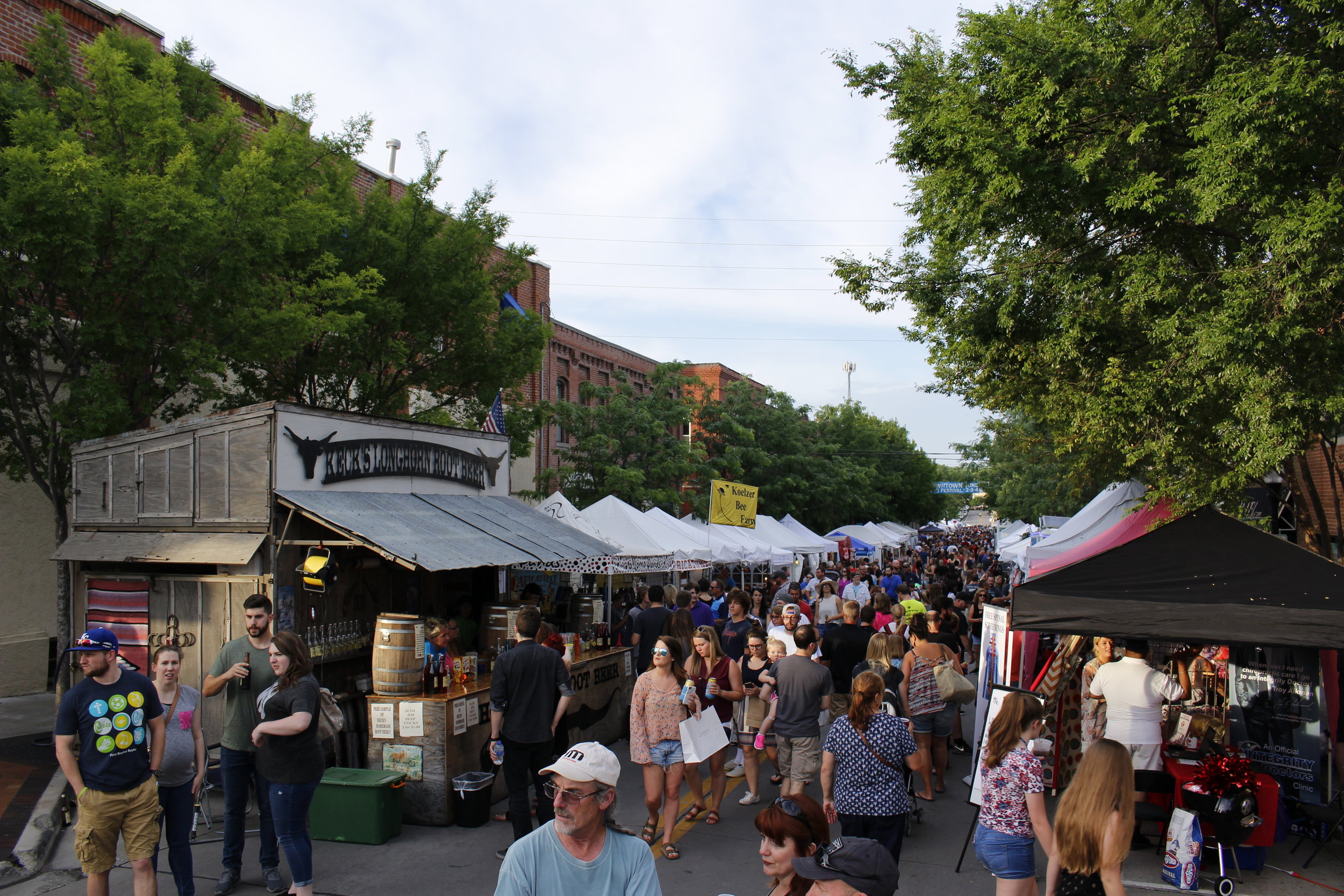 Image Courtesy of City of Lee's Summit
Summer is nearly here and we are here for it!
Along with no school and summer vacation, comes a variety of options for outings and activities galore! We will be highlighting the communities in our area, and a bunch of the fun they have planned for the summer months ahead!
Since our headquarters are located in Lee's Summit, and one of these events is literally happening as we write- right outside our windows - we thought we would start right here in Lee's Summit!
No matter where you live, there will be opportunities for you to embrace the culture that is offered within your community. It is all about bringing people together, and the Kansas City area does a great job of that!
Here is a list of just some of the fun coming up in Lee's Summit! Which ones will you attend?
Lee's Summit
Downtown Days
Friday through Sunday: June 2-4
Downtown Lee's Summit
Start your summer with the Downtown Days Festival presented by Lee's Summit Medical Center. Festivities include free live entertainment, carnival rides, sports zone, festival food, handcrafted goods, two craft beer tents and so much more. The event is free admission, though food, rides, and some activities are at an additional cost.
FESTIVAL HOURS
June 2: 12pm - 10pm
June 3: 10am - 10pm
June 4: 11am - 4pm
For more information and a detailed schedule, look HERE.
Farmers Market
Every Wednesday and Saturday
8:00 am - 12:00 pm
The Downtown Lee's Summit Farmers Market is open every Saturday and Wednesday at the corner of 2nd and Douglas Streets in Downtown Lee's Summit. Please see the links below for more information.
Music at the Amphitheatre
Enjoy these music events at the Legacy Park Amphitheater: 897 NE Bluestem Dr. Lee's Summi, MO, 64086
Gates open at 6:00 PM
Concerts begin at 7:00 PM
Some events are FREE, and for others, tickets are available for purchase
Saturday, June 10 - Blues Fest - FREE
Enjoy the soulful Blues music of Kansas City at Blues Fest. This year our lineup includes Jason Vivone, Nick Schnebelen, and Orphan Jon and the Abandoned! There will be lots of variety in this show as we celebrate the past, present, and future of Blues!
Friday - July 14 - Jamaican Jam - FREE
See the islands for free without leaving Lees Summit! Thanks to Jah Lion and AZ-One, Reggae, and lyrical appeal will flood the air. Jah Lion is a powerful reggae band based in Kansas City, MO. This band performs roots and conscious covers and original music. AZ-One is dedicated to bringing heart-throbbing, uplifting, and inspirational music to the people.
Friday, July 28 - Queens of Country - TICKETS NEEDED
Cost: $15 in advance, $20 day of show
For tickets and more information visit HERE.
Queens of Country has combined three dynamic female vocalist along with one of the premiere bands in the United States to form Queens of Country. Now, you can have a chance to see and hear your favorite female country artist of the past 50 years. Watch as each vocalist transforms into one of your favorite female artist and performs their hits that have turned them into true Queens of Country. This is a must see show for everyone from 8 to 80 years old. Featuring the music of Carrie Underwood, Dolly Parton, Shania Twain, Patsy Cline, Miranda Lambert, Faith Hill, Linda Ronstadt, Loretta Lynn, Gretchen Wilson, and many more........
Friday, August 4th - The Phil Collins Experience
Cost: $15 in advance, $20 day of the show
For tickets and more information visit HERE.
The role of Phil Collins is performed to perfection by KC Magazine's BEST MALE VOCALIST Terry Adams Jr. This British-born and raised frontman will make you forget that he's not Phil! Terry Adams Jr brings the look, the sound, the emotion, and the energy. The true feel of Phil Collins! Backed by his world-class 12-piece band, complete with a sensational horn section and backup singers, Terry Adams Jr is a world-class drummer who plays his drums left-handed, just like Phil Collins, for the true experience. Since 2018, the band has been wowing audiences at festivals, theaters, and private events nationwide. Immerse yourself in the world of Phil Collins and Genesis with their greatest hits like: "In The Air Tonight, "Sussudio," "Invisible Touch," "That's All," and many, many more!
Hotel California - Friday, August 18
Cost: $25 in advance, $30 day of the show
Tickets are not yet available for this event
For over three decades now, HOTEL CALIFORNIA has been recreating the legendary sound of THE EAGLES and thrilling audiences worldwide. The band set the bar in 1986 and has remained the industry-leading substitute for The Eagles ever since. Playing to huge outdoor and arena audiences, sharing bills with some of rock's legends, and going places no tribute band has gone before. A long run by any measure, but it begs the question - what makes HOTEL CALIFORNIA so unique? Well, incredible lead vocal similarity, intensely accurate instrumental work, soaring harmonies, and top-flight live performances, just for starters. These are the band's hallmarks and the foundation on which its reputation has been built. With over a century of collective professional experience in the band today, they're still going stronger than ever!
Saturday, September 16 - Revelation
Cost: $15 in advance, $20 day of show
Tickets are not yet available for this event
This Journey tribute band started from the love and respect for the musicians that make up one of the best bands out of California, "JOURNEY." Revelation has played on some of the biggest stages in the Kansas City area and Beyond, such as opening for "The Little River Band" on the main concert stage at Sturgis, Playing for both the A.B.A.T.E. Boogie of Indiana and Kansas Bike Festivals with thousands in attendance and the Rock and Roll Dream Concert at the Sandstone Amphitheater.
Fourth Fridays Art Walk
5:00 - 8:00 pm
Friday, June 23
Friday, July 28
Friday, August 25
This recurring event features over a dozen artist pop-ups and showcases inside Downtown Lee's Summit businesses. There's something new to explore on the Fourth Friday of each month during this event series that runs from April through August.
Yoga on the Plaza
City Hall Plaza: 220 SE Green Street, Lee's Summit, MO
9:00 am - 9:45 am
Saturday, June 24
Saturday, July 22
Saturday, August 26
"Join Megan's Yoga Tribe for FREE Community Yoga Classes on the last Saturday of each month April-August 9am-9:45am at Lee's Summit City Hall Plaza in downtown Lee's Summit. Whether you are new to yoga or a master yogi you will enjoy this time together in community, outside breathing in fresh air. These classes will be all levels welcomed, led by Megan and the instructors of Megan's Yoga Tribe – the yoga, barre, pilates, and fitness studio in downtown Lee's Summit! After yoga stroll to the farmers market, grab a coffee, or brunch. Take time to explore downtown Lee's Summit it has so much to offer our community and Megan's Yoga Tribe is thrilled to make downtown Lee's Summit our studio's home. What to bring: water, yoga mat"
Music in the Park
Friday, June 23
Friday, July 28
Friday, August 25
6:30 - 8:30 pm
2023 Free Fireworks Show - Legacy Blast
Lee's Summit Parks and Recreation (LSPR) and the City of Lee's Summit invite you to a free fireworks celebration on Monday, July 3 at Legacy Park! The gates open to the park at 6 p.m., and fireworks begin at 9:30 p.m. Concessions, DJs, food truck vendors, and activities for children 12 and under will be featured at the baseball, soccer, softball, and football venues before the fireworks.
Access to Legacy Park will be closed at 9:15 p.m. to allow all vehicles to park prior to the show. In case of rain, join us on Wednesday, July 5, 2023.
Downtown Lee's Summit Sidewalk Sale
Saturday, July 15
10:00 am - 5:00 pm
Participating Downtown businesses will offer quality items at low prices. Take advantage of these great summer savings and see all that Downtown merchants have to offer!
Free Bike Reservations at Legacy Park Community Center
Bikes are available for FREE to check out and use at LCC. Please make your reservations in advance by calling 816.969.1550 or stopping by the J. Thomas Lovell Jr. Community Center.
Bike Reservation Hours
Monday - Friday 7:30 am - 7 pm
Saturday - 8:00 am - 5:00 pm
Sunday - 10:00 am - 5:00 pm