Jumping Into the Deep End of Fishing Near Kansas City
Posted by Ask Cathy Marketing Group on Monday, July 18, 2022 at 1:00 PM
By Ask Cathy Marketing Group / July 18, 2022
Comment
Best Places in the Kansas City Area to Go Fishing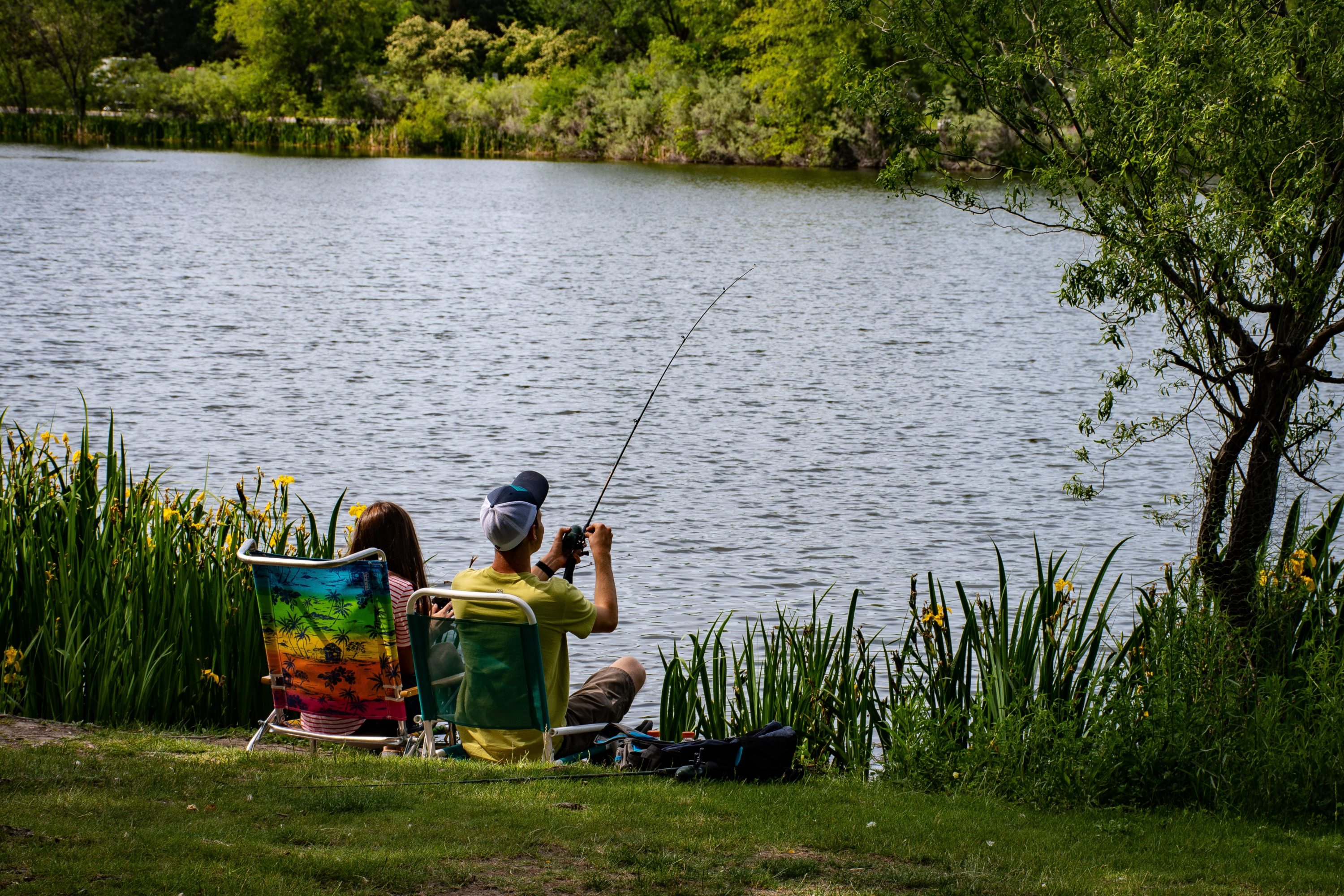 "Many go fishing all their lives without knowing that it is not fish they are after."

- Henry David Thoreau (1817 - 1862)
Fishing. What started long ago as a way to gather sustenance, has now seemingly turned into an antiquated pastime, and more about the sport and less about the necessity. The idea of fishing can conjure up scenes of afternoons of solitude and serenity, and quite possibly, sunburn. In a time where things are moving at a rapid pace, and everything needs to be done now, fishing gives you the chance to work on something, or teach someone about what seems like a rarity these days - patience. Living in the Kansas City area, no matter what side of the state line you are on, there are literally hundreds of lakes and rivers, with opportunities to fish all around us, a whole bunch of which are just right around the corner. The chance for you to shut your phone off and find your own little slice of peaceful heaven. You could even "pretend" to be fishing, when in reality, taking a day to appreciate nature and the still and sounds of the water is your ultimate goal.
So let's dive in. Fishing is big here in Missouri. Did you know that there are 21 species of fish that are harvestable in our state? There are also official fishing seasons to go along with them, depending on how and what you are going to fish. The Missouri conservation website serves as an excellent resource listing all the fish, seasons, recipes, and everything fishy. Before heading out to try your luck at your big catch, be sure to get your fishing permit for Missouri or Kansas. There are places to borrow or rent a rod and reel too. Pack up a cooler to keep you hydrated and nourished, don't forget your sunscreen, and a hat to keep the sun off. A folding chair is also a good idea if you are not using a boat. Usually, around fishing lakes, there are plenty of places to purchase live worms and other "delicacies", to tempt even the most reluctant of fish. You can even take fishing lessons or participate in an event if the mood strikes or you find yourself needing more guidance. Fishing can be as simple or as complicated as you want it to be.
Usually, some of the best fishing spots are kept a very close secret amongst the best fisherman, but thankfully, with such a plethora of water sources around us here, there are plenty of places to put your line in, or maybe even your toes.... but be careful they aren't mistaken as bait!
Just Some of the Spots Where the Fish Could be Biting!
Each location includes an address or a Plus Code from Google, which will allow you to input directions to these locations on your phone or other devices!
Remembrance Lake:
2QG6+QF Blue Springs, Missouri
Dickson Park Pond:
4H4V+Q2 Independence, Missouri
Longview Lake Fishing Dock:
WG2J+9V Lee's Summit, Missouri
Jerry Smith Park Lake:
VCHP+X8 Kansas City, Missouri
Longview Dam:
WGGJ+9M Kansas City, Missouri
Alex George Lake:
WCJP+Q2 Kansas City, Missouri
Lake Jacomo Fishing Pier:
WCJP+Q2 Kansas City, Missouri
Scherer Lake:
VHV2+RJ Lee's Summit, Missouri
Coot Lake - Greenwood:
VM97+J2 Lee's Summit, Missouri
Pleasant Hill Lake:
RPF3+42 Pleasant Hill, Missouri
Wilderness Fishing Lake:
16001 Rosewood Street; East off Metcalf on 159th Street
Black Bob Park Pond:
14500 W. 151st, Olathe, KS 66062
Buying a home is a lot like fishing. You have to know where to look for the best spot for you to fish, have patience, and wait for the right one. You have to put your best bait forward in order for your agent to tempt the seller with an offer that they will bite at. If you are successful, you will have the seller on the hook and the home you want will be yours - hook, line, and sinker. With our recent housing market, a lot of home buyers experienced losing out in multiple offer situations. Maybe you were one of those buyers. Ready to get back in the water? The Ask Cathy team has a solid and proven track record to win the house you want, and not have the regret of the "one that got away".