How to Add Privacy to an 'Un-Private' Backyard
Posted by Ask Cathy Marketing Group on Wednesday, June 1, 2022 at 1:00 PM
By Ask Cathy Marketing Group / June 1, 2022
Comment
Increasing Privacy in Your Backyard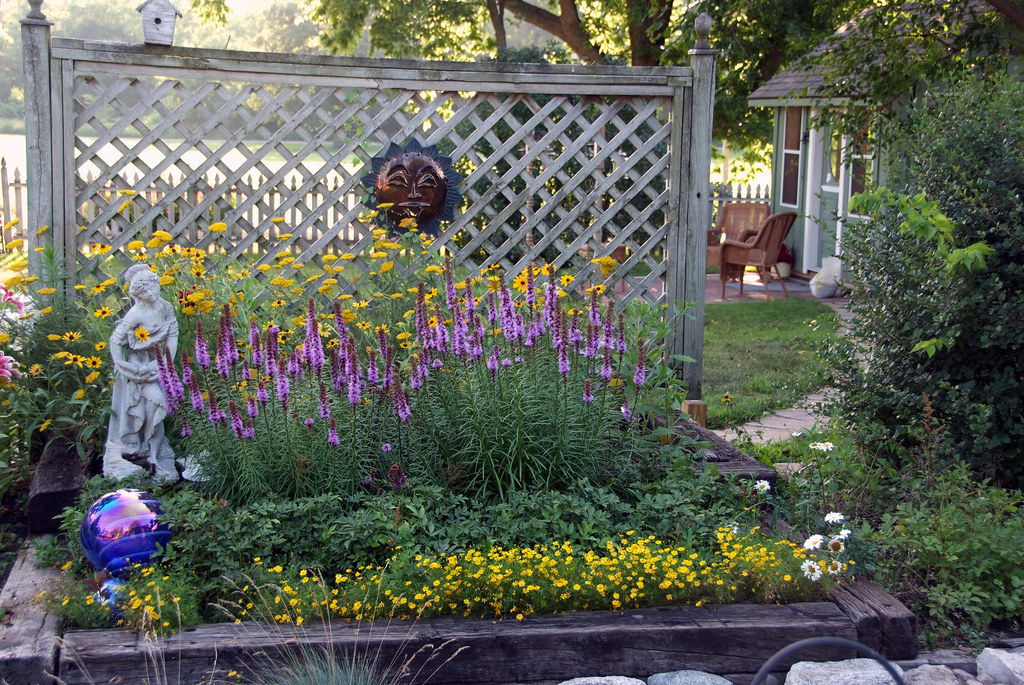 Photo courtesy of Carl Wycoff
Privacy to most means being away from the sight and sound of others. The place we seek it the most is in our home, where we can feel comfortable, be ourselves, and have the freedom to relax. We also want the environment for privacy from our yards as well. A private backyard can give you space to read a book, sleep in a hammock, or just enjoy the sunshine and fresh air. So what should you do if you desire a quiet place to relax away from the view of your neighborhood, but your yard says otherwise?
Thankfully, there are plenty of budget-friendly options for creating your own oasis. Read along as we explore some great options that help make even the most public yard, private.
Shrubbery & Ornamental Grasses
The easiest way to create a private environment in your backyard is by adding permanent landscape plantings. Arborvitae, boxwood, or other shrubberies can grow to make a screen or green fence line in your yard. This can look wonderful and lush, however, it does take time to grow. If you want quicker results, the use of tall ornamental grasses such as feather reed grass, pink muhly grass, or pampas grass is fun, colorful, and faster growing. Planting in clumps or a unique design can add some whimsy and playfulness to your space.
Curtains
The next easiest way to add a layer of seclusion is with the use of weatherproof curtain panels. Stringing them between two fence posts, or directly off of your home with a galvanized grommet makes this feature instantly removable if you want to wash the curtains or instantly open up your yard. Curtains come in neutrals or patterns, or colors depending on the design look you would like to achieve.
Screens & Lattice
Many home improvement stores or home decor stores sell special screens made of metal, engineered wood, or cedar that can be used outdoors. Some can be cemented in your yard as panels, while others are linked together in more of a privacy screen fashion. Both allow you to build an outdoor room using the screens as walls, giving an immediate private feel.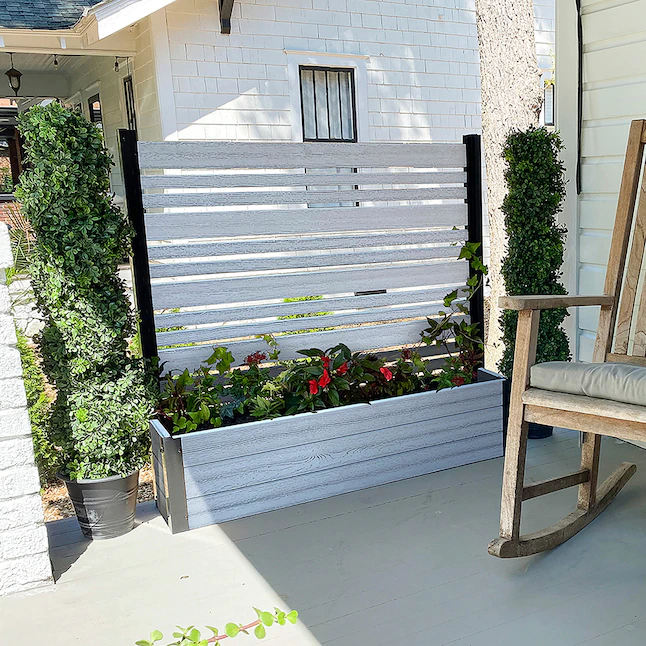 Photo courtesy of Lowes
Planter Boxes and Container Gardening
Large horizontal planter boxes with casters attached to the bottom allow you to move your privacy where you need it. Attaching a lattice panel directly to the back of your planter box or using support posts extends the height and creates the illusion of faux walls in your backyard space. Planting climbing plants to grow upwards will fill in the space in time.
Oversized pots in a variety of sizes can be placed strategically in corners, in a row, or in a back patio or corner of your yard. Using a variety of lush paintings, you can create a colorful niche in a corner of your yard, and when layered one in front of the other, will add dimension to any space. Planting them with shrubbery or small ornamental trees adds immediate height. Height can also be achieved by placing an inexpensive tomato cage directly in a pot along with a climbing vine and watching it fill in over the summer.
Living Wall
A living wall is another type of planting structure that mixes a backdrop made of wood or another material, in combination with attached planters or window boxes. These planters contents can be rotated depending on the season, adding bright colors or lush greens to your privacy wall. If you dread the maintenance that comes with the use of real plants, you can substitute some faux plants and flowers from your local craft store or online source.
It is important to note that before you start any sort of outdoor project, it is important to check any zoning ordinances or bylaws from your town in regard to garden structures or fences. Also, check the rules of your HOA, to see what is or is not allowed, or if you have to submit any plans or an application for the changes you would like to make. Finally, before you dig or plant anything be sure to call 811 or visit https://call811.com/Start-Here for a free yard marking of your utility, water, and sewer lines to prevent costly damage to your home or neighboring homes. Even if you are just planting a shrub it is recommended that you call at least a few days before beginning your project.
Wanting a New Backyard? Contact Us To Start Looking at Homes
If you are in need of a change, consider contacting one of our agents to start looking at homes today by filling out the form below. Our team works with you to understand your goals when buying a home, and places those goals as their absolute priority. In this market, you need a professional Realtor ® on your side to navigate the home buying process and WIN!