Holiday Cocktails for Every Occasion
Posted by Cathy Counti on Friday, December 17, 2021 at 6:42 PM
By Cathy Counti / December 17, 2021
Comment

If this is your first Christmas in your home or your twentieth – opening it to family and friends adds so much to the holiday fun! What's a festive way to kick off the festivities and to bring cheer all the way into to the New Year? A Holiday-themed cocktail!
We have compiled some fabulous options for your next get-together! These beverages look almost too beautiful to drink(….almost.) Any of these drinks are sure to be people-pleasers when it comes to celebrating, and welcoming your guests in style!
For those not wanting to imbibe, we've also included the non-alcoholic substitutes that are just as delicious, so no one is left out in the cold! Serve, sip and enjoy, but please…be safe for those around you and drink responsibly!
Did you know that even during Christmas time, our team would love to help you find THE perfect home for you to celebrate each and every holiday season in? Set up a complimentary consultation to talk about your goals for 2022 by giving us a call at 816.268.4033 or by clicking the button below!

Now onto the beverages! Cheers!
Spicy & Sweet Grinch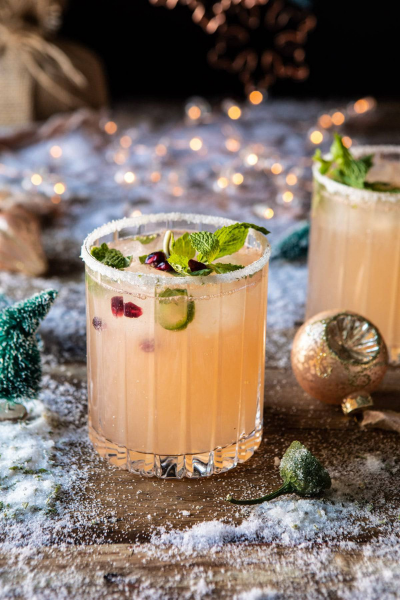 Spicy & Sweet Grinch
Ingredients
2 tablespoons granulated sugar
2-4 finely chopped fresh mint leaves, plus more for serving
2 ounces vodka
juice from 1/2 lime juice
juice from 1/2 of a small grapefruit
2 teaspoons honey
1-2 jalapeño slices
Ginger beer for topping
pomegranate arils (edible seeds), for serving
Instructions
On a shallow plate, combine the sugar and mint. Rim your glass in sugar, then fill with ice.
Combine the vodka, lime juice, grapefruit juice, honey, and jalapeños in a cocktail shaker.
Fill with ice and shake until combined, about 1 minute. Strain into your prepared glass.
Top with ginger beer and garnish as desired. Enjoy!
Thank you to the Halfbaked Harvest for the recipe!
***Non Alcoholic Substitutions***
Just remove the vodka or substitute the vodka for tonic water.
Santa Claus-mopolitan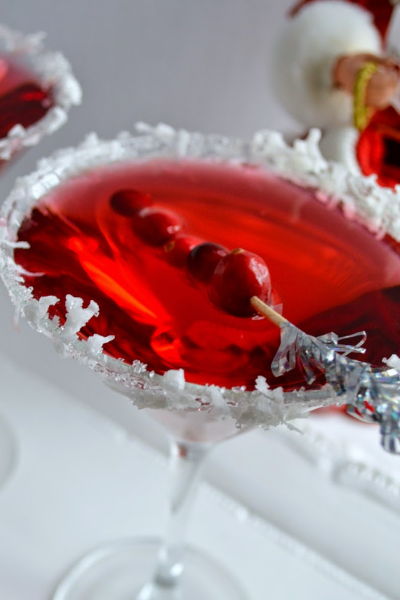 Santa Claus-Mopolitan
Ingredients & Instructions for 1 Serving
1/2 cup cranberry juice
1/2 cup white peach cranberry juice
1 ounce triple sec
1/2 ounce vodka
Shake with ice, pour into rimmed glass.
Garnish with fresh cranberries
Ingredients & Instructions for a Crowd (easily serves 16 guests!)
1 -64 ounce bottle cranberry juice (Ocean Spray)
1 -64 ounce bottle white cranberry-peach juice (Ocean Spray)
16 ounces triple sec
8 ounces vodka
Chill well for at least 3 hours before guests arrive.
Thank you Blue Ribbon Kitchen for the recipe!
***Non Alcoholic Substitutions***
Replace the triple sec for orange juice and remove the vodka!
The Jack Frost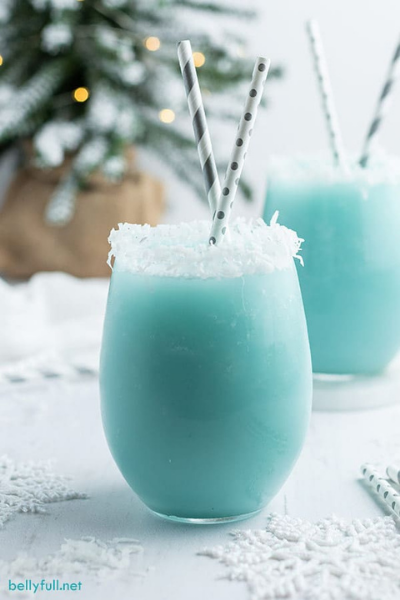 Jack Frost Cocktail
Ingredients
Light corn syrup, for rimming glasses
? cup of Coconut flakes, for rimming glasses
3-4 cups Crushed ice
1 cup Pineapple juice
½ cup Blue Curacao liquor
½ cup Light rum
½ cup cream of coconut (not coconut milk)
How to Make a Jack Frost Cocktail
Pour a thin layer of corn syrup onto a shallow plate. Place coconut flakes on another shallow plate. Dip the rim of a cocktail glass in the corn syrup and then in the coconut flakes. Set aside.
In a blender, add the ice, pineapple juice, blue curacao, rum, and cream of coconut. Blend until smooth.
Pour the mixture into the glasses and serve immediately.

Sparkling Apple Pie on the Rocks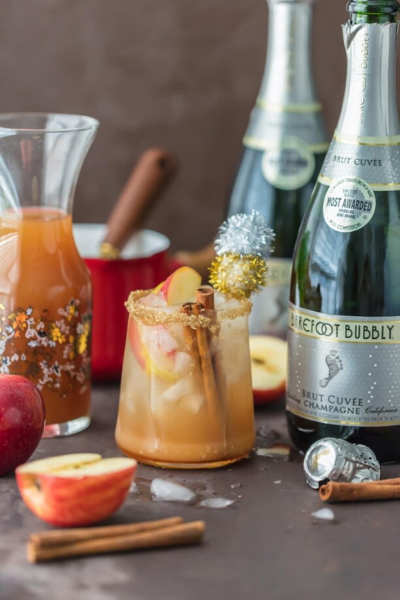 Sparkling Apple Pie on the Rocks
Ingredients
For the Caramel Apple Simple Syrup
1 cup Cinnamon Apple Cider
1 cup caramel ice cream topping
1 teaspoon ground cinnamon
2 cinnamon sticks
For the Sparkling Apple Pie on the Rocks
1 cup Caramel Apple Simple Syrup
2 cups Apple Cider
1 bottle Barefoot Bubbly Brut Champagne
Apple slices caramel, gold sprinkles, and cinnamon sticks for garnish (optional)
Caramel syrup
Instructions
For the Caramel Apple Simple Syrup
In a small saucepan over medium/high heat, stir together 1 cup apple cider, 1 cup caramel ice cream topping, the ground cinnamon, and 2 cinnamon sticks. Bring to a boil, then reduce to a simmer. Stir to combine.
Allow to reduce by half, simmering for about 10-15 minutes. Remove cinnamon sticks. Remove from heat and set aside.
To assemble the Sparkling Apple Pie on the Rocks
Dip the rim of your glasses into caramel sauce and then into gold sprinkles.
Fill glasses with ice.
Pour 1.5 ounces (1 shot) of the Caramel Apple Simple Syrup into the glass.
Top with 1/2 cup Apple Cider, and then fill to the top with Champagne
Garnish with cinnamon sticks and apple slices.
Enjoy!
Thank you to the Cookie Rookie for the recipe!
***Non Alcoholic Substitutions***
Replace champagne with sparkling apple cider
White Cranberry Margarita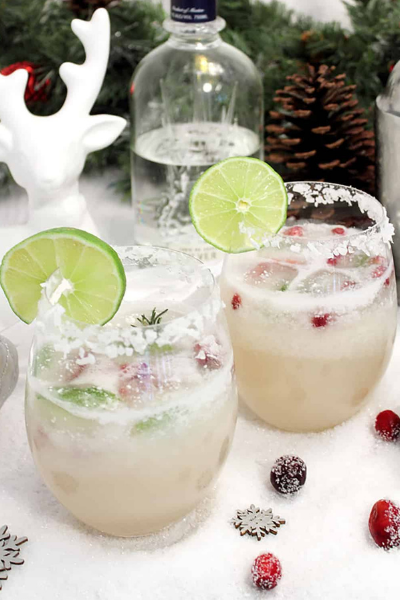 White Cranberry Margarita
Ingredients
½ cup tequila
½ cup white cranberry juice
¼ cup lime juice
¼ cup Cointreau (you could also use Grand Marnier or Triple Sec)
2+ Tablespoons agave nectar (depending on sweetness desired)
2 Tablespoons coconut cream
¼ cup coconut rum (optional)
Garnish: coconut flakes, coarse salt, lime slices
Instructions
In a large shaker, combine all ingredients. Shake well.
Grind coconut flakes and salt so they are a little finer. Place on a flat plate.
Run a lime wedge around the edge of glasses and dip into coconut-salt mixture.
Place ice cubes (for decorative ice cubes see note below) in 2 glasses. Divide contents between glasses.
Garnish the edge of the glass with a slice of lime.
To make decorative ice cubes, place 3 pomegranate arils & a small sprig of rosemary in an ice cube tray. Fill each cavity with water and freeze.
Thank you to 2 Cookinmamas for the recipe!
***Non Alcoholic Substitutions***
Replace Cointreau (or Grand Marnier, or Triple Sec) with Orange Extract mixed with club soda or Orange juice (this will change color)
Omit coconut rum
Drunken Snowman Cocktail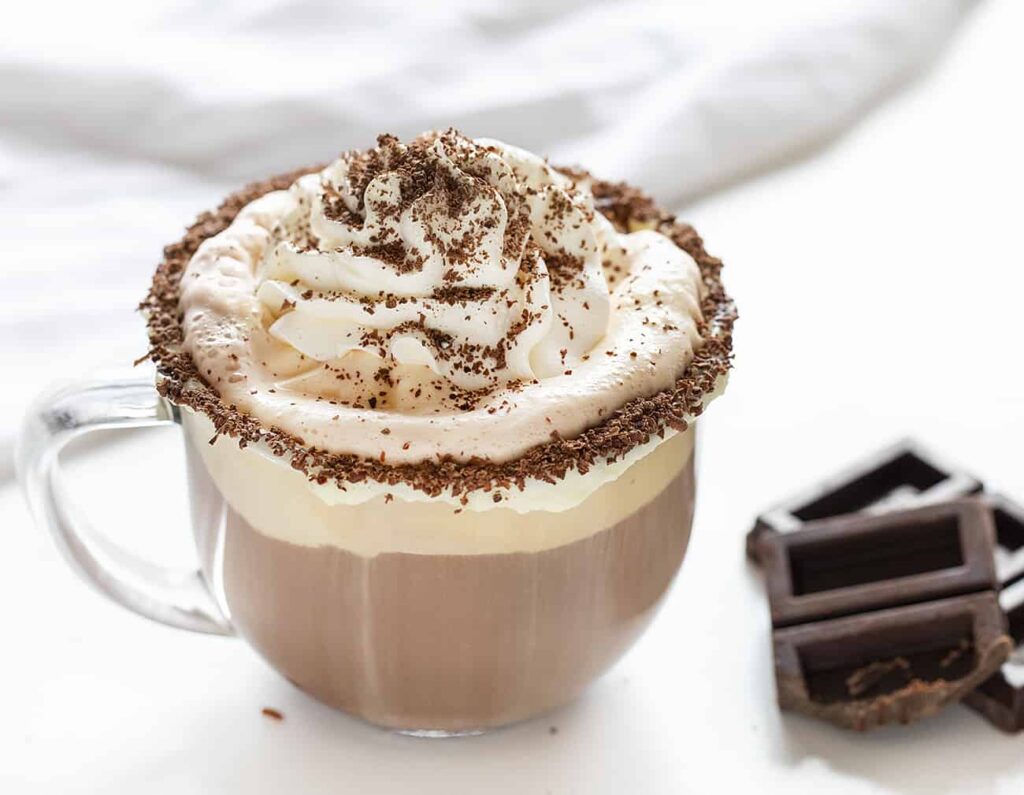 The Drunken Snowman Cocktail
Ingredients
1/4 cup (42g) white chocolate, melted
1/4 cup (42g) milk chocolate shavings
1 pint vanilla ice cream
2 cups hot chocolate
1/2 cup Baileys
1 cup (120g) whipped cream, for topping
Instructions
In two separate dishes, pour the melted white chocolate and milk chocolate shavings.
Dip the rims of two mugs into the melted white chocolate, followed immediately by dipping the rims into the milk chocolate shavings.
Add two scoops of ice cream to each mug.
Pour the hot chocolate and Baileys on top of the ice cream.
Top with whipped cream and any extra milk chocolate shavings.
Thank you to I am Baker for the recipe!
***Non Alcoholic Substitutions***
Substitute Bailey's with Irish Cream coffee creamer, or Irish Cream Torani's syrup

The Ask Cathy Group would like to extend the warmest Holiday Wishes to you are your family for this season and the next. We are always available to help you find just the perfect home, to sell your current one, or both! We treat you the way that we would like to be treated – like family! And what is more important than family during this time of year? You can chat with us online or give us a call at 816.268.4033!