Happy National Pet Day! The Pets of Ask Cathy
Posted by Patricia Doherty on Monday, April 11, 2022 at 11:55 AM
By Patricia Doherty / April 11, 2022
Comment
Happy National Pet Day!
There are "official" days for everything it seems, but one that is near and dear to our hearts is certainly ANYTHING that honors our beloved Besties. The Ask Cathy Marketing Group is a family of animal lovers, so we thought this would be a great time to celebrate National Pet Day in style, by sharing our furry love bugs with you!
Are you looking for a new home with more room for your furry children? A fenced yard? Close proximity to the local dog park? We have you covered. Connect with us so that we can help you find the perfect spot for your beloved pet, and you!
Now onto our pets!
Oscar & Stella - their family is Alex, our Marketing Content Strategist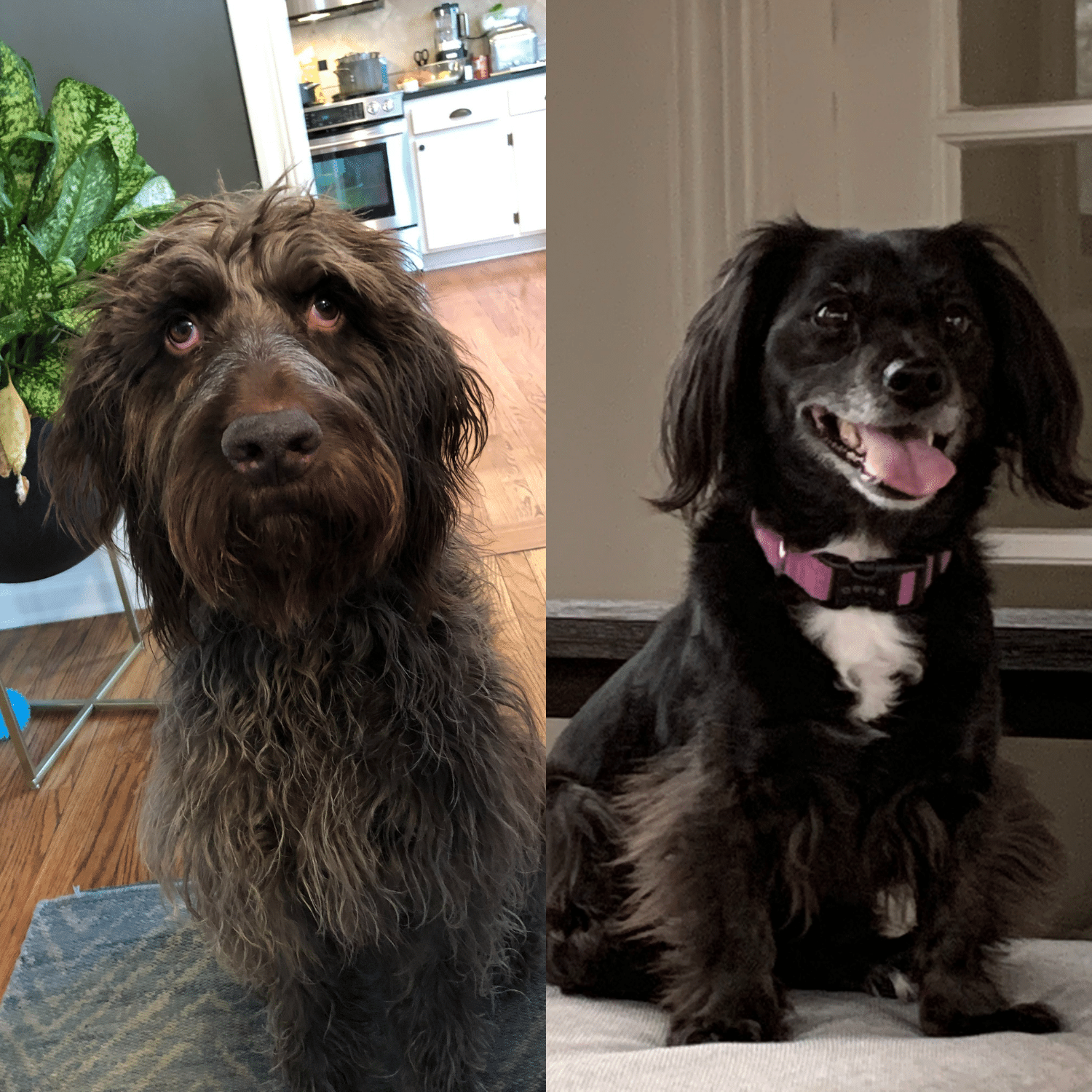 "Oscar is a Wirehaired Pointing Griffon that has been in our family for the past nine years after we got him in France and took him back over the Atlantic with us. He loves nothing more than going on a long walk where he can explore and sniff his surroundings to his heart's content. A true Frenchman as well, he will only take his medicine in the morning if it comes with a piece of cheese to enjoy!
Stella has been in our family for around seven years now. Don't let the size difference between her and Oscar fool you, it's clear who runs things in the household as far as the dogs are concerned. Stella enjoys going for a walk where she can have some space to run around for a little while, tiring herself out so that she can then ask you to carry her back home."
Taco - his family is Angie, our New Construction Specialist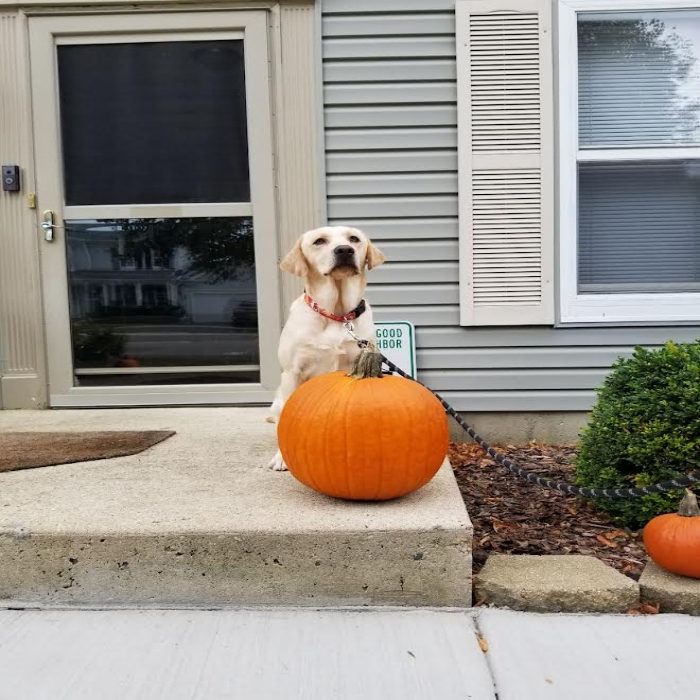 "Taco was born on Dec 21, 2020. We picked him up for Superbowl Sunday on Feb 7th. I had just had my last reconstruction breast surgery after having Cancer. He is a pure Labrador Retriever. We love taking him places and enjoying time with him. We love going on walks and hiking with him. He still needs some training however he is now over a year old and is learning a lot. Just the other day, he jumped the fence to say hi to another dog, he scared the owner, however Taco was just wagging his tail and when I called him, he knew that was not a good dog call but I'm in trouble. I love having dogs because they have unconditional love for their owners and they are always there for you, in good times and bad. Dogs are a blessing from God- a man's best friend."
Milo - his family are Alicia, our Vice President of Operations, and Mike, our Vice President of Sales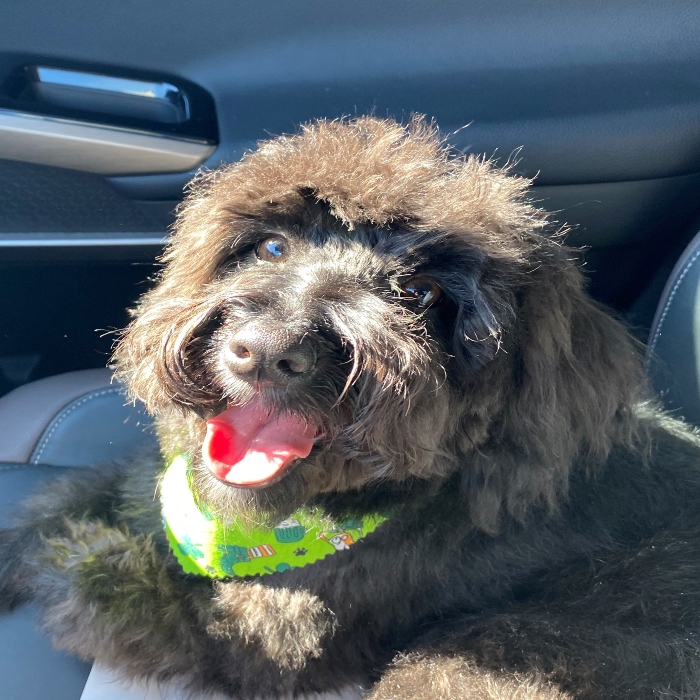 "After losing our beloved Rudy after 13 years, this bundle of energy joined our family in July of this year. Milo is a Schnoodle (part Schnauzer/part Poodle) and it is safe to say that we had forgotten the "puppy phase", but he has really brought us a lot of joy and laughs. When you can catch him, he's a great snuggler. He has some big paws to fill in Rudy's shadow, but this long-legged little nugget has really worked his way into our hearts!"
Comet Eugene - his family is Allison, our Senior Agent & Buyer Specialist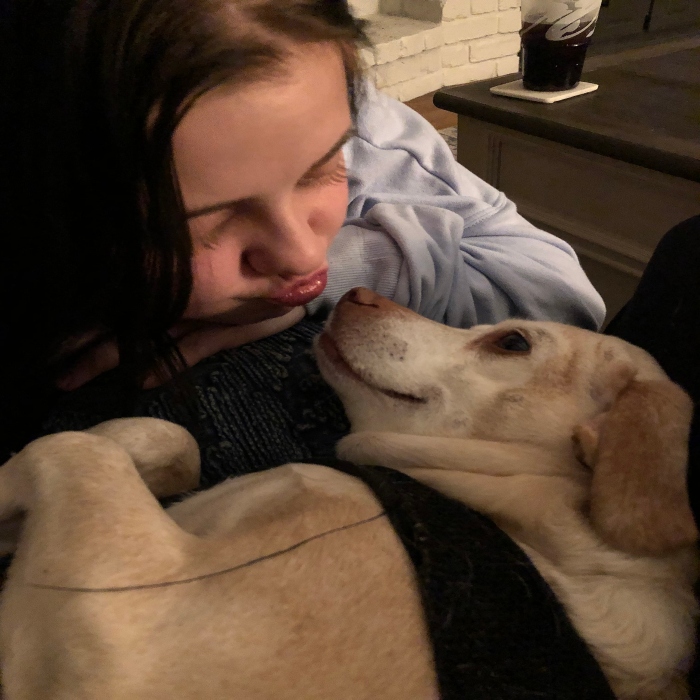 "This is Comet Eugene! In this picture, he's laying on the pillows that his dad is constantly telling him to get off of…hehe. We had a medical scare about a year ago, and we thought we might lose him. That's why mama lets him do pretty much whatever he wants, including laying on the "forbidden" pillows. "

Bandit & Ranger - their family is Cathy, our President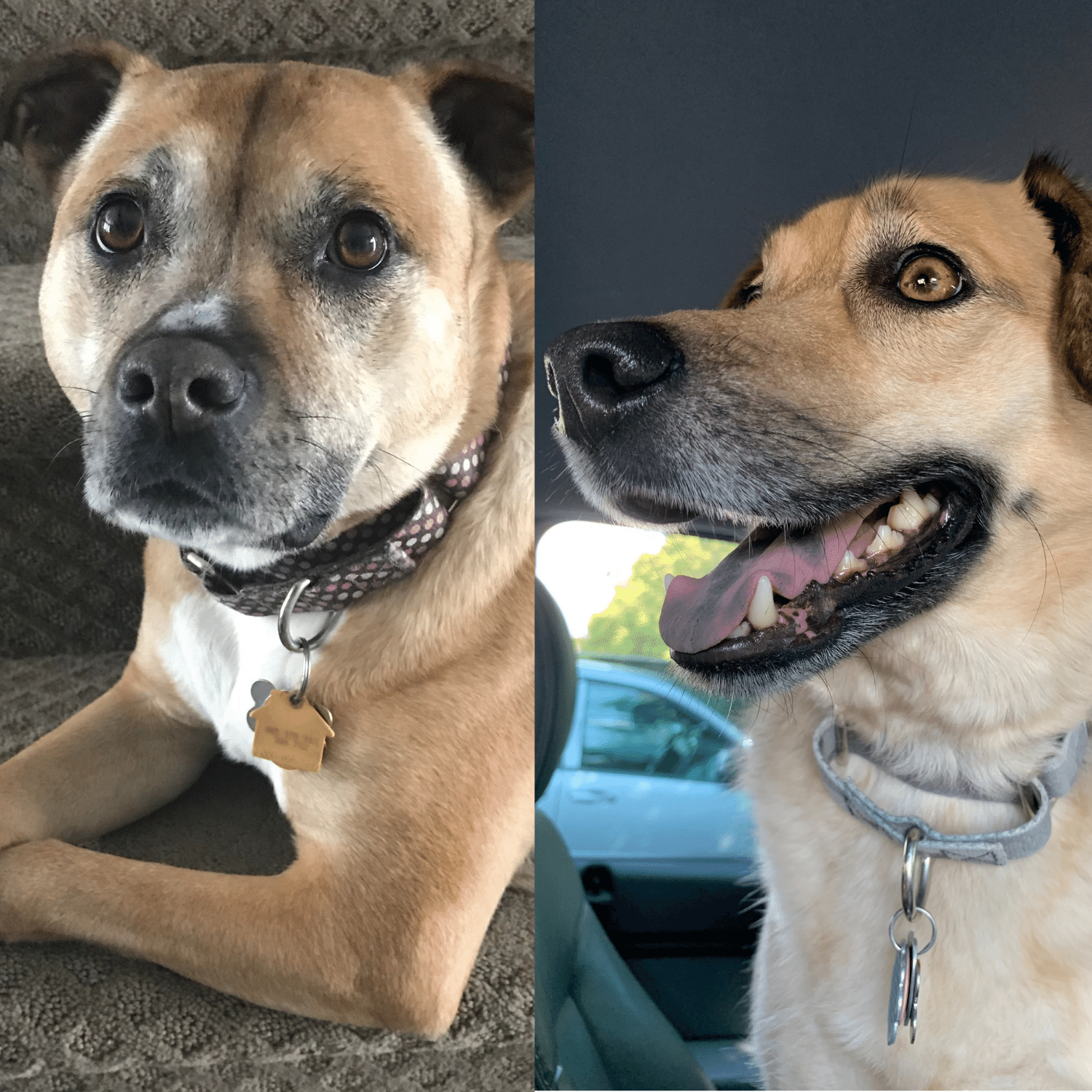 "Bandit was born feral in downtown KC. We found her and brought her home! Bandit is 10. She is BOSSY. And I'm not sure who has trained whom! But I love her, she is a sweet baby.
Ranger is 5. I adopted him from the KC Pet Project when he was 3 months old. He is perfect! A big snuggle baby and the happiest dog ever.
They sleep in bed with us and take good care of my Mom. "
Harley & Izzy - their family is Jaime, Our New Construction Specialist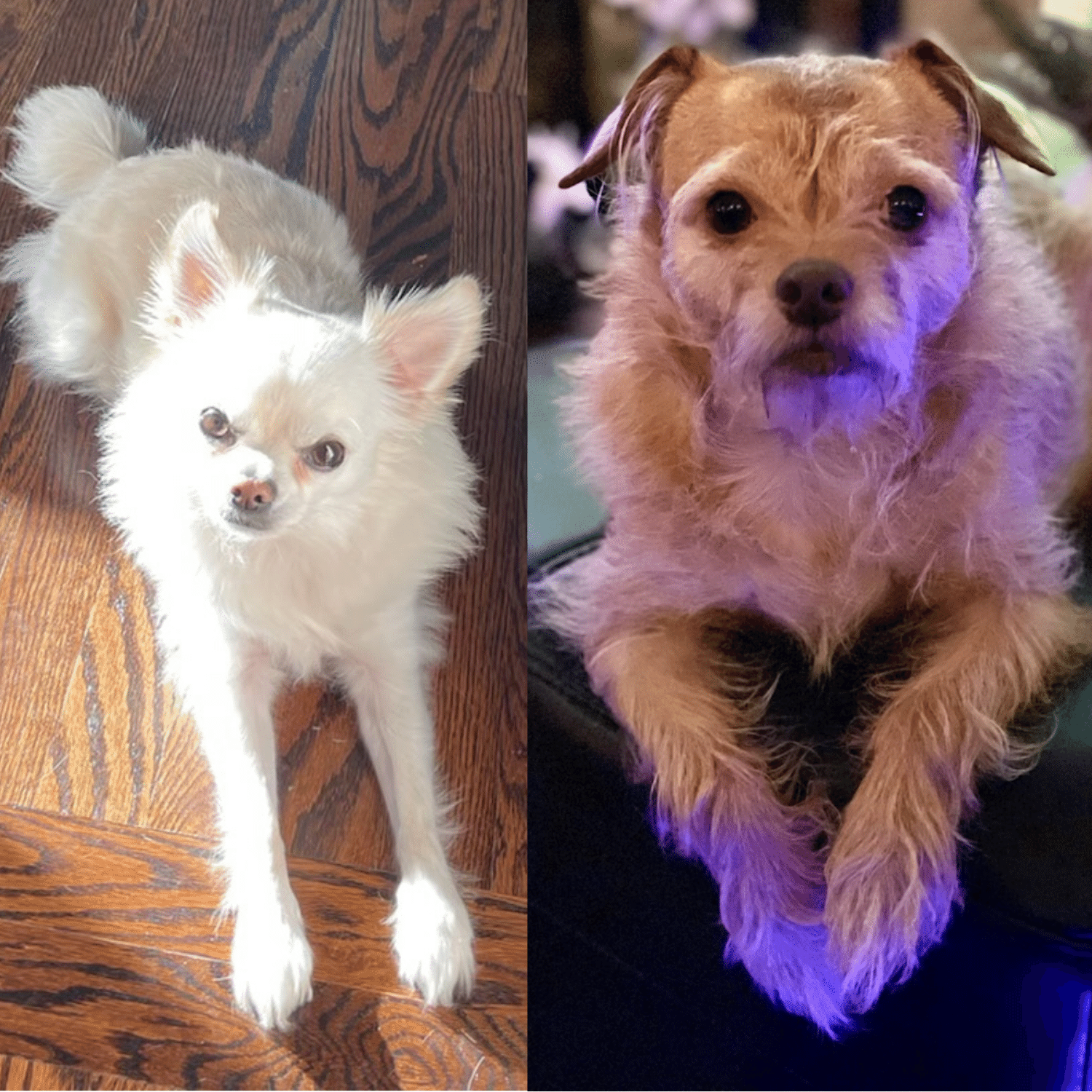 "Harley is special to my husband and I because he is the first dog we have owned. We got him after we married in 2018 (20 years together) as our "child" together. We named him Harley because I ride a white Harley. His big sister Izzy is my "grand puppy" that stayed with us once my son moved out of the house. We have always been cat persons and now turned to doggie persons."
Toca & Decie - their family is Kylie, our marketing director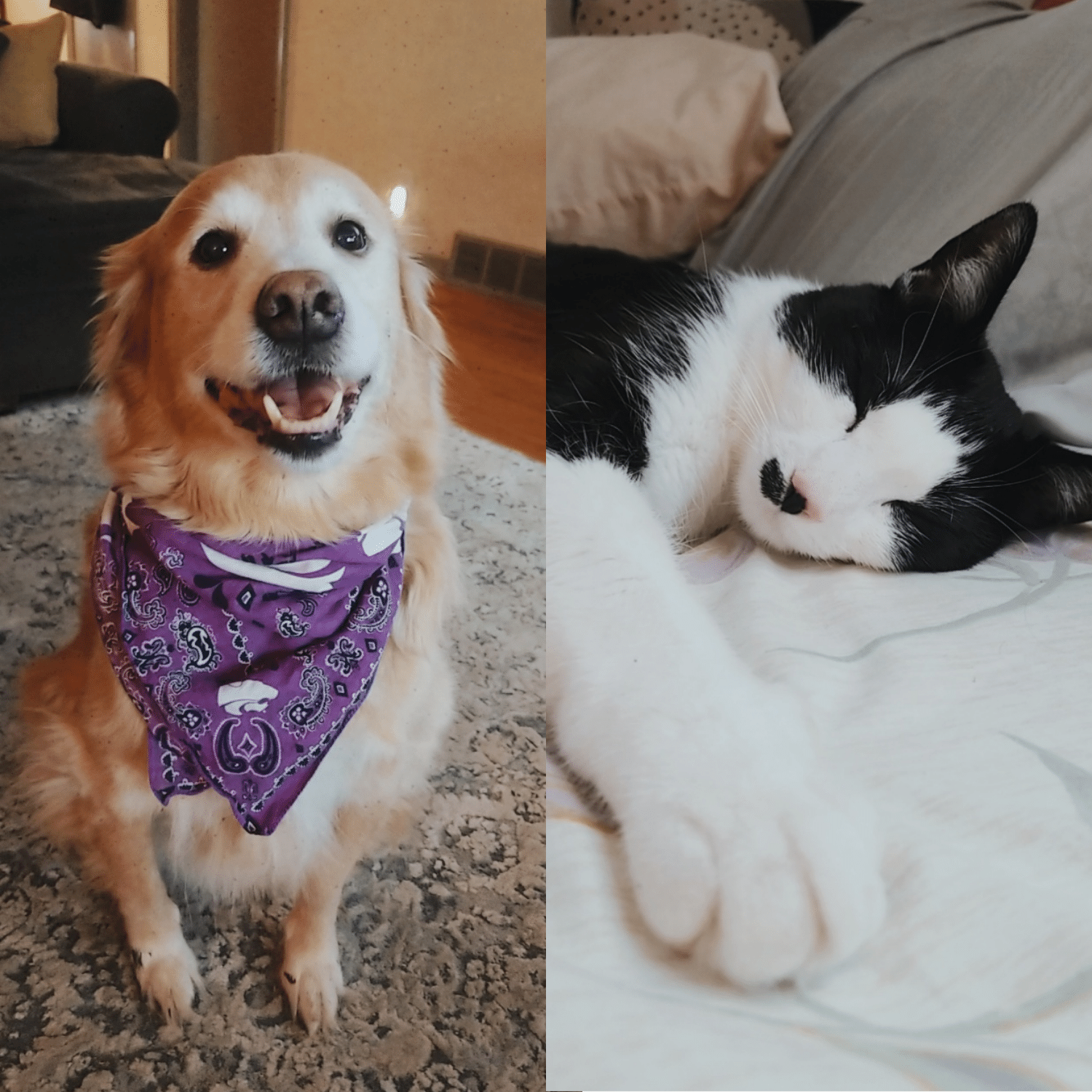 "Toca is the sweetest, most loyal, and affectionate pup you'll ever meet. At the spry age of 12, this little golden mutt loves nothing more than cuddles in bed, me feeding him human food at the disdain of the rest of my family, and going swimming at the lake. We got him from the shelter as a puppy when I was in middle school after plenty of begging from my sister and I and he's been my best friend ever since- growing up with me through all of middle school, high school, college, and to now.
Decie on the other hand is a bit of a loose cannon. We adopted her as a kitten during my first year of college and I'm still not sure if she's forgiven me for leaving her for school. She loves sitting in my window watching the cars drive by and will only receive cuddles on her own schedule. She's my very particular, curious, adorable little mischief-maker with a mustache.
Twix & Rolo - their family is Jon, our Buyer Specialist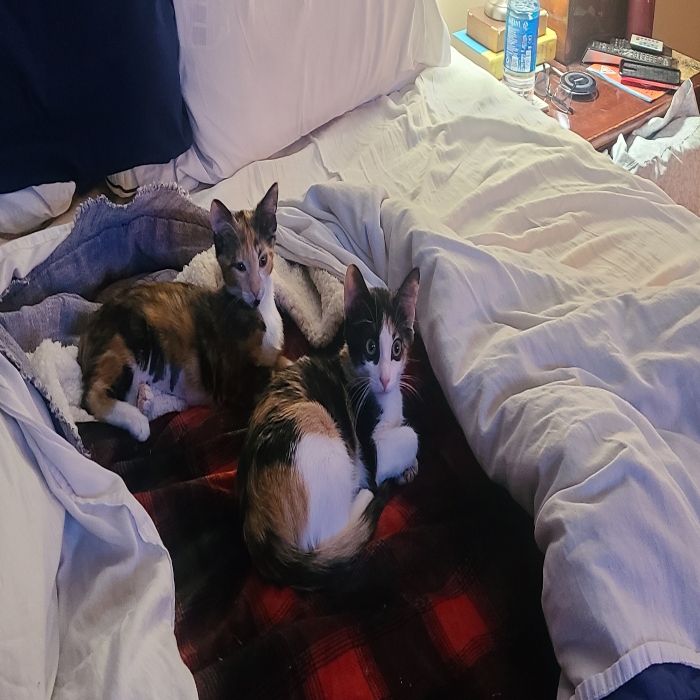 "My wife and I haven't had pets for about 2 years since our last dog died and she didn't want another dog, so I talked her into a pair of kittens. Twix is the one with more tortoise shell coloring and Rolo has the more calico markings with the dark eye shadow. They were found under a porch in Lee's Summit by a friend of a friend. So instead of turning them into a shelter or vet office, they posted on Facebook. Rolo has a little stuffed football that is her favorite toy. Twix will play with anything with a bell on it. Of course, if you throw a plastic grocery bag on the ground, they will play with it for hours. As kittens tend to do, they certainly get into mischief. Rolo, unbeknownst to us, climbed into the refrigerator while it was open, and spent a chilly night because we didn't know she jumped inside when the doors were open. Luckily, our fridge pumps in fresh air through a filter, so she was just a little cold when I found her the next morning! "
Mila - her family is Lauren, Our Client Concierge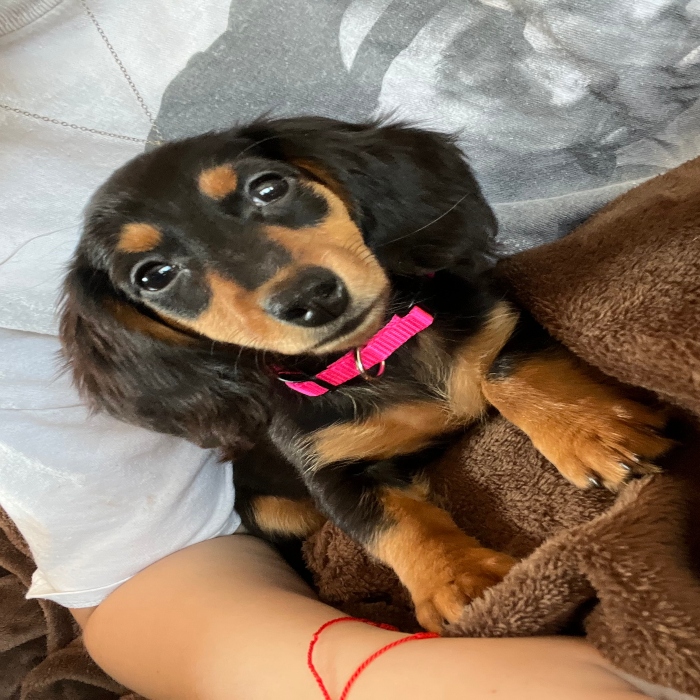 "Mila is a mini dachshund. She's 4 months old and I bought her on impulse when the Chiefs lost the playoffs LOL! I had visited her many times the week before so she was always excited to see me. I couldn't leave without her that Sunday. She is the snuggliest, sweetest, most playful, spunky little girl ever. Although she likes to eat her own turds for some reason…. She's my soul doggy."

Callie - her family is Leslie, our Client Care Coordinator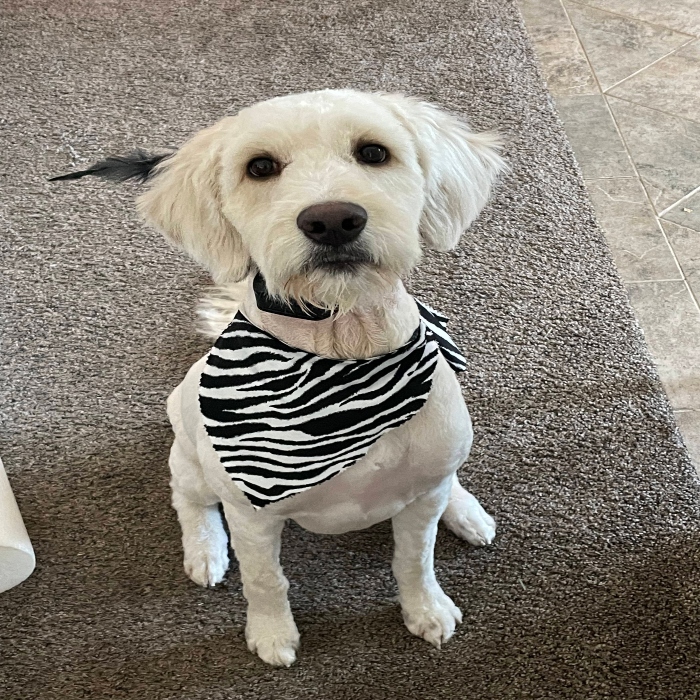 "Our pup's name is Callie. She is a Goldendoodle and is two years old. We got her for free because a single mom had her and couldn't take care of her. She has been in our family for one year.
She is full of energy, loves to hunt squirrels and rabbits, and catches them all the time. She loves kids, her bark is way bigger than her bite.
The funniest part of her personality is watching her play with our rooster. She will chase the hens until Robbie the rooster chases her, then she chases him and it is back and forth for about 15 minutes. She looks like a fluffy city dog, but definitely is a country dog. Her favorite snack are deer antlers, or anything else you give her! "
Gub & Phinzie - their family is Patricia, our Content Creator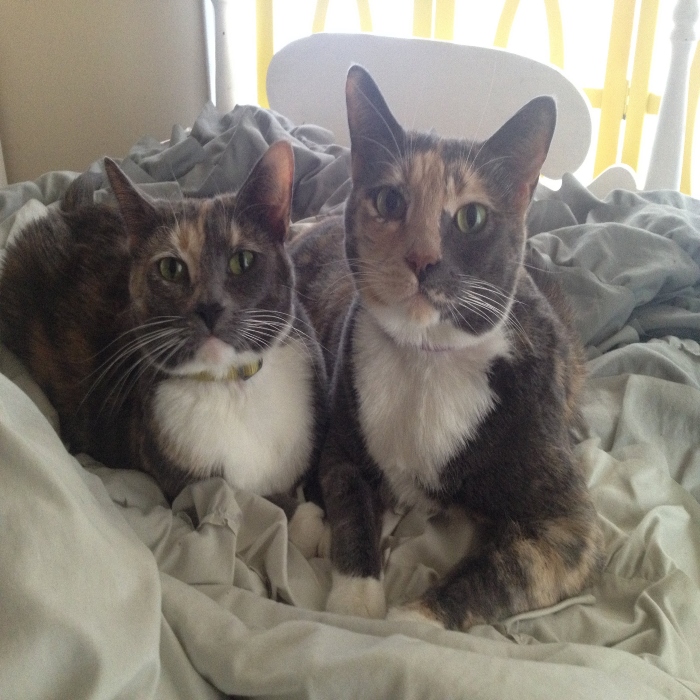 "Gub and Phinzie are adopted sisters, and strictly indoor kitties. They are 14 years old and have infused our family with funny antics and joy. We adopted them when they were 5 years old, and though we've had other cats in the past, this was the first time we have ever had two at the same time. I highly recommend it, as it gives them instant company, and seeing them interact with each other is priceless. They occasionally fight when deciding on who gets to lick whom first.
Phinzie is definitely the Alpha of the two, and makes it well known when she helps herself to her sister's food at mealtime. She is fiercely loyal (especially to my daughter), and affectionate, when she wants to be. She enjoys sitting by the window to watch the birds. She loves to play with plastic straws, and lets you know when she has one, by meowing very loudly. She likes to drink water from a cup in the bathtub, and actually "herds" you into the bathroom when she wants a refill. She loves fuzzy blankets and laying over heat vents to warm her belly.
Gub is a champion cuddler, and is sometimes OVERLY affectionate, especially at 3 am. She likes nothing better than putting her head under your chin, to snuggle in. She is a very LOUD purrer. Like LOUD. However, when she is perturbed, she literally huffs a little sigh to let you know how bent out of shape she is. Gub also has a penchant for striking the most curious poses when she is grooming herself, and she doesn't seem the least bit embarrassed about it. She is the more adventurous of the two, and she trapezes across the beams that are high up in our living room. Gub's favorite toys are fuzzy pipe cleaners, often losing them to the abyss underneath our entertainment center, where she stares at them longingly. She also seems to think it is her job to supervise any sort of computer work, by laying across my arms while I am attempting to type.
Both Phinzie and Gub are trained to sit in a particular spot in our home when they want cat treats, so needless to say, that is their favorite spot in the house. They also believe treat time is several times per day, much to the detriment of their waistlines. They are well-loved and adored by our family. We hope they are with us for a long, long time yet. "
Eevie & Sebastian - their family is Sarah, our Listings Manager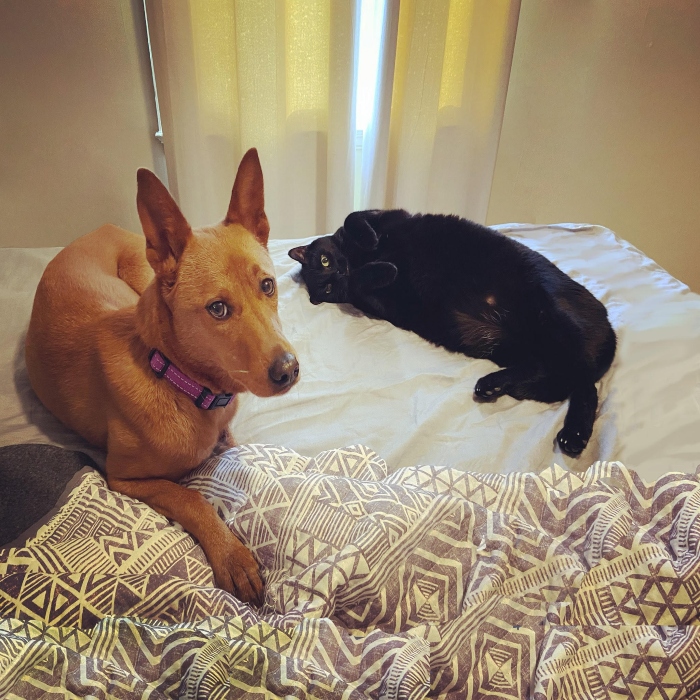 "Eevie was rescued when she was a young pup of 10 months from Furry Kids Refuge. She is now 3 years old, and quite the model. She lets me put scarves, necklaces, and outfits on her with little to no care! However, she does NOT like her feet being touched. It takes two people to clip her nails. She also HATES bunnies and spends about 60% of her day looking for them out the window.
Sebastian is my 11-year-old cat, whom I rescued from Wayside Waifs, when he was 5 years old. He is the neediest cat in the world. Follows me around everywhere, and he MUST sit on my lap. Sometimes we come to a compromise of him just sitting next to me (but then he still puts his paws on my lap). He also is a very clever food thief and now I can't leave any food out (including Eevie's) or he will steal it when I am not looking. "

Barley - his family is Shea, our Listing Specialist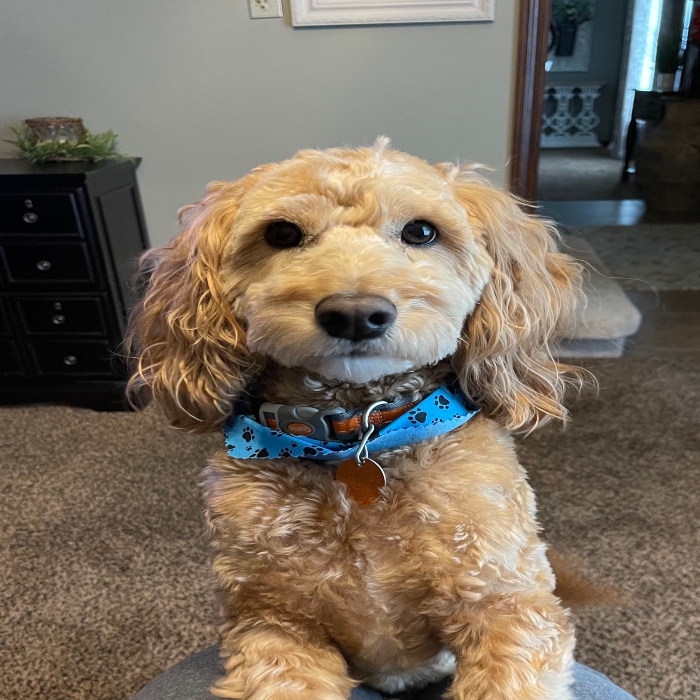 "This little ball of fur has our hearts. I was the most reluctant to get another dog given our busy family life. But he came in and we immediately fell in love 4 years ago. He never leaves our side. He loves the lake but won't take his eyes off the girls when they're in the water. Loves boat rides! He's my work buddy. Sometimes he demands my attention and makes me look away from my work and give him some attention.
We're blessed with one of the best!"
Gunner - his family is Shelby, our Buyers Specialist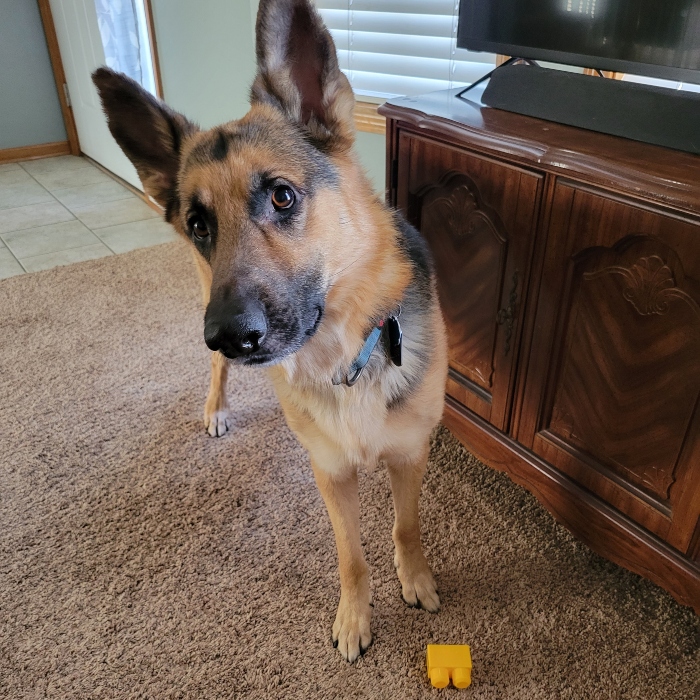 "Gunner is a 5 year old good boy of a German Shepherd. His favorite pastimes are napping, guarding mom and dad, playing fetch with the spikey, blue squeak balls from Petsmart...special emphasis on the BLUE ones. They are his favorite color, and he will choose blue ones over any other ball.
He is a snack connoisseur, and will have nothing to do with most dog treats. Meat or sweets from mom and dad only, please. Playtime is the best, and I want every dog to be my best friend."
Max & Günter - their family is Shelly, our Vice President of New Construction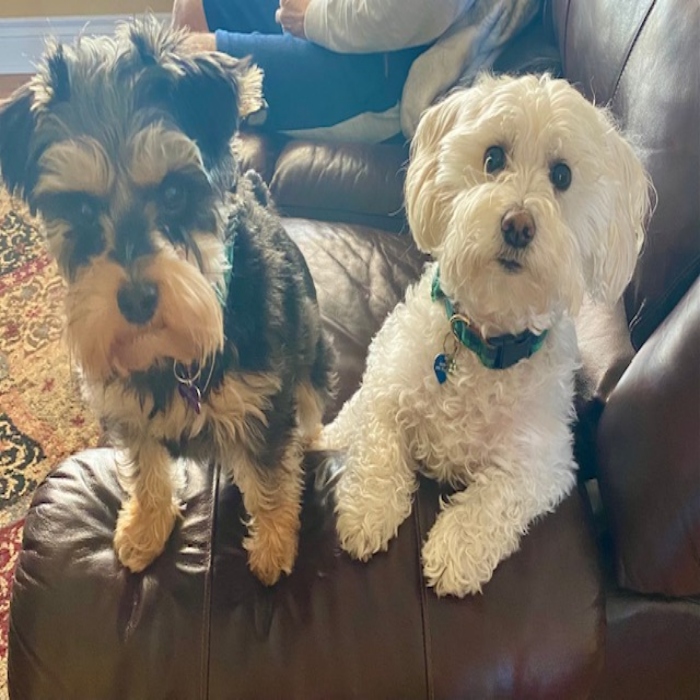 "Max is a Schnoodle, which is part Schnauzer and part Poodle. He is 8 and he likes treats of all kinds. Günter is a Snorkie, which is part Schnauzer and part Yorkie. He will be 2 in June, loves treats, and loves to play. He's bossy!
When Max eats his bone, he snarls at Günter to keep him in line, as Günter doesn't seem to have any boundaries!
Fun Fact! Both of my dogs and Alicia's dog Milo came from the same breeder! "
We hope that you have enjoyed getting to know our pets as much as we have liked sharing them with you! Part of who we are and what sets us apart as the "Ask Cathy" group is one word - family - whether they have 4 legs or otherwise. If you have ever purchased or listed a home with us - you are part of our family as well. We hope you know that. You are why we do what we do, and we try to show you how important you are to all of us with our events and our proactive approach to communication. It is our goal that you all love where you live, and if you don't - please reach out to us!