Front Porch Aesthetics
Posted by Ask Cathy Marketing Group on Friday, July 28, 2023 at 1:00 PM
By Ask Cathy Marketing Group / July 28, 2023
Comment
Perks of Having a Beautiful Front Porch!
Connecting With Neighbors, a Peaceful Retreat, and More!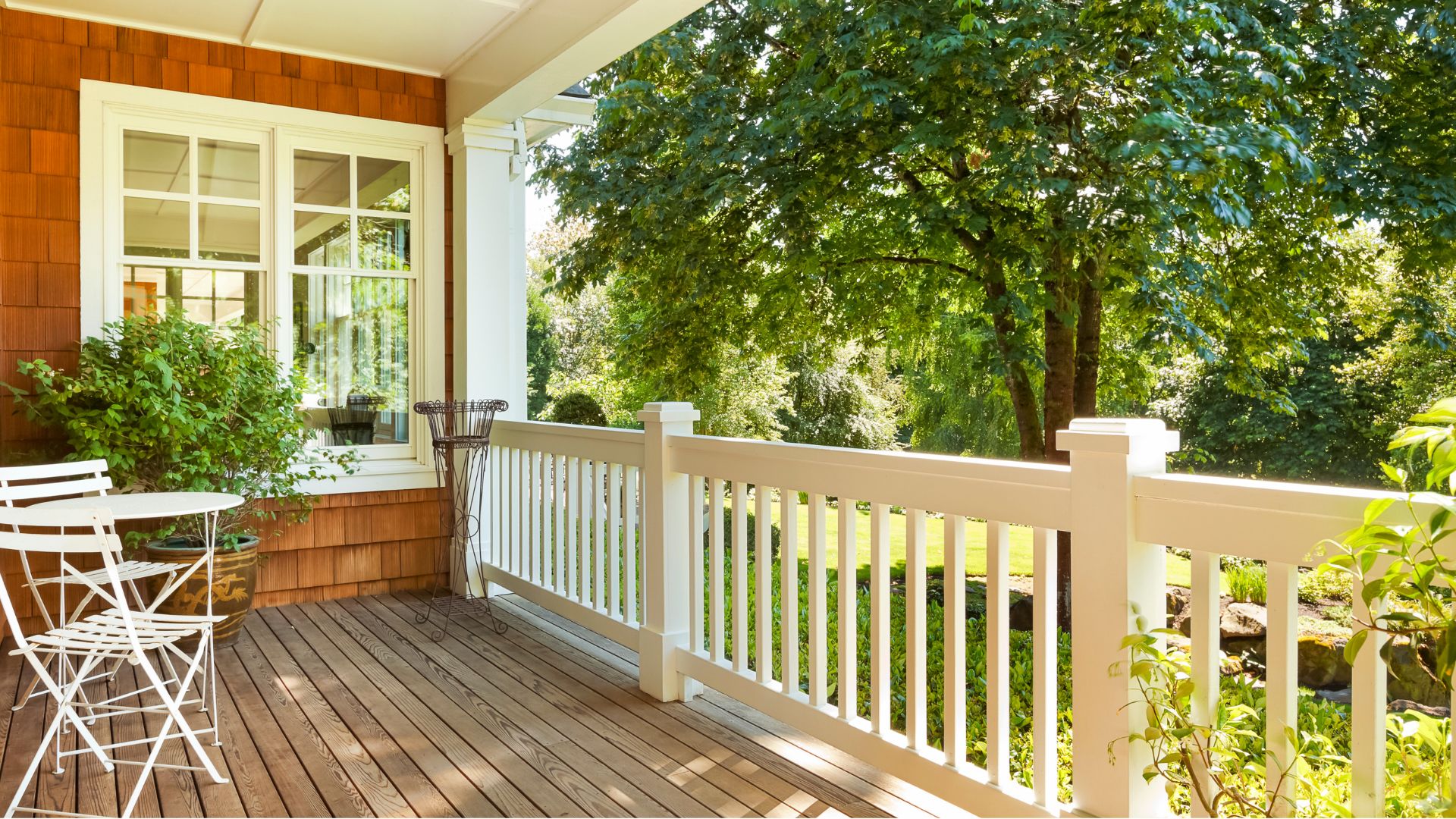 Nothing says a more heartfelt welcome than a front porch. Front porches are a gentle reminder to sit and stay awhile, before entering a home - a tall cool glass of lemonade optional. There is no denying that a porch just shouts charm, the moment you pass by. From the front walk to the front door, what is it that makes a front porch so enticing?
Perhaps it's what a front porch could represent. Other than a structure of wood and shingles, a porch could represent these three things:
Community: Front porches harken back to a time when neighbors were friends that stopped by and visited every once in a while. They are a literal welcome mat, drawing visitors onto and into a seat to catch their breath and catch up with whoever lives within. The porch provides a perfect perch to sit and stay awhile. With the busyness of today's world, it's easy to let the simple act of "visiting" become something of the past. A front porch is a way to keep that tradition going.
Celebration: Front porches beg to be decorated for each and every holiday season, with pots of petunias in the spring, patriotic bunting in the summer, and mums and pumpkins in the fall. At Christmastime, twinkling lights adorn the railings and columns. They are like a marquee to your neighborhood of "this is who I am rooting for in the next big game" or an immediate representation of the kind of decor you may expect on the inside. It is an invitation to show off your personality as well as your hospitality.
Shelter: They are the perfect place to enjoy the spring breezes that come in on a rainy afternoon without the fear of getting wet. They are a place to begin the day with a hot cup of coffee or tea, or to end a long day in the crisp evening air, and take a breather. They are a place to wait for a ride or a spot to keep your packages out of the rain. The porch welcomes you from whatever you need shelter from, weather, worry, or whatever!
Outside In
The love of the front porch certainly holds true for many people, but sadly, not everyone is fortunate to have one for themselves. In this case, in the absence of a front porch, is there a way to bring this welcoming and homey feeling over the threshold and into the home? If we are able to bring the same characteristics represented on the outside into the interior of your home, what would they be?
Welcoming Atmosphere
Above all, a porch is welcoming…inviting you to sit and stay awhile. A comforting place to spend time. Decorating your home with furnishings that welcome the occupants and visitors to sit and stay awhile is essential. Nothing too fussy or fragile, nothing too straight-backed or formal. To exude the front porch feel inside your home, your furniture should be comfortable and relaxed. A deep cushioned sofa, a soft leather chair, pillows to lean on, a throw blanket that is soft to the touch - anything that invites you to come in and rest awhile. When selecting items, think to yourself - is this warm, is it welcoming, will it bring comfort? Your porch-inspired rooms should bring relaxation and respite to all who enter. The furniture placements should allow and welcome multiple uses such as conversation areas, reading nooks, and spots for impromptu napping!
Connection With Nature
Undoubtedly, a porch has a feeling of nature without being actually out of doors. Having potted plants or flowers adds a friendly touch and takes away the feeling of coldness to a room that has nothing "living" in it. Even artwork of plants or flowers is a welcome addition. Placing furnishings near windows to overlook the outside and let the sunshine in, also gives your inside rooms their connection with nature. Nature can also come in the form of natural textures and textiles through the furnishings and accessories that reside in your rooms. Baskets for storage, natural fabrics in window treatments or soft furnishings, and cozy accents add to the warmth and overall "texture" of the feeling of a room. To add another layer, an indoor water fountain creates a peaceful and tranquil sound of being outdoors as well.
A Sense of History
Many porches also bring an element of charm through unique architectural elements and items of a historic nature. Having your porch-inspired living spaces look curated and collected over time, instead of purchased off a showroom floor helps with adding a feeling of homeyness. Items that show some wear or rusticity are particularly charming, as well as anything that has meaning to you and the occupants of the home. Nostalgia plays a big part in giving a room a porch-like feel, as porches themselves are a takeaway from the architectural style of the past. Family photos, accessories from a time gone by, or a quilt passed down through the family, these types of items infuse a sense of authenticity into your porch-inspired space.
A Closing Thought with Permission
Above all, when infusing a porchlike aesthetic into your home, let the room or rooms you make this type of space be an extension of the rest of your home. There is no right or wrong way to create a porch aesthetic in the interior of your home. If you think back to the three words: community, celebration, and shelter, you and only you will know what type of items or furnishings evoke those feelings in yourself. Many of these feelings could be based on memories or experiences you've had in your lifetime, and you are the person that knows what means the most to you the best. Your space or spaces should feel like "you, and much like yourself, it can change and evolve as you do and as more memories are made throughout your lifetime. This is the one space, you definitely have permission to be yourself.