Clutterbusters: The Basement
Posted by Ask Cathy Marketing Group on Friday, July 7, 2023 at 1:00 PM
By Ask Cathy Marketing Group / July 7, 2023
Comment
Tips on Decluttering Your Basement
Ideas on Designating Spaces in Your Basement, and More!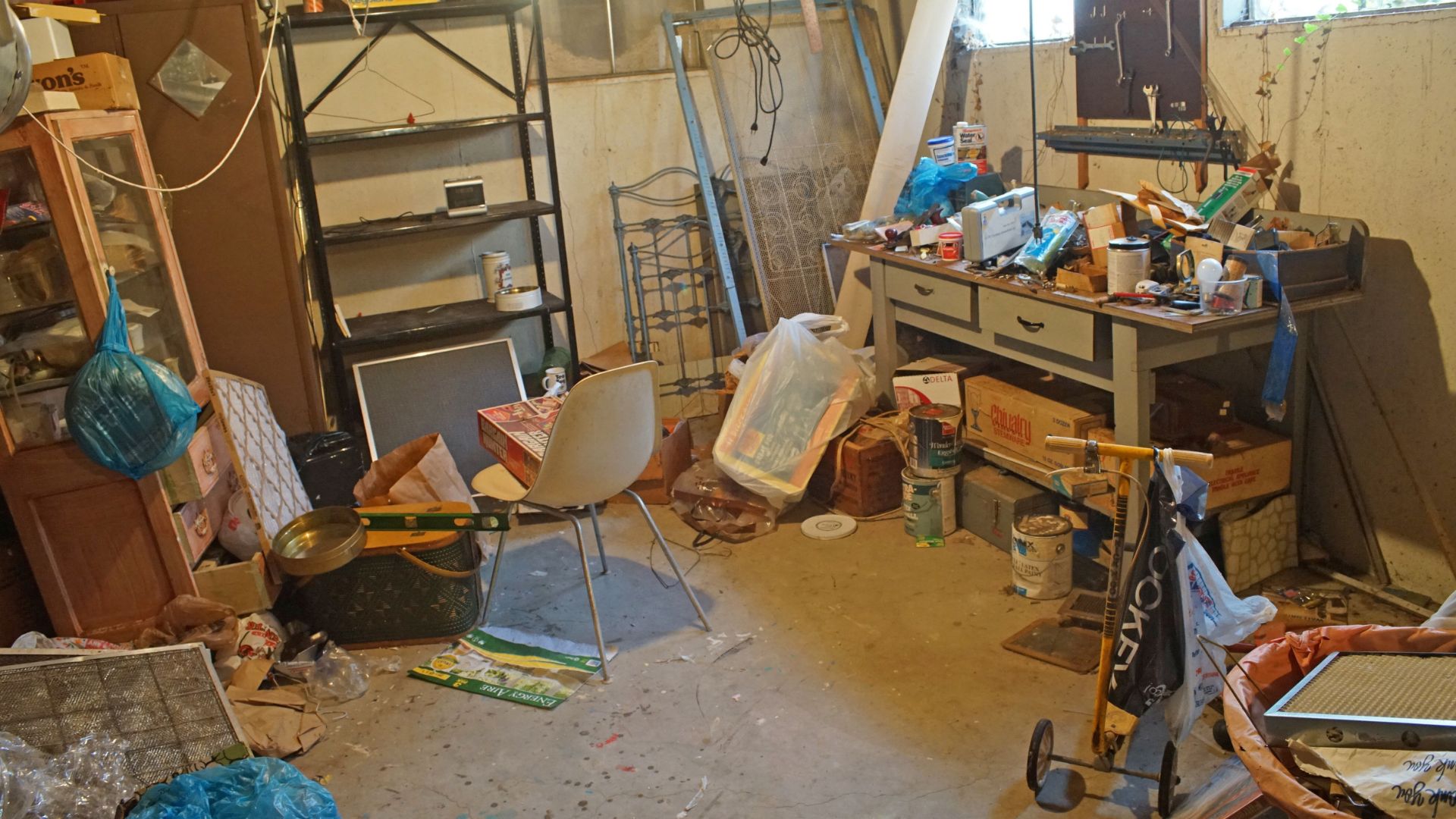 Many of us have childhood memories of the basement being a scary place. Back then, the basement was a dimly lit place where the laundry, Christmas decorations, and a canned food bunker resided. Along with some creepy monsters lurking under the stairs, and spiders. You can't forget the spiders. So when you were asked to get something for Mom from the basement, (some sort of canned vegetable for dinner no doubt) it became "mission impossible" or some sort of Navy SEAL mission to get in and GET OUT as quickly as possible. Much like how kids today will never know the pain of stretching the phone cord from the kitchen wall to sit in the hall closet to get some privacy for a phone call, they will never know how to hurl themselves down the wooden stairs, grab a can of corn, and take the steps back up two at a time to shut the door to the basement in 15 seconds flat. You also prayed that your older brother or sister got the task of getting the basket of clothes from the laundry room, because wielding a basket while trying to dodge perceived monsters was no easy feat, and was best left to the professionals.
In short, the basements of days past were not ones you readily want to spend time in. The kids of today aren't afraid of basements because they are the place where game rooms, giant TVs, craft rooms, and even possibly brightly lit and beautifully furnished bedrooms reside. Definitely a little (or large) slice of heaven under their own roofs. Lucky ducks!
Of course, to some of us, the basement can STILL be a scary place, because of well, STUFF (and maybe spiders). When someone doesn't know what to do with a particular item, one of the obvious choices as to where to put it, is the basement. Pretty soon, that one item, or maybe two, is joined with about 45 of their friends, and then what do you have? A messy, unorganized, unruly basement. Definitely scary. But, never fear, the Ask Cathy Marketing Group is here…with another episode of "Clutterbusters" ready to help you and your unwieldy basement. Buckle up!
First of all. Just a shout-out to all the homes out there that have basements! If you are a proud owner of one of these homes, you can move yourself to the fortunate column because you can bet that a homeowner in California, Texas, Florida, or any high water table state would give their right (and possibly left arm) to have the additional square footage, no matter how scary it is. So kudos to you. In the great state of Missouri, most of us are fortunate enough to have basements due to another scary thing (tornados) so we might as well make the best out of the situation, by making it a usable, if not beautiful space.
So if the current state of your basement is a bit of a mess, how do you go about rectifying that situation?
Plan Your Needs
The first thing to do is survey your space, and decide what function or functions you would like your basement to serve. Just because one area of your basement has always been used for a particular purpose, doesn't mean it has to stay that way. Is there a better layout that would make more sense? How do you, or if applicable, your family currently use the space? Are there other needs that the other areas of your home aren't fulfilling that the basement could possibly be a solution for? On paper, plot the zones or areas that will be in your new and improved basement. This serves two purposes: two keep you on task - with your eye on the prize, or the light at the end of the tunnel.
Also "visualizing" your new basement space - even with a simple line floorplan (no architects needed here)- can help you truly "see" if your ideas will work for you. Many "eureka" moments have happened when looking at a simple plan for the 5th or the 50th time. (Sometimes at three in the morning)
Common zones that are found in a basement area:
Entertaining/Family space
Storage space
Office/Workspace
Playroom/Craft space
Guest Room / Bedroom
This short list is just a jumping-off point, especially if your current basement is unfinished. Do you have a fun collection you want to exhibit? Have you always wanted a wine cellar or a poker room? How about an area designated just for wrapping gifts, seasonal decor, or an additional pantry? With an unfinished basement, the only restraints that you can include are your square footage and your imagination. If square footage is an issue, see which zones or areas can double up/serve multiple purposes comfortably.
All Sorts of Sorting
Once you have decided how your basement will be used, it is time to sort through the contents of your basement. Depending on the size of your basement, this could be a lengthy process, but don't be discouraged. Just focus on one room at a time, one corner at a time. One box or drawer at a time.
If you are familiar with our other Clutterbuster blogs, you will know we are fans of the "pile" process: Everything you touch goes into one of four piles:
Keep, Throw, Donate, or Sell
Worth Keeping -only keep what you know you will use - soon.

Really think long and hard about those things, that while they may be "still useful" you don't really have a plan for the immediate future, or you think "I will use this SOMEDAY." In reality, that item will most likely be lurking in your storage area until the next decluttering, and then some. The good news is that (unless something is an heirloom, or has sentimental value) they make more stuff. This means, down the road, if you do find yourself in need of a particular item, you can buy the item again at that time. This may not sound very earthy friendly, but in all honestly, items that take up space take up more (emotional) energy and it is better to purge and repurchase, than it is to hold on and take up prime real estate in your home. More times than not, you won't need that item ever again. If you are really hemming and hawing about keeping an item, do this. Mark one storage tote, "Did I need it?" and date the tote - 60 days from now (or another time period within a year's time). Once that date comes, look in the box, if that item you were holding onto is STILL in the box, it is time to let it go. The absolute maximum time you should hold onto something is a full calendar year. This way, you will have had the chance to put the giant decorative cornucopia that you have saved to adorn your dining table, and the "I will use it at Thanksgiving" excuse and realization (on whether you

actually

used it or not) will have already come to pass.

Donate what is still useful for others or sell within a reasonable time period.

When you identify items that fall into this category, immediately put them in a covered box or tote, so that you don't rethink keeping an item. As a general rule, once it goes into the donate or trash pile, it DOES NOT COME OUT. We repeat, it does.not.come.out. The only items you should be rethinking are anything in the keep pile. Once a tote or box is full immediately put it into your car so that on your next errand, you can drop the box off at the donation center. This ensures that those items will not be brought back into your home. Putting this box in your garage is slightly dangerous, as its presence will add to the clutter there, and it may never find its way OUT. For help with making sure your garage doesn't become a black hole of stuff, check out "Clutterbusters: Reclaiming Your Garage".

Sell to Sell.

If you are ABSOLUTELY diligent about either selling on Facebook Marketplace, or have a yard sale planned for the VERY near future, then you can also create a "to sell" pile. This is where you place items that you do not want to donate, trash, or keep. If you go this route, be sure to have an "end date" clearly marked on the box or item, and if the item doesn't sell or you don't have a yard sale by this date, then it goes right to the donation center or the trash. One tip that makes a HUGE difference when you are decluttering and making a yard sale pile, is to price as you go. This will save you from another daunting task of getting everything earmarked in the sell pile, priced You can just open up the box, put your stuff on a table, and get to selling! The best way is to forgo the traditional multicolor pack of yard sale stickers (which don't always stick, or pinhole you into what they deem to be a popular price). Instead, get a roll of blue painters/ masking tape and a black Sharpie, and as you put an item in the "sell" pile, give it a reasonable price. Price items with the intent of getting rid of the item. As a general rule, you should not price to "recoup" the money paid on an item. Sell to sell, not to make make a profit.

Trash It - Throw out items that are no longer needed, useful, or damaged items.

Whatever you identify that goes into this category, immediately put it in a trash bag, so it is out of sight. Once a bag is full, move the bag out of the area you are working in, and put it where the trash goes.
Get in the Zone
Once all your items have been sorted into the 4 piles, you can start to put your basement back into shape, with its new and improved plan. Basements can be a tricky thing because the basement you may be envisioning, may not be how your basement looks currently. Sometimes you have to play the long game with a basement, especially if it is currently unfinished. If this is the case for you, you can still designate working "zones" for the time being if your intent is to eventually finish the space. Those zones are from your "Plan Your Needs" floorplan that you made at the beginning of taking on this project. There are no hard and fast rules, so if you came up with another eureka idea, be sure to add it and adapt your plan to include it. It is ok that your basement is a work in progress, and that it takes some time to complete. After all, in most cases, your basement is the entire square footage of your primary floor.
Finished basements are definitely easier to work with and implement in a new plan, but unfinished basements are just a work in progress, and be made comfortable and just as useful. Many a cool room is created using the built-in architectural elements, like duct work, exposed beams, and concrete, of an unfinished basement. So even if the plan is NOT to finish to your basement, or it is a project for the distant future - do not let its unfinished state hold you back. Area rugs can make a cold space feel warm and using other creative elements such as old doors and floor-to-ceiling curtains can turn designated areas into separate useful areas. Lighting can brighten up areas that were once dark and dingy, and a coat of paint can liven an area up as well. Many budget-friendly ideas exist to help make your unfinished basement, useful, liveable, and charming.
Once you declutter your basement area to your satisfaction, and create the living space that you envision, your home can live larger and at its best. You will be living in "found" square footage that was there all along, and making the most of it. One thing is for certain, the spiders will certainly be jealous that you didn't zone the designated area of your basement just for them.