Clutterbusters: Technology
Posted by Ask Cathy Marketing Group on Friday, September 15, 2023 at 1:00 PM
By Ask Cathy Marketing Group / September 15, 2023
Comment
Tips on Decluttering Your Email Inbox!
Filters, Separate Email Accounts, and More!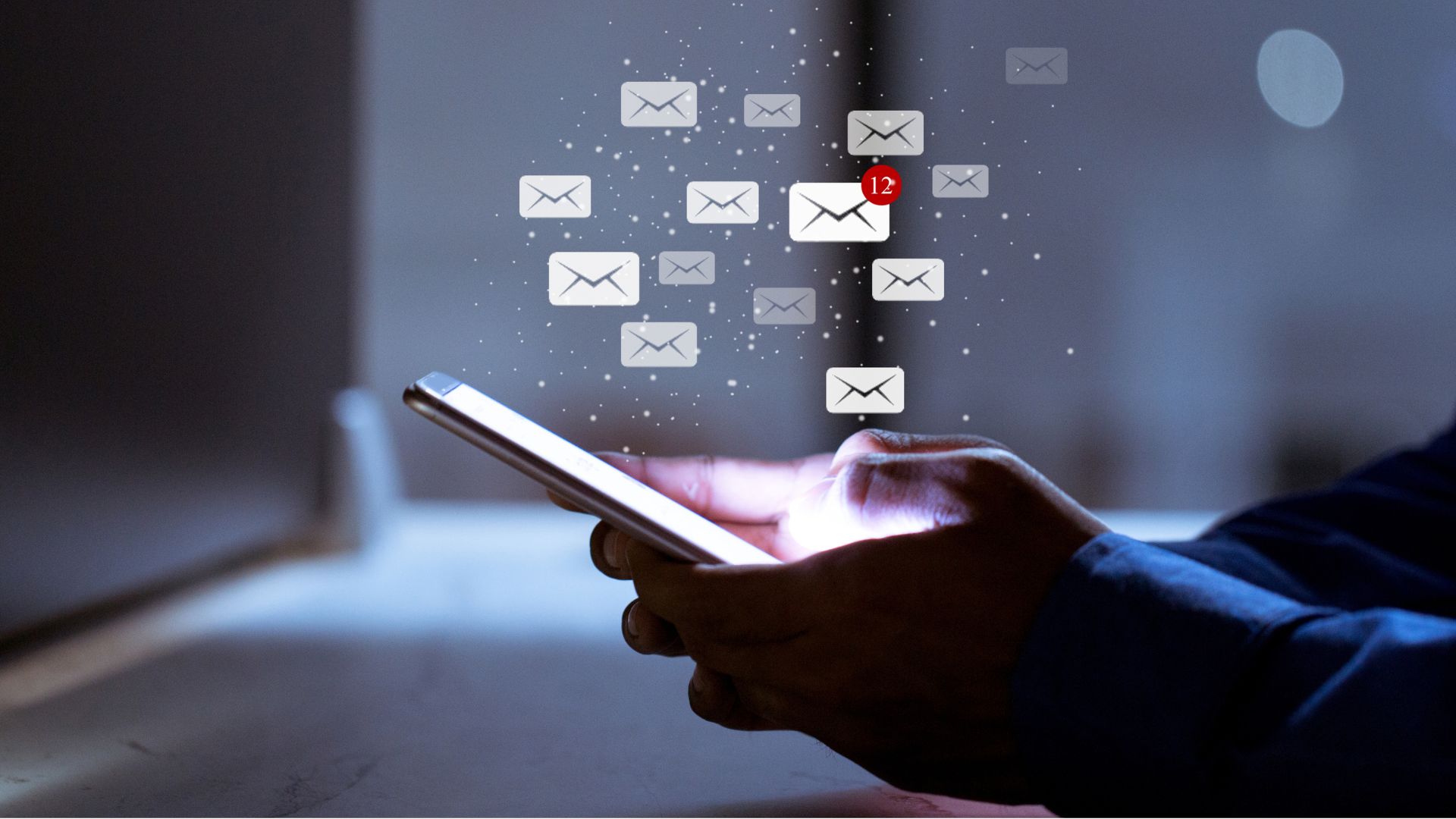 You have no doubt, read numerous blogs or books, or watched programs on decluttering your home. Even right here, on AskCathy.com you may have perused our Clutterbusters blog series, which takes you through every room in your home and gives you tips, tricks, and tidbits on decluttering your home to your heart's content. (You can find them here for your reference.)
If you are familiar with that series, the one place we haven't touched on yet can feel a little personal. That place is your internet and technology accounts. Though it is not commonly spoken of in the typical forms of clutter, this is one place that can be virtually inundated with items you don't need. So let's venture on, shall we?
It may seem strange to talk about because whatever you have cluttering your phone, inbox, and photo folder is taking up space in thin air, or rather the" virtual" air called "the cloud". This may seem like nothing, but having clutter within it is definitely costing you time and perhaps money too.
So what to do and how to do it? How can you declutter your tech?
Your Inbox
You most likely have numerous accounts. Not only for you, your work, your hobbies, if you have children, a few for them that you monitor too. With so many of life's activities that make it necessary, It seems no one is safe from having an email account, even if it is as old as the hills and ends with hotmail.com
So with email, unless you are super diligent, very disciplined, and compulsively fussy, it is very easy to let your email out of control. All it takes is subscribing to one impulsive shopping email and blammo! It seems like everyone and their brother is sending you an ad, an invitation, or an offer weekly, if not daily.
Organizing and Sorting Methods: Two Approaches, Same Goal
There are a few schools of thought when it comes to organizing and sorting through your personal email, and then an action to take to EVERY email that comes your way. Here are two suggestions for organizing.
Approach #1: Separate Email Inboxes
The first method is to identify your important tasks, such as bill paying, kids' schools, as well as the inevitable mail from rewards programs, or hobby websites you visit. Then maintain a separate email account for each activity. This is particularly helpful if someone else needs to have access to particular information. This way, you can give access only to the accounts that the other person is responsible for. For the sake of brevity and simplicity, it is suggested not to have more than 5 or so separate accounts or as many as you can monitor, but that is up to you.
The KEY to this approach is to use each email address ONLY for its intended purpose. This way, nothing important falls through the cracks, and nothing else is received through that inbox. Thankfully gmail makes it easy to toggle between accounts and to set up more than one. No matter how you are tempted, only use a particular email address for it's intended purpose, otherwise, you will have an unfiltered email account that will easily become out of control.
Some suggested separate email accounts are:
One for bills - this is the email that you ONLY give to your bank, your medical accounts, your utilities, car payment, insurance - what have you. If you need to pay it, this is the email that you use.
One for personal - this is where all family/friend correspondence should go.
One for school -if you have more than one school-aged child, you will want to have a separate email for each of them, that you filter all school emails, and activities through.
One for junk - this is the email you give to all the rewards programs, mailing lists, etc. and everything that doesn't fall into your other email categories.
Other optional accounts could be if you have a side business, are on certain committees, or anything else that is important and needs to be separated.
Approach #2: Filter, Filter, Filter
If you find it easier to maintain only one personal email, instead of multiple accounts, the key here is to be diligent about either manually filtering your emails or making the most use of the filter function that is built into your email account.
If you use Gmail, thankfully, there are already some built-in filters that automatically sort a bulk of your emails for you into one of three categories: Inbox, Social, and Promotions.
Having it already filtered this way, makes it easy to bulk delete unwanted social notifications, and also promotional emails from stores that you don't want or need.
Even with these great filters in place, do not be surprised if some junk still gets through to your regular inbox.
For most of us, however, this is not granular enough, and we need to filter it even more. This is where automated filters come in.
Automated Filters
By creating filters you are able to create "rules" within your account that as a particular email is received, it is automatically filtered into a particular folder, labeled with a certain tag, or immediately sent to the trash can.
By setting up automatic filters you can:
Automatically delete all newsletters and marketing emails in Gmail
Automatically archive all newsletters and marketing emails in Gmail
Automatically move all newsletters and marketing emails to a specific folder in Gmail
Automatically delete, archive, or move emails from specific senders in Gmail
Automatically empty your Spam folder
And so much more. An excellent resource that goes into step-by-step detail about making Gmail filters is found here.
An Action for Every Email - One Touch System
Much like when decluttering a home, using the one-touch method is a preferable way to sort through any item that is taking up space. Touching something one time, making a decision, and deciding its fate saves time and is a method that gives everything a place to go. The same can be said and the same method applied to your email inbox. No matter if you have one inbox or one hundred, the following action should be taken to every email that comes in.
Use the one-touch system
With each email you receive, immediately do one of the following:
Delete - many emails can be dealt with like this
Read and Delete - do this with any email that you will no longer need or need to refer back to
Read, add a subject label (kids' school, bills, to do, etc.) whatever labels will help you identify or refer to a read email
Read and forward - to someone else, or to another account
Don't read, just unsubscribe and then delete - there are many emails that you no longer need to receive, and are complete junk. Don't even read them, just unsubscribe to no longer receive them and delete them.
Hope for the Already Unruly Inbox
If your email is already vastly out of control and seems overwhelming, don't worry. There is a way to get your email under control.
Moving forward, from today, use the one-touch system for every email you send.
For the backlog of endless emails, you can send all emails within each calendar year into its own folder. For instance, send all 2022 emails received into a folder marked 2022, all 2021 emails into a folder marked 2021, and so on.
Sort by date hovering over the 1-50 box located on the top right of your inbox. If you hover over that, you can filter by the oldest emails received versus the newest.
From there, page by page (by using the bulk action check box on the upper left above your "primary" tab on your inbox) select emails for a particular year, right-click and select "move to" and select the folder with the appropriate year on it. The first time you do this, you will have to use the "create new" to create the folder you want to place the mail in time, if you don't find yourself going into that folder, you can delete it altogether.
Social Media
Social Media accounts can also get out of hand rapidly as well. Some of us also maintain separate accounts for business and personal. If that is the case, it is important to take time each week, or month to give it the once over.
Some Key Actions:
Regularly unfollow accounts you no longer want to see anything from
Regularly block accounts that send you offensive content
Unsubscribe from notifications on accounts that are no longer useful for you
If you find yourself rapidly gaining followers for no apparent reason, a good idea is to make sure your account hasn't been compromised. If you find accounts following you that look fake, are from a foreign country, or don't follow trusted people you know - block immediately.
Social Professional Profiles
It is always a good idea to give your profile biographies a once over, and keep your location and resume updated on professional profiles, like Linked In, etc. Set a calendar reminder to do so every 6 months or so, or more if you are actively job hunting.
Physical Items:
If you are like many households, you may find yourself with a drawer, box, or even a tub of cords for random electrical devices. Random chargers, and power cables for current and possibly outdated items most likely reside in this box. You hold onto it thinking, I may have a reason for that cord or I could use it someday.
In order to tame this type of collection, the best way to is to label. For every cord that you have, label it. A label maker that creates little neatly typed self-adhesive labels is a great way to wrangle all these random cords, by creating a label, folding it over the cord, and attaching it back onto itself. (Think of a smaller version of the destination bag tag on your luggage at the airport.) but if you don't have a printable label maker, any handwritten adhesive label, masking, or duct tape will do. Even a sharpie written on a wide flat ribbon and tied around the cord would work too. Whatever method you choose, be sure that your label will not detach with use, and that it is legible.
Create a label for each cord in your home that is attached to a device. Sidenote: This is also helpful for when you move, so you know exactly what cord plugs in where it needs to be.
For every new electronic device that comes into your home, label the cord.
Recycle or donate unwanted usable electronic items.
Throw out broken electronics that are beyond repair, or no longer useful.
When you purchase a newer or upgraded model of an appliance or electronic you already have, give away, donate, sell, or trash the item no longer needed.
By following even a few of these principles and strategies, you will soon find yourself with less to worry about every time you open your email!