Clutterbusters: Bathrooms
Posted by Ask Cathy Marketing Group on Friday, February 10, 2023 at 1:00 PM
By Ask Cathy Marketing Group / February 10, 2023
Comment
Taming the Beast of Your Bathroom
Tips on Organizing Bathroom Spaces in Your Home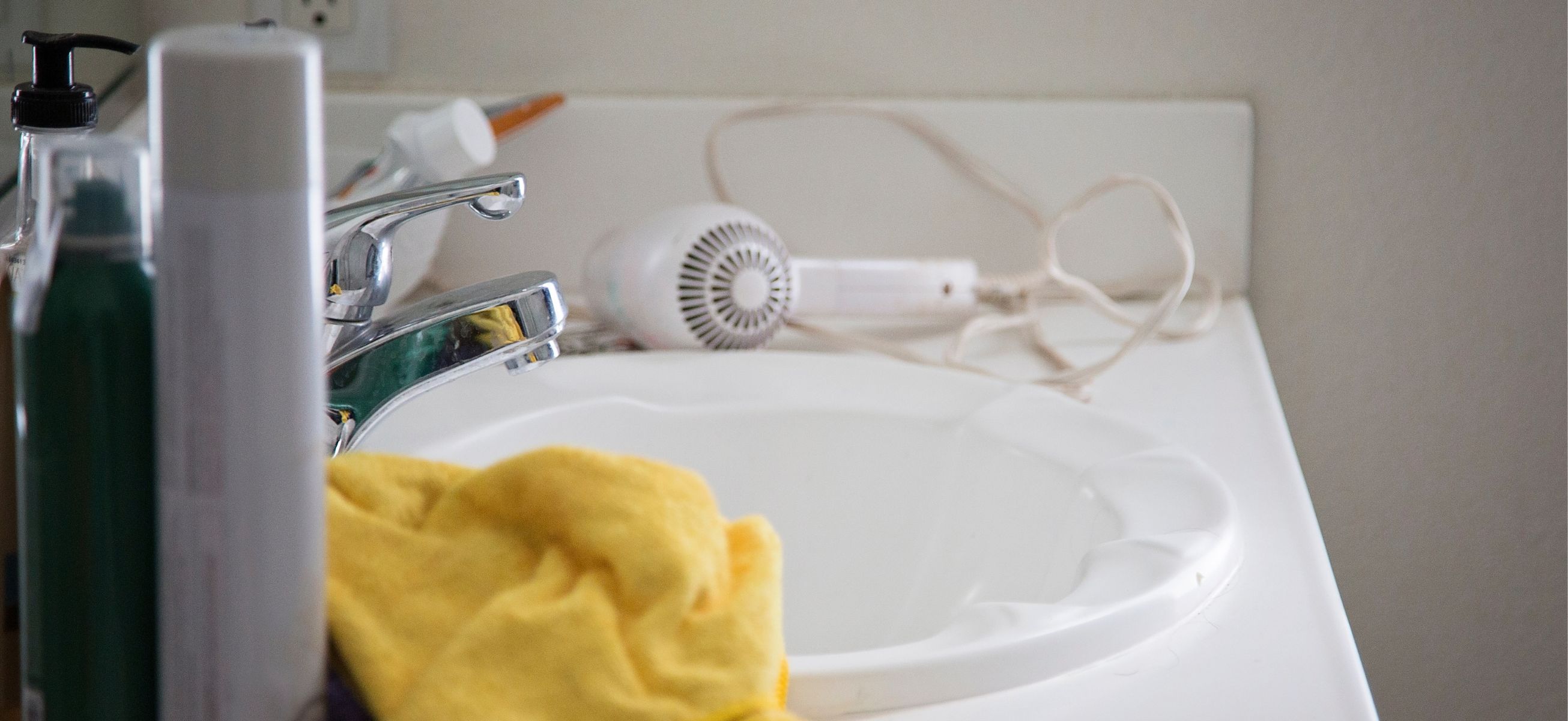 If you have one, which we imagine most of you have at least one at your disposal, chances are you have bathroom clutter. Bathrooms work hard for us, so it is not surprising that they accumulate lots of stuff to go along with them! But sometimes that stuff, even the seemingly necessary stuff, can get overwhelming.
Clutter, especially clutter in a bathroom, tends to spread until it can no longer be contained in a bathroom vanity or a linen closet. Your bathroom counter (or counters) can soon get taken over by soaps, lotions, and other accoutrements until it is every last toothbrush for itself!
What is With the Tiny Closets?
On a side note: Do you ever wonder why homes have such tiny closets for bathroom products? These linen-type closets are supposed to hold a whole array of items, from towels to bed linens, to a month's worth of toilet paper, and that certainly isn't all. To be honest, we aren't sure if the home builders of the past really thought that tiny closet creation through enough when they were planning out floorplans. (No offense intended to the builders of yesteryear) In our humble opinion, every dream home should have a walk-in bathroom closet, because let's face it, bathroom stuff takes up space! Apologies for our digression. Back to business.
So how DO YOU tame the creeping clutter? Read on for the latest in the Clutterbusters Series: Taming the Beast of Your Bathroom!
Steps to Taming the Clutter
The first thing to do is pick a bathroom in your home. There are two plans of attack for this task - either jumping into the deep end,(with your main, busiest bathroom, like the master bath) or wading into the shallow end to ease yourself into the daunting project, (with a half bath or an underused bath). It is your choice which direction you would like to go. Do keep yourself from getting too overwhelmed, tackle one area at a time. Be sure to include the following areas: Vanity, medicine cabinet, linen/bathroom closet, (and any additional area in your particular home in the process).
No matter what bathroom you choose to start with, or which area you choose to focus on within the bath, the process is relatively simple and similar.
As a basic guideline, you should:
1. Empty the contents of all cabinets, drawers, and shelves. This is also the perfect opportunity to give everything a thorough cleaning as well.
2. Sort through each item in those areas and decide whether to keep, donate, or throw away.
3. Get rid of duplicates, items that are expired, or no longer needed, and anything that is broken or damaged beyond repair. Be sure to throw out expired medicines, or medicines you no longer actively take. Cosmetics over a year old, as well as any that you don't use. That shade of lipstick or eyeshadow that you tell yourself you will use it, or you may want to keep it because you spent good money on it - but if you don't love it when it is on, you definitely don't need it taking up space in your bathroom.
4. Group similar items together, such as makeup, hair care products, and skincare items, to help keep the space organized. Consider using drawer dividers, baskets, or small containers to separate items and make the most of the space. Organization products for your bathroom are plentiful through a variety of resources. Here are some that we found that may be helpful to you.
5. Storing all your daily makeup items in a storage system you can easily remove from your countertop to store underneath, for cleaning or when unexpected guests arrive can also be very helpful. It also can be used to store those items away on a daily basis, so that your countertop always has a clutter-free look. Makeup Organizer $25.99
6. Store frequently used items within easy reach, and place infrequently used items in more remote locations.
In Your Shower and/or Bathtub - Shampoos, conditioners, face cleansers, loofas, razors, etc all collect here. Narrow the items in your actual tub or shower to be the items you actually use each time you take a shower. There could possibly be more than one shampoo competing in your shower for your attention. You should put one, or more out of their misery.
Towels - Sort through your towels, and get rid of anything that is tattered or stained. These old towels can be used for pets or cleaning rags if they have seen better days.
Linens - It is a good rule of thumb to have one extra set of sheets for each bed in your home, in addition to what is currently on them. If you have more than this, sort through and get rid of anything that is stained, or mismatched. One to use and one in the wash is a good measure for quantity. The exception to this should be if you have inflatable mattresses for guests or a fold-out couch. You should keep one set per each of these. If you have space to keep these sheets in a protective package where you store the mattresses, that would be a better place to store the sheets and pillows that belong with them, so that it is all stored in one place.
The Key to Easy-to-Clean Bathroom Countertops
Countertops are a magnet for clutter. We are pretty sure that they are manufactured with actual magnets inside to attract stuff. Limiting what you put on your counters by making a rule of how many functional and decorative items you allow on them, can definitely help you minimize and control the clutter. For instance: limit to 3 useful and two decorative items on a double sink counter, or 2 useful and one decorative for a single vanity. Choose what is comfortable for you and the look you are trying to achieve. Having just a few items to move in that area, makes cleaning the surface quicker and easier.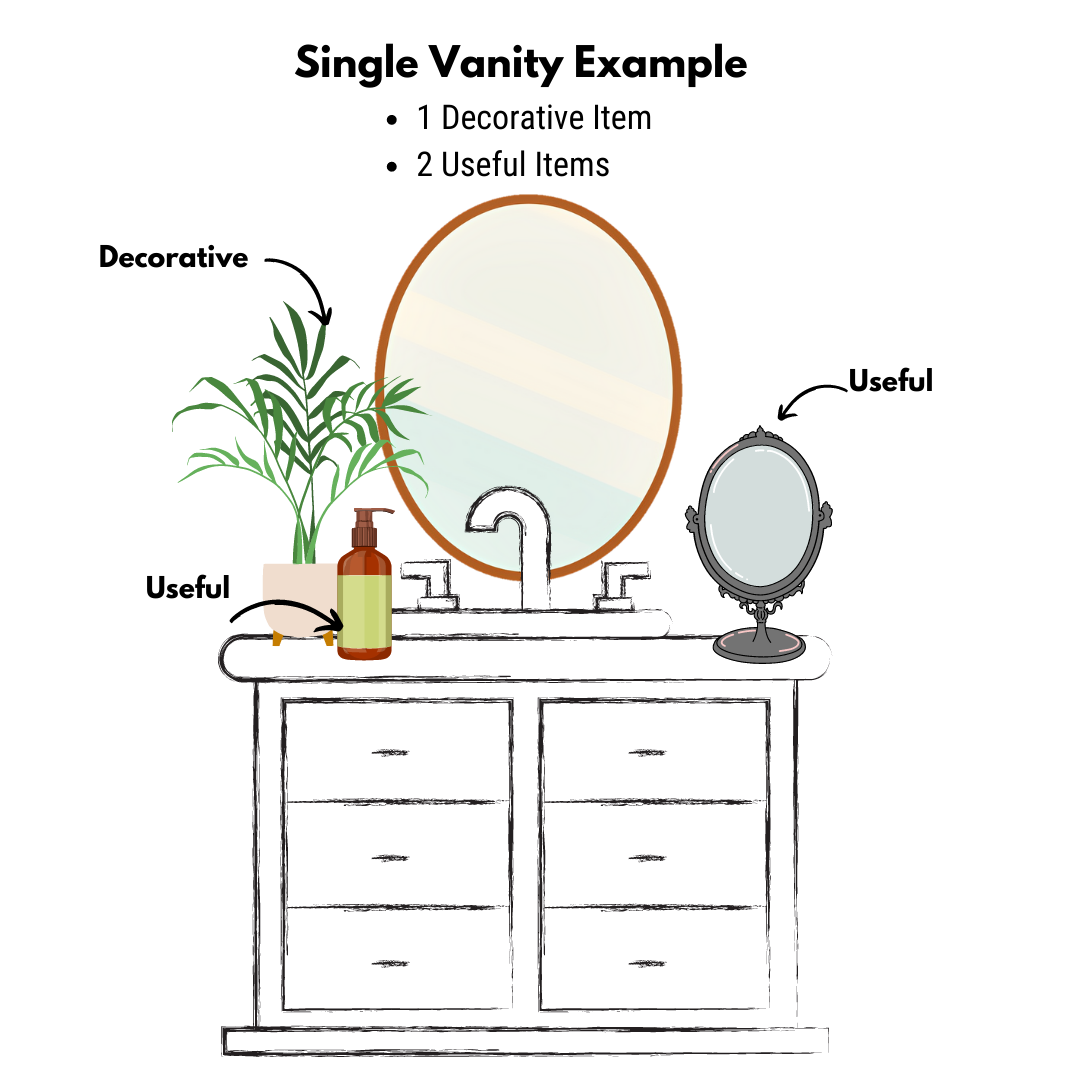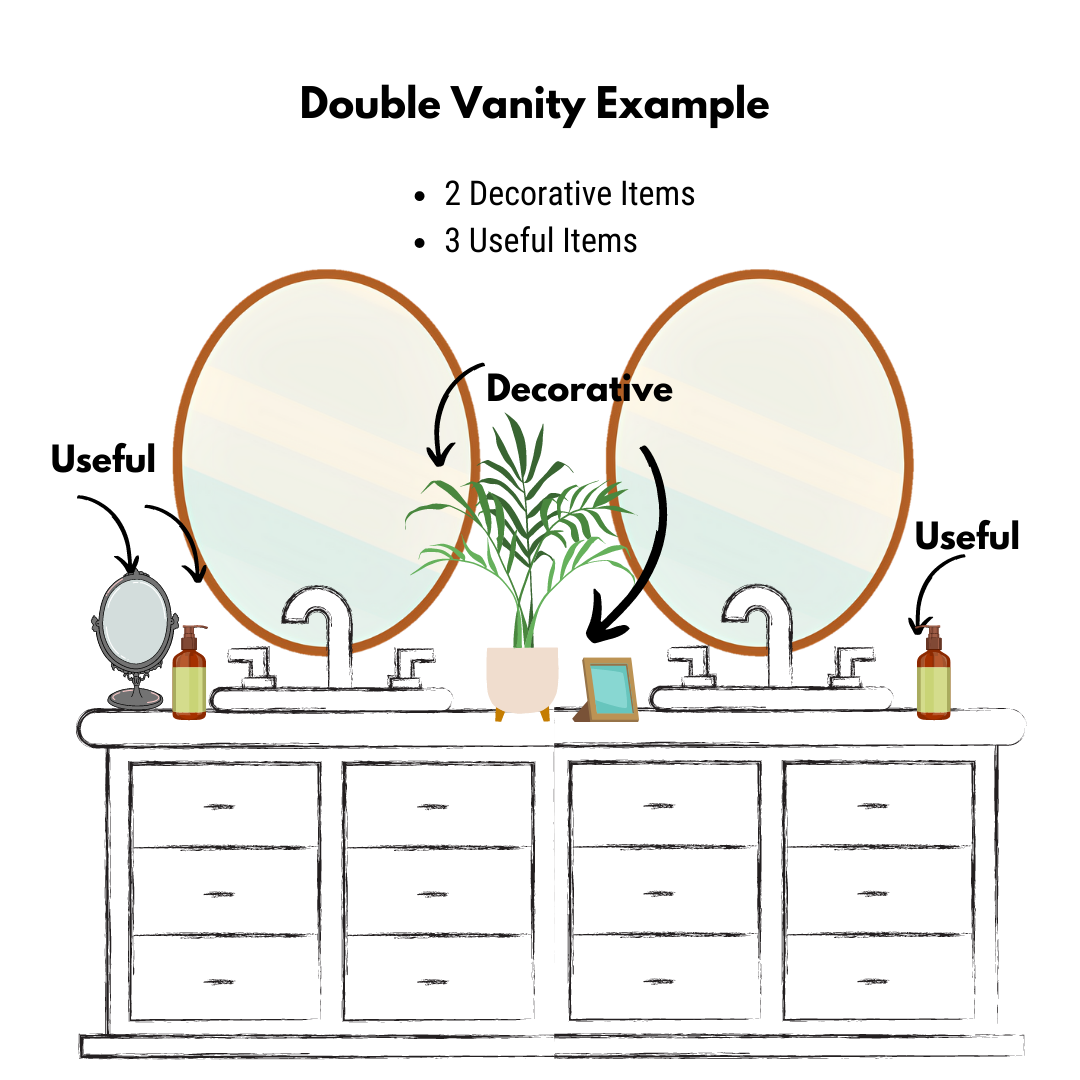 So there you have it. Some simple easy steps to tackle your bathroom clutter. There is no shame in having bathroom clutter, we all have had it. The point is, is not to be so overwhelmed by the items in your bathroom, that it keeps you from having a well-organized and clean space. It feels good to sort through and get rid of things, even still serviceable things, that you haven't used in a long time, and don't even intend to. You will feel better, and your bathroom will be able to be of better service to you and all who live in your home.