Celebrating the Red, White, and Blue - Kansas City Style!
Posted by Ask Cathy Marketing Group on Friday, June 30, 2023 at 1:00 PM
By Ask Cathy Marketing Group / June 30, 2023
Comment
Fun Fourth of July Events in Kansas City!
Fireworks Safety Tips, and Ways to Celebrate Without Fireworks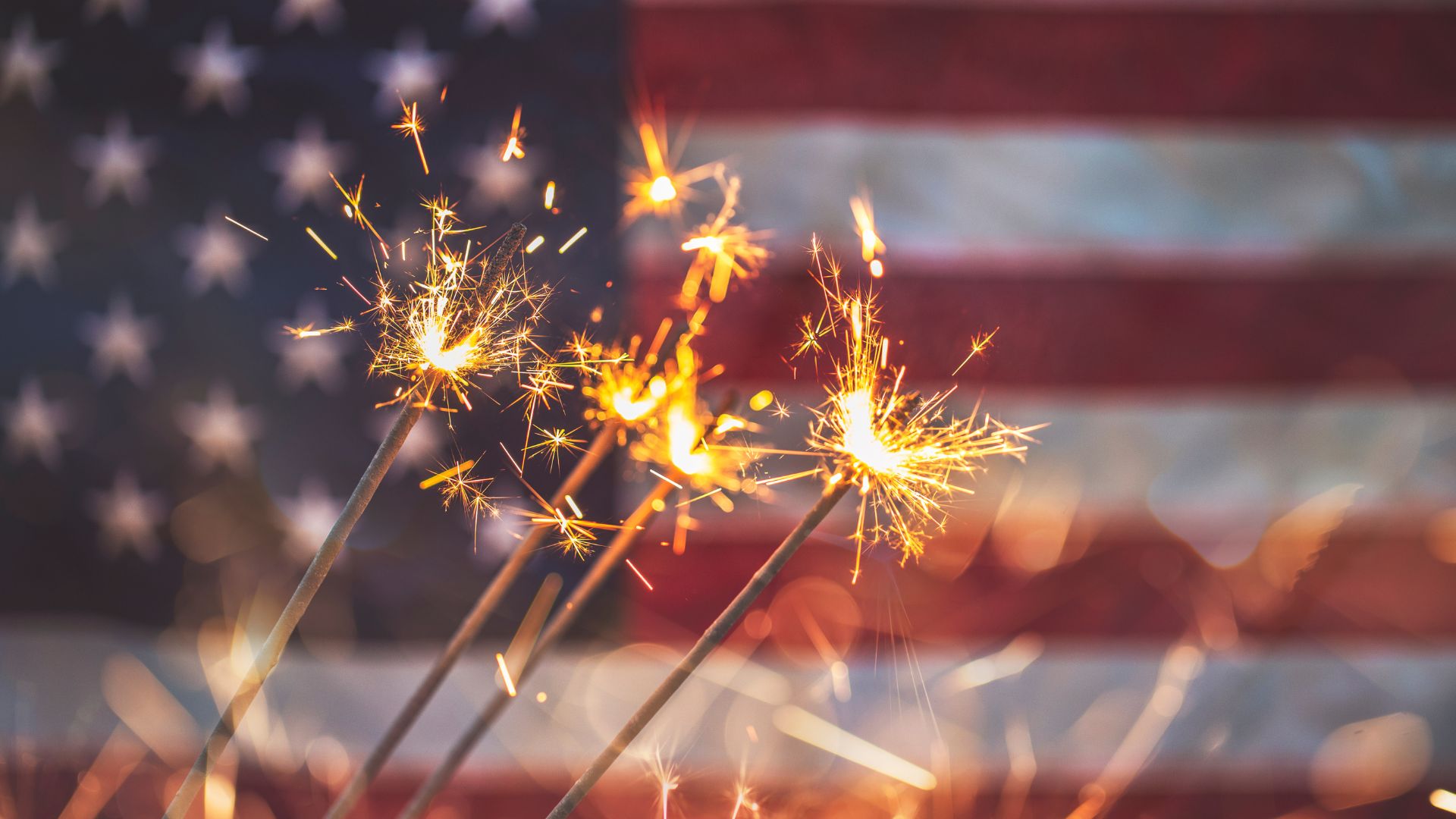 A long holiday weekend is upon us! One of the fun things about the 4th of July, is that it seems the celebrating for that one day always carries over to include multiple days of the week. This year, with the 4th falling on a Tuesday - there are MANY opportunities from Friday through Tuesday to get into the Independence Day spirit!
Even if you DON'T want to include the traditional fireworks display in your plans, there is still SO much to do. Read along for ideas on how to celebrate with or without fireworks, where to see them around the Kansas City area, and also some safety guidelines too!
No matter where, when, how or if you choose to celebrate Independence Day, we wish you a safe and healthy holiday weekend!
Ideas to Celebrate Firework Free!
Here are some ideas to get into the patriotic spirit, without the traditional firework display:
Use alternatives to fireworks to celebrate! Set out glow sticks and noisemakers to get into the festive spirit. Other fun items are red, white, and blue "Silly String" or bubble makers.
Pick teams and participate in a water gun or Nerf gun wars.
Indoor or outdoor movie night, complete with snacks! Movies like An American Tail, October Sky, the Music Man, Miracle, Independence Day, National Treasure, The Sandlot, A League of Their Own, and A Night at the Museum are fun and mostly family friendly!
Make and Take Craft Night - many stores like Hobby Lobby or even Amazon have some great craft ideas that center around the 4th of July. If you choose to make a red, white, and blue home decor item, it can be used multiple times a year for Flag Day, Memorial Day, Independence Day, Labor Day, and Veteran's Day.
Have an old-fashioned good time with yard games like cornhole, horseshoes, or bocce. Hold a family tournament with fun and simple prizes for the winners.
Beat the heat with a simple and "cool" water solutions like a Slip and Slide, sprinkler, or water balloons.
Throw a birthday party for the USA complete with cake or have a make-your-own ice cream sundae party.
Firework Safety
Fireworks are fun, and it is safe to say that MOST people enjoy seeing those colorful displays of light and sound. (with the exception of most dogs and some kiddos). For most, we would imagine, the 4th of July isn't the 4th without some fireworks. However, with the fun, comes responsibility, and precautions that one should take when handling or being near fireworks.
"According to data collected by the Missouri Department of Health and Senior Services, in 2022, 324 people in Missouri sought hospital care related to fireworks; 292 of those people were treated in emergency rooms and released; 32 people were admitted to the hospital.
More than 77% of those fireworks injuries occurred in the three-week period leading up to and following Independence Day (June 21 to July 11, 2022). During that period, 252 people with fireworks injuries sought hospital treatment in emergency rooms or were admitted for inpatient care."
The Missouri Division of Fire Safety suggests these precautions when it comes to fireworks.
Purchase fireworks only from a properly licensed retailer.

Always wear eye protection and earplugs if you have sensitive ears.

Tie back long hair and don't wear loose-fitting clothes.

Only light one firework at a time.

Never try to re-light fireworks that have malfunctioned.

Never have any part of your body over fireworks.

Keep young children away from fireworks.

Never throw or point fireworks at other people.

Never carry fireworks in your pocket.

Make sure to have water nearby in case of a fire or an accident.

Dispose of fireworks by soaking them in water and leaving them in a trash can.

Never light fireworks indoors.

Only light fireworks in large open spaces.

Don't try to relight any firework that goes out. Dispose of the "dud" firework properly.

Don't consume alcohol or drugs while handling/lighting fireworks.

Soak your used fireworks in a bucket of water before disposing.

Don't use fireworks while consuming alcohol. Use a "designated shooter."

Store fireworks in a cool, dry place. Don't save fireworks from season to season.
Where to Watch the Fireworks this Weekend
Blue Springs
Red White and Blue Springs 4th of July
When: Saturday, July 1, 6:30 - 9:30 p.m.
Where: Blue Springs South High School (Larry Steward Memorial Stadium) 1200 SE Adams Dairy Pkwy, Blue Springs, MO 64014
What: This celebration will have live music, fireworks, vendors, and more. Te featured artist is Brand X. Gates open at 6 p.m. Fireworks start at 9:30 p.m.
Independence
Independence Day Celebration in Independence
When: Saturday, July 1, 5:30 - 10:00 p.m.
Where: Independence Stake of The Church of Jesus Christ of Latter-Day Saints Visitor Center 937 W. Walnut Street, Independence, Missouri.
What: Music, food trucks, and fireworks. Food trucks will be available and live music will begin at 7 p.m. and play through 8:45 p.m. The Spirit of Independence Concert Band will play at 9 p.m. and fireworks will begin at 9:30 p.m.
Kansas City
When: Tuesday, July 4, 3 pm - 9:40 pm Fireworks at 9:40 pm
Where: National WWI Museum and Memorial, 2 Memorial Dr, Kansas City, MO 64108
What: Kansas City's official Independence Day Celebration. Grab a bite to eat, shop with local vendors, listen to live music featuring Kansas KC Native Casi Joy, and enjoy fireworks over the Memorial. Additional entertainment provided by Kadesh Flow, All Night Trio, Marching Cobras, One Night Stand, and the KC Irish Dance Company. Grounds open at 3 p.m. Fireworks begin around 9:40 p.m. Event is rain or shine.
Lee's Summit
2023 Free Fireworks Show - Legacy Blast
When: Monday, July 3 (Rain Date: Tuesday, July 4) Gates open at 6:00 PM, Fireworks being at 9:30 PM
Where: 901 NE Bluestem Drive, Lee's Summit, MO 64086
What: Lee's Summit Parks and Recreation (LSPR) and the City of Lee's Summit invite you to a free fireworks celebration on Monday, July 3 at Legacy Park! Concessions, DJs, food truck vendors, and activities for children 12 and under will be featured at the baseball, soccer, softball, and football venues before the fireworks.
Liberty
When: Monday, July 3, 6:00 PM - 10:00 PM
Where: Capitol Federal Sports Complex. 2200 Old State Hwy 210, Liberty, MO 64068.
What: Activities, food trucks, beer garden, live music by Lost Wax, and fireworks. Beer, water, and glow items will be available for purchase at the Liberty Area Chamber of Commerce tent.
Cost: Free but concessions are available for purchase, $10 parking pass.
Oak Grove
When: Friday, July 7, 2023, 6 p.m. until after dark
Where: Bent Oak Park - 1300 SE 30th Street, Oak Grove, MO 64075
What: Food trucks, face painters, D.J., balloon artists, and a tethered hot air balloon ride with fireworks after dark.
Cost: All activities except food trucks free
Raymore
When: Friday, June 30, 2023, 7:00 PM - 10:00 PM
Where: Recreation Park 1011 S. Madison St, Raymore MO 64083
What: The City of Raymore's annual Spirit of America Celebration features food trucks, live music, food, drinks, family fun, and fireworks! Join us at 7 p.m., Friday, June 30 at Recreation Park. Fireworks start just after dusk (around 9:15-9:25 p.m.)
Cost: Admission is free. Food and drink vendors take cards and cash.
Sugar Creek
Sugar Creek 4th of July Fireworks Display
When: Tuesday, July 4th, 9 p.m.
Where: LaBenite Park, 3117 North, 3117 Rte 291, Sugar Creek, MO 64058
What: Always on the Fourth. The lineup for the Parade begins on Sterling at 10 a.m. Fireworks begin at dusk, approximately 9 p.m.
Cost: Free
Leawood
Leawood Celebration in the Park
When: Tuesday, July 4th, 12 p.m. - 9:45 p.m.
Where: Leawood City Park. 10601 Lee Boulevard, Leawood, Kansas 66206.
What: Live music, food vendors, swimming, kids' activities, and entertainment. Leawood aquatic center is open from 12 - 6. Kids activities and food vendors open at 6 p.m. Live music starts at 7 p.m. Fireworks begin around 9:45 p.m.
Cost: Free
Olathe
When: Multiple events starting July 1 running through July 6
What: Mahaffies' Independence Day - July 1, 10 a.m. - 4 p.m. Activities include a reading of the Declaration of Independence, cannon fire, vintage baseball, cookstove demonstrations, and more.
What: Beach Fest - July 4, 12 p.m. - 2:30 p.m. Lake Olathe's 4th of July Celebration. Event includes Aqua Park use, boat rentals, open swim, a tie-dye water gun fight, and more. There is a fee associated with this event.
What: July 4th Fireworks - July 4, 9:45 p.m. - 11 p.m. Annual fireworks display at College Boulevard Activity Center. Free.
What: Family Fun Nights - 1860s Fireworks at Mahaffie - July 6, 6 p.m. - 10 p.m. Free to attend. Olathe Civic Band performs around 7:30 p.m. Patriotic music is scheduled to start at 9:15 p.m. followed by fireworks around 9:30 p.m.
Overland Park
When: Monday, Jul 03, 2023, 7:30 PM
What: Calling all Overland Park residents! Come celebrate Independence Day with us at Red, White & Bluhawk on July 3rd. DJ Ty Brown will be playing high-energy music from 7:30 PM until the fireworks display starts at dusk. Entrance is free so bring your friends and family for an unforgettable night of fun and entertainment. Don't miss out on this amazing opportunity to show your patriotism!
Overland Park Star-Spangled Spectacular
When: Tuesday, July 4, 6 p.m. - 10:30 p.m.
Where: Corporate Woods Founders' Park. 9711 W. 109th St. Overland Park, KS 66210.
What: Concerts, food, and fireworks. Food trucks open and concerts begin at 5 p.m. Fireworks start around 10 p.m.
Cost: Free