Barndominiums: Moooove Over Cows, You Have New 'Neigh'-bors!
Posted by Ask Cathy Marketing Group on Friday, September 16, 2022 at 1:00 PM
By Ask Cathy Marketing Group / September 16, 2022
Comment
What In The World Is a Barndominium?!?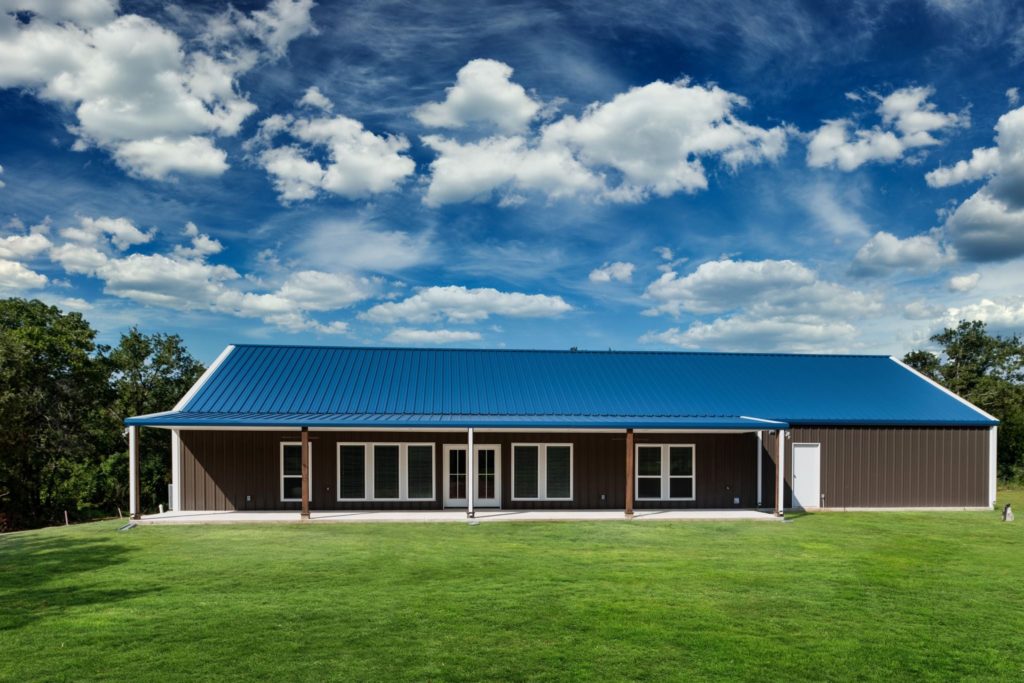 Image Courtesy of Barndominium Life
With the recent surge of increased home prices, potential homeowners everywhere have been "thinking outside the box" looking into alternative types of housing than your conventional neighborhood home. Tiny homes made out of sheds, housing made out of old school buses, and even homes made out of shipping containers have all made their way into being affordable, and unique housing options.
Another concept that has taken the forefront in the alternative housing market results from taking a spin on a type of building that has been around for centuries. Say hello to the Barndominium!
Structure & History of Barndominiums
Barndominiums or "barndos", as people in the building industry tend to call them, as the name suggests, are a cross between a barn and a home. Existing metal barns or newly built ones are adapted and made into a home, usually having all of the amenities that a regular home has. One of the major differences is the way they are structured. Built on a concrete slab as a foundation, each barndominium has a post frame structure, which is much easier to frame than a traditional house framing. Metal post frames are attached to a pre-poured concrete slab, and the post frame is erected. The result is a watertight, building shell that is ready for a number of personalization and configurations of floor plans and designs.
Though the word "barndominium" might be too new of a word to have an entry in Merriam-Webster, the concept has been around for a long time. In the "olden days", farmers would often attach their living space to the barns that housed their animals, so that they did not have to venture out to care for them in the winter months. Additionally, animals are a great source of warmth, and the heat from the animals in their barn would help stave off the cold in the farmer's living area. So what some farmers figured out long ago, the construction community has now caught up with.
The first real use of the word "barndominum" was used in an article in the New York Times in 1989. Real estate developer Karl Nilsen thought of a way to satisfy Connecticut equestrians who wanted their lives to center around their horses, even if it involved sharing a home with them.
More recently, during Season 3 of the wildly popular, "Fixer Upper", Chip and Joanna Gaines renovated a century-old barn with a small apartment above, into one of their most popular renovations, creating a beautiful and spacious family home. With that episode, the appeal of future homeowners building swoon-worthy barndominums started to take hold, whether they had animals or not.
Benefits of Barndominiums
We can certainly see the appeal. Barndominiums can have many perks when it comes to homebuilding.
Quicker to Build. Depending on the size of your barndominium, the construction of the outside shell can be faster than if you were building a traditional wood frame. Many factors, however, go into factoring a building timeline, including builder availability, accessibility to building materials, and site prep work.
They are Strong and Durable. Depending on the type of exterior you choose in your build, your barndo could come with less maintenance than your typical home. A steel exterior, which is common, holds up to wear and tear more readily than a wooden home. The steel beams which your home is built with are moisture and pest-resistant, and are also able to withstand severe weather and high winds. Your choice of insulation also adds to the potential strength of your barn.
They are Energy Efficient. When using quality insulation products and having your barndo well insulated, it can keep the temperatures in your building more moderate, and you will use your heat or air conditioning more efficiently. SIPs, or structural insulated panels, are a popular choice for a high-performance insulated panel that not only adds rigidity to your structure, but great energy efficiency. Spray foam insulation is another popular choice. There are several other options, so taking the time to compare the options is important. Splurging on quality insulation pays off in the long run.
They have Flexibility in Floorplans. There are many existing floor plans and layout options available for your barndominiums for you to choose from, so the possibilities are nearly endless when it comes to designing the interior of your new barn home, as they are truly customizable. If you are looking for a lofty feel in your barn home, you would be hard-pressed to find a better option than the clear span roof of a barndo.
They are Perfect for "Big Things". By building a barndominium, you could potentially have room for all the extras. A garage for your RV, your auto shop, your hobby space, a boat, or jet skis. You can adapt your barndo's layout into accommodating larger possessions or collections that would not typically fit into normal garages.
While all the above may seem like your ideal home, living the "barn life" certainly isn't for everyone. In fact, as appealing as they are, it does take jumping through some hoops to build one.
Drawbacks to Building a Barndominium
Land: First, finding the land to build it on. Make sure to check your local building codes to see if the barndominium can be built on the proposed land. Depending on the land, it also can be costly to run utilities out to the land if they are not readily available. Be sure to factor this cost into your barndominium budget.
Construction: Next, decide on whether you are going to build the barn DIY from a kit, or hire a barn building company to do so.
Expense: Barndominiums can be more affordable than building a regular home, but upgrades and features can certainly add up when working with a blank slate.
Convenience: Where you may be able to build a barndominium of your dreams, may not be convenient to amenities like convenient grocery stores and neighborhood friends close by for your kiddos to play with.
Necessary Paperwork: Financing and insuring your barndominium could also be a challenge, so doing your due diligence on finding both the financing and insurance is important as well.
Resale: Even if you love your barndominium, there is no guarantee that others will as well. If ever you were to sell, there could be a more limited buying pool for purchasing your barndo.
If building your own barndominium sounds like a good option for your housing needs, be sure to do your research, and weigh all your options before proceeding. The Ask Cathy team is here to help, from finding the property piece of land for you, to connecting you with a qualified builder to make your barn dreams come true. We can even help you find the perfect spot for any four-legged roommates that may want to bunk with you.