Ask Cathy Recipes
Posted by Cathy Counti on Tuesday, April 21, 2020 at 8:03 PM
By Cathy Counti / April 21, 2020
Comment
As busy moms and dads, we understand the challenge of not only getting dinner on the table every night but finding meals that EVERYONE will like. This is a collection of our tried and true family-friendly recipes for quick and easy meals! Each one of our team members selected their favorite recipe to share with our Ask Cathy community.
Happy Cooking!
Lasagna Soup
Shelly Rampetsreiter | VP of New Construction
Serves 4 | Prep Time: 15 minutes | Total Time: 50 minutes
Ingredients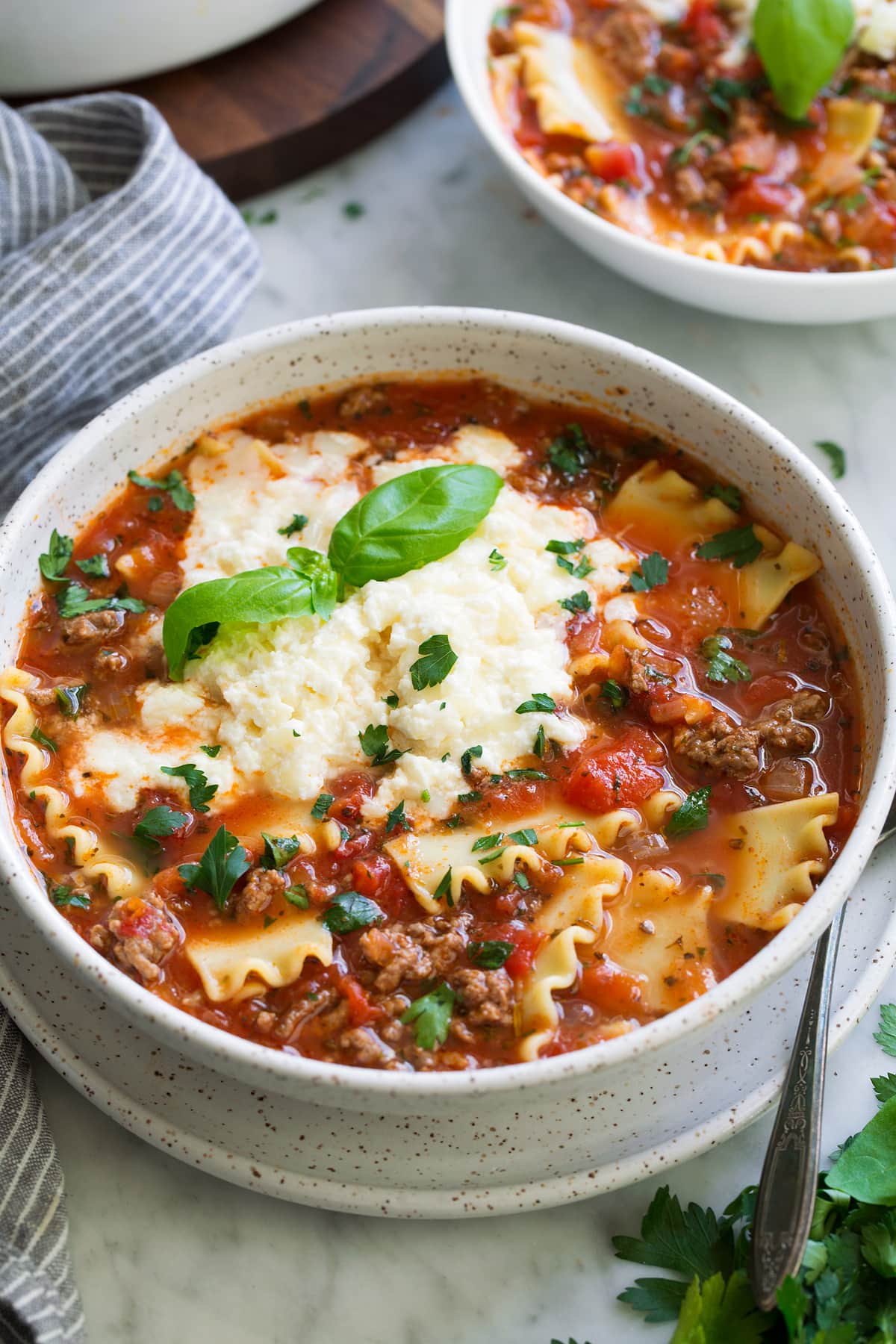 1 lb. bulk Italian sausage (prefer Scimecas)

2 medium onions, chopped

1 lb. mushrooms, sliced

2 tbsp garlic, minced

1 tsp dried basil

1 tsp dried oregano

8 cups chicken broth

1 (28 oz.) can Italian style stewed tomatoes, chopped

1 (10 3/4 oz.) can tomato puree

1 (8 oz.) can tomato sauce

1 cup Campanella pasta

2 cups fresh spinach

1 cup provolone cheese, shredded

1/4 cup Parmesan cheese, shredded

4 tsp. thinly sliced fresh basil
Instructions
Brown sausage in a Dutch oven over medium-high heat. Add onions and carrots;

saute 3 minutes. Stir in mushrooms and garlic, saute another 3 minutes.

Add broth, stewed tomatoes, tomato puree, and tomato sauce; bring to a boil. Reduce to a simmer for 30 minutes.

Meanwhile, cook Campanella pasta according to directions, but remove from

heat and drain when pasta is slightly undercooked (about 2 minutes less than the recommended time).

Drop the pasta into the soup. Stir in spinach and cook until wilted. Place 1/4 cup provolone cheese into serving bowls.
Pour soup on top of the cheese, garnish with Parmesan and basil.
TO ASSEMBLE AHEAD OF TIME:
Prepare the recipe by adding the broth and tomatoes. At this point, refrigerate soup until ready to prepare and serve. Then bring back to a boil, add pasta and proceed with the remainder of the recipe as directed above.
Totchos
Pam Bardy | VP of Listings
Serves 6 | Prep Time: 20 minutes | Total Time: 30 minutes
Ingredients
1 bag frozen tater tots

1 package pepper jack cheese (sliced)

1 container Queso Blanco

1 container of salsa

1-2 avocados (for topping)

fresh jalapeno

Sour Cream (topping)
Instructions
Bake the tater tots to your preferred level of brownness based on the directions from the bag.

While the tater tots are baking, cut the jalapenos and avocados into slices

and heat up your Queso Blanco towards the end of tots baking time.

Lightly cover the tater tots with slices of pepper jack cheese for approximately one minute in the oven or until melted.

Remove tater tots from the oven and place on a plate.

Have each person top their tots with the desired toppings. Recommended order: Queso Blanco, salsa, avocado, jalapeno, sour cream.

Experiment with your favorite toppings! Some suggestions: fresh chives, onion, and bacon!
Three Cheese Manicotti
Sarah Cox | Listing Manager
Serves 6 | Prep Time: 20 minutes | Cook Time: 30 minutes
Ingredients
1 package (8oz) manicotti shells

4 cups shredded mozzarella cheese, divided

2 cups ricotta cheese

1 cup Parmesan cheese, grated

1 tbsp minced garlic

1 egg

2 tbsp dried basil

1 jar (26oz) pasta sauce
Instructions
Preheat oven to 350° F. Lightly grease a 9×13 inch baking dish.

Bring a large pot of lightly salted water to a boil. Add manicotti and cook for 8 to 10 minutes or until al dente and then drain (optional: drizzle lightly with oil to prevent the noodles from sticking).

In a bowl, mix 3 cups mozzarella cheese, ricotta cheese, Parmesan cheese, garlic, egg, and basil. Stuff cooked manicotti noodles with the mixture.

Spread about 2 cups pasta sauce over the bottom of the prepared baking dish. Arrange stuffed manicotti in the dish, and cover with remaining sauce. Sprinkle with remaining mozzarella cheese.

Bake 25-30 minutes in the preheated oven. until mozzarella is melted and bubbly.
Mexican Beef & Rice Casserole
Alicia Hodges | VP of Operations
Serves 4 | Prep Time: 25 minutes | Total Time: 1 hour 5 minutes
Ingredients
1 lb extra-lean ground beef

1 -1/2 Cracker Barrel Shredded Creamy Mexicana Cheese, divided

1 pkg 30% less sodium taco seasoning mix

1 cup long-grain rice, uncooked

1 cup frozen mixed vegetables (carrots, peas, corn)

1 -3/4 cups undrained canned no-salt-added diced tomatoes

1 cup salsa

1 cup 25% less-sodium chicken broth
Instructions
Heat oven to 375 ° F

Brown meat in a large nonstick skillet. Reserve 1 cup cheese. Add remaining cheese and all remaining ingredients to meat in skillet; mix well.

Spoon into 13 x 9-inch baking dish sprayed with cooking spray; cover.

Bake 40 to 50 min. or until rice is tender. Top with reserved cheese; bake, uncovered, 5 min. or until melted.
Streusel Corn Bread with Honey Pecan Butter
Shelly Rampetsreiter| VP of New Construction
Serves 6 | Prep Time: 20 minutes | Cook Time: 30 minutes
Ingredients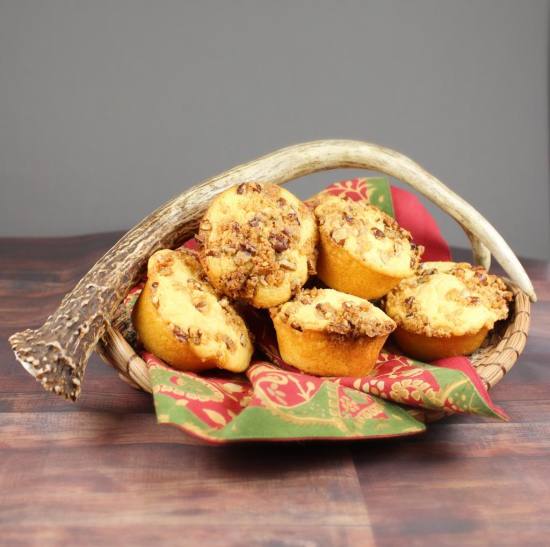 Streusel Topping
1/2 cup packed brown sugar

1 cup flour

1 tbsp honey

1/4 cup (1/2 stick) butter, cold
Honey Pecan Butter
1 cup (2 sticks of butter), softened

3 tbsp plus 3/4 tsp light brown sugar

1 tsp vanilla extract

3 tbsp honey

6 tbsp chopped toasted pecans
Corn Bread
1 (8 oz.) packages of corn muffin mix

1/2 cup sugar

2 eggs

2/3 cup cold water

1 1/2 tbsp dark corn syrup

3/4 cup cheddar cheese, sharp

1/3 cup corn kernels
Instructions
Prepare the Topping: combine brown sugar and flour. Add honey and toss to blend. Cut butter into pieces and add to flower. Mix using a pastry blender and blend into until mixture has a coarse texture the size of small peas.
Prepare the Corn Bread: Combine the corn muffin mix and sugar in a mixing bowl. Add the eggs, water, and corn syrup and mix well. Stir in the cheese and corn. Spoon

into a greased 9 x 13″ baking pan and bake in a preheated 325-degree oven for 20 minutes.

Crumble the topping over the top and bake for 17-20 minutes longer or until golden brown.

Prepare the Butter: Beat the butter in a mixing bowl until light. And the brown sugar, vanilla, honey, and pecans on ingredients at a time, beating constantly until well mixed. Serve immediately with the cornbread or store in the refrigerator.
Baked Chicken Chimichangas
Kelley Morgan | Closing Coordinator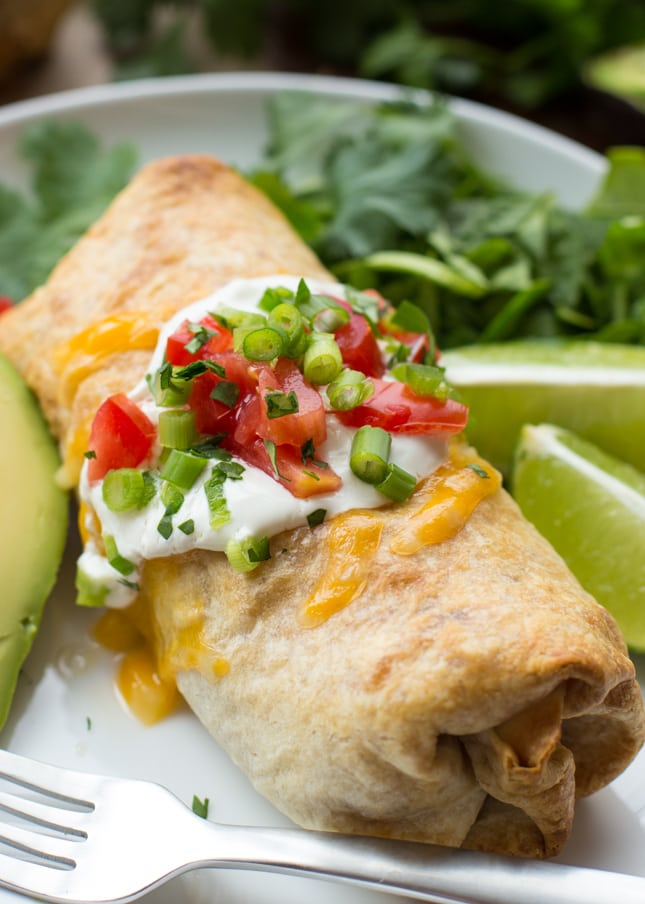 Serves 4-6 | Prep Time: 15 minutes | Total Time: 30 minutes
Ingredients
2 1/2 lbs chicken breast

2/3 Picante sauce

1/3 cup green onion, sliced

1 tsp

ground cumin (add more to taste)

1/2 tsp oregano (add more to taste)

1/2 tsp salt

1/4 cup melted margarine

1 cup cheddar cheese

8 flour tortillas (burrito size)

1 tbsp butter to saute onions
Instructions
Saute onions in butter then add shredded chicken, Picante sauce & spices into a large pan. Simmer until most of the liquid has evaporated.

Brush 1 side of a tortilla with melted margarine and lay butter side down onto waxed paper.

Place chicken mixture & cheese on each tortilla.

Fold & place, seam down on cookie sheet.

Bake at 475 degrees for about 13 minutes or until the tortilla is golden brown.

Top with your favorite toppings (sour cream, salsa, Rotel, lettuce, etc.)
Chocolate Chip Banana Bread
Shea Painter | Listing Specialist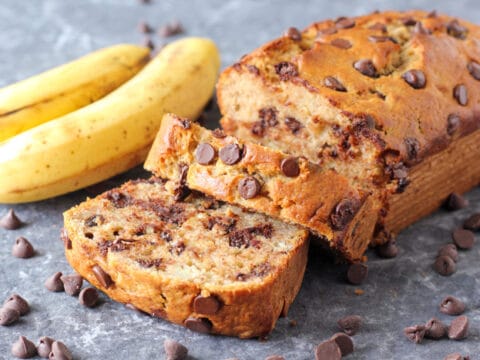 Serves 6 | Prep Time: 20 minutes | Total Time: 30 minutes
Ingredients
2 cups all-purpose flour

1 cup of sugar

1 tsp baking powder

1/2 tsp baking soda

1 tsp salt

1 cup mashed bananas (as ripe as possible works best, usually about 3 small bananas)

1/2 stick Crisco (1/2 cup shortening)

2 eggs

1 cup milk chocolate chips
Instructions
Preheat

oven to 350. Mix all ingredients except chocolate chips in a mixer on medium speed. Add in chocolate chips and stir. Pour batter equally into 2 regular sized loaf pans (8 1/2 x 4 1/2 x 2 1/2).

Bake approx. 45 minutes or until a toothpick inserted in middle comes out clean. Cool 10 minutes, remove from pans and cool on wire rack.
Italian Meatloaf
Shea Painter | Listing Specialist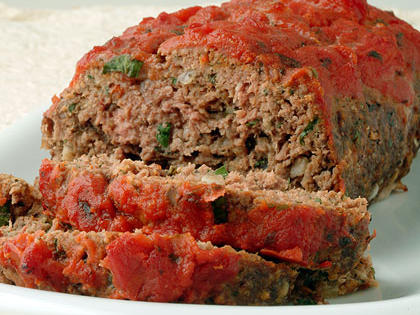 Serves 4-6 | Prep Time: 15 minutes | Total Time: 30 minutes
Ingredients
1 lb ground beef

1/2 lb mild Italian sausage

3/4 cups Italian style bread crumbs

1/2 cup chopped onion

1 egg

1 tsp salt

1/8 tsp pepper

1/2 tsp oregano

2-8 oz cans tomato sauce

2 cups shredded mozzarella cheese
Instructions
Combine beef, sausage, egg, bread crumbs, onion, and 1/3 cup tomato sauce, salt, pepper, and oregano.

Mix well and shape into a rectangle on a 10 x 12 piece of wax paper. Sprinkle mozzarella cheese over meatloaf and roll up like a jelly roll. Bake at 350 degrees for 1 hour.

Drain fat. Pour the remainder of tomato sauce and bake 15 more minutes.

Let cool 10-15 minutes so cheese sets. Slice and enjoy!
Buffalo Cauliflower
Alison Gray | Marketing Director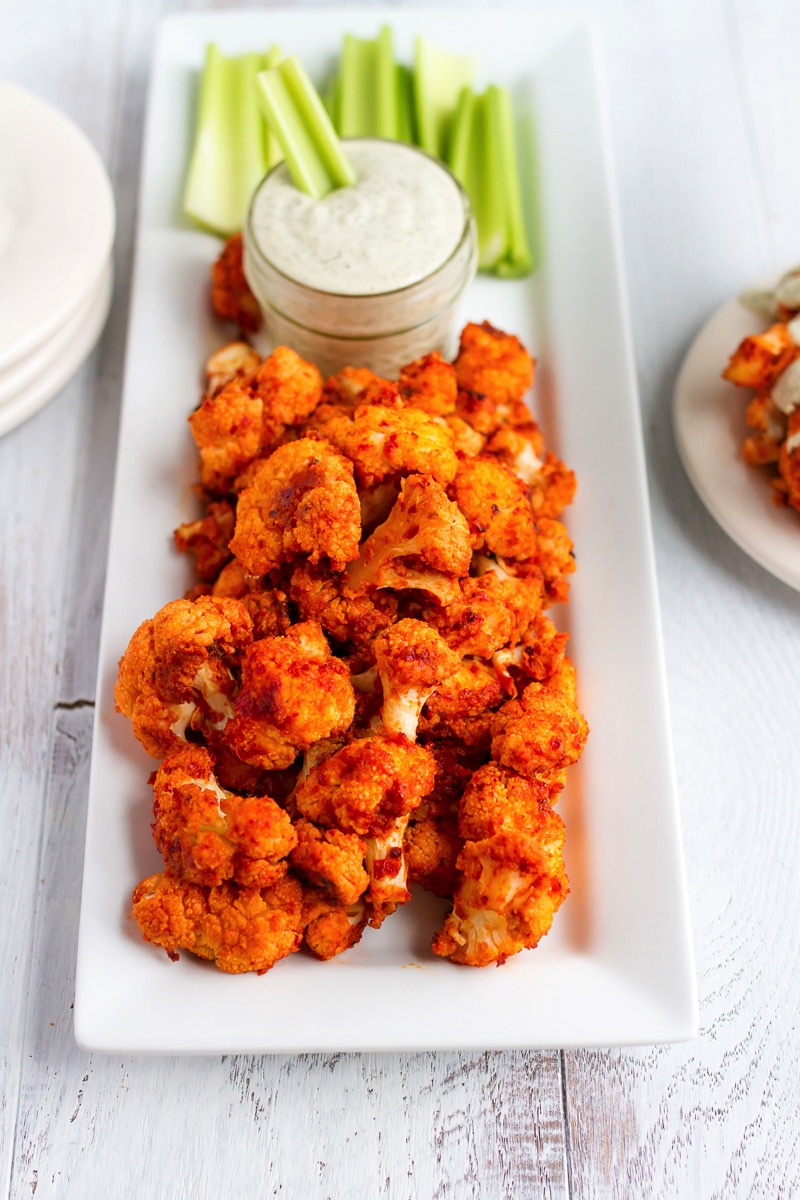 Serves 4 | Prep Time: 10 minutes | Cook Time: 40 minutes
Ingredients
1

head of cauliflower, cut into florets

3/4 cup

flour

1 teaspoon

ground paprika

1 teaspoon

onion powder

1 teaspoon

garlic powder

1 teaspoon

salt

3/4 cup

buttermilk

2 tablespoon

s butter, melted

1/3 cup

Buffalo Sauce (we used Frank's!)
Instructions
Preheat the oven to 375°F and line two baking sheets with parchment paper. Set aside.
In a large bowl, combine the spices, salt, and flour. Add the buttermilk and stir until combined. The mixture should be pretty thick!
Add the cauliflower florets to the batter, coating each piece evenly in the buttermilk mixture. Place the coated cauliflower on the prepare baking pans, leaving room between each piece to the air can circulate around them.
Bake for 20 minutes and then flip the cauliflower over to its other side to get an even bake. Bake for another 20 minutes on the other side!
While the cauliflower bakes, make the buffalo sauce. Combine the buffalo sauce with the melted butter and whisk to combine.
When the cauliflower is done, add the florets into the bowl the hot sauce mixture is in. Toss to combine and enjoy!