4 Fall Cocktails You Have to Try
Posted by Cathy Counti on Friday, October 8, 2021 at 4:14 PM
By Cathy Counti / October 8, 2021
Comment
---
Temperatures are starting to drop and those refreshing Summer cocktails are starting to get boring. If you're ready to mix up your after-work drink (no pun intended) check out our four favorite fall cocktail recipes! (Try saying that 5 times fast.)
Carmel Apple Martini
Ok, so this first drink is more like liquid dessert but makes for a delicious after-dinner treat (or before, we won't tell 😉). Plus it is only three ingredients!
Ingredients
2 oz Apple Cider
2 oz Caramel Vodka
1 oz Butterscotch Schnapps
Sliced Apples & Cinnamon Sugar for Garnish
Instructions
Rim your martini glass with caramel or cinnamon sugar. To get the cinnamon sugar to stick to the glass, dip the rim in a little apple cider, then the cinnamon sugar.
Combine the apple cider, caramel vodka, and butterscotch schnapps in a cocktail shaker filled with ice. Shake vigorously.
Pour mixture into the rimmed martini glass and garnish with a slice of fresh apple.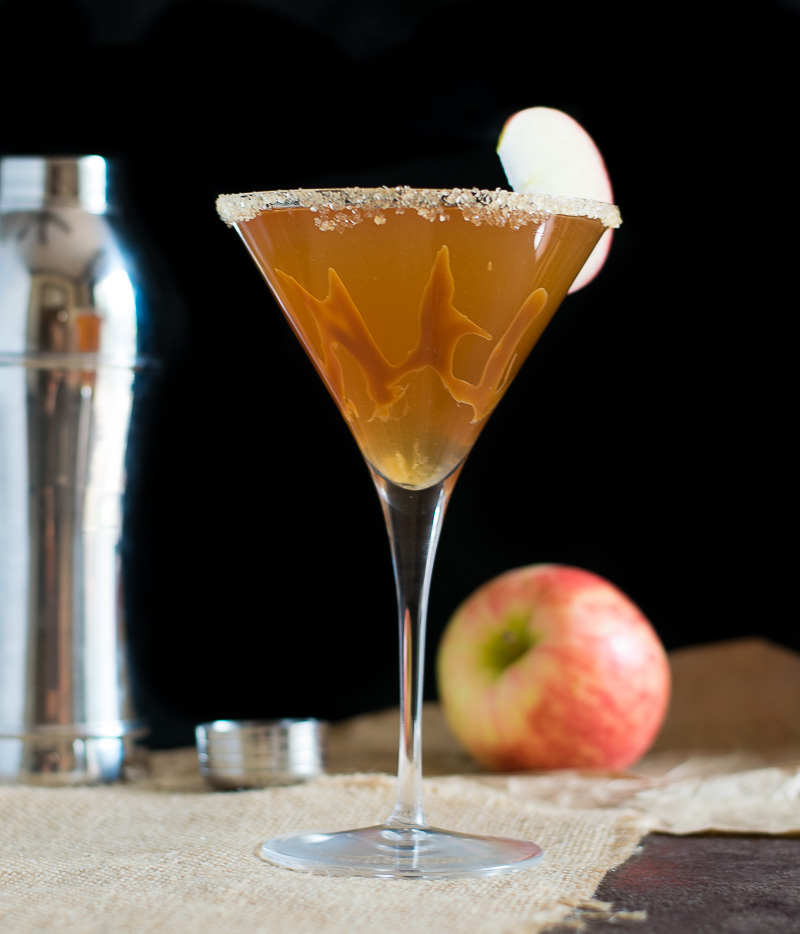 Pumpkin Spice White Russian
Pumpkin lovers rejoice! If you can't get enough of pumpkin-spiced EVERYTHING this time of year, this is the drink for you! These Pumpkin Spice White Russians are deliciously creamy and make for a great seasonal libation.
Ingredients
2 oz Mozart Pumpkin Spice
1.5 oz Kahlua
1.5 oz Vanilla Vodka
2 oz Half & Half
Cinnamon Stick for Garnish
Instructions
To a cocktail shaker filled with ice, add the Mozart Pumpkin Spice, Kahlua, vanilla vodka, and half and half. Shake vigorously.
Strain into a glass filled with ice.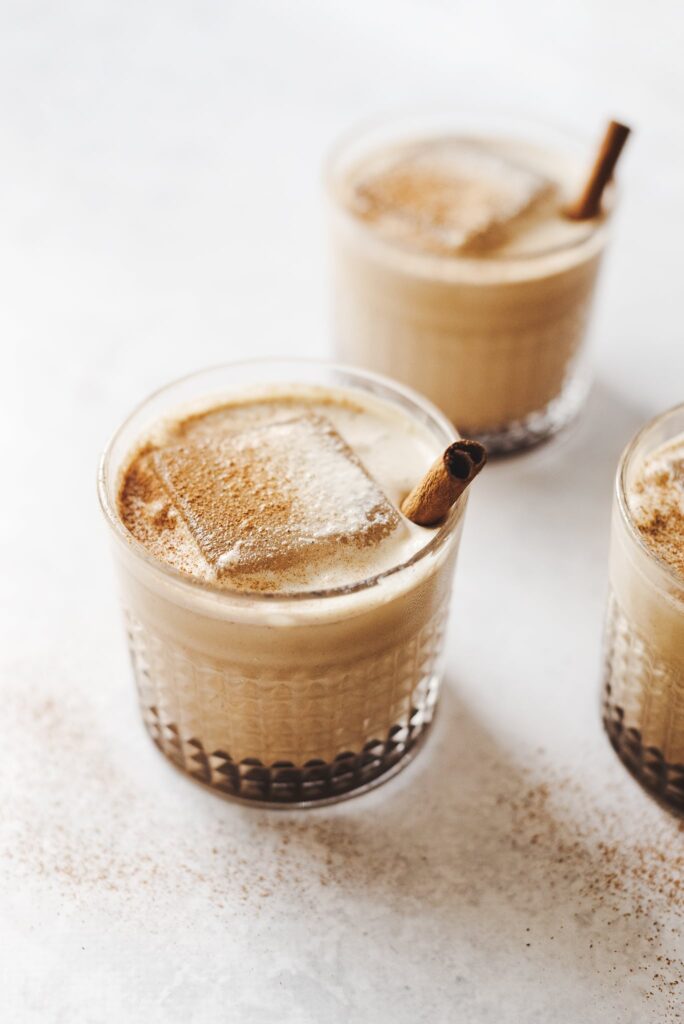 Harvest Apple Mule
You can't go wrong with a mule this time of year (or any time of the year for that matter).  This version gets its unique taste from the apple cider, a splash of vodka, lemon juice, and ginger beer. It sounds a little crazy, but trust us when we say you will make one and it will instantly become a happy-hour staple.
Ingredients
1.5 oz Vodka
3 oz Apple Cider
1 oz Lemon Juice
3 oz Ginger Beer
Cinnamon stick & apple slices for garnish.
Instructions
Add all the ingredients to a glass (or copper mug) filled with ice. Stir. Garnish with a cinnamon stick and an apple slice.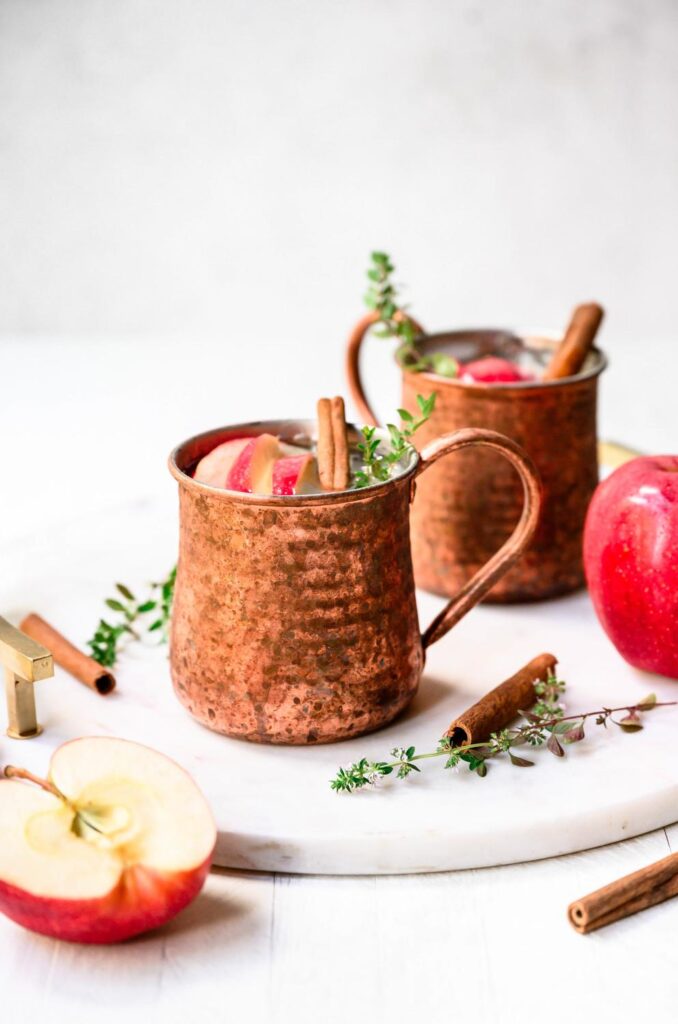 Cranberry Old Fashioned
This cocktail is as nice to look at as it is to drink. This beverage makes a perfect signature cocktail for any holiday event.
Ingredients
3 oz quality bourbon whiskey
1 oz cranberry simple syrup*
3 shakes Angostura bitters
Garnish with orange peel, Ocean Spray® Fresh Cranberries, and rosemary
*Cranberry Simple Syrup – In a saucepan, bring 2 cups of water, 1 cup of sugar, and one cup of fresh cranberries to a boil. Once boiling, cook for 4-5 minutes. Strain with a fine-mesh sieve. Cool before serving.
Instructions
In a serving glass with ice, stir together the bourbon, cranberry simple syrup, and bitters.
Garnish with orange peel, fresh cranberries, and rosemary.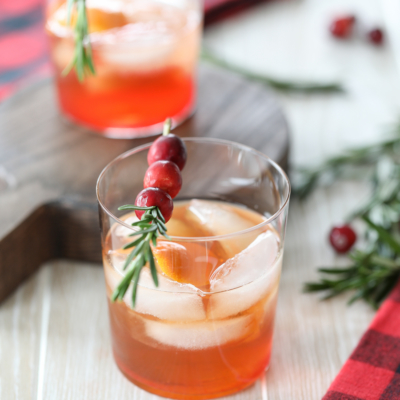 Which one is your favorite? Let us know what you think in the comments below!