2023 Design Trend: Wet Bathrooms
Posted by Ask Cathy Marketing Group on Friday, April 14, 2023 at 1:00 PM
By Ask Cathy Marketing Group / April 14, 2023
Comment
Wet Bathroom Design Trend
Pros and Cons of Having a Wet Bathroom in Your Home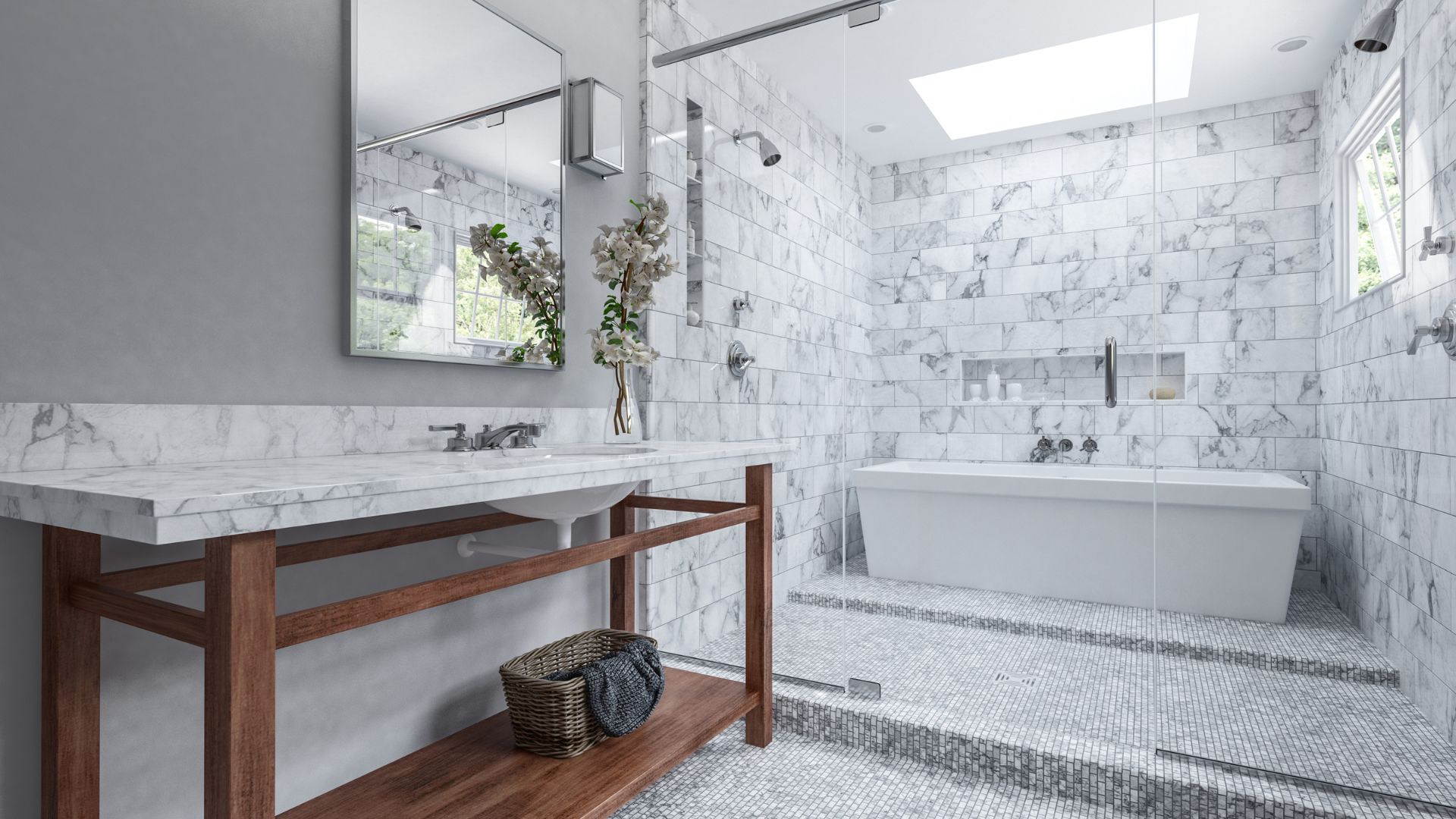 One of the latest trends in bathroom design has definitely started to pick up steam here in the United States. Finally catching on to what has long been in use in European and Asian countries, we are now seeing the appearance of "wet bathrooms" or "wet room" in more of today's home plans.
Wait a minute…we know what you are thinking, aren't all bathrooms by definition, wet?
Well, they are, and they aren't. The difference is, for those who have yet to experience this type of bath, a wet bathroom takes a unique approach to innovation by eliminating the traditional shower stall or bathtub and integrating the shower area into the overall layout of the entire bathroom. By doing this, the bathroom takes on a more open, spacious, and visually appealing layout. In a true wet bathroom, all of the surfaces are waterproof and can therefore be simply wiped down. A shower tray is also not needed, as the drain is put directly into the floor, and the floor works as the base of the shower. The floor is also sloped to prevent pooling.
This design may seem vastly different from the typical bathroom that we have seen in homes for decades, however, their appeal is catching on due to several reasons in which to include them in either new construction or in recent bathroom renovations.
Reasons To Consider a Wet Bathroom in Your Home:
Accessibility: Since having a wet bathroom eliminates the need to step over a bathtub or shower threshold, they are a great option for people who may have mobility issues. The space of the shower area is usually quite large and can accommodate a walker or a wheelchair.
Easy to clean: One of the main benefits of wet bathrooms is their practicality and convenience. They are easy to clean and maintain as there are no shower curtains or doors to deal with, and the entire space can be easily wiped down, making cleaning easier.
Maximizes space: Wet bathrooms are becoming increasingly popular in modern home design, especially in smaller homes or apartments where space may be limited. By eliminating the need for a separate shower stall, wet bathrooms can help maximize the available space in a bathroom and create a more open, spacious feel.
Design Appeal: The appearance of a wet bathroom is decidedly stylish. They are usually more appealing and often more spacious and airy than traditional bathrooms, creating a more relaxing and spa-like atmosphere. Wet bathrooms can be designed to order, reflecting the owner's design aesthetic. In today's tile industry, there are so many options to choose from - from large tiles to intricate mosaic layouts to fun colors and patterns. You can also incorporate natural stone or multiple shower heads with sleek plumbing fixtures. Your imagination and your budget are the only limits to what to include in your wet room. Also, by having an open plan, your wet room takes on a very spa-like and inviting environment. Many people also incorporate plants and other natural aesthetics in their bathroom design.
May Add Value: Though the wet bathroom design may not be for everyone, for people looking especially for a home with an open bath layout, this design trend would certainly appeal to them. A wet room can also feel luxurious and high-end, and can appeal to many potential home buyers should you ever sell. For buyers with current or future mobility issues in mind, again, the open plan would save them from doing a costly bathroom renovation in future years, and thus would add value in their eyes as well.
Reasons Why People May Be Reluctant To Add a Wet Bathroom to Their Home:
Fear of water: When people think of a wet bathroom, they have a fear that everything in the room will be exposed to water - towels, walls, decor, everything -but that truly just isn't the case, especially if your bathroom area is spacious enough. In a true wet bathroom, everything can get wet, however, if designed correctly, everything in a wet room does not usually get wet. Though the separate shower stall has been eliminated, the shower plumbing is still located in one area, therefore one area should only mainly be exposed to water on a regular basis.
Increased cost: Having a wet room does involve careful planning and professional installation in order to make sure that everything is indeed waterproof and that water damage does not occur. The bathroom floor in the shower area is designed to be sloped towards the drain, and this takes someone who is experienced in wet bathrooms to install. Also, since most things are designed to get wet, there are more surface areas that are tiled, thus increasing the amount of tile used in a typical bathroom.
Potential lack of privacy: Having an open-plan bathroom, most areas are not segmented away from one another, or separated only by glass partitions, thus can lead to one feeling a lack of privacy. There is no hiding behind a shower curtain in a wet bath, however, a number of today's showers in regular bathrooms have moved towards the use of glass partitions and doors, so therefore, the privacy issue is not as big of a dealbreaker as it may seem to be. Sometimes there is a glass wall (sometimes one that actually can be moveable!) that separates the shower or tub area from the rest of the bath.
What if You Like the Idea of a Wet Bathroom, but Are Still Not Sure?
There is a compromise between having a full-on wet bathroom and a typical bathroom you see on a daily basis. There is another design trend, where the bathtub and the shower are located in one separate glass room, which is included within the rest of the bathroom floor plan. Another trend we are seeing is to keep the vanity and toilet area separated by enclosing just the shower and the bathtub within a glass room, and then that becomes the wet room.
Overall, the choice of installing a wet bathroom in your home will not appeal to everyone, but it could be a stylish and appealing solution to a regular traditional bathroom plan. They offer a nice change to the typical bathroom layout and their appeal is expected to grow as more and more new construction builds have the option of including them, due to their high-end design aesthetic and appeal!
Would you like to find a home that has taken this design trend into consideration? The Ask Cathy Marketing Group can find you the luxury bath of your dreams!