15 Ways to Maximize Storage in Your Home
Posted by Cathy Counti on Thursday, August 20, 2020 at 7:31 PM
By Cathy Counti / August 20, 2020
Comment

Creating a welcoming space takes a combination of style and tidiness. Contrary to what home stores say, you don't need a lot of money to get your house in order. Check out our favorite ideas on how to keep your home organized while not breaking the bank.
Kitchen
When your cabinets and fridge are a jumbled mess, finding ingredients and snacks can be a pain. Keep your kitchen organized by paying special attention to your pantry, fridge, and key cabinets.
Upcycle Storage Items You Already Have
Before you go out and purchase new stuff, see what you already have around the house. Look for things like old magazine holders. These make great pantry storage for things like onions, garlic, and potatoes.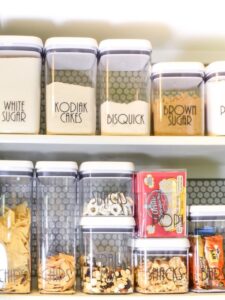 Get Out That Label Maker!
Clear bins such as these are a great way to prevent food from going stale (and making things easier to find!) Labels make it easy to see and grab exactly what you need.
Don't Be Afraid of Using the Unexpected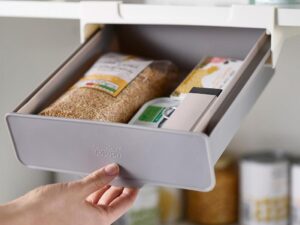 We LOVE a good dollar store, over the door, shoe organizer. They are extremely versatile and great for storing things like sprinkles, spices on the back of a pantry door.
Need More Storage?
Max out your pantry storage with undershelf baskets! We love these from the Container Store.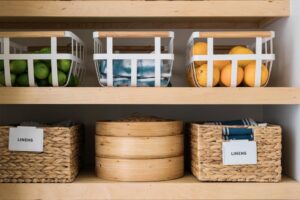 Stack It in Style
Using bins and baskets with labels on the front makes it easy to keep similar items together and easy to find. Don't want to buy new? Check out your local thrift store of bins and baskets at a steep discount.
Bathroom
Turn your bathroom into a Zen Zone with storage carts, cabinets, and shower caddies.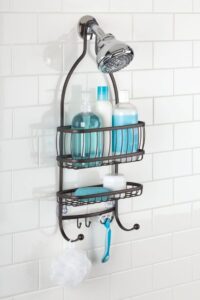 Hanging Shower Caddy
Don't have built-in shelving in your shower? A hanging organizer is the way to go! It also prevents mildew from building up on the bases of your bottles.
Over-the-Toilet Shelving
Make use of empty space with over-the-toilet shelves. Add a few baskets to add even more organization.
Rolled-Up Towel Rack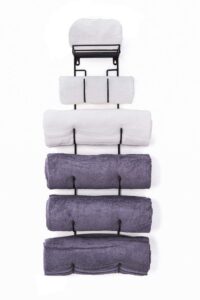 Find yourself needing more racks for towels? Keep your bathroom organized with this towel rack! The best part? This holder also fits wine bottles in the event you want to move it to the kitchen and redecorate… just saying.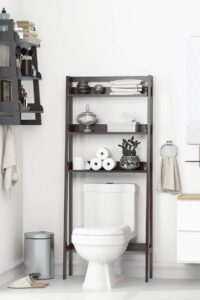 Woven Bins
Another great option for storing towels, extra toilet paper, etc. are woven bins! Check out these on amazon.
Drawer Dividers
Drawer dividers simplify your morning makeup search because they prevent lipsticks, brushes, and other favorites from rolling around when you open or close the drawer.
Kids Rooms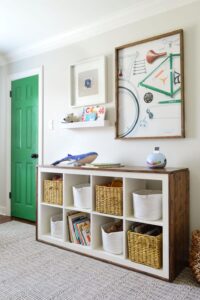 Cubbies are Your Best Friend
This accent piece with individual storage cubbies makes separating toys, books, and stuffed animals super easy (and stylish!) To make sure it doesn't look cluttered, use baskets instead of stuffing toys in the cubes. Check out these large cubbies from Amazon. They come in a variety of colors and sizes.
Label Every Drawer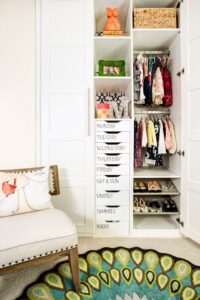 Help your child get dressed in the morning by labeling drawers or baskets. Since everything has its own specific spot, you'll never run late because you couldn't find the striped socks your daughter needed to wear.
Kid-Friendly Closet
It's important to keep a neat and organized closet, but folding doors can pinch little fingers if they get caught unexpectedly. Instead, try removing the dangerous doors and replace them with much safer curtains. They'll conceal the closet just the same, and your kids will love the colorful upgrade. Just be sure to reinstall them before you put your home on the market.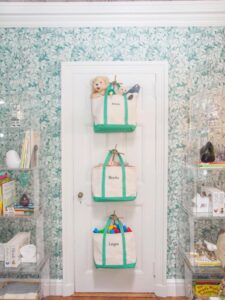 Use the Doors
Don't overlook the backs of your doors as potential storage spaces. Try hanging totes on your child's door for stuffed animals, blocks, and other belongings. Label each bag so both kids and parents know where the toys belong when playtime is over.
Clever Can Organizers
Art supplies can quickly get out of hand, and you would hate to slow down your pint-sized Picasso when they're working on their latest masterpiece. Keep those creative juices flowing by reusing aluminum cans to hold crayons, colored pencils, chalk, and markers. Don't forget to label the cans to make sure this organizational tactic sticks around long-term.