Shelby Frakes
Buyer Specialist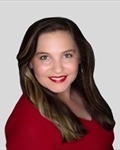 Finding The Feeling of Home
Shelby Frakes joined Ask Cathy Marketing Group in 2021 as a Buyer Specialist. She is a licensed Missouri realtor and studied Business Administration in college. In her previous position, Shelby worked in recreational and agricultural land sales with a team of over 100 agents that served a 9-state region. She is eager to bring her passion and experience to Ask Cathy Marketing.
For Shelby, real estate is a lifestyle. She grew up in a rural area in southern Missouri, designing houses with her father's CAD software. Her childhood was filled with flipping houses and turning them into homes. Shelby loves the feeling of being "home" and finds gratification in helping others find their dream home.  
Shelby enjoys hiking, photographing nature, and baking. Shelby volunteers at her church every week and believes in giving back to her community. She lives in the KC area with her husband and German Shepherd, Gunner.