Kelley Morgan
Closing Coordinator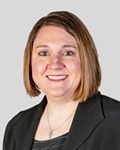 My name is Kelley Morgan and I am the Closing Coordinator on the Ask Cathy Team. Before real estate I spent over 15 years working in customer relations and account management.
I have always lived in the Kansas City area and went to college at the University of Central Missouri. I am married and have two kids - Brady who is 9 and Leah who is 7.
A few fun facts about me - I love sports, specifically KU basketball, Royals Baseball or just watching my kids play. My favorite food is Mexican and my favorite restaurant in the Kansas City area is Ponaks! My all time favorite TV show is Friends. If I could do anything without having to worry about money, I would travel and do fun things with my husband and kids. I would love to visit all of the baseball stadiums around the US!
Favorite Quote - "Luck Is What Happens When Preparation Meets Opportunity" - Seneca