Jaime Nissen
Listing Specialist, New Homes Division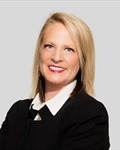 My name is Jaime and I am the Listing Agent for the New Homes Division.  Before joining the team, I worked in the real estate industry for four years working with buyers and sellers with my last year in New Construction.
In December of 2016, after 18 years of Technology Sales, I decided to expand my sales experience to Real Estate Agent.  My passion is helping people and guiding them through the buying and selling process.  In my sales career, I have received many awards including Rookie of the Year to 100% Club Receipt over several years.
I've been married for 2 years, but together for 22 years, to Scott. We both have one boy each still living here in the Kansas City metro.  My son, Corey is married to Antonella, who is from Ecuador, and we are so happy to have a daughter in our family.  We both love to travel with our best friends and our house is always open to our family and friends for gatherings.
A fun fact about me – I am a military brat, born in the Philippines and lived in Alaska, Japan, California and landed here in Kansas City in 1984.  I always say, "I don't have a childhood best friend or a home town."